Rewind to more than 20 years ago. Jason Campbell and Jerry Zaiden were living at their parents' houses, riding dirt bikes on weekends and after school, and helping out on off-road race teams in their free time. Immersing themselves into a world filled with engines, wheels, and endless amounts of silt helped steer Jason and Jerry onto a path that would ultimately result in one of the most successful and well-known names in the off-road industry.
In 1997, after years of paying attention to the way things worked, picking up good habits and skills, and scraping every dollar together that they could, Jason and Jerry opened shop. Camburg Engineering would start as a tiny fab shop with big dreams in mind. Both partners knew that more equipment meant bigger and better jobs could be done, and would spend every dollar they could on new tools and machines for the shop, often to the dismay of then-girlfriends. Not long after Camburg opened its doors, the two decided that making a solid (as they could at the time) race effort would be the best way they could test their own theories in vehicle fabrication. What they would learn racing, would later be adapted to parts developed for street-legal vehicles. Racing is expensive, but it can be worth it if you use what you learn to make a better product. That is why Ford and Toyota have spent so much money backing off-road racing and race programs over the years: What they learn in the dirt can be translated to the rugged vehicles they build on assembly lines.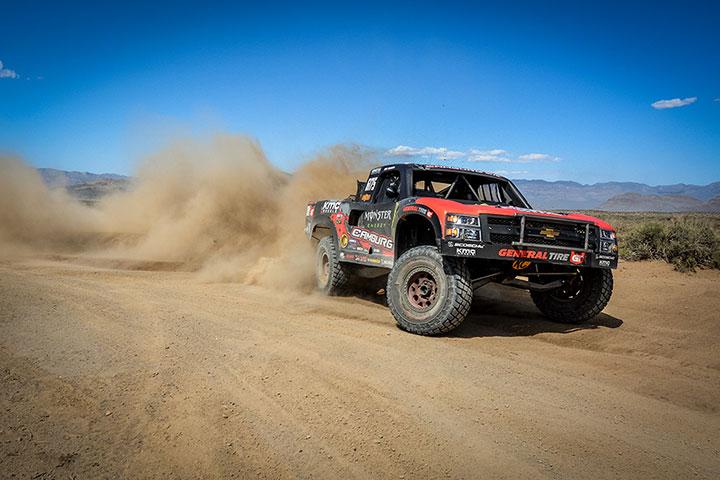 With racing taking all the extra money they did (and didn't) have, the Camburg duo would work both sides of the industry hard, and would successfully gain notoriety—not only on the racing side, but on the aftermarket side as well. Customers saw that they could buy parts born from off-roading racing for their own trucks that would perform better than typical bolt-on lift kits. The years of hard work and good planning would pay off. Today, Camburg Engineering is located in a large facility at 7409 Slater Ave in Huntington Beach, California. Campbell and Zaiden took their love of racing and adapted it to weld-on and bolt-on suspension kits that would improve the ride and travel of customers' vehicles that are used both on the street and off-road. But it wasn't just making quality parts that gained them popularity. Zaiden and Campbell carry business savvy with them, too, and knew how to market and position themselves through racing and especially social media as it's grown over the last 15 years. With well over one million followers worldwide, Camburg has more social reach than some automotive manufacturers. This has allowed them to grow and now employ 18 full-time guys in their Huntington Beach building, and split the business into three basic parts: There is the Camburg racing effort, the Camburg aftermarket parts company, and the Kinetik race vehicle division that builds turnkey race trucks for customers.
The newest part of Camburg Engineering—Kinetik—is currently finishing its 10th race truck and building its 11th chassis. They are based off the same chassis that Camburg currently races on.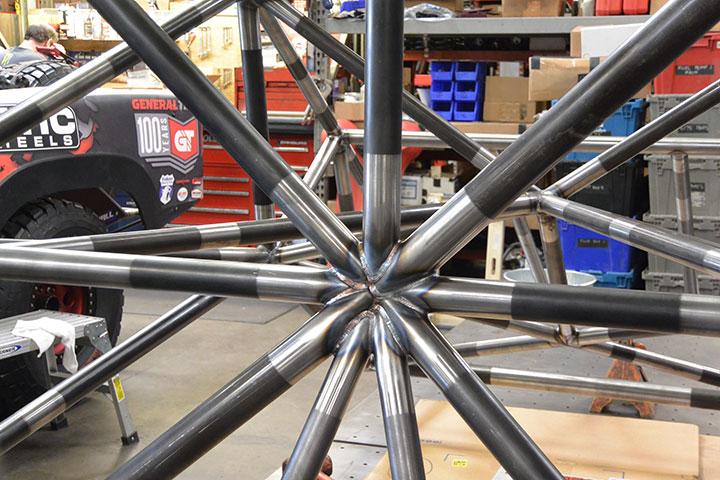 When we showed up at Camburg the day before the Bluewater Desert Challenge in Parker, Arizona, we expected to see the team scrambling to tighten the last few bolts and packing up enough gear to build an extra race truck. Instead, it was business as usual behind the storefront. This was a bit confusing, as the team needed to be in Parker the next day. Jerry explained:
Two individuals—Jonathan Snelling and Russell Hampton—were hired solely to prep and work on the truck. They make sure the Kinetik race truck is ready weeks in advance before any race, and stays that way. The chase vehicles stay packed with extra parts—three of everything is what Camburg requires. Three third members, three driveshafts, three transmissions…anything that could break has an extra part to replace it. On top of that, the truck is ripped down right after every race. Shocks are rebuilt, the next transmission goes in (while the last one goes back to a shop for a fresh build), bearings are replaced, hubs are rebuilt; These are the reasons Camburg has been able to finish almost every race they start. In four years of racing Class 6100 in Best in the Desert, they have only DNF'ed twice. That consistency has put Camburg 4th in points this year, heading into the Bluewater Desert Challenge on October 10th and 11th.
For Camburg, it's not just about the win; it's about finishing every race and making sure their parts can endure the rigors of off-road racing. This has made them possibly the most successful off-road company in existence at bridging the gap between racing and the consumer side of things. Camburg's constant strive to build the best parts has translated into enormous popularity in the off-road community.
If you're anywhere near Parker, Arizona, this weekend, come out and root for Camburg Racing and the rest of the General Tire race teams at the Best in the Desert Bluwater Desert Challenge!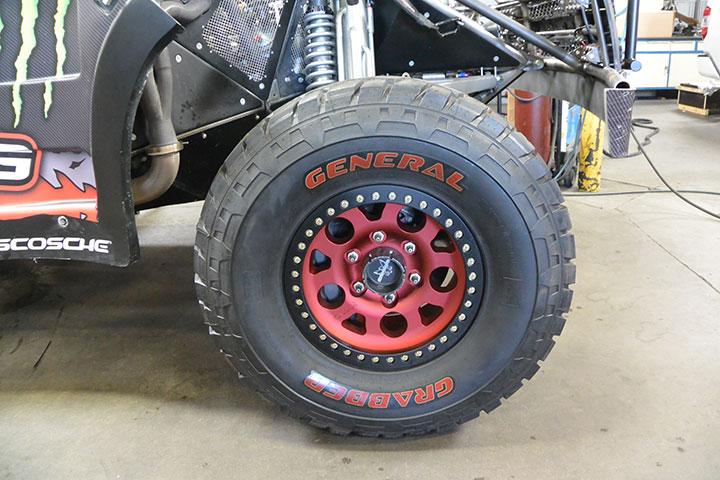 Camburg's 6100 race truck is part of the spec class of racers in Best in the Desert. The difference between this type of race truck and a Trick truck or Trophy truck? Basically engine and tires. This truck races with the same chassis and suspension available through Camburg's Kinetik truck program.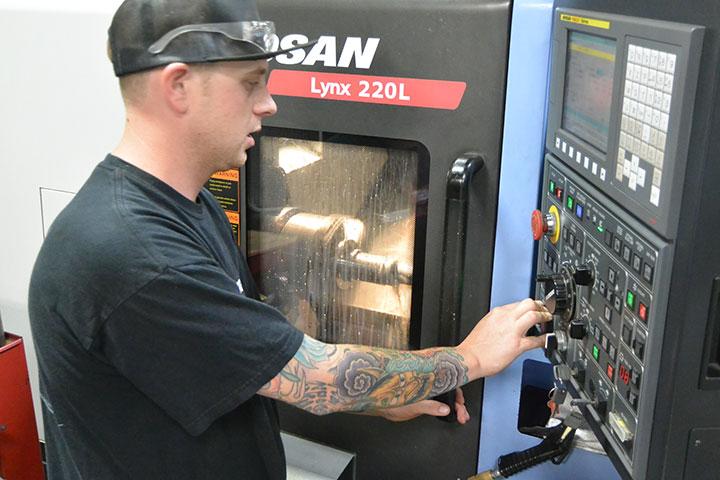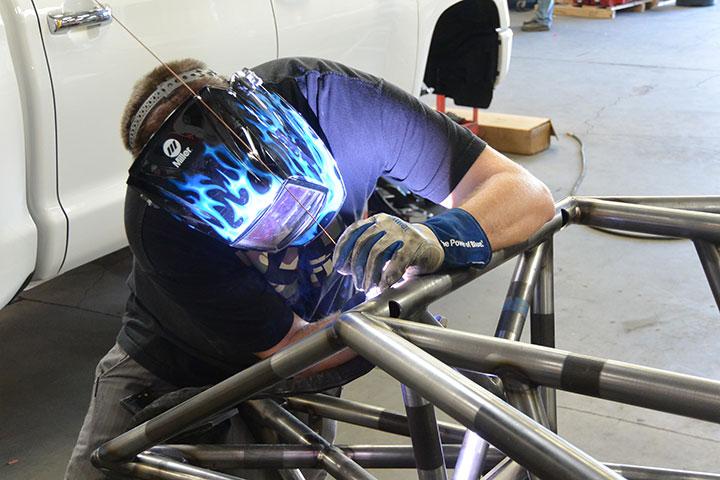 Two individuals—Jonathan Snelling (pictured) and Russell Hampton—were hired solely to prep and work on the truck. They make sure the Kinetik race truck is ready weeks in advance before any race, and stays that way.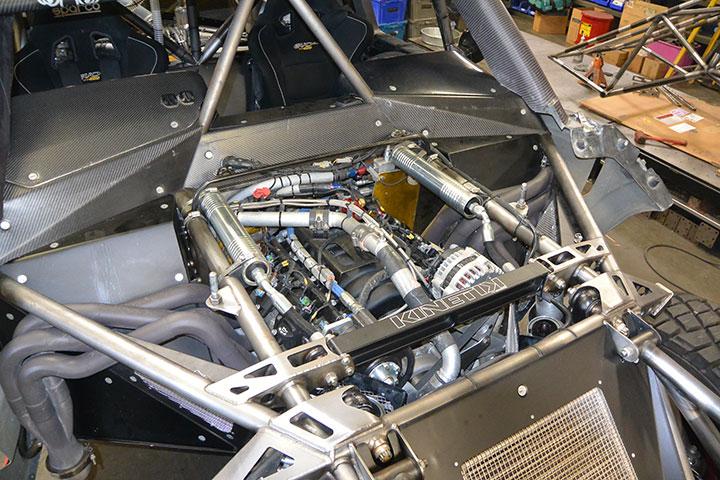 Under the fiberglass and tucked inside the chassis is an LS3 spec race engine that is used for 6100 racing. It provides about 450 horsepower at the crankshaft.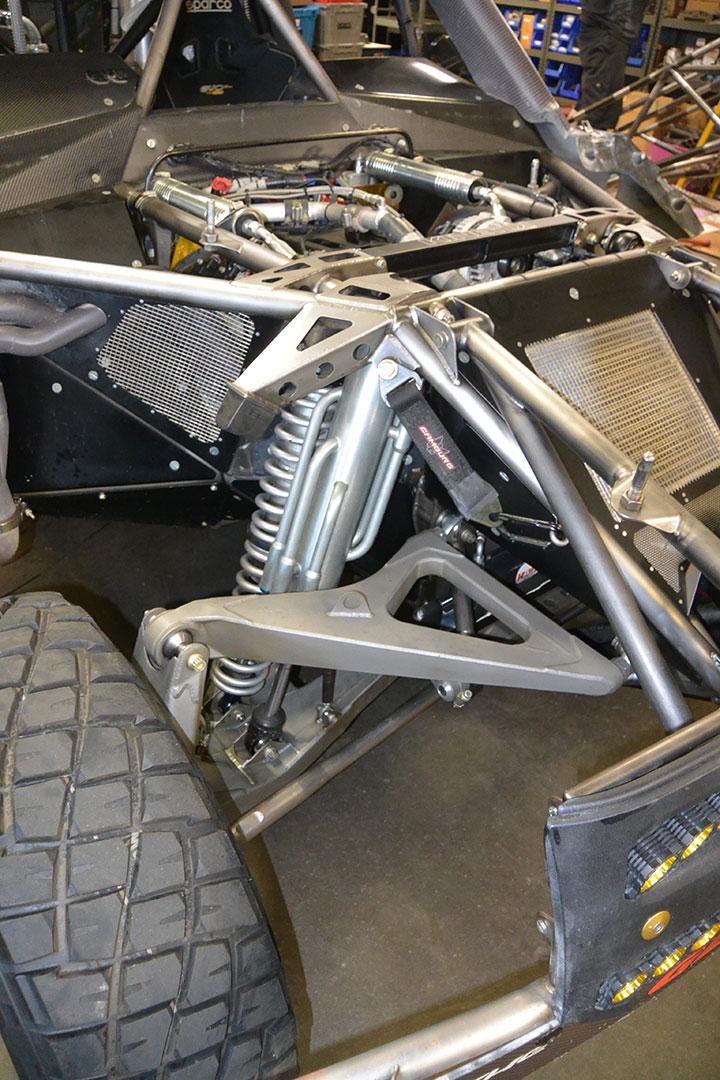 The front independent suspension yields 24 inches of movement up and down. The A-arm setup uses a mild upper J-arm to provide room for the shocks.