Call it a race, a rally... whatever you want. The NORRA Mexican 1000 is unlike any other off-road event in the world. To those lucky individuals who participate, this adventure is known as the Race of a Thousand Smiles. Started six years ago, by Mike Pearlman (son of Ed Pearlman) to honor the original National Off Road Racing Association started in 1966, the new NORRA Mexican 1000 race is something based on the original thousand-mile point-to-point race started in Baja California almost five decades ago. Back then, the area was not well-traveled and almost unknown to Gringos, there were no GPS units, and suspension technology was nowhere close to what it is today. Yet, racers, adventurers, explorers, movie stars, and some just plain crazy folk decided that they'd take a crack at being the fastest one to go from one end of Baja to the other. As time went on, the race grew, technology improved, and the name of the race changed to the Baja 1000, put on by the SCORE racing association (run by Sal Fish for many, many years). These days, the Baja 1000 is one of—if not the most—well-known off-road race in the world. Teams from all around the world choose to participate for the top-dog honors. But many of them do not go home smiling.
The Mexican 1000 is the polar opposite. It is set up to be four days of racing, with time each night for sleep, dinner, social duties, and fixing anything that might've broken earlier in the day. There is not a single team that we witnessed leaving Baja without smiles on their faces. It's a race that's all about having fun, and doing so in some off-road race cars and trucks that could be considered antique! Bringing a race buggy, car, or truck from the 1960s, 1970s, or even 1980s is encouraged and widely accepted as "the thing to do." There are a number of race trucks from the 1990s and 21st Century too—and there's a place for everyone in the Mexican 1000—you can tell that everyone (the crowds, the teams, and the other racers) get most excited when some old iron pushes past them at bone-bruising speeds. The original Mexican 1000 race was not just set up to be a race, but also an adventure and great time that would create life-lasting memories. When Mike brought back the organization that his father created 49 years ago, he did so with every intention to give all competitors and teams the adventure of a lifetime.
"We can't think of a more suiting race that typifies everything General Tire stands for. Adventure, competition, comradery, grit and iron-nails toughness. It seemed only too fitting to sponsor the 2015 General Tire Mexican 1000. And with our sponsorship, we sent a team of our own eight individuals to sweep and chase the race while we covered the action and examined how our Grabbers were working in the wilds of Baja."
Day 1-San Diego to Ensenada 4/24/15
Half our team was flying in from headquarters on the East Coast, while the other half was already in Southern CA, ready and waiting to meet at the San Diego airport. Ron DeWolf, Rubin Arzate, Brian Coats, and Zach Coats were joining the General Tire team for the week and helping us chase the race. We arrived in Ensenada a few hours later in our Pace Bronco and Chase Excursion, packed with extra tires, swag, food, and equipment. After dropping our gear at the hotel, we were off to the Horsepower Ranch—famous for it's many Baja parties thrown before, during, and after races.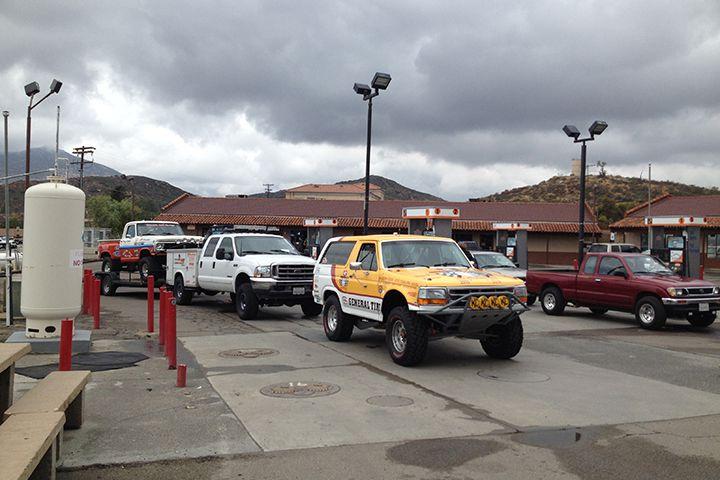 Ron DeWolf, Rubin Arzate, Brian Coats, and Zach Coats packed the trucks and trailer with supplies for our weeklong excursion in our Excursion and Bronco. Coming across the border we came across a number of Mexican 1000 racers with the same destination as us.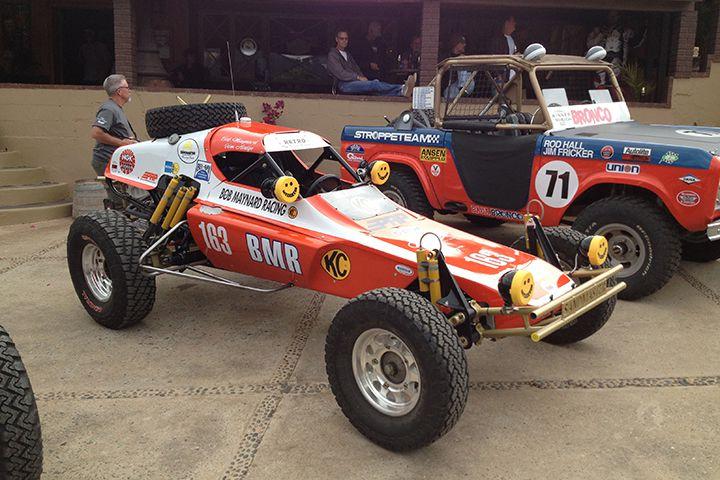 This wasn't the last time we'd see Bob Maynard's buggy.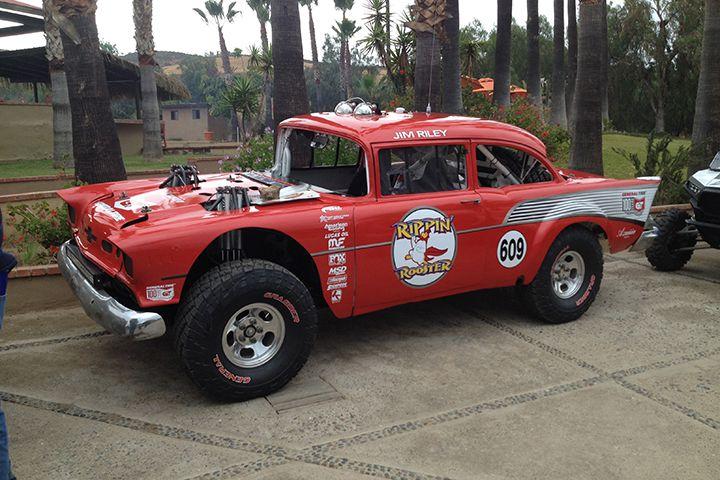 The Horsepower Ranch has long been famous for its gatherings of off-road racers. There, we'd see the Rippin' Rooster with a clean body for one of the last times. Later in the week, the Rooster would suffer some severe fender work.
Contingency, Ensenada, Baja California 4/25/15
The morning of Contingency, we set up a booth, handed out about ten thousand stickers, and prepared for the next week ahead of us. We took the opportunity to meet with our racers in line for Contingency that were running General Grabbers.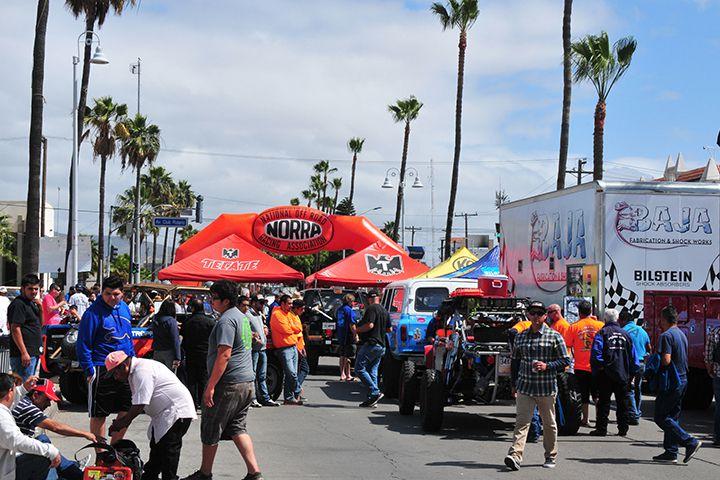 It wasn't long before Contingency started filling up with locals and tourists wanting to catch a glimpse of what would be traveling 1,300 miles just hours later.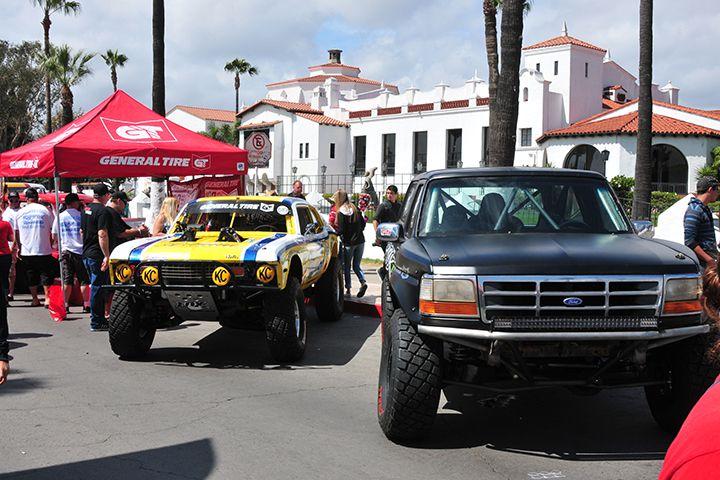 The General Tire booth looked great with not only the Snortin Nortin Nova, but also the Bink/Hollander Bronco.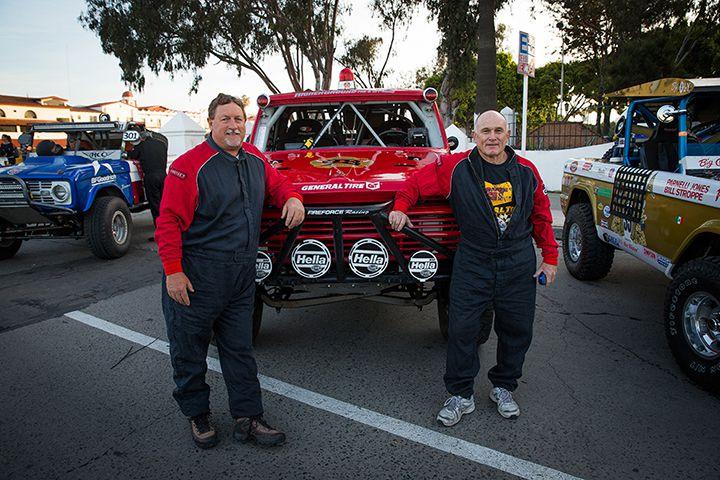 We were hoping to see more of the Fireforce Racing Ford and team later in the week, but some mechanical issues took the truck out on Day 2. We'll be watching for this fancy fire red Ford next year!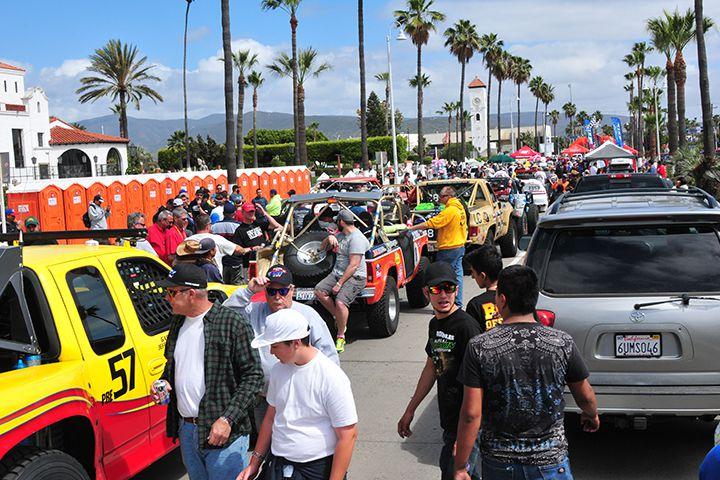 Contingency is a fun day in Ensenada, and within walking distance of most hotels.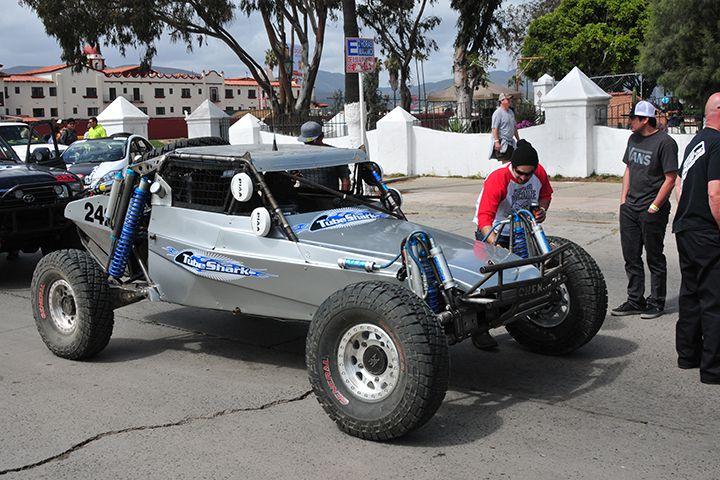 Clean Tube Shark buggy.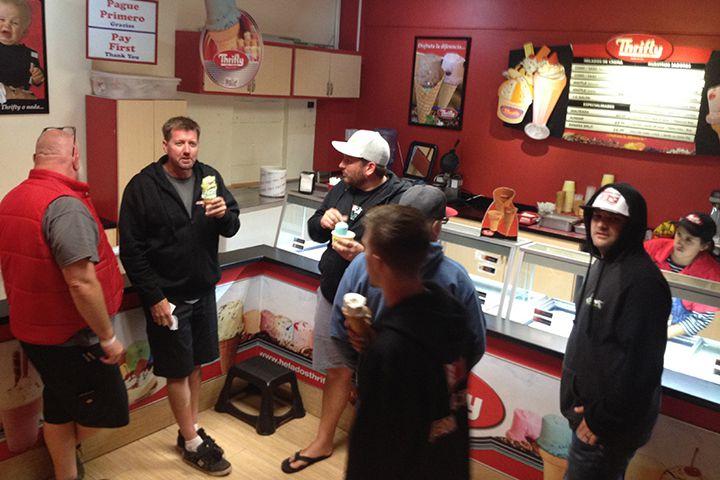 Yeah, all grown men love an ice cream stop whenever possible. First round on General Tire!
Mexican 1000 Race Day 1, Ensenada to Bahia de Los Angeles 4/26/15
The morning of the start of the Mexican 1000, we were up and out early to get some grub and make sure we were ready. Not because it was necessary to get up early, mind you—the Mexican 1000 is a very "reasonable" race with mid-morning start times like 8am and 9am—we were just excited for the race to start.
After seeing the first few vehicles take off, we hit the highway for our first road stop. Unfortunately, our pace Bronco had lost first and second gear. Making a preventative decision before it completely gave, Ron DeWolf, Brian Coats, and Zach Coats hopped in the Bronco and headed back to Southern California to completely rebuild the transmission and meet up with us two days later. We parted ways with the Bronco, got back on the highway, and took a more direct route to get in front of the racers before they hit the beach for a stretch of Day One's course.
We waited for most of the racers to come through before getting back on the highway and killing some time (since we weren't limited to the race course, we were making much better time on paved highways and were able to get in front of the race vehicles often).
About 430 miles later, we would eventually meet up with the Mexican 1000 competitors as they entered La Bahia de Los Angeles (better known to us as the Bay of L.A.). La Bahia de Los Angeles is a sparsely populated town without much as far as accommodations or supplies go. We ended up renting a local's house and their "apartment" (read: trailer with an awning) in front.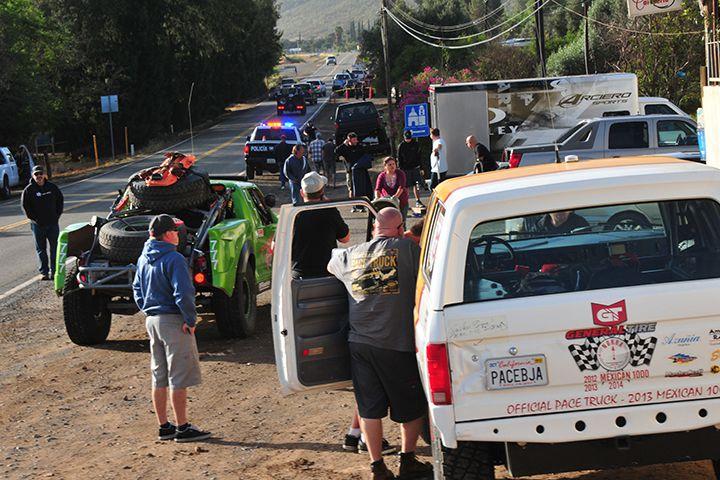 It was here at the first race viewpoint that the pace Bronco decided to part ways with us. We'd later come to find out that they drove back to Lake Elsinore, California, rebuilt the entire transmission, got back in the truck and drove until midnight, and eventually met us in Loreto on Day 2 of the race.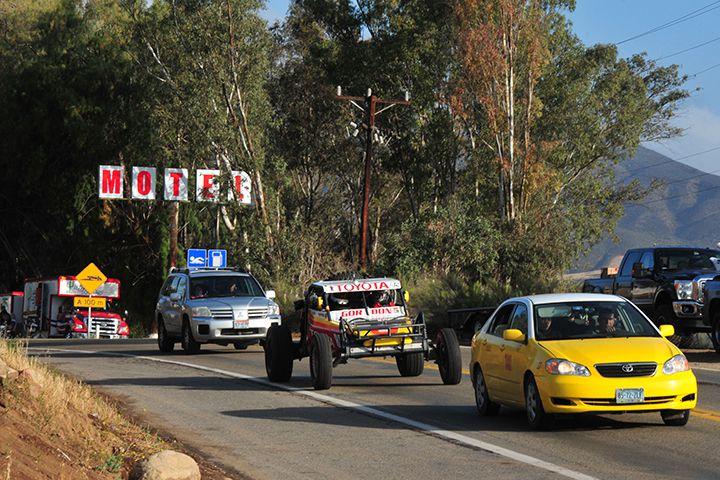 It was really something else to see Bob Gordon's old race buggy, in traffic, during the race.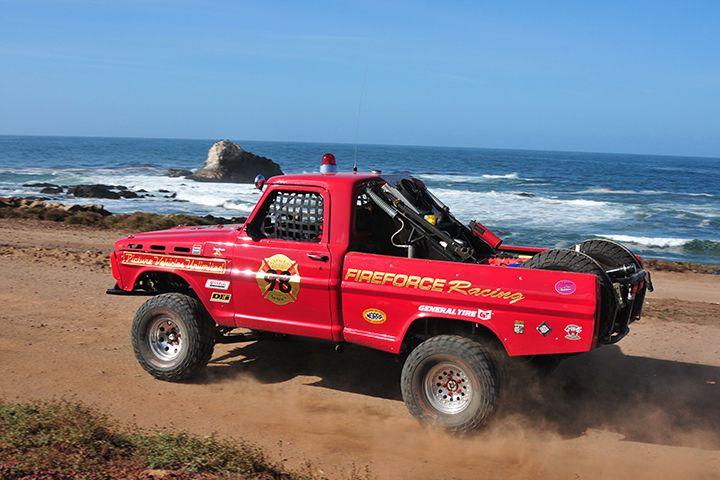 The last time we saw the #98 Fireforce Racing Ford, it was kickin' butt along the beach stretch.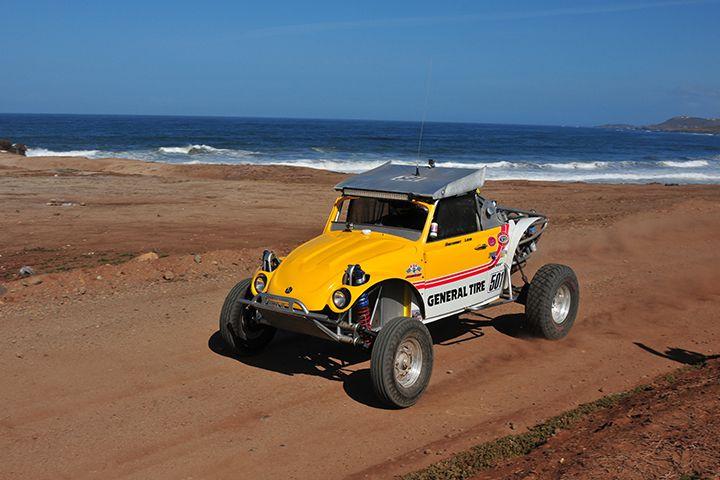 The #501 General Tire VW Bug was running hard all week. Each night it was one of the first vehicles into the finish line.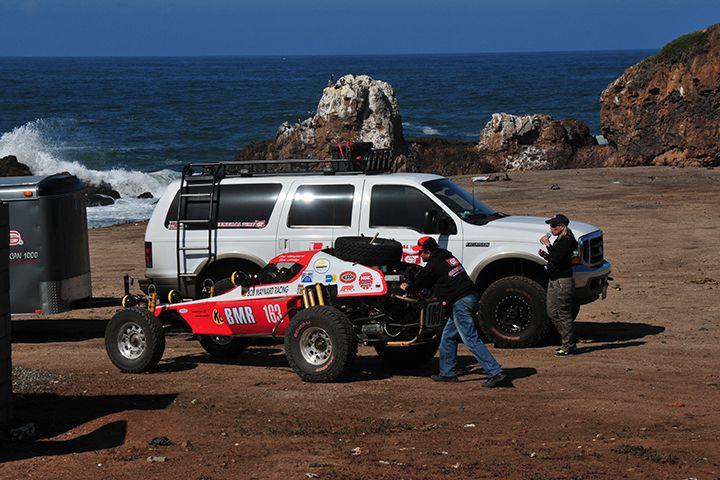 When Bob Maynard's #163 buggy coasted off the course towards us, we knew something was wrong. General Tire tire engineer, Tony Talbert, quickly gave the buggy some manpower to get it near our tools.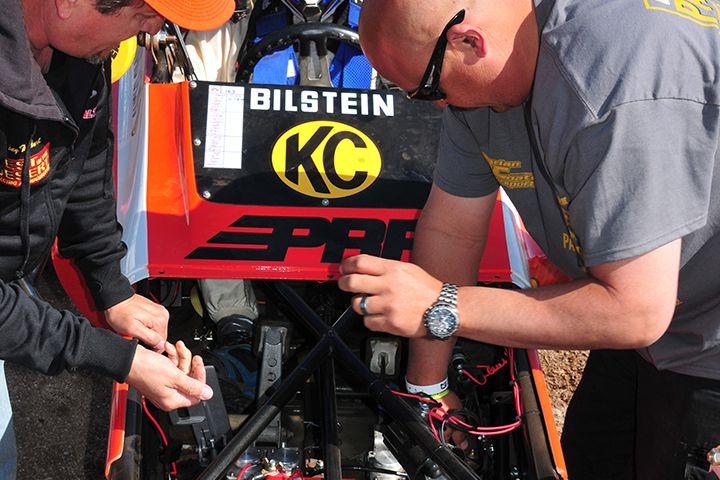 Rubin Arzate quickly diagnosed that a clutch pin had fallen out and he and Tony went about figuring out a way to secure it so Maynard was not stranded again.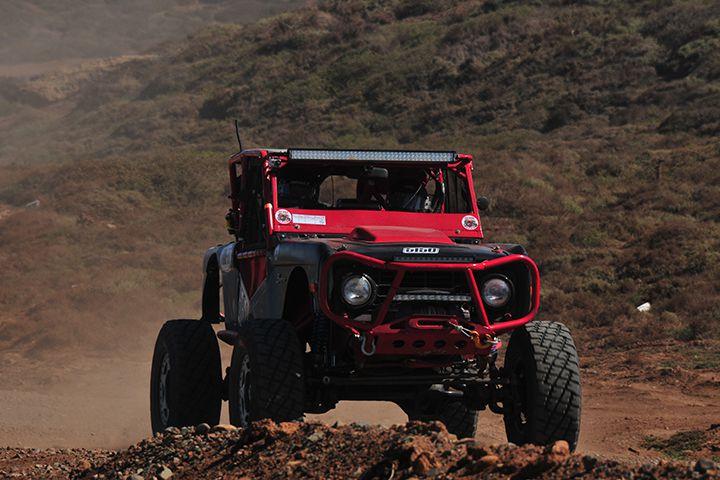 While the 5150 Bronco looked like it was built for some racing that might involve a few more rocks, it was doing a great job showing up a lot of the desert buggies and trucks.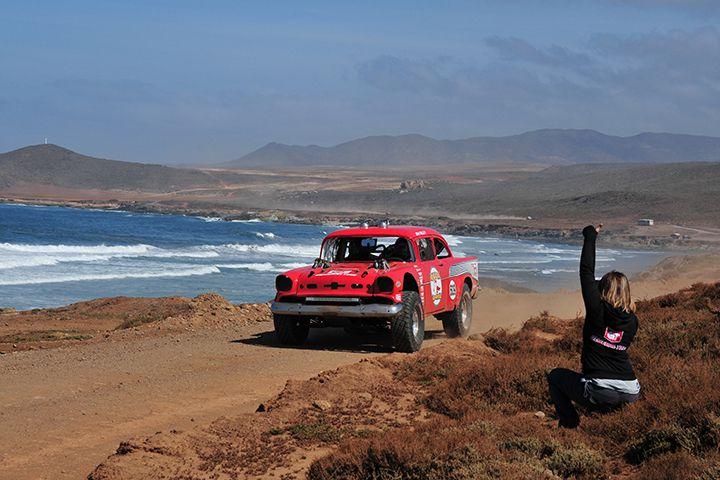 Thumbs up to our team driver, Jim Riley, in the Rippin Rooster and he rails on by Caitlin Hall, who's ready to snap a pic.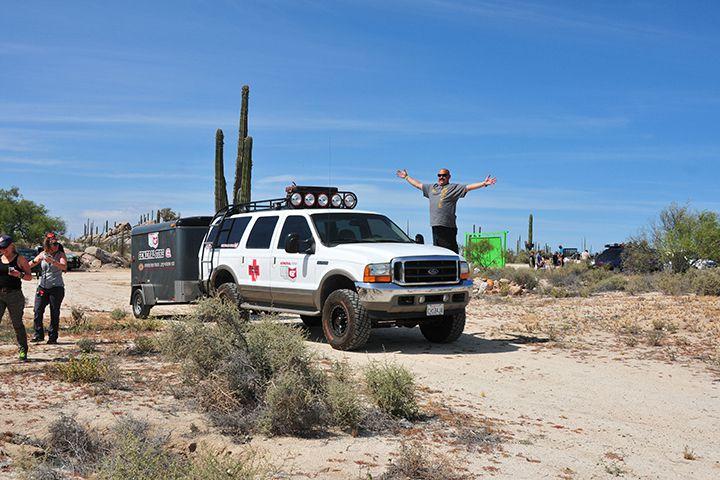 While the racers were enduring the rough course, we took the time to check out the amazing terrain and vegetation of Baja California, Mexico.
The Bink/Hollander Bronco was also running with our General Tire crew until it had a power steering failure that took it out of service for the week. Too bad, as it was a great-looking Bronco to have rolling with us.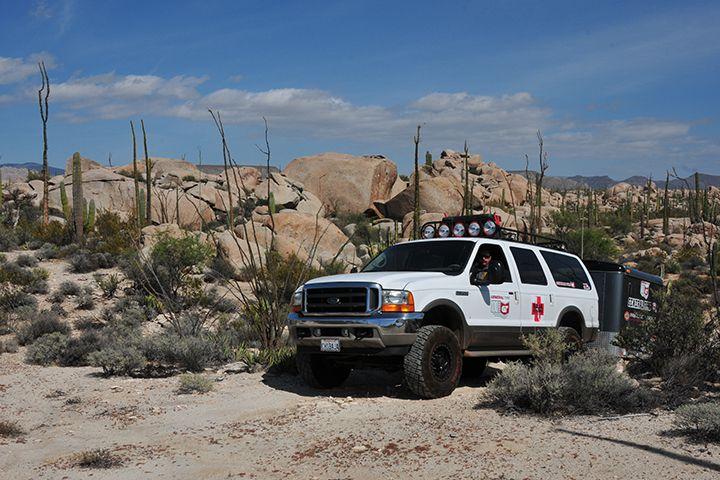 Part of what made the 2015 General Tire Mexican 1000 so great is that it allowed both racers and chase teams see some amazing open lands—land that many call that last bastion of the Old West.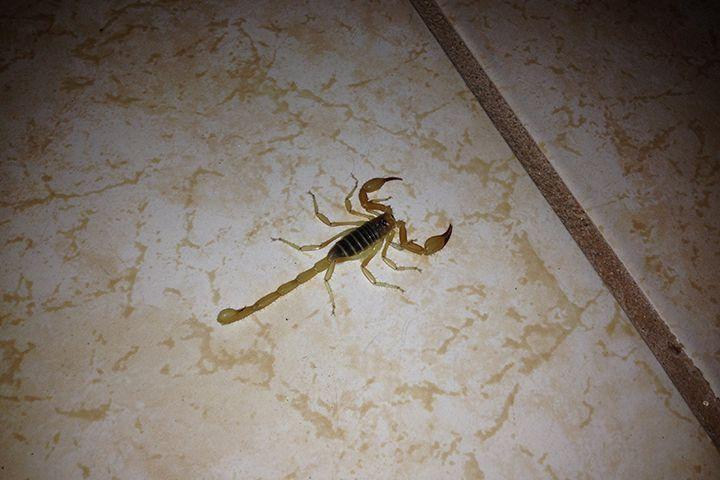 In the house we rented, we found a friendly scorpion that was looking to share the sheets a little. It may or may not have caused a couple individuals in our party to sleep elsewhere. Anyways, it was just a brown one; it's the black ones you have to watch out for. And he was probably just looking for his friend "the mouse," who we caught five minutes later.
Mexican 1000 Race Day 2, Bahia de Los Angeles to Loreto 4/27/15
While the racers staged for an 8am takeoff from Bahia de Los Angeles, we got ahead of them once again to see them at the race checkpoint in San Ignacio. With time to spare we took in a few of the local sights (you have to in a place like this) before witnessing some of our guys come past. It's fun to see race trucks roll through a town that's willing to give way for the race to run through for a day. The best part of this stop was watching the Pace Bronco rock into town on three wheels and join back with our party. Man, that Bronc sure runs great when a camera's pointed at it.
Upon leaving San Ignacio, we headed for Loreto, the end point that day. Our trip led us past some incredible fishing and snorkeling lover's dreams, and showed us that Baja's vegetation goes from hardy desert plants to lush, green succulents along the coastline. We couldn't help but pull over at least a couple times to dip our toes in the water. We tried not to enjoy it too much, as we knew some of our racers were currently in a rough section, on a hot and sweaty day. We'd meet up with them soon enough in Loreto for the Baja Social Club party going on that night.
Exploring the Mission in San Ignacio.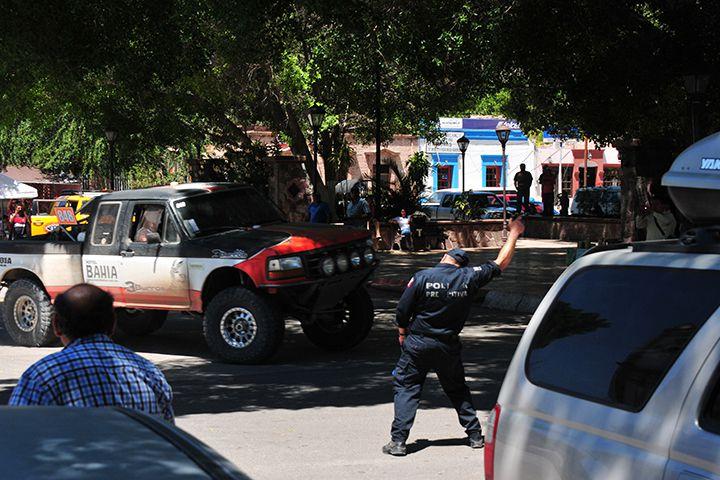 The police officer directing traffic (including race traffic) was awesome. As race trucks would come by, he'd wave his arms and signal for them to hit the throttle. This may have been the first time I've ever seen a cop tell someone to "floor it."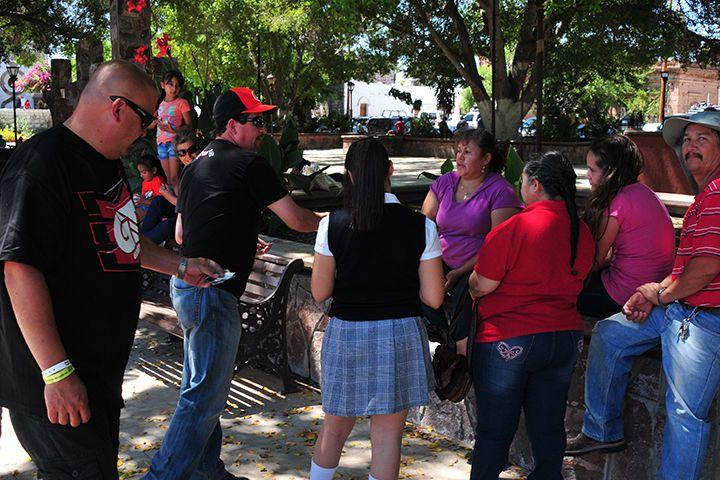 Tony Talbert and Rubin Arzate passing out some General Tire stickers to the locals. It's definitely a form of friendly currency that helps keep us welcomed to race in Baja, year after year.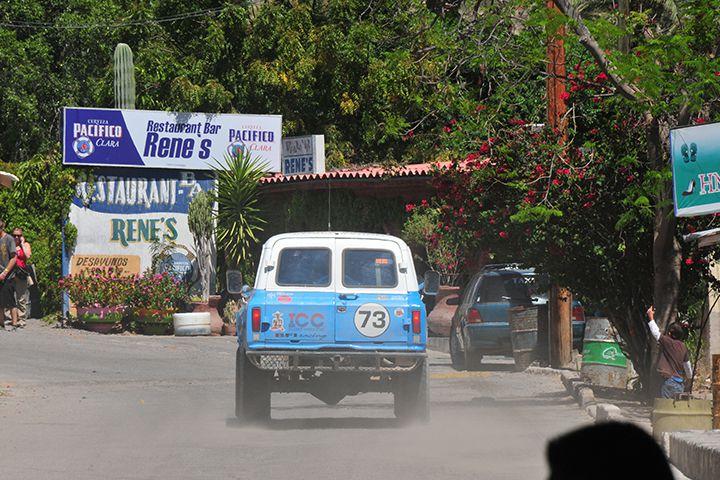 The BFI Racing Suburban heading out of sight, around the corner and out of San Ignacio.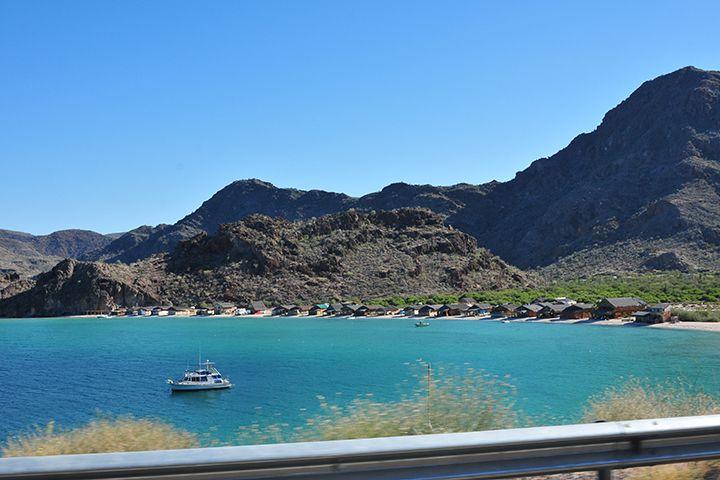 If one of our trucks was going to break down, we started praying it was going to be in this little section of coastline where these beach huts resided.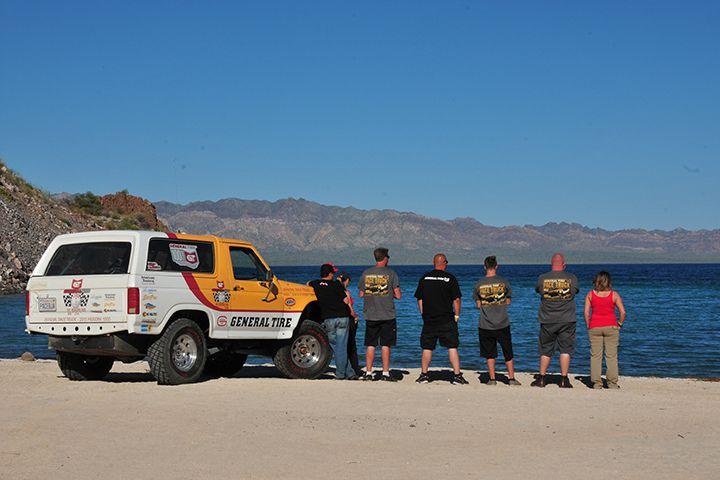 The General Tire crew taking a second to stop and see how lucky they are.
Mexican 1000 Race Day 3, Loreto to La Paz 4/28/15
Day 3 of the General Tire Mexican 1000 took us from Loreto to La Paz. If we had to choose a favorite day, this might well have been it. It started with a nice breakfast overlooking the race starting line, where we got a bird's eye view of all the racers heading out that day.
From there, we booked it to south down the Baja Peninsula until we got to a highway crossing where we knew we'd be able to catch a few of our racers. From there, it was straight onto La Paz…almost. While eating up a lonely highway in the Bronco and Excursion, we spotted a stranded minivan on the side of the road. With some time to spare, the spirit of Baja mandates that we stop and lend a hand. Upon inspection, we found a family of seven with no spare and no tools, but they had us! Ron DeWolf gladly gave up his trailer spare to help get them going and back on the road. And then it was our turn to get back on the road and end our day in La Paz, where we'd see our Grabber-adorned racers roll across the finish for the night.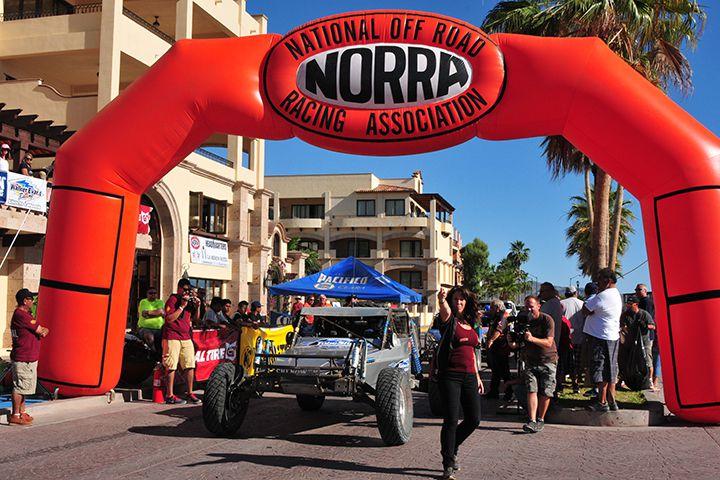 Each morning, the vehicles were launched with such enthusiasm that you could not help but smile. It truly is a race for everyone to have fun at.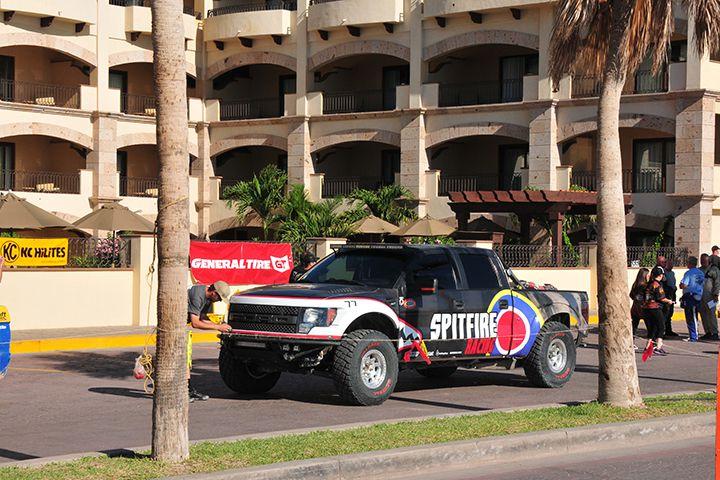 The Spitfire truck was one of the few newer trucks that still had a clean body on it. It seems the roughness of the course had hurt quite a few newer trucks' fiberglass by the time the race ended.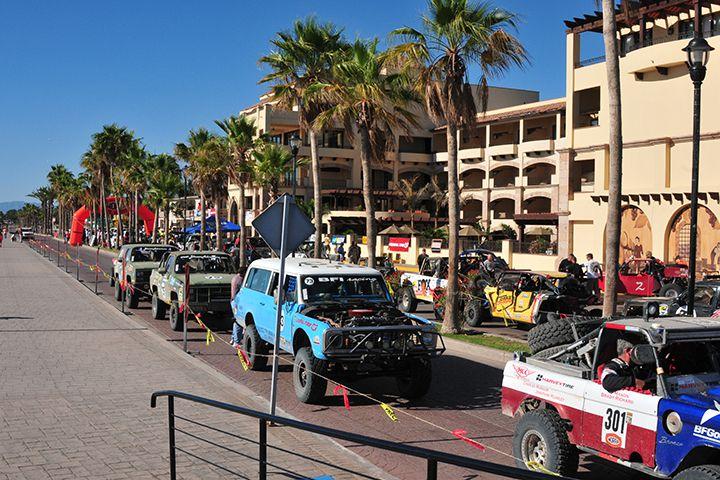 By Day 3, our friends at BFI Racing had already decided to ditch the hood. "Better cooling," they told us.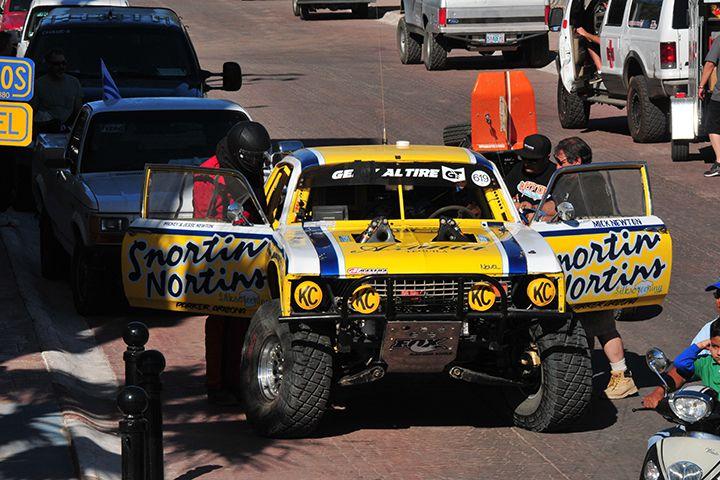 The Snortin Nortin is one mean looking Nova.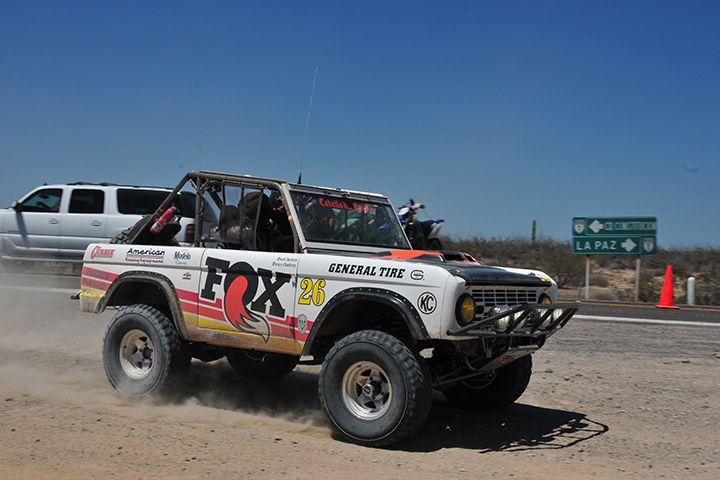 Towards La Paz, our racers gave it all they had. Boyd Jaynes and Brian Godfrey in the Fox Bronco had on a set of brand new General Grabber™ MTs.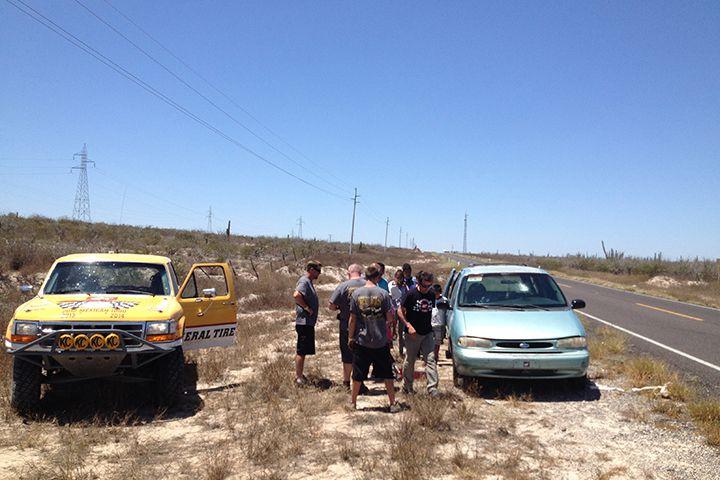 When you find someone on the side of the road in Baja, you stay and help or give them a ride to where they can get help. It's the spirit of Baja. When this family of seven had no spare and no tools, some fateful force sent us along the same highway with tools, and the exact size spare tire from our trailer.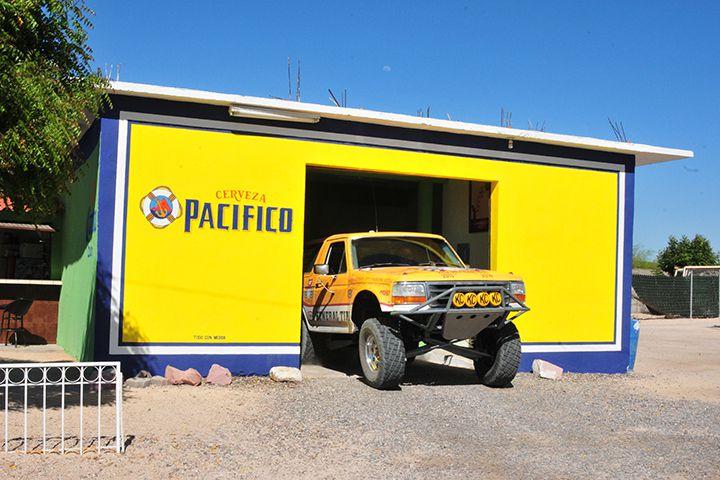 After paying it forward with the family in the minivan, we decided we earned ourselves some refreshments as we peeled into La Paz for the night. We found this really cool drive-thru juice box stop where we picked up something cold to drink.
Mexican 1000 Race Day 4, La Paz to the finish line in San Jose del Cabo 4/29/15
Thankfully, Ron Pearlman really did set this race up with "having a good time" in mind. Naturally, that would include the last race day being the shortest one to boot. With only 173 miles for the competitors to go, it wouldn't be much past 1pm when the first trucks would start rolling into San Jose del Cabo. We split the team and the pace truck cleared the track for the last leg while the rest of us waited at the finish, eagerly seeing who would come in first.
The race gods were good to us this day, with a number of first-place finishes on General Grabber tires, and even one first-place finish on our new Grabber™ MT tires! The Mexican 1000 was a good race to remember for our 100th year in business.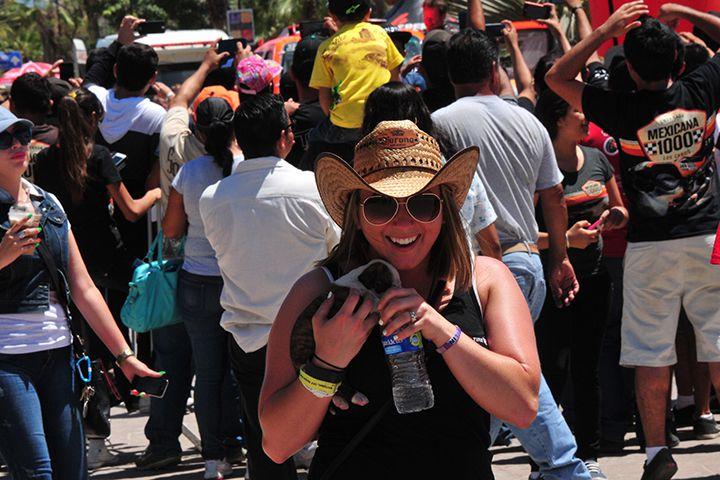 When we saw the look on Caitlin's face when a local handed her a baby pit bull, we thought we were gonna have to smuggle puppies across the border.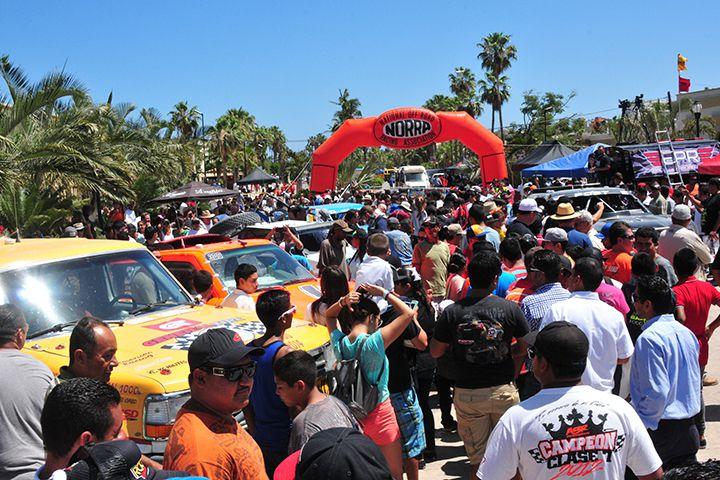 The finish line was packed! Check out that cool pace Bronco in front that was first over the finish line after sweeping the course for the racers! It's a great feeling to come over the line first…even if it didn't count.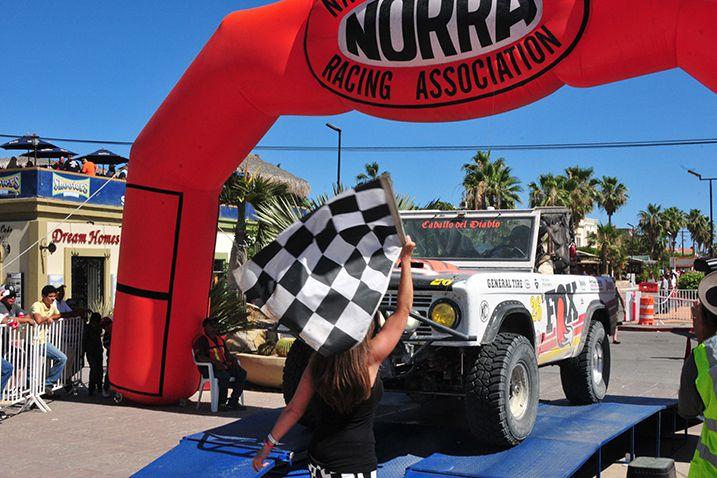 The Fox Bronco took first place in its class on the new Grabber™ MTs.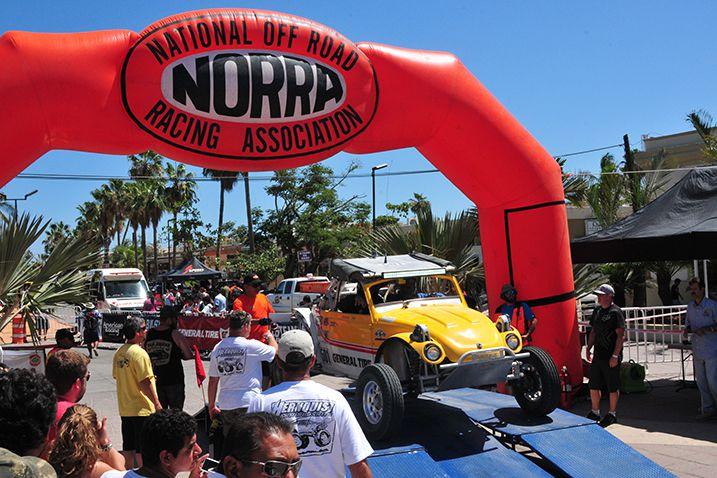 The General Tire VW Bug took first place in its class.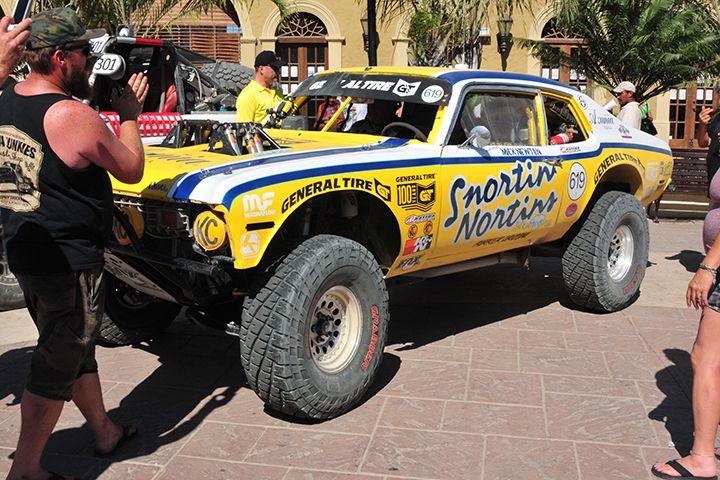 The Snortin Nortin came in still looking almost as clean as the day it left. We cannot say the same for the Rippin Rooster, unfortunately.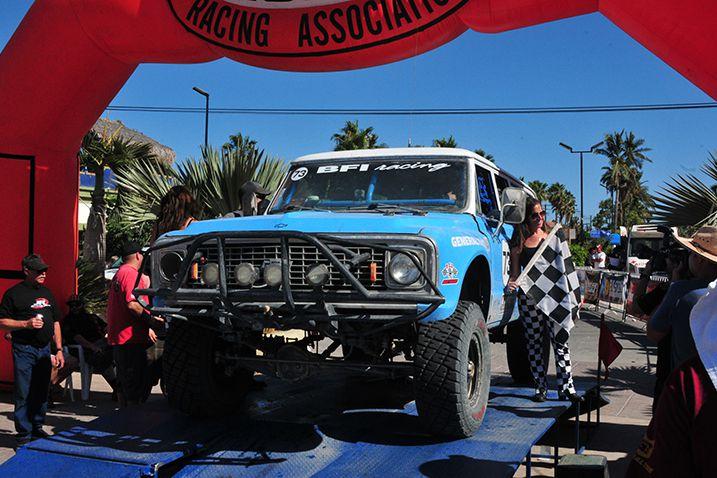 The BFI Racing Suburban placed first in its class, too!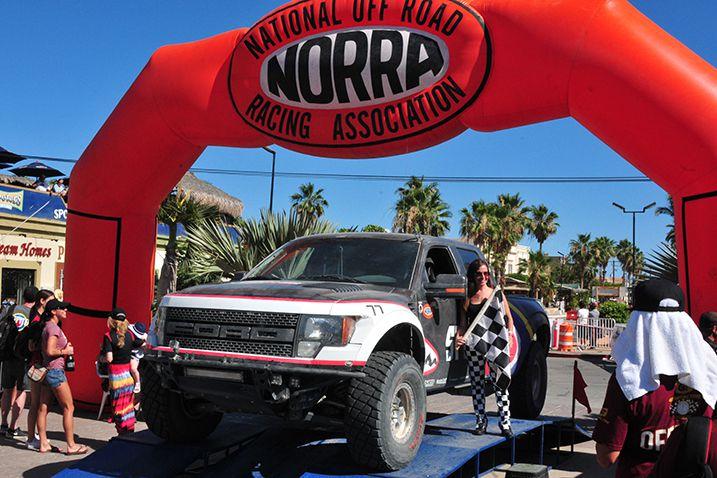 The Spitfire guys also took home first place in their class.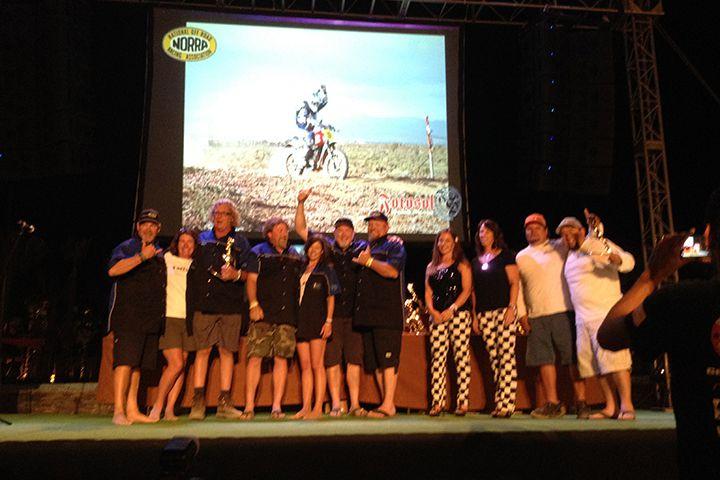 There is always an awards banquet on the ending night of the Mexican 1000, where we celebrate the teams who triumphed, like our friends over at BFI Racing.
Want more? Check out some of the best shots from the event in our NORRA Gallery.
About General Tire
For 100 years General Tire has offered a complete quality line of ultra-high performance, passenger, light truck, off-road and commercial tires to meet all your needs. General Tire is a proud supporter of Lucas Oil Off-Road Racing Series, Best in the Desert Racing Series, Major League Fishing, Chili Bowl, Pro-Pulling, Late-Model Dirt Series, Drag Boat Series, World Cup of Softball, American Sprint Car Series, FreestyleMx.com Tour, Zero One Odyssey, and is the Spec Tire of Trophylite and JeepSpeed. Team GT supports off-road and short course teams including C.J. Hutchins, Camburg Racing, Carl Renezeder, Chase Motorsports, Doug Fortin, Harley Letner, Jarett Brooks, Jim Beaver, Jimmy Fishback, Jim Riley, Macrae Glass, Randy Merritt, Ray Griffith and Ryan Beat.
About Continental AG
Continental develops intelligent technologies for transporting people and their goods. As a reliable partner, the international automotive supplier, tire manufacturer, and industrial partner provides sustainable, safe, comfortable, individual, and affordable solutions. In 2014, the corporation generated preliminary sales of approximately €34.5 billion with its five divisions, Chassis & Safety, Interior, Powertrain, Tire, and ContiTech. Continental employs more than 190,000 people in 49 countries.