One of the best parts of our jobs is traveling all around the country, constantly seeing what this great nation has to offer and closely observing our General Tires in countless terrains throughout the land. Officially, it's all "research," and the travel is necessary to do the job, so we try to keep our gleeful smiles to a minimum when it's time to leave for another road trip. After all, if anyone knew how much fun we were having, we might stop getting paid for it! So it was with forced frowns we boarded our plane, headed for the Northwest, to pick up a brand new single cab short bed Hemi 4x4 Ram truck and drive it back across the country. Not only were we traveling back in comfort and style, we were doing it with enough power to embarrass some high-end German cars.
Of course, it wouldn't be a proper road trip for us without the right tires. Considering we were about to add a couple thousand street miles to the odometer, and most of the dirt we'd be hitting would be mild off-road terrain, we outfitted our new Ram with some Grabber UHPs. They're an excellent street truck tire with a V-shaped directional tread that evacuates water well, making them a killer choice for any truck or SUV that spends the majority of its time on pavement.
After arriving at a tire shop and getting rid of the stock tires with less than 50 miles of wear on them, we hit the interstate heading east. New tires can be a bit slightly less predictable for the first 100 miles or so as the tire-molding compound wears off but we had no issues and after a couple hours we could feel the UHPs really grab the highway around certain sharp corners. With the Ram Express' stance and suspension stiffness, it needs a tire like a Grabber UHP to compliment and complete the perfect out-of-the-box street truck package.
We weren't long into our cross-country drive before we pulled off for a five-minute break and were distracted by a sign we found on a random exit. It read: "Garnet ghost town, 10 miles." We couldn't resist. It was a dirt road, but we did have a 4WD truck, after all. About 30 minutes up the mountain, we started to run across a couple old dwellings, long before the main part of the ghost town. It was surprising how intact everything still was, no doubt thanks in part to the remoteness of the area. We, of course, got out to do a bit of exploring, and we decided to drop a few pounds of pressure out of the Grabber UHP tires to soften the ride a bit at the same time. With the ride slightly improved, we headed further into the hills until we came to a well-groomed parking lot above the ghost town.
The Garnet Preservation Association and the BLM take excellent care of the area and do a great job of preserving the buildings and what they still contain. Parking facilities and pathways are kept up well and offer a very cool, safe place to take the family. If you're up in the northwest corner of the country, it's worth taking a few-hour detour into Garnet to catch a glimpse of what life was like over a hundred years ago.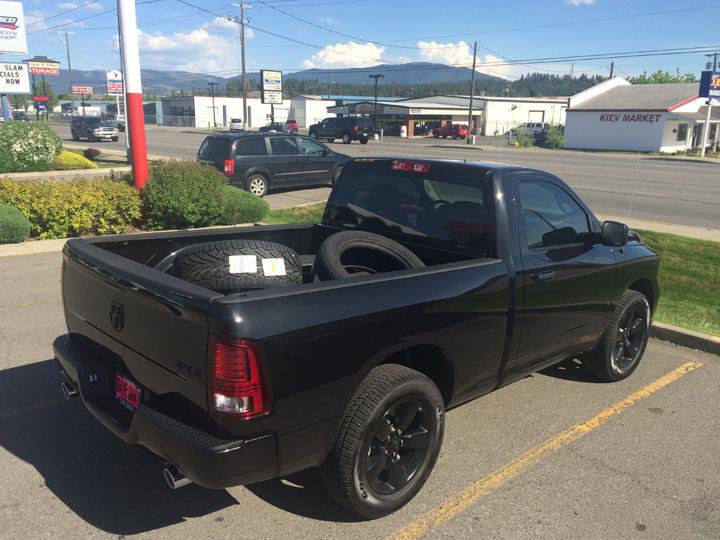 Our occasion for being up in the Northwest region? We had picked up a brand new single cab Ram 1500 Express from a dealer in North Idaho. But before we were going to put many miles on it, we had to have the right set of tires on the truck! While our future plans called for some drastic modifications, the immediate use of this truck was to eat up some highway getting us back across the country! The perfect tire for this trip: The Grabber UHP. We shipped some to ourselves, to arrive at a friend's shop in the northwest, the day we stepped off the plane to purchase the truck.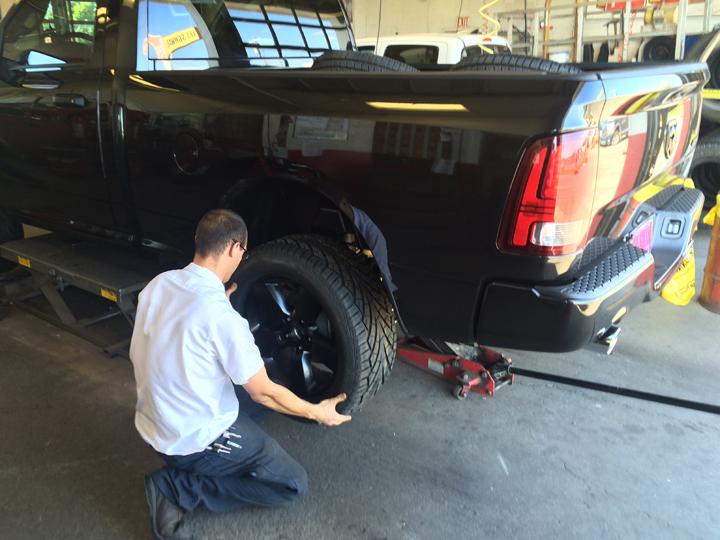 We had the Grabber UHPs mounted at a local tire shop that kept scratching their heads about the fact that we were replacing brand new tires on a truck with about 45 miles on the odometer.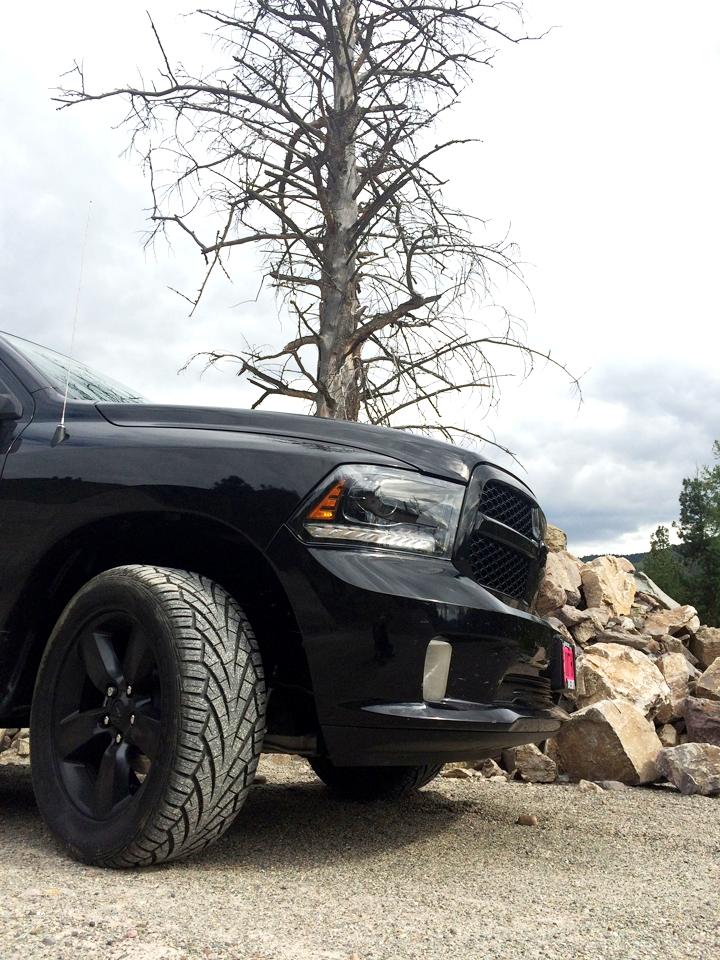 Some 295/50R20s were about 32 inches tall and 12 inches wide and fit great on our new Ram. Ideally, we would've preferred a wheel that was one inch wider than the stock wheels, but they still looked good and did not crown.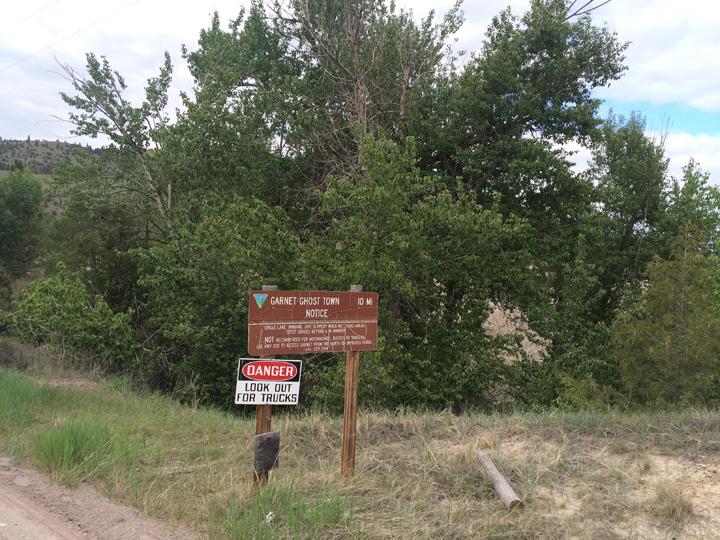 Heading east from where we bought the truck in North Idaho, we found a sigh for an old ghost town—the ghost town of Garnet—not too far outside of Missoula, Montana. We couldn't resist heading beyond where the pavement ended.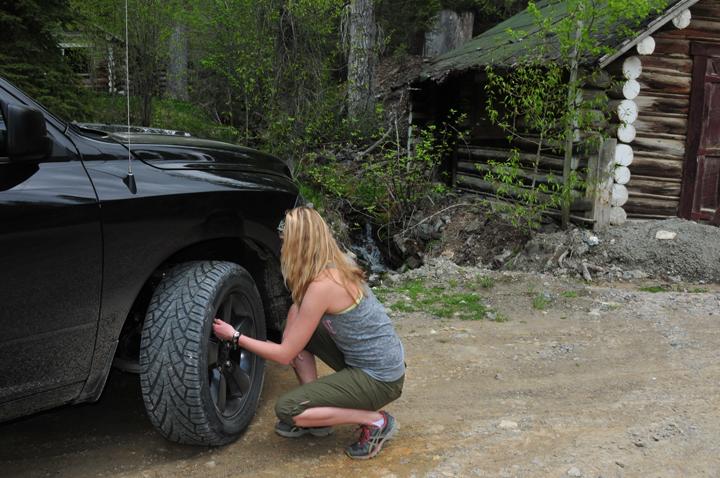 About five or six miles into the mountains on a dirt road, we decided to drop 10 pounds of pressure out of the tires since we had them inflated to near their maximum inflated pressure prior to leaving on our cross-country drive. No, these aren't off-road tires, but lower tire pressure has the same effect and did smooth out the ride a bit.
We eventually reached the main part of Garnet. In the late 1890s, Garnet was a bustling gold camp housing nearly 1,000 people. As the mines closed, residents moved away and by 1910 there were only 150 people left in the town. A fire destroyed many structures in 1912 and by the 1920s, Garnet had turned into a ghost town. These days, The BLM and the Garnet Preservation Association care for and manage the area in a cooperative effort to preserve the town and keep it open for the public's enjoyment.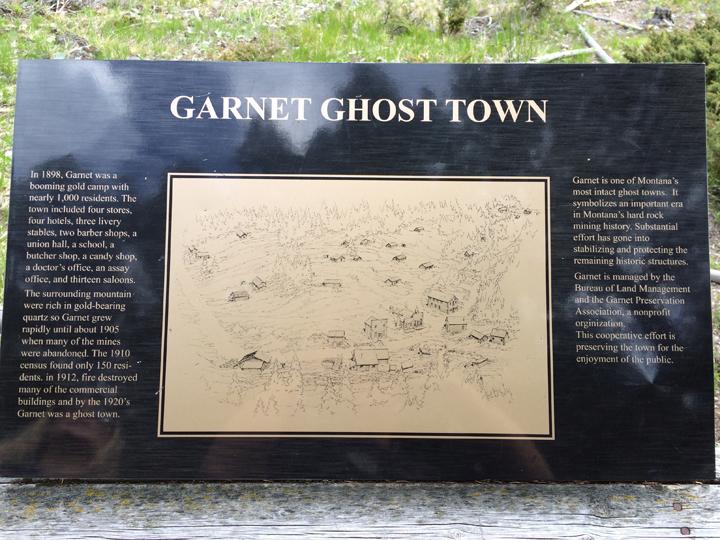 A plaque can be found above the town that explains a bit of Garnet's history.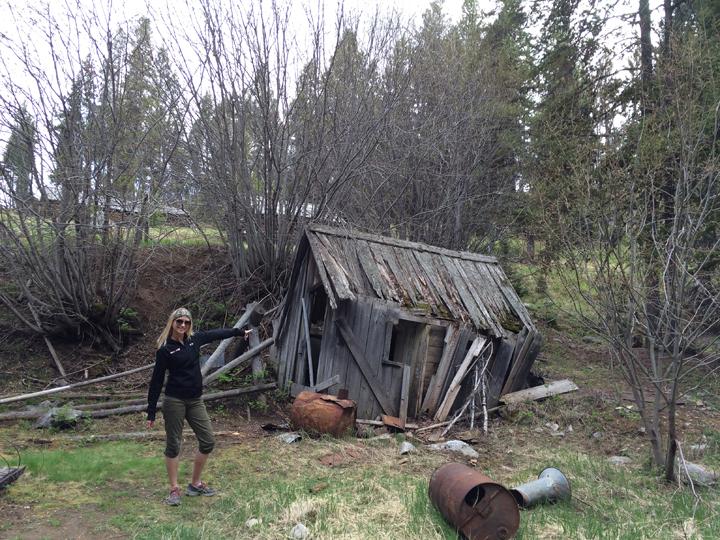 While a number of the structures have fallen, there is still a very complete ghost town here. And one of the best parts is that you can still access the town and its buildings; You are not kept quarantined 100 feet away, behind a fence, and instead you're able to touch the original buildings, tools, chairs, etc, that remain in the town.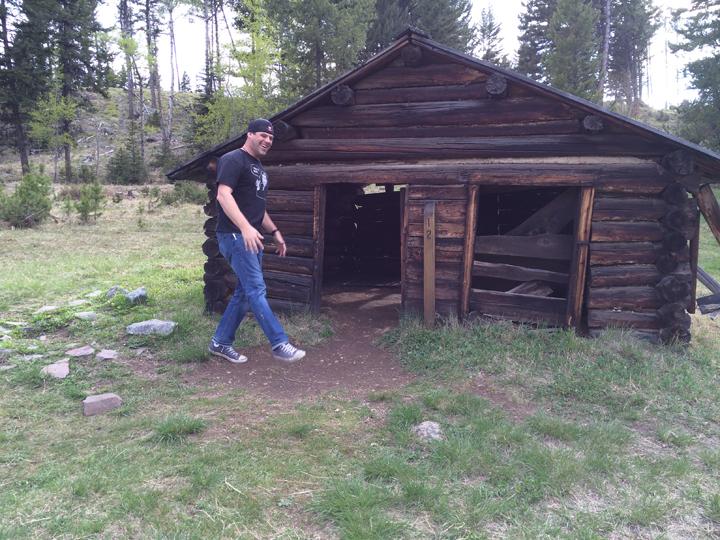 Yes, one of us had to go do a Giant impression in front of one of the old residences. People were quite a bit smaller 100 years ago, as evidenced by the height of the entrances.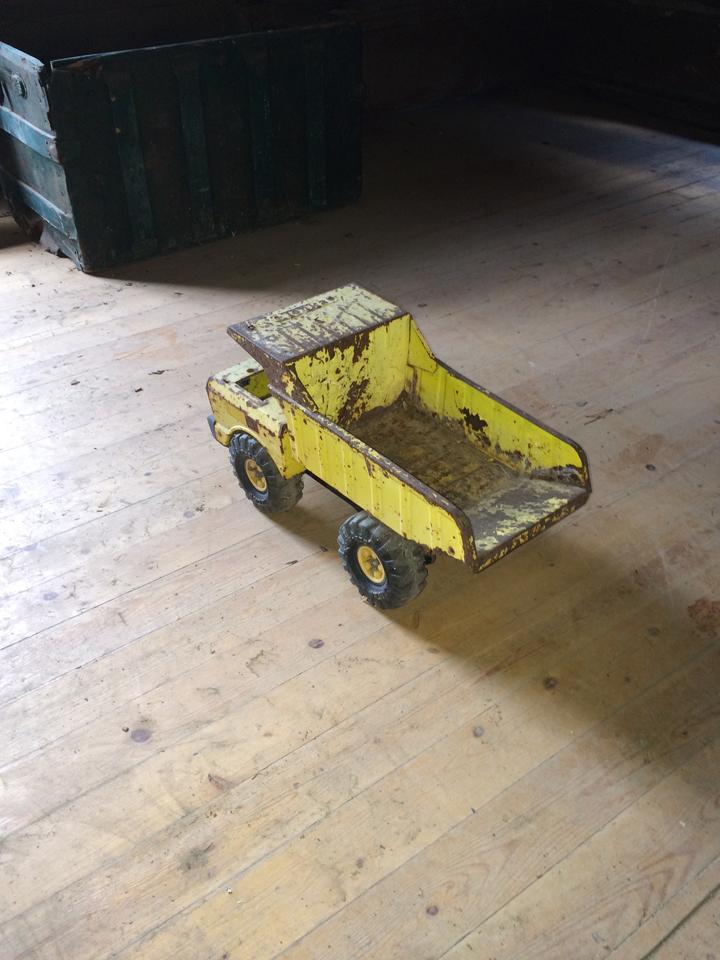 This old Tonka truck was still in one of the old buildings, if that gives any idea of how well the BLM preserves this ghost town.
This is one of few original outhouses still standing in the ghost town of Garnet. There were a couple holes on some planks you basically sat on…you get the idea. Also, the fact that there was more than one hole per outhouse and they were less than two feet from each other teaches us that our ancestors were not shy.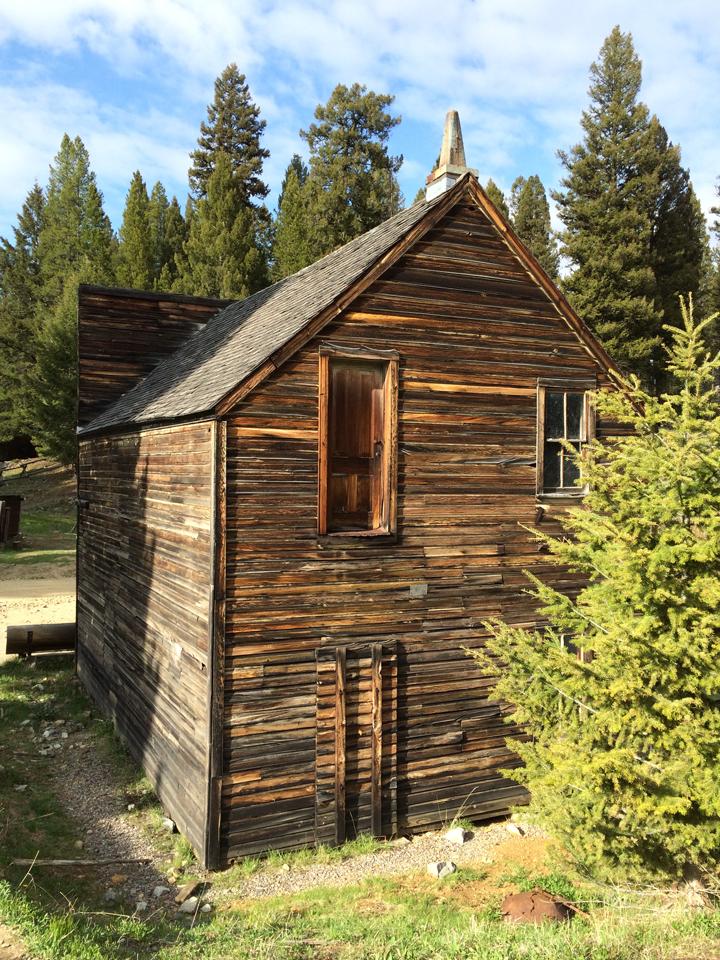 Ever wonder why some old western buildings have doors to nothing on the second story? It was common for traveler's lodgings to be on the second floor of working establishments in town, and the second-story door was to load and unload the luggage off the top of the stagecoach!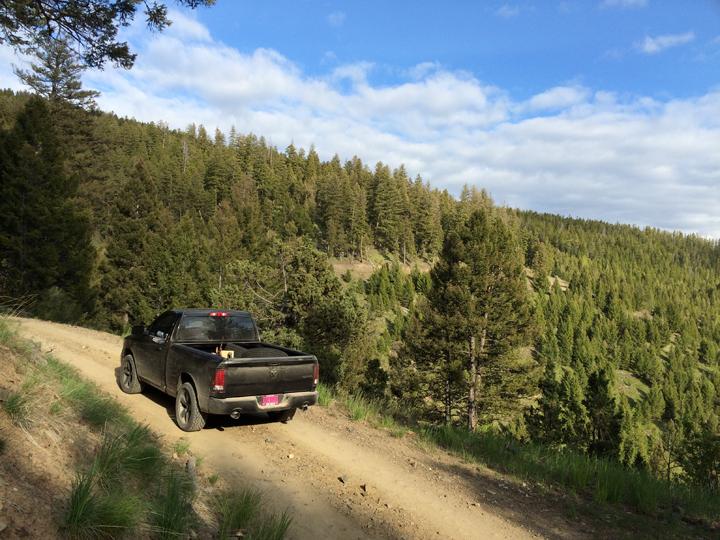 Once in Garnet, you have a couple ways of exiting. Since we went in one way, we decided to go out the other. This always seems like a great plan, until you've been driving for a while through dense forest with no certainty that you're not heading deeper into the hills.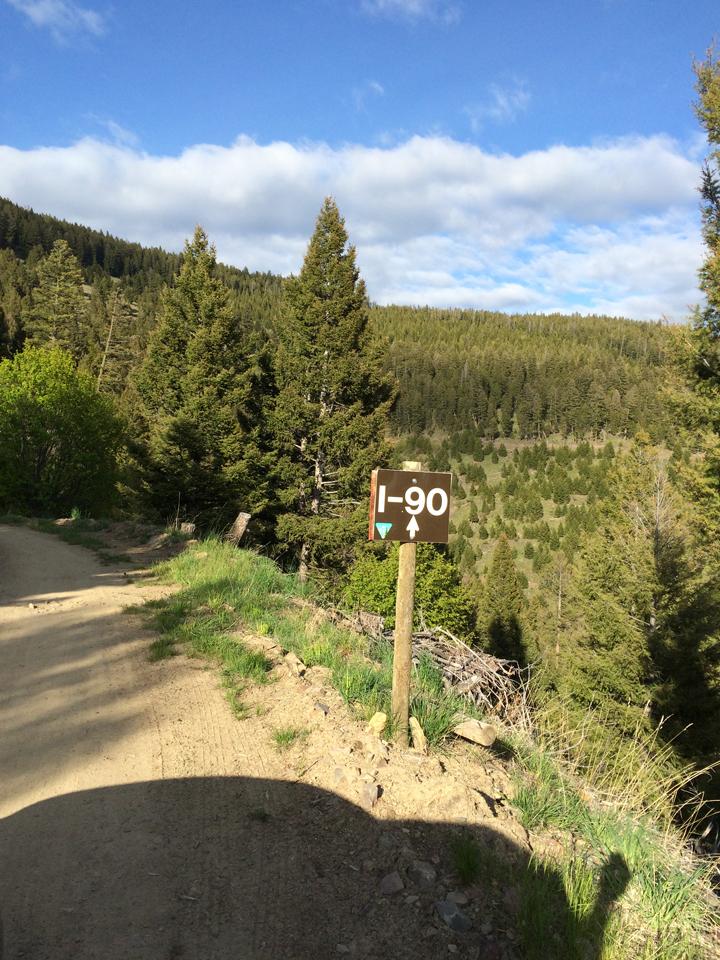 After stopping, climbing to some high points to see if we could see where we were, we drove around the very next corner to find a sign for the interstate. We're not used to seeing interstate signs in the middle of nowhere on a mountain road.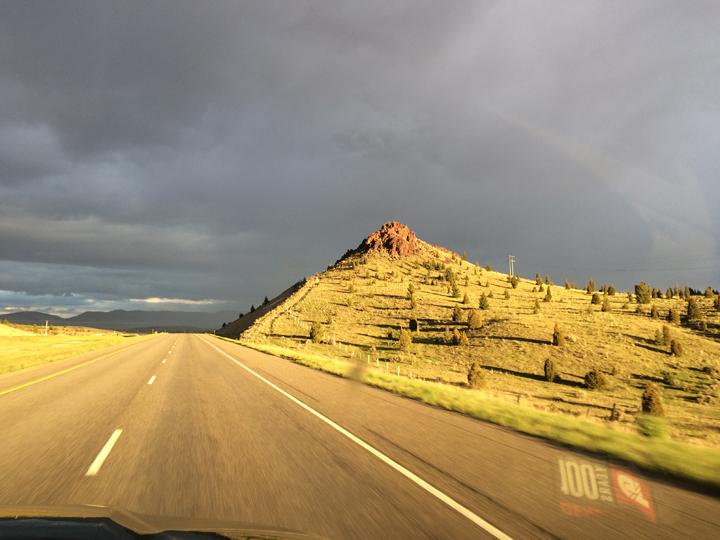 We hit the highway again just in time for some perfect light to mark the end of the day. The General Tire logo refection off the hat sitting on the truck dash was just a happy coincidence.