We started on a brisk Fall morning at 7am from John Mears' shop, Lost River Off Road in Spokane, Washington. John had selected a number of friends and accomplices with classic trucks, Jeeps (and even a Land Rover!) that he knew would make the trip. As we gathered, everyone walked around, weary of the other individuals and vehicles that we'd all have to spend the next week with. While John knew all of us, he was the only one. But we were all looking forward to a great trip and luckily everyone had packed a great attitude to bring with them on this trip.
Today would be the longest road day, with 280 miles to put under our tires. While this is no feat in a modern day vehicle, not all of us had top speeds that exceeded 60 mph, and most of these vehicles were not daily drivers, meaning that we'd be doing a lot of impromptu side-of-the-road fixes while we worked the quirks out of 30-, 40-, and 50-year old vehicles that did not necessarily want to be driven all day for hours at a time.
By the afternoon, we'd band-aided coolant leaks, suspension squeaks, and made some carburetor tweaks (along with a number of other fixes) to keep everyone in the group moving. We were all asking ourselves the same question: Are we all going to make it?
The light was starting to dwindle when we finally hit the Magruder Corridor and pulled into our "plan B" camping destination for the night. We hadn't gotten near John's intended destination and we'd already skipped a stop or two…and this was only the first day! Luckily, John had contingency plan after contingency plan for just these situations. He knew he'd have to modify this trip multiple times on the fly as unexpected things occurred. And, hopefully, most of the problems had been worked out of these vehicles after the first day and it would be smooth sailing from here on out.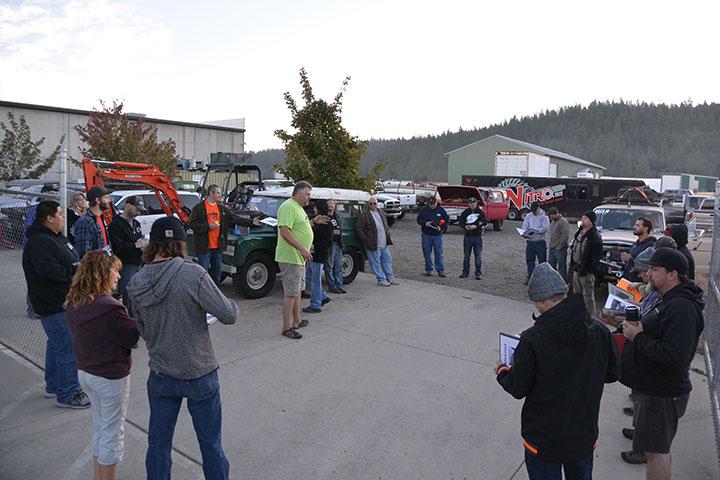 We started the trip early on an Autumn Friday morning. John Mears made quick introductions and gave us an idea of where we'd eventually be heading today, and then we blasted out of there—extremely quickly and efficiently, we might add, for a group of this size.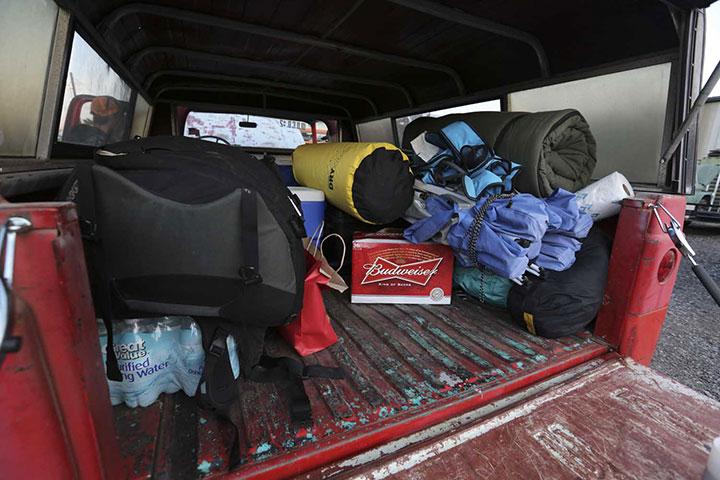 Packing can be a challenge on a trip like this. Camping for six days straight requires more gear than your average off-road trip, plus we also had to account for tools and possible spare parts that might be needed. And since we were going to be far away from any type of cell reception or even other people for much of the trip, we had to be self-reliant and carry enough fuel to get in between fueling stations.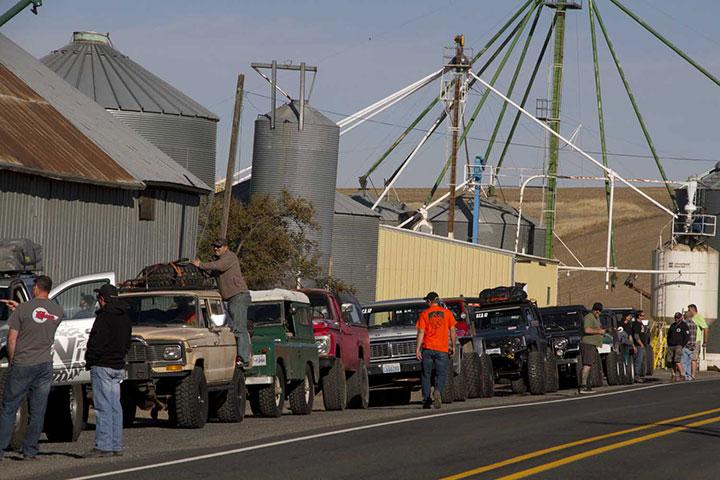 We didn't get far down the road before pulling over for the first time. The old vehicle quirks were quickly starting to show.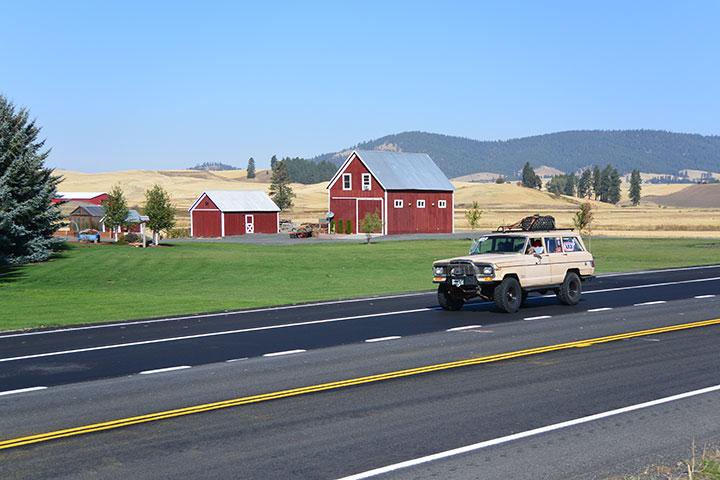 Blasting down the highway in a flock of old 4x4s is just cool. Not only is it fun for you, but there was no end to the smiles and thumbs up we got as we crossed the countryside.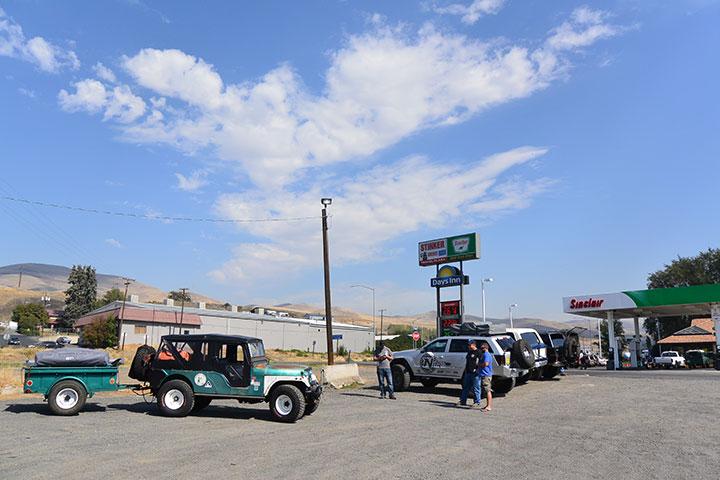 Fuel stops were always welcomed. But it wouldn't actually be until the third day that someone would actually run out of fuel!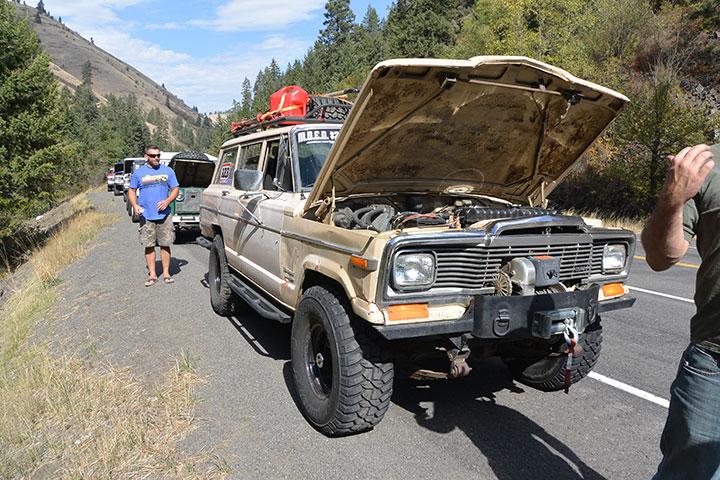 We're not trying to pick on the Wagoneer, here. Look carefully, and you'll also notice four other hoods up in the background. Cooling issues were abundant.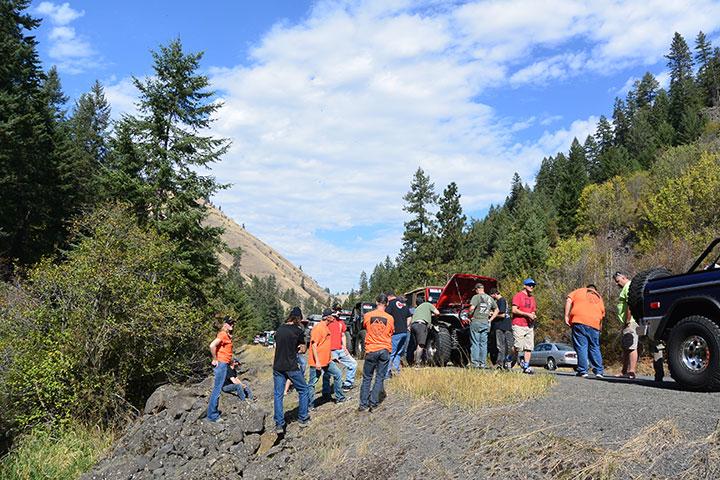 There were even a few newer vehicles that snuck onto the trip with us, and even they were having overheating issues! This red TJ Wrangler could not keep itself cool even though everything seemed to be working fine.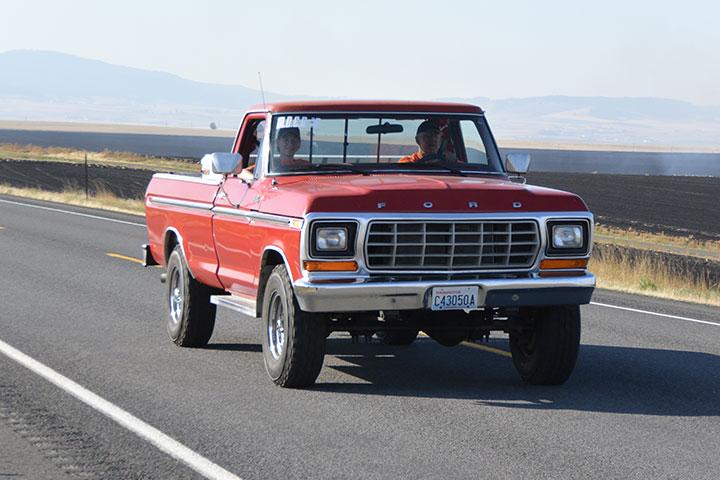 If vehicles were only made to look this good nowadays….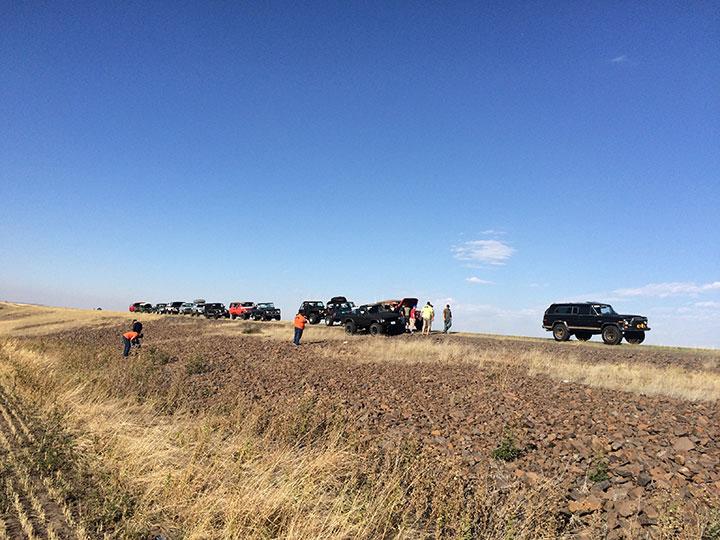 Another rest on the wide of the road, and another chance to pop some hoods and see what's mechanically ailing our group this time.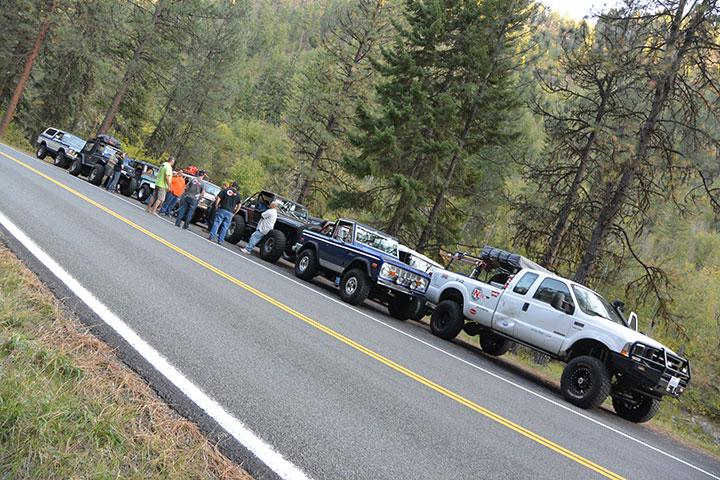 Stop number umpteen. And this was only the first day. In our defense, we probably pulled over more in the first day than we did in any other three days of the trip combined. We were just working the kinks out!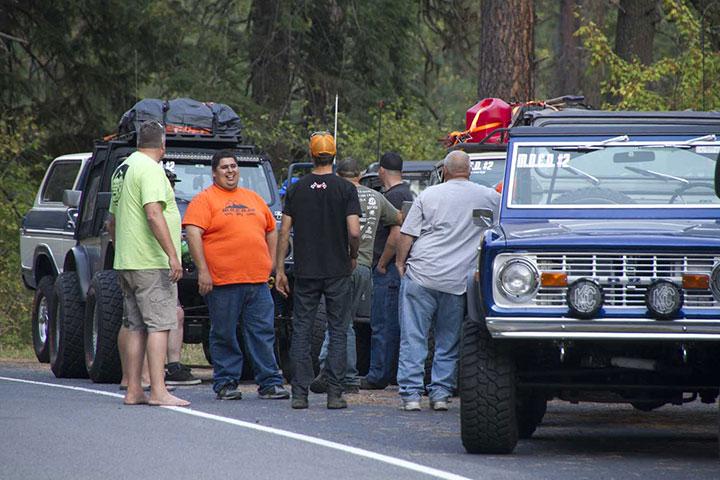 Even with multiple delays, the group remained in good spirits. There's something about pulling over in beautiful surroundings with no one else around that doesn't bother one so much…and it was a good chance to get out and get to know each other.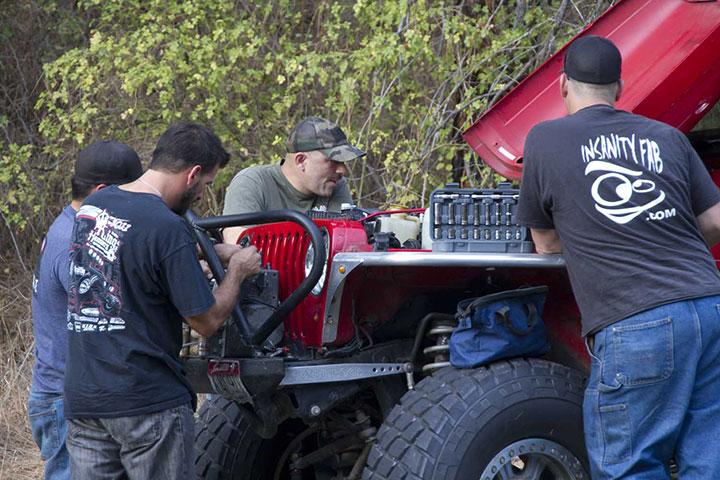 Remember that red Wrangler that was having the unsolvable cooling issues? Someone finally reached in and reversed the electric fan wires. Radiator fans work a lot better when they're forcing the air the correct way.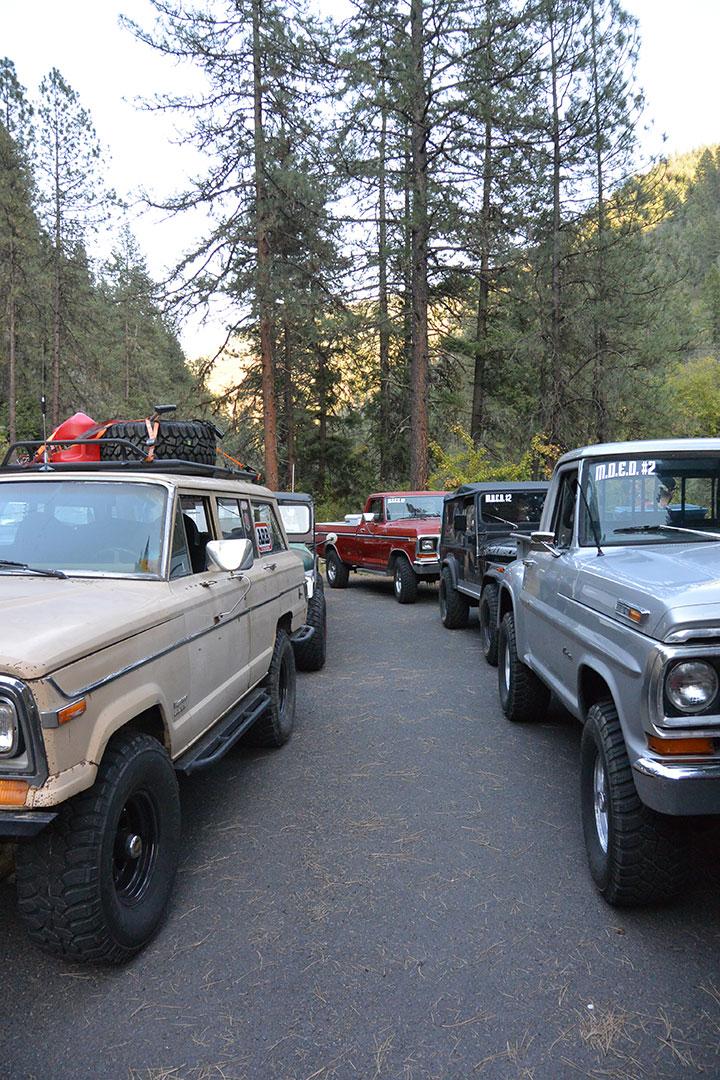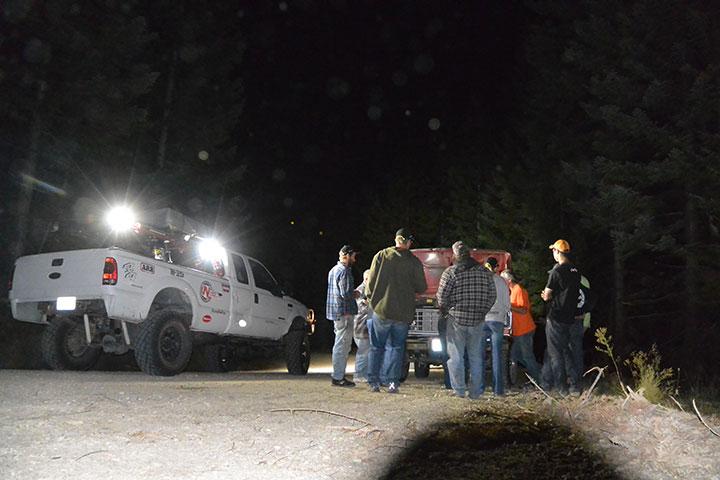 As the sky blackened, we continued on through the Magruder Corridor to our "plan B" camping spot. But not even nightfall can save you from certain cooling issues. A little vapor lock had this Ford temporarily stranded, but the problem was solved that night because it ran strong the rest of the week!
Upon fixing it, we continued on and rolled into camp about an hour later. There was not much time to rest before Day 2 would be here.