Day One
Hello everyone. First of all, thanks to General Tire for "hiring" me. Many of you have probably seen the commercial where Team GT anglers Skeet Reese and Edwin Evers hired me on the spot because I fish and had a blue (Bassmaster Elite Series) trophy. Check out the video! I've gotten a lot of feedback from people saying it made them laugh. I thought it was funny too and pretty creative.
So today was Day 1 of this blog and the first official day of practice for the Bassmaster Classic. Tomorrow, Sunday and then Wednesday are our official practice days. In between we have media and PR events, registration, the Night of Champions, and lots of tackle and mental prep. Without getting too long-winded I will make a post each day and give you all an exclusive look at what it is like to fish the Bassmaster Classic.
This morning I set my alarm for 5:45 and got up and got to the lake a little after 7. It was a very cold and very windy day. It got up into the mid-50's but like always it was much colder on the water. We had blue bird skies which are notoriously difficult for fishing. I decided to spend some time fishing in deep water and also some time fishing shallow.
Without going into too much detail on the fishing (other competitors actually read this stuff) I rode around a bunch and looked at the water conditions. I checked the water temperature around the lake and then stopped to fish a little bit here and there. I actually didn't catch a bass until noon and then caught seven or eight fish scattered here and there the rest of the day. I caught one quality fish and really liked the scenario where it bit. Hopefully I can replicate that scenario as practice continues and the event draws near next week.
During the day I needed some service done on the boat. At each event we have what is called the "service yard". If you're accustomed to racing they are our pit and garage crew. We can't compete without them. The crews from Nitro, Mercury, Humminbird, Minn Kota, and Lithium Pros are awesome.
When the day on the water came to an end my family came to pick me up at the ramp and we headed straight to Chili's. Having Jennie, Abbie, Lizzie and Parker here make all the difference in the world. Due to school and extracurricular events they don't get to come to many events but this week is Spring Break and we get to be together.
Hope you'll check back tomorrow and throughout the next week and a half.
Check here everyday leading up to weigh in for all the updates. #AnywhereIsPossible
Day Two
Greetings from the second day of official practice here on Lake Hartwell. A quick weather update – it was warmer this morning and it didn't cool off much last night. Warm nights really help the fishing by raising the water temperature. It was a beautiful day until 1:30 when it started pouring rain and the temperatures dropped. That deteriorated the fishing and the day really. I started the morning in my cold-weather Arctic Shield rain-suit, shed down to a sweatshirt, and then back to the rain gear by the end of the day. That's March fishing for you.
I caught more fish today than yesterday but don't feel like I am a whole lot closer to a solid pattern. The fishing for me still feels very random. I spent all day fishing shallow and didn't really find a whole lot. As a side note, I've been filming behind the scenes videos for Bassmaster on a Go Pro this week. Since that footage won't air until after the tournament (remember other anglers keep an eye out for info) I've been able to share more. They'll put those together along with fishing scenes from my Go Pro and on-stage during the event and make a pretty cool video hopefully.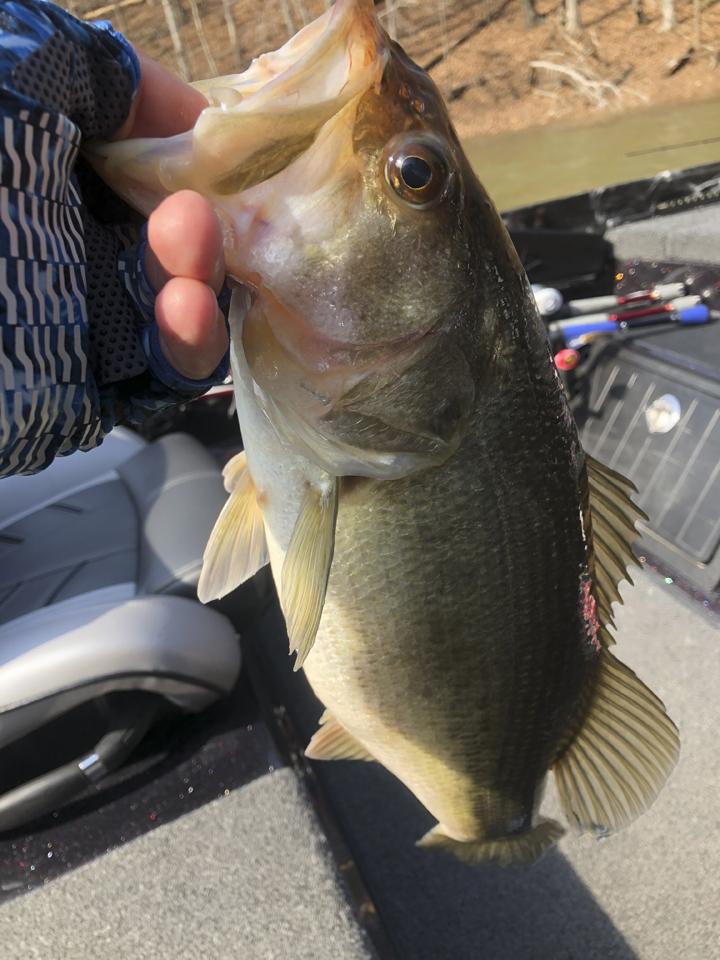 Jennie came to pick me up at 5pm in the rain which was a huge help. I was pretty far from where she dropped me in this morning so not having to run back there in a storm to get my truck and trailer was big. Jennie said she's already tired of being my caddy though LOL. For the Classic we all get to designate a caddy. The caddy can be a friend or family member and they're important for instances just like this.
This is my seventh career Bassmaster Classic and my second one here on Hartwell. That previous trip was the only other tournament I've ever fished on this lake. I finished 11th here last time (2015). That one was the coldest Classic that has ever been held. It was 9 degrees at take-off and the lake was definitely in a winter pattern. The water level is 5-7 feet higher this time around and certainly much warmer. The lake was low for a long time this winter and now that the water has risen up there is a lot of cover (wood, small bushes) that may come into play for the shallow anglers. That may play a role in the outcome.
Right now we are headed to eat dinner again as a family. The kids picked Red Lobster. Saw something the other day that the Classic has a $23 million economic impact on this region. We are doing our part LOL. Thanks everyone for following along.
Day Three
We just got back from another family dinner (Longhorn Steakhouse this time) and are hanging out at the hotel. We've been staying out by the lake but are moving to the official hotel tomorrow – the Hilton Greenville. I've got to take my truck over to fellow Team GT member Britt Meyer's shop and get some adjustments made on it. His shop is called CS Motorsports over in Gastonia, NC.
I spent the majority of this third practice day looking for deep-water fish. I really don't feel like that will be the way to win the event but wanted to spend some time going that to eliminate it from my mind. Lots of fish will be caught like that but I don't see it winning like last time. I graphed a lot of the deep spots and fished some and caught a lot of white bass and some of the right kind of bass but nothing that got me too excited.
It started raining early again today and rained most of the day. It got up to about 50 degrees but was a good soaker. It finally quit this afternoon about the time I needed to go and have some final adjustments on my equipment at the service yard. We should be 100% good to go now. We'll have one more look at the lake on Wednesday. That day is an official run-through of the event; national anthem, take off in order of the event, fish a regular day length, and then all come in as scheduled.
Overall after three days of practice I can say I am glad the weather is going to be changing and hope it starts warming up as soon as possible. We've got sunshine coming so that should change the fishing. I didn't "win" practice but that's okay. It's not like the racing where that gets you anything of substance.
Tomorrow is our official off day. A bunch of us pros are doing a "Meet the Elites" event at the Anderson, SC Civic Center tomorrow night. If you're in the area stop on by. It starts at 5 and goes until 8 or until the last person leaves. It is a free event and we've got a great group of folks scheduled to attend.
Due to the rain I didn't take any pics so I wouldn't get my phone wet but here's one from the last Bassmaster Classic here in Greenville. The crowds here are usually great and this is definitely a fishing part of the country.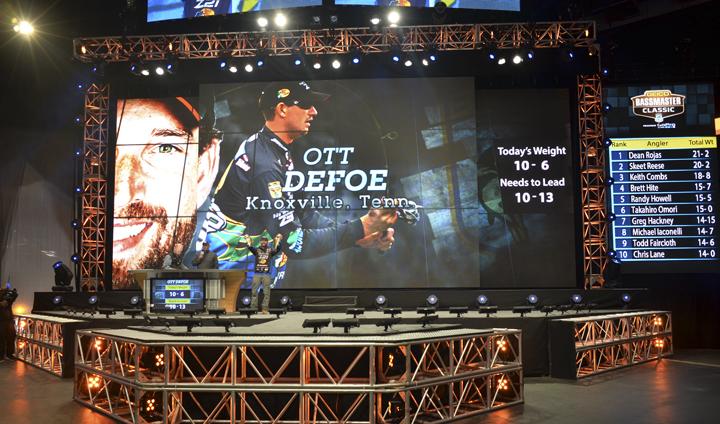 Day Four
I would call today "Errand day". This afternoon we moved from the lake into the official hotel downtown. We will stay here as a family for the festivities the next few days and then as the tournament starts on Friday. Earlier today we went to see some friends who live in the area and hung out with them a while.
As I mentioned yesterday, we had some work to do on the new truck. Britt Myers let me use his truck while his shop did the work. His truck is jacked up and has big GT Grabber 3's. Those tires look amazing and Britt loves them. I will tell you I am glad with all the interstate driving I do I that I prefer my General Tire ATX tires. They're perfect for what I do.
This was considered an "off" day but in the world of a Classic angler there are truly no "off" days this week. Maybe "off the water" would be a better term for it. We got a lot of stuff done and made the most of the day.
Tonight was an event called Meet the Elites. I had the opportunity to meet a lot of people speak to the crowd along with some of the legends of this sport; Hank Parker, and fellow-Elite Randy Howell. More on this event later.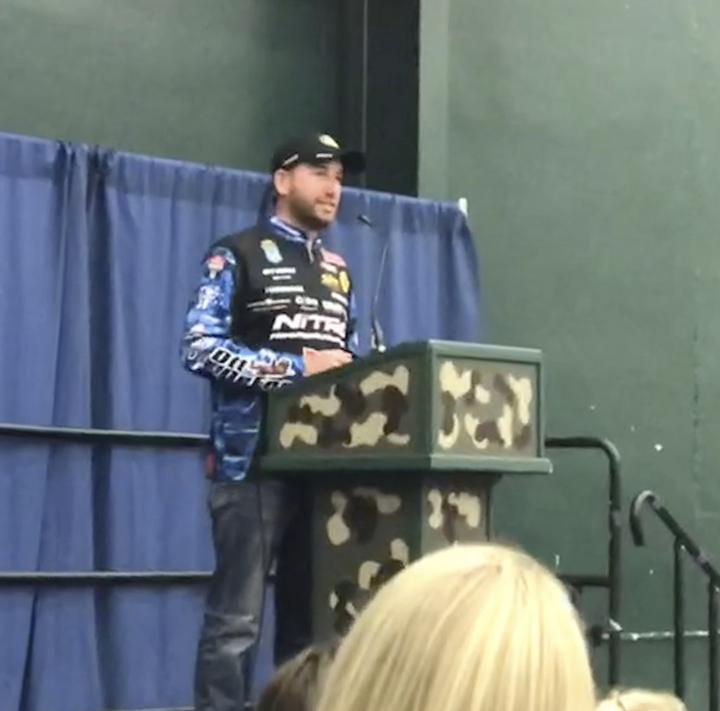 Tomorrow is our registration, the tournament briefing where we go over the rules, and the gifting suite. The sponsors of the event and B.A.S.S bring their best gear to hand out to us. The gifting suite has definitely grown in popularity as companies like to see their gear in use by Classic qualifiers that is for sure. It's like Christmas, especially for guys who have never been to one of these before.
That reminds me of my first Classic back in 2012 on the Red River in Louisiana. I had a Top 5 finish throwing a Shad Rap and caught a lot of fish flipping. Those are good memories and hopefully we will create some more good Classic memories this week. Might even catch some fish the same way.
Thanks for following along! More to come tomorrow.
Day Five
Today was a good day. In the morning I shot a boat photo gallery with Craig Lamb from Bassmaster in the boat yard. Be looking for that on Bassmaster.com down the road. Today was our official registration and tournament briefing. It was all pretty standard information.
Anyone who knows Aaron Martens will appreciate this story. We had lunch in the Hilton Greenville today and were about to leave for the tournament briefing. Aaron came in and was running late which is not unusual. Jennie was full and was going to save her chicken Caesar wrap for later but long story short, it ended up going toward a good cause of feeding Aaron Martens. It's just a big family out here. If you eat someone's leftovers you're pretty tight.
I mentioned the gifting suite yesterday. It was awesome this year. Every Classic angler got a free set of GT tires. How nice is that? Jennie got a purse and bracelet from Toyota and they gave us a $100 Bass Pro gift card. That's better than money isn't it guys? Huk, Mercury, Bass Pro all hooked the anglers up too.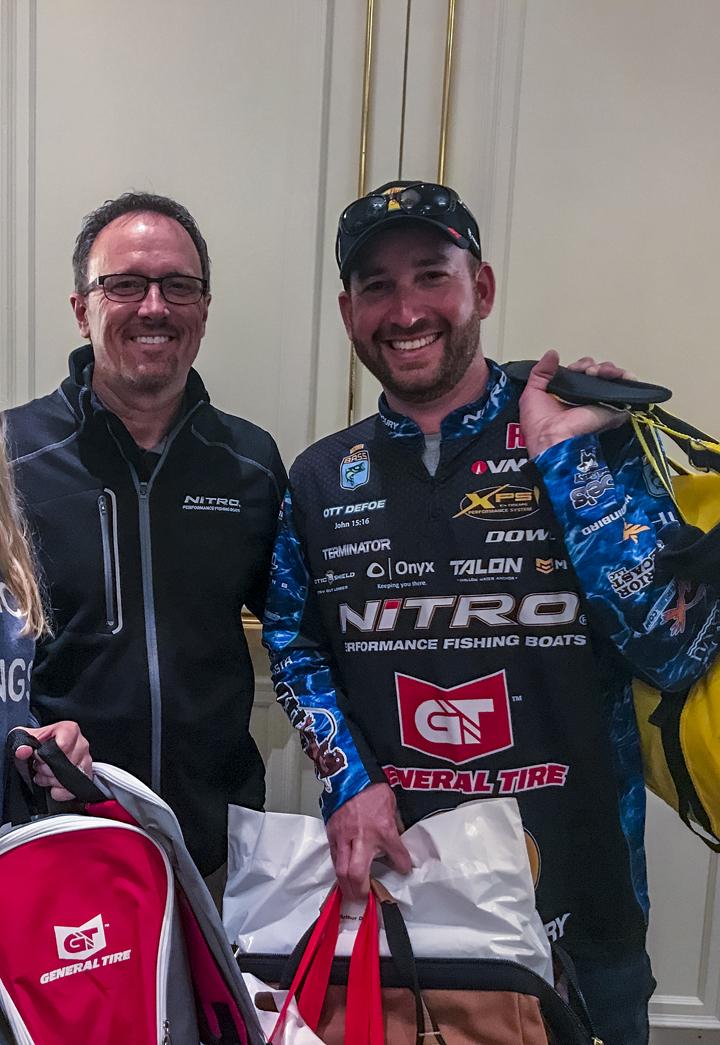 We got all our credentials and parking passes today at registration. After that was all done I headed to the boat yard and made some final changes to some tackle. I have a few new lures to try tomorrow. Tomorrow is the final practice day is an important day for figuring out the fish. I'm working on a plan to figure out how to catch multiple fish early in the day. That's always good to find.
I've been talking to a lot of the Classic rookies. It's really kind of funny. I won't name names but they have been blowing my phone up with questions. I'm not worried about them reading this because they've got enough to think about. That first Classic is quite an experience. It never gets old though, you just know the ropes a lot better.
Last night was a great event at the Meet the Elites event. We really enjoyed seeing and hearing Hank Parker give his testimony. Hank Parker is a two-time Classic winner and popular TV show host. Most people who fish know who Hank is. I always liked Hank and met him at the Classics when we went to them as a kid. I always liked his TV show too so we ended up naming our son Parker after him actually. Parker got to meet him last night and that was really cool for all of us. Not sure if the name Ott will ever catch on or not. Maybe if I win a couple of these Classics…
Day Six
We are heading to the Night of Champions here in Greenville. The Night of Champions is our big gala event of the Bassmaster Classic. Everybody dresses up and looks pretty. Some of the anglers are hard to recognize when you are used to them wearing a jersey, raingear and a hat. We might should have some name tags haha. You also realize how bald most of us are. I will include myself in that list.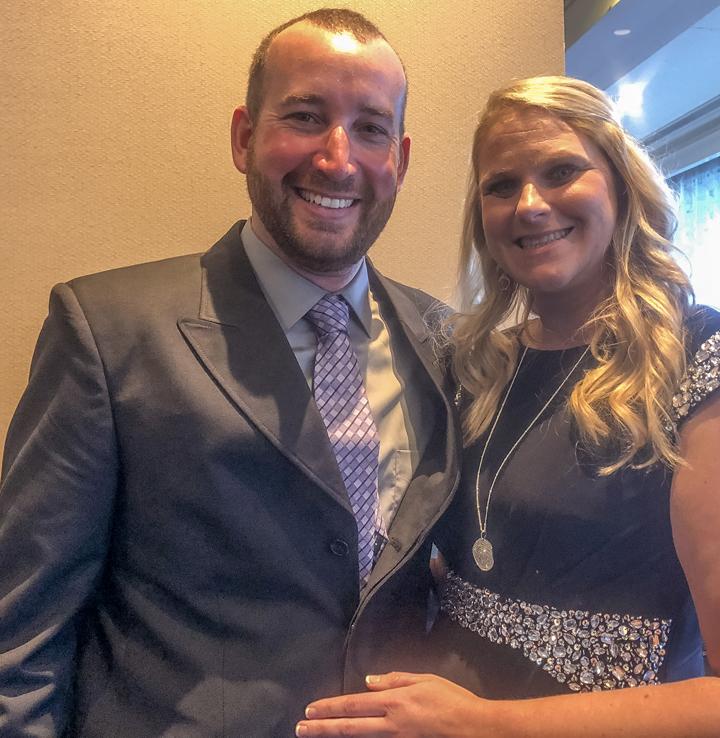 It's really a fun event and one of the unique things that only happen during Classic week. We will have sponsor events from time to time but B.A.S.S. puts this event on and does it right.
Today was the final practice day. I caught a few fish and may have learned a little bit, at least I have a few new places to fish. Honestly though I think I will spend most of my time in the event in a place I haven't even been yet. It's either going to work or it's not so Friday should be exciting. I've done this before many times and sometimes it can be really good. It's all or nothing here this week so the Classic is a place where this strategy can work. We will find out on Friday.
For any of you who are new to bass fishing you can actually tune in online and watch several of us fish live and then get updates from the rest of us from the information sent in by our marshal. We each have a marshal who rides along with us for safety, rules, information, etc. So tune in Friday morning to see how Team GT does. Skeet Reese, Edwin Evers, John Crews and I are competing.
Today's weather was very windy. It was cool but at least the sun was shining. It might have gotten up to 50 degrees. The forecast is for it to get nicer every day and that should really help the fishing.
This afternoon was rough. My travel partner Andy Montgomery lost his father today and I learned of it after lunch. I can't imagine what they're going through and my heart goes out to them. Please keep the Montgomery family in your prayers.
Day Seven
This is Day 7 of this blog and the final one before the Bassmaster Classic actually starts. We will launch in the morning at 7:30 and I can't wait. There's nothing like the first morning of this event. Everything leads up to that take-off and I can guarantee every angler in the field is excited to get this show on the road. Some guys won't sleep I can assure you of that.
Today was our final day of preparation. That consisted of a walk-through at the Bon Secours Wellness Arena in downtown Greenville, media day, and fan appreciation day. The fan appreciation day was really cool. Fans got to come visit all of us at our boats near the Expo from 2-4. I was busy doing tackle afterwards and was the last boat to leave around 5. Fishing fans come a long way to attend the Classic. I got to meet some folks from all over. Growing up my family went to the Classic every summer and loved it. For a lot of people this was Spring Break so they got to attend this year.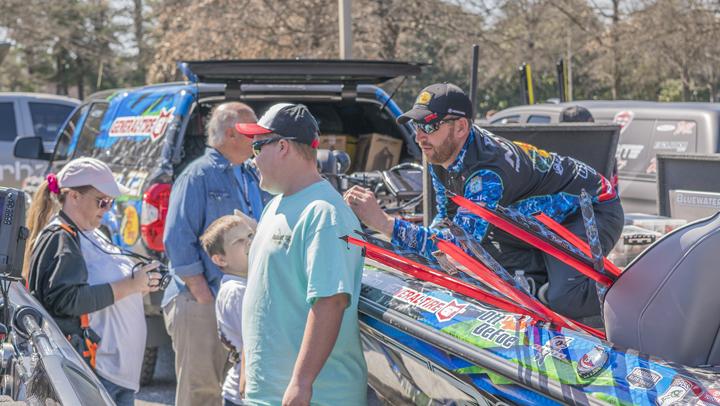 I am boat #19 in the morning so I will be due in at 3:20. The weather looks good, a little windy, but much warmer. It got up over 70 degrees today and that should really help the bite. You all can follow along on Bassmaster.com and watch the coverage starting at take-off.
We learned that Jason Aldean will be performing after the weigh-in tomorrow. That should help the crowd so if you're planning to come tomorrow you had better get there early. I remember my first Classic in 2012 and Zac Brown was just getting popular. He played a concert before one of the weigh-ins and the fire marshal cut off people coming in. Might be like that tomorrow here.
Day Eight
OK Day One here at the Bassmaster Classic was a success for sure. I had 16-8 good for 5th place. I started off fishing how I thought I could catch some fish fairly quickly. I thought maybe 8 or 10 pounds just something to get started. I thought I might even catch a 3-pounder or so. I had plans to hit about five or six places and then I was going to switch gears and go do something else and try to target bigger fish. That was my plan from the get-go from the time practice was over. Practice was bad so I was going to go to fish new water and fish the way I had confidence in. It was either going to work or it wasn't.
It didn't work. Finally at 9:30 I had nothing on the initial plan and then made a switch. After another hour with no fish I finally caught a 3-pounder. That fish settled me down and then 15 minutes later I caught another one and then by 12:30 I had three solid fish. Then things fizzled out and so I changed baits and areas to catch my limit. That always makes you feel better.
Then I moved around and finally with about 30 minutes left I switched back to my initial good bait and caught a few fish that were over a couple pounds and then ended with another 3-pounder. The action was much better toward the end of the day.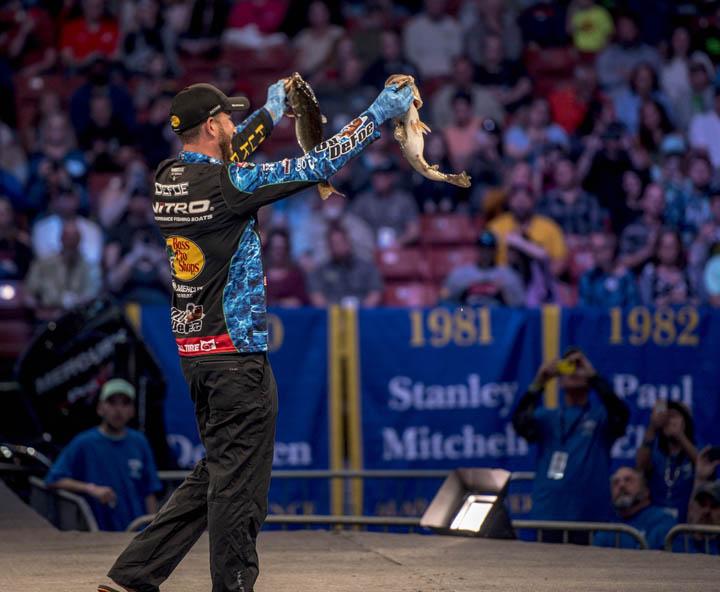 So tomorrow I can fish how I want to all day, taking the lessons I learned today. The guys in front of me have a few pounds on their side but I am definitely in the hunt. Conditions will change greatly tomorrow and that will certainly shake things up.
We had great crowds here today. The morning take-off was packed and the weigh-in fans were awesome. I heard the Expo was packed too. Jason Alden did a concert after weigh-in so it was a good day for fishing fans here in Greenville.
I appreciate you all reading this blog and hope to have more exciting stuff to discuss tomorrow and Sunday. Until then thanks for the support and interest.
Day Nine
Day Two started off much better than Day One. My first fish were solid and I put together a decent limit early on. I've been fishing with a bladed jig and I think a lot of the guys are fishing that technique. With the clouds it seemed like the bass were biting pretty well. The warmer night on Friday helped a lot I think. About the time I caught my fifth fish was when I caught my first one on Day One.
By about 1:00 my catching was over with. One Day One the fishing was best later in the day but Day Two was a morning to mid-morning deal. It is crazy how the conditions really changed the fishing. That was pretty frustrating because a couple more quality fish would have kept me up there in the Top 5. I ended the day with 13-5 which put me in 10th place. I am a bit over 7 pounds from the leader Jason Christie.
I had a live camera on me all day and people were able to watch the action on Bassmaster.com and the Watch ESPN app. It is neat to see how far the coverage of bass fishing has come. The addition of a live feed with Tommy Sanders, Mark Zona, Dave Mercer, Ronnie Moore, Mike Suchan and others commentating is really great for the fans. If I am ever out of a tournament I will always tune into the show to see how the guys were fishing and try to see if I can learn something.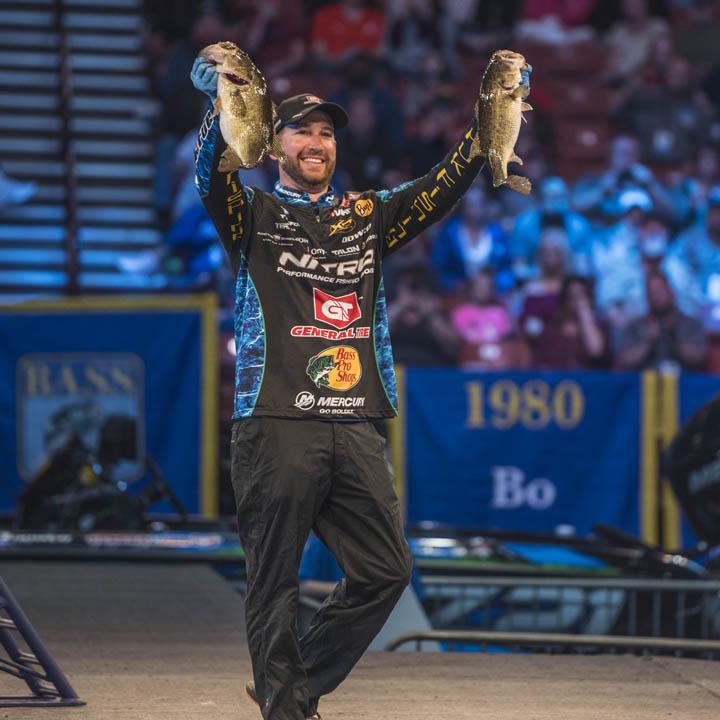 For you fans of my first General Tire commercial you might have noticed at one point I was fishing in my shoes. It's nice when its warm enough to do that!
Day Three should be interesting and I will go out there with the mindset of catching the biggest stringer of fish I can and try to make a run at it. Fishing on the final day of the Classic is always exciting but for the guys up there in the Top 5 it is really crazy. Being in 10th I will be under the radar and won't have a ton of spectator boats. That could have an effect.
I've enjoyed chronicling this event for you all. Tomorrow will probably be the last entry unless something crazy happens on Day Three.
Day Ten
Ok it's Sunday night and the Bassmaster Classic is over. Done. I finished 6th. Congratulations to the winner Jordan Lee. Back to back is impressive.
Today for me was about the same as the last couple days, just no big fish again. I fished in my primary and caught four fish and then decided to just go fish fresh water. I was still fishing the same way but in a different part of the lake. After 1:00 I caught my limit fish and then culled a few times. The catching was steady and really the only thing that kept me from winning was finding one big bite. There was little wind and it just wasn't a day to catch a big one I guess.
Fishing-wise, I was throwing a bladed jig and spinnerbait, around shallow docks and grass. Dirty water was the key to it. I always prefer to fish in dirty water.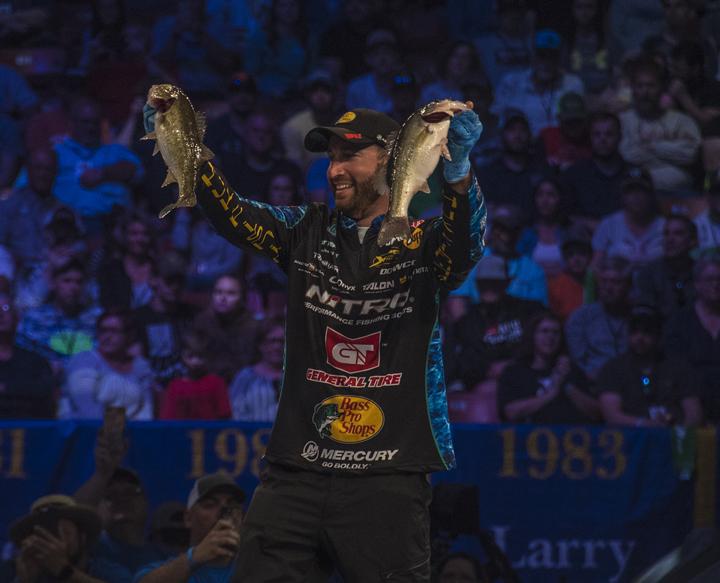 It was a good week all in all. Anytime you have a top ten finish in the Classic it is good but that's not what the Classic is all about. I wouldn't change anything about how I fished and want to get back here and try to win one of these things. To do that I have to do well in the Bassmaster Elite Series. We have 10 events each year and the top forty or so make the Classic. There are other ways for anglers to qualify but the way I attempt to each year is through the Elites. We've had one event so far and I finished 13th – a good start. Our next event is April 6-9 down in Texas.
Between now and then I will be filming for The Bass Pros television show, a media event in Texas and then spending some time back home in East Tennessee. It was great having the whole family here this week and I hope you all enjoyed following along as well.
I invite all of you to follow me on social media (Instagram @ottdefoe | Facebook @ottdefoe | Twitter @ottdefoe) and on my website at www.ottdefoe.com. I do a lot of recaps from the individual events as well as written blogs from each event. Thanks for following along this week and maybe we'll do it again sometime.
Ott