At just 27 years old, Ray Griffith has been racing in the dirt for just under 10 years and has already put a few championships under his belt. Born and raised in Sothern California, Ray grew up around the go-fast off-road scene that thrives in the Southwest. When he wasn't in school and wasn't helping out/learning the family wrought iron & fencing business that his father runs, Ray would often turn his attentions towards trucks. When Ray turned 17, those attentions would turn into an all-too-expensive hobby as the Griffiths entered desert racing. With his father, Todd Griffith, as crew chief and Ray as the driver, the Griffiths acquired a JeepSpeed Cherokee to start racing at the end of 2005. In A&G Motorsports' first season of racing, it quickly became obvious that the Griffiths were naturals at racing and logistics. Ray was titled "Rookie of the Year" and ended up missing the championship by only two points. In the next three years of JeepSpeed racing, A&G Motorsports took home three championships. Ray recounts 24 first place wins from those days.
After four years in JeepSpeed, the Griffiths purchased a Class 1 car—right before the Parker 425 race. Ray had only put about 100 miles on the car when they decided to enter. The day for qualifying came, and Ray whipped the Class 1 buggy through the gates second, behind Same Berri, right in front of Robby Gordon. Who were these guys?! The desert racing community is not that big, and most guys know who's who and what their competition looks like. The Griffiths do not have a long racing history. No one knew what to expect. All of a sudden, there were was a new contender to deal with. With Todd leading the team and Ray piloting the car, the Griffiths moved up to 2nd overall in 2012 and would continue to be a threat on the desert course.
But racing is addictive, and the A&G Motorsports team was looking to diversify. Short-course track racing was next on the plate, so a Pro Lite truck was ordered out of Wisconsin and the team entered into LOORRS racing. With excellent skills and a lot of promise shown, A&G picked up new sponsors, including General Tire. So far this year, Ray has been right on the heels of the podium finishers and is consistently running strong as he cuts his teeth in short-course racing. With just one race weekend left this season, we know Ray Griffith and A&G Motorsports are going to be pushing hard for a podium finish at the Lake Elsinore Motorsports Park for the finale of the 2015 Lucas Oil Off Road Racing Series season!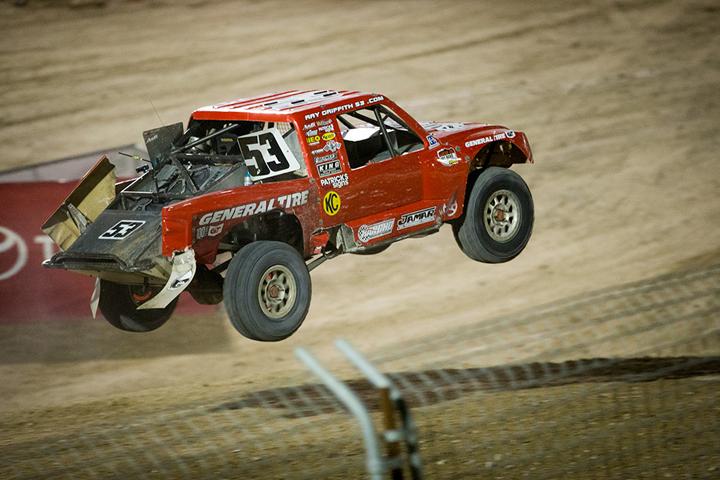 The #53 Pro Lite truck is driven by Ray Griffith in the Lucas Oil Off Road Racing series.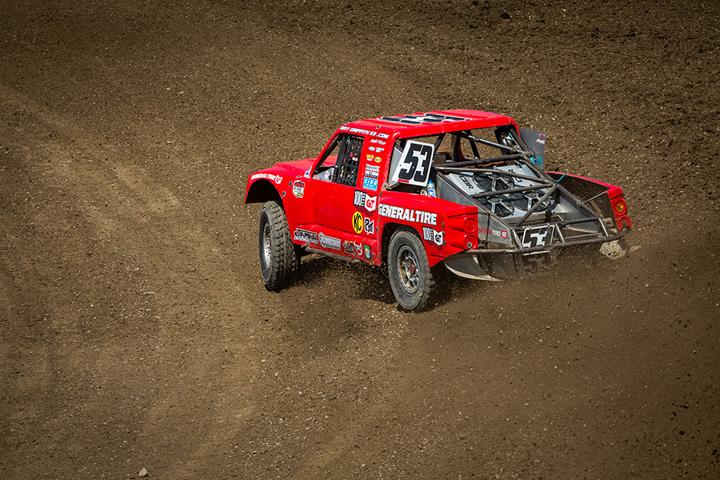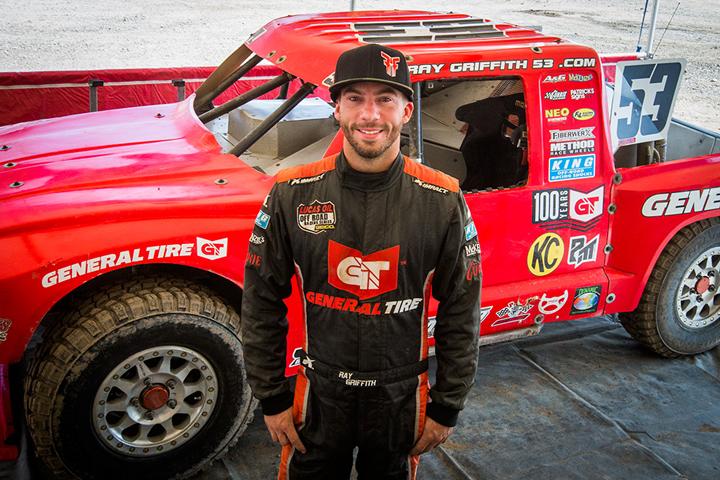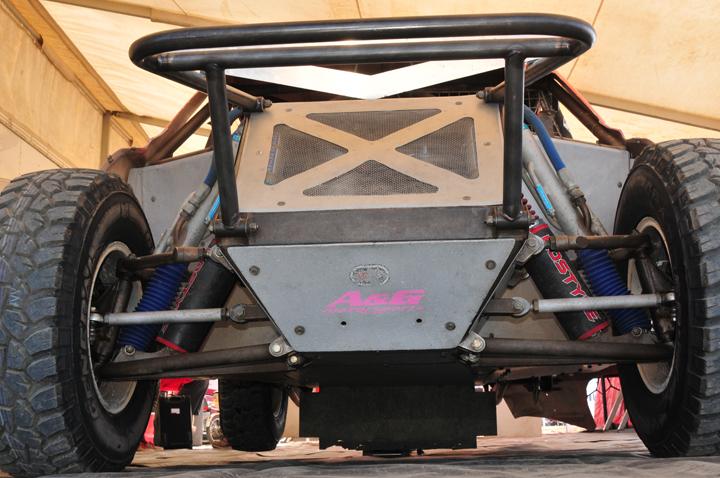 The front A-arm suspension setup uses a rack & pinion steering to turn the Grabber MTs. The front bumper (and rear bumper) are made to quickly bolt on and come off in case of thrashing via other trucks on the course. It can get a bit tight out there with so many Pro Lites racing.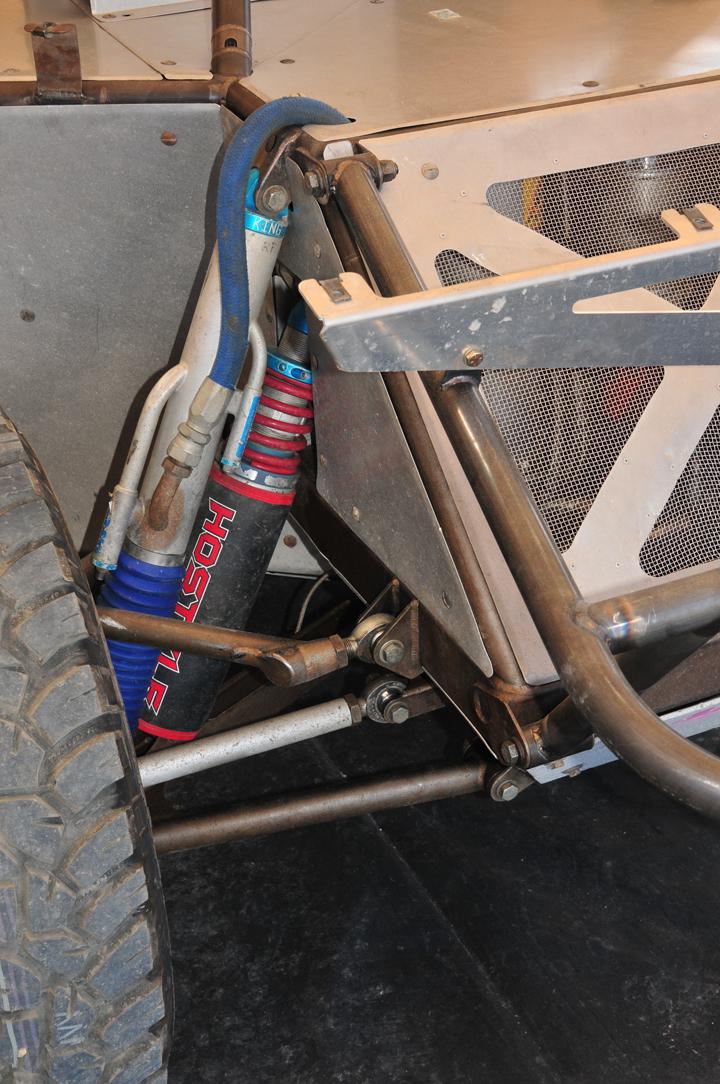 King 2.0 coilovers hold up the front end while King 2.5 triple-bypass shocks damp the ride. The A-arm setup is limited to 12 inches of suspension travel as per the Pro Lite rules.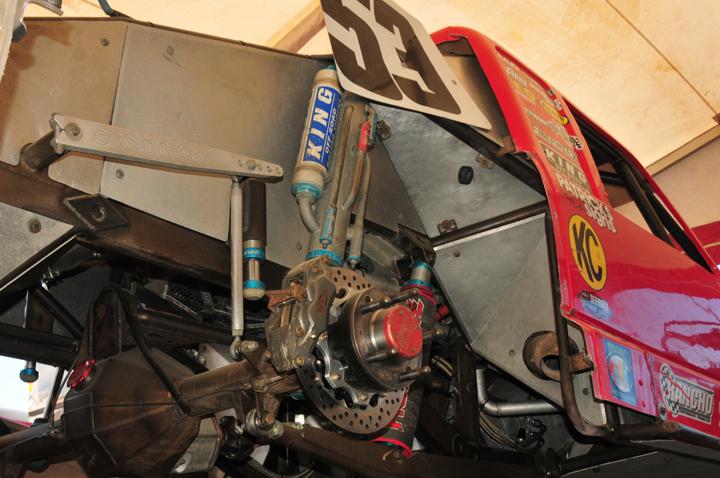 A Currie rear end puts power down to the ground and is located via a four-link suspension with a Currie Anti-Rock anti-sway bar in the rear to reduce rear sway.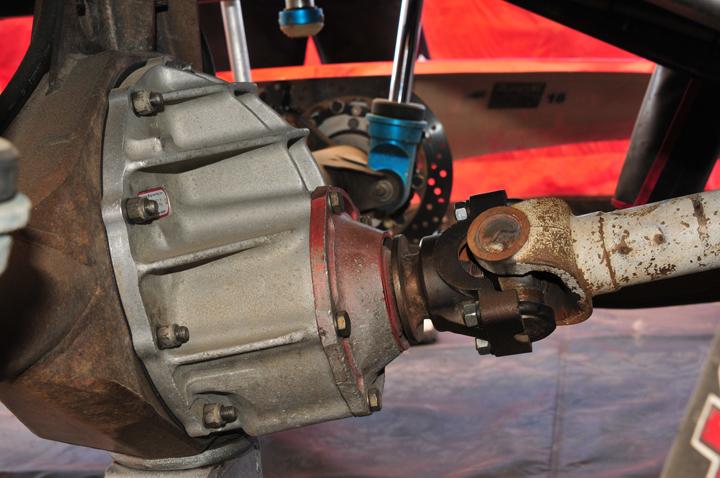 A Strange Engineering dropout third member allows for quick gear changes should it be necessary.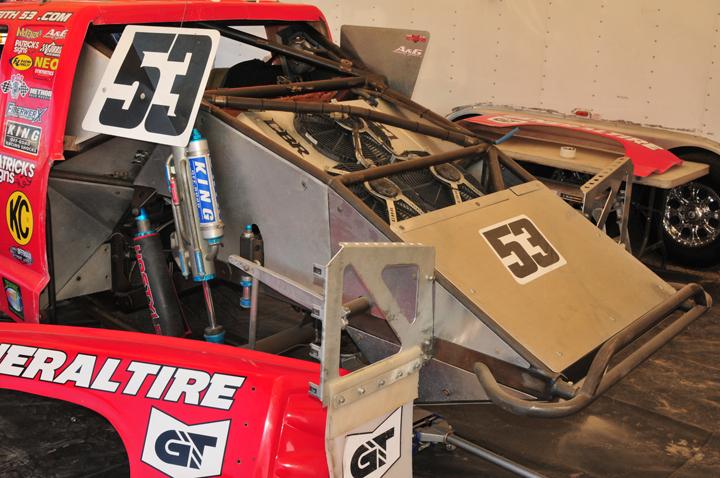 King 2.0 coilover shocks float the rear while King 2.5 five-tube external-bypass shocks soak up the hits in the rear. As per Pro Lite rules, the rear suspension is limited to 14 inches of travel. King 2.0 hydraulic bumpstops stop the travel in the final few inches.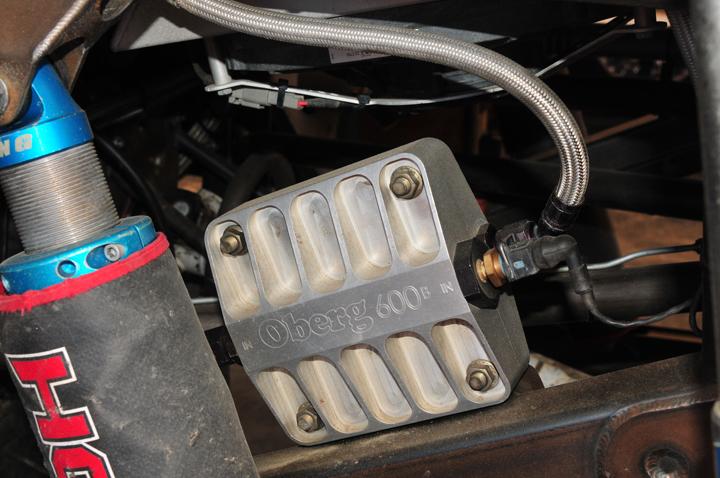 When you spend a lot of money racing, you don't want your race effort to be derailed by some small parts failure. That's why only high-end parts such as this Oberg oil filter that sandwiches a flat filter are used on these race trucks.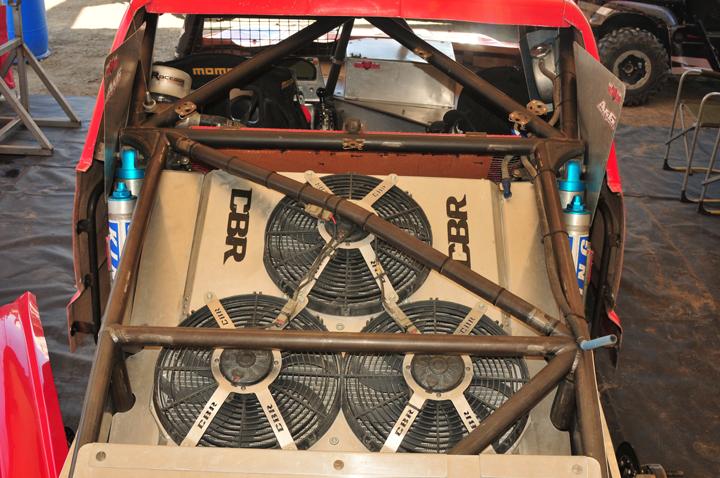 A CBR triple fan and radiator setup sits in the rear to expel heat, protected within the chromoly caging.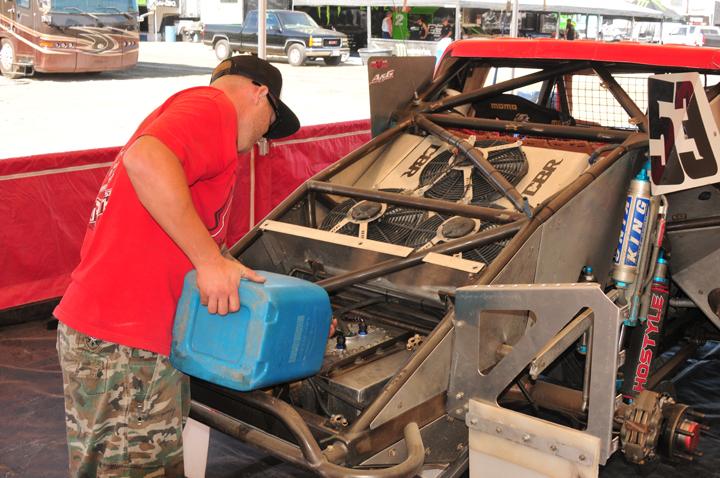 Gary Pasley is a good friend and huge help to the Griffith team. As part of the grassroots team, he makes sure the truck is fueled and ready for racing when it comes time for Pro Lites to go head to head.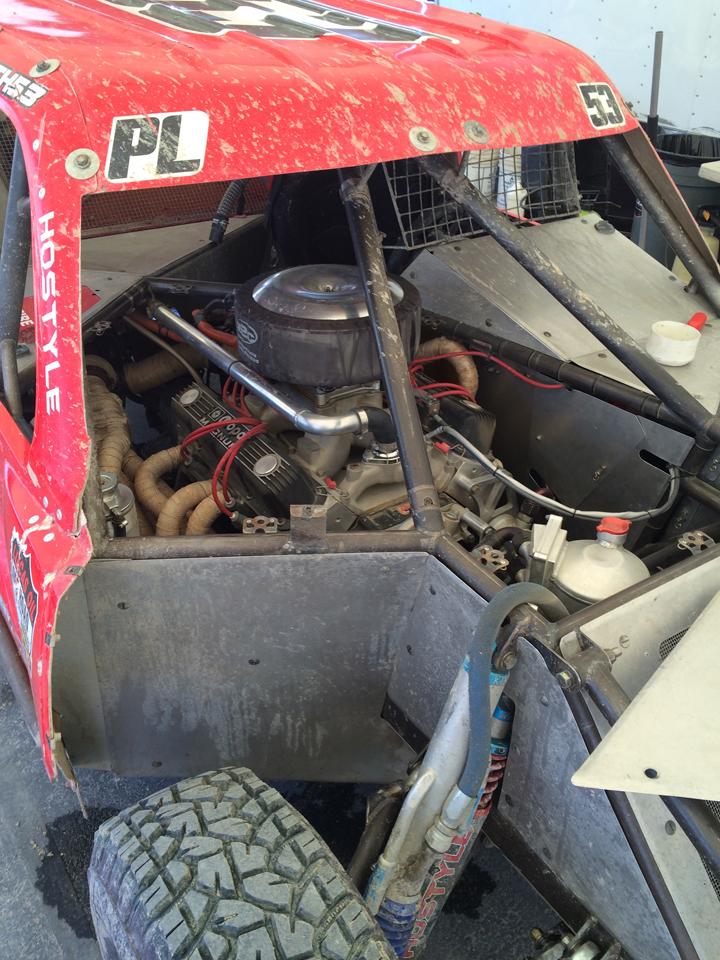 A Dodge 360 spec engine sits next to Ray under the roof. During race time, aluminum panels cover and protect the engine from debris on the track.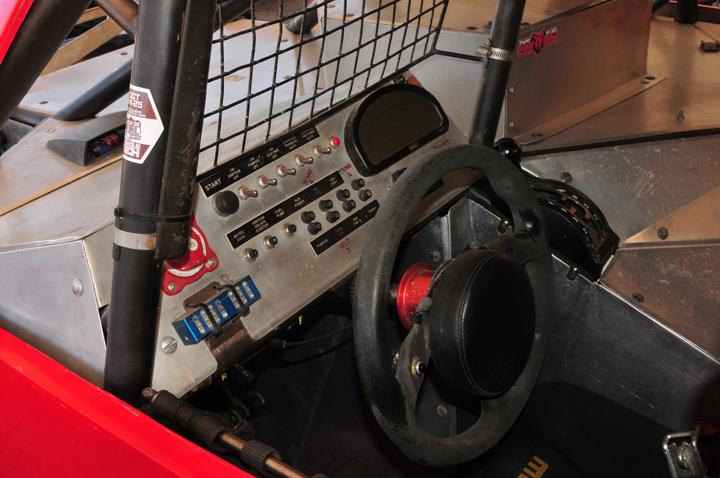 The single-seat cabin has all controls—including a master power shut-off—right at the fingers of the driver. A gated transmission shifter assures that the correct gear is found at every shift.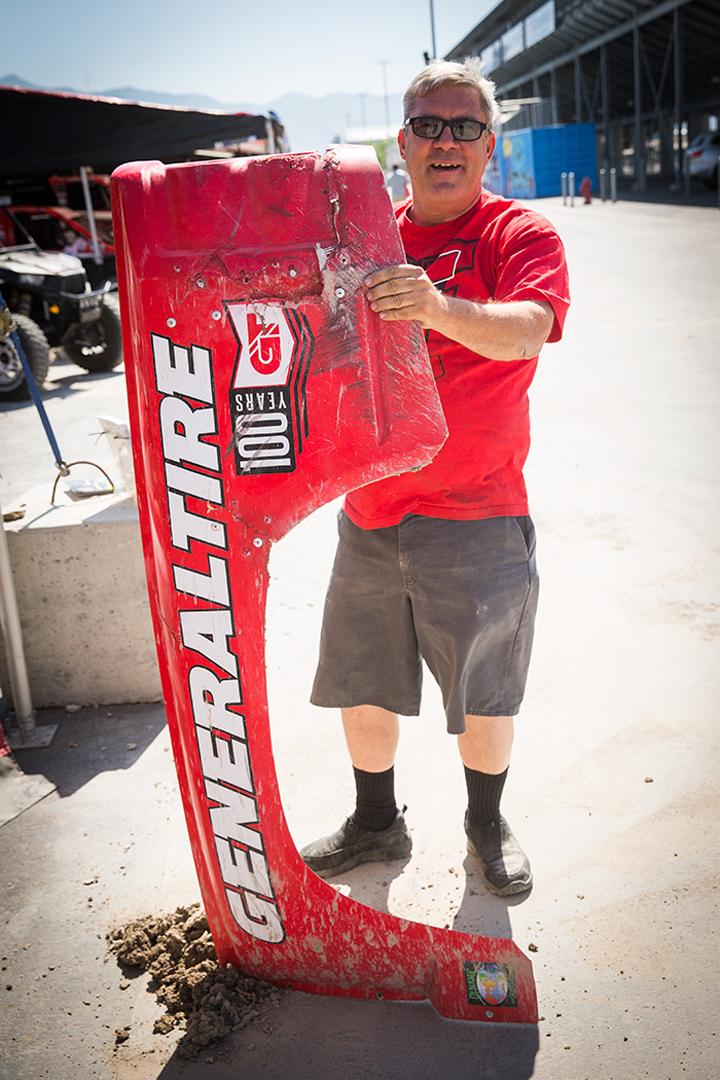 A&G Motorsports is a family team. Ray's father, Todd Griffith, runs the team while Ray drives the truck.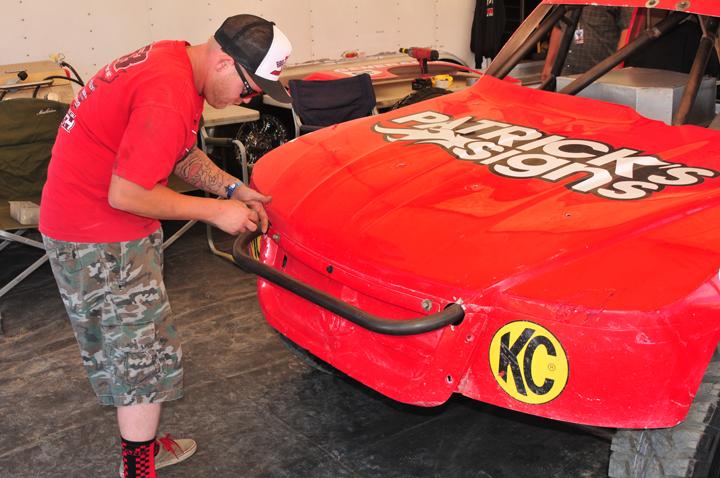 Pasley helps not only at the track but when the truck is back home in its shop, too. Teardown post race is a big and essential part of successful racing, and there's no counting how many times this Dakota front end has come off the truck.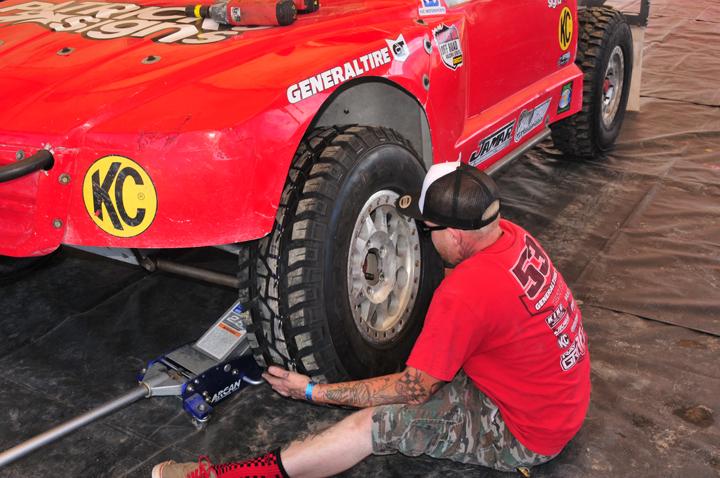 New for this race, the #53 Pro Lite truck is trying a bit wider grooving in the front steering tires of his Pro Lite. We'll be paying close attention to see how this new cut to the Grabber MTs performs for the team.