There are just hours left until the #1527 buggy charges away from the starting line of the Mint 400, and C.J. Hutchins is calm; relaxed. He's been racing for 16 years, and he is confident. Not only has he podiumed in overall points in the Best in the Desert series for the last three years in a row, the team has earned two SNORE championships and a SCORE championship. In 2007 to 2008, they won nine out of 10 races they entered. In fact, it's rare to not see the Hutchins name in the top three qualifiers. While he actually made a rare error during the time trials yesterday, C.J. knows his Class 1500 car is fast—faster than many of the big trucks on the race course. The LS-based 477ci engine built by All Seasons Marine makes this car almost fly. The custom J-arm IFS setup in front rivals a Trick Truck's suspension, and the 4.0 King bypass shocks all the way around ensure that this race car stays stuck to the ground the majority of the race. He'll be able to make up the time on the straightaways where his buggy can reach 140mph.
Although he's been racing for a long time, C.J. is only 31 years old. His father, Mark Hutchins, suffers from the same motorsports bug and brought him up in a world of high-horsepower speed boats and fast off-road cars and trucks. After C.J. sat passenger in a friend's car for the San Felipe 250 at age 13, there was no turning back. He was hooked, and would go on to become a force to reckon with on the course. He's been behind the wheel of Class 10s, 1600s and is currently racing a 1500 buggy that Hutchins Motorsports has been campaigning for five years.
They started with a Kreger chassis and modified the front end to build an independent suspension that would accept 37-inch Grabbers. After a few years of racing with the same type of engine, they wanted more out of their powerplant and turned to All Season Marine, who had already been building boat engines for them. The all-aluminum LS-based engine that All Season Marine assembled would push the #1527 buggy faster than it'd ever gone before. But it doesn't just take a fast car to win; a strong support crew of chase and pit guys (and girls), a lot of driving skill, and a little luck all go into a good race effort. And if their track record shows anything, it's that this team can put all these things together to make for a winning effort! We look forward to seeing the Hutchins Motorsports team in action tomorrow at the Mint 400!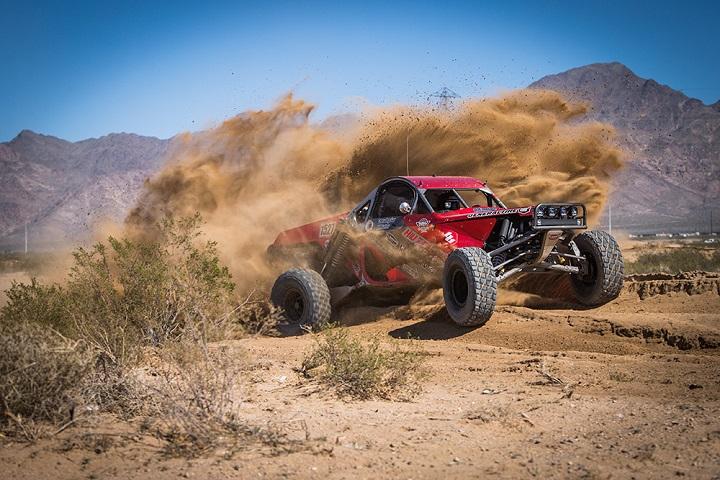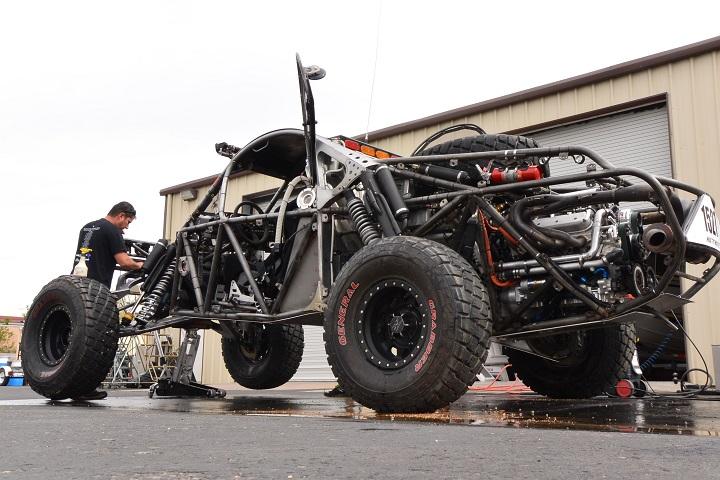 The Hutchins Motorsports #1527 buggy, mechanically ready to race and just being cleaned before tech the day before the race.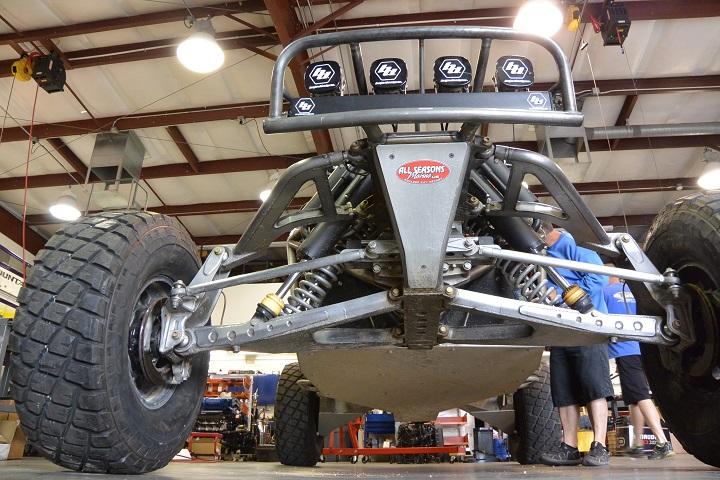 Hutchins Motorsports modified the front end of their Kreger chassis to accept 37-inch Grabbers (it was originally designed for 35s). The IFS A-arm setup yields about 24 inches of travel.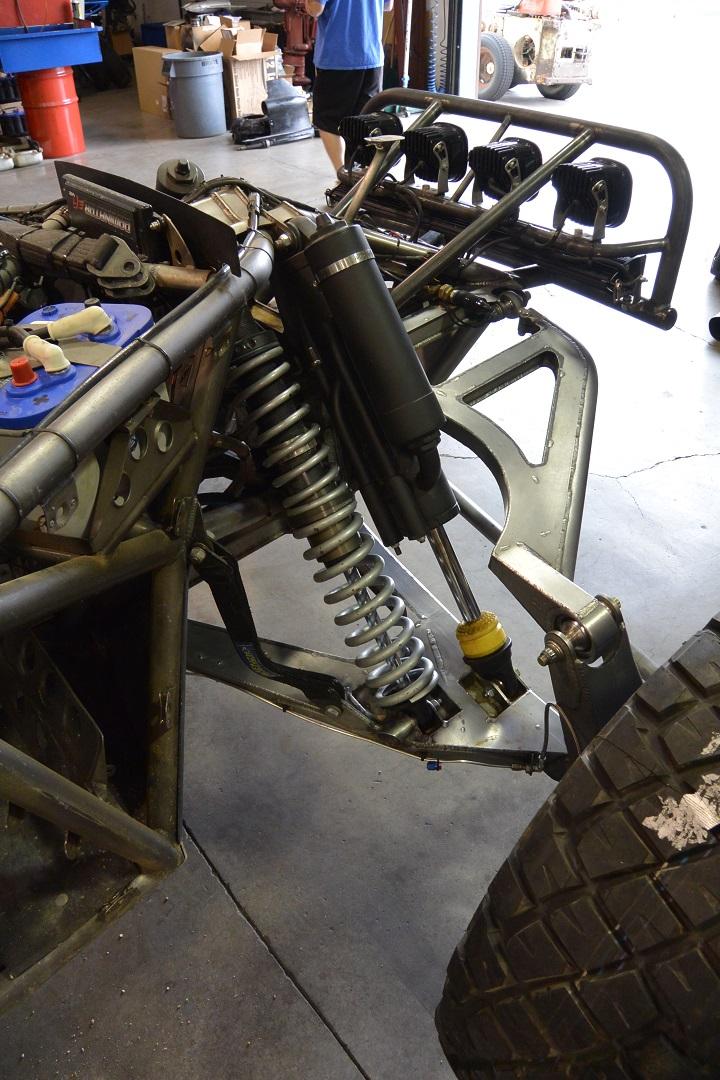 The front IFS is a J-arm setup using a 2.5 King coilover and 4.0 King five-tube external bypass shock on each side. The Hutchins' had the bodies powder coated black.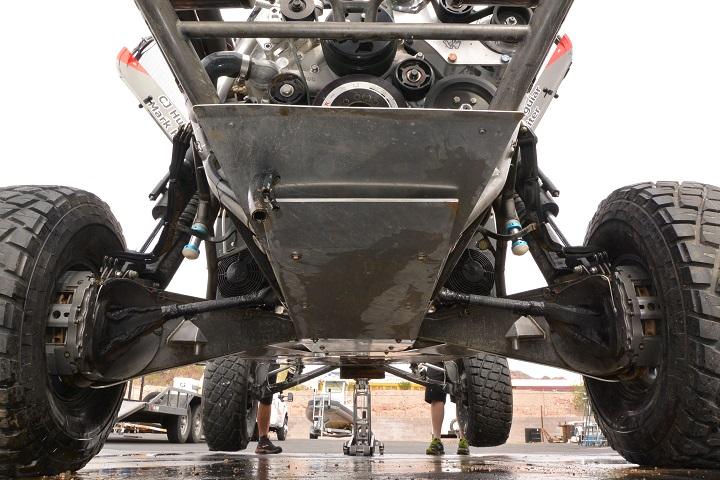 The rear trailing arm setup uses 935 CVs to transfer power down from the Weddle Albins transmission.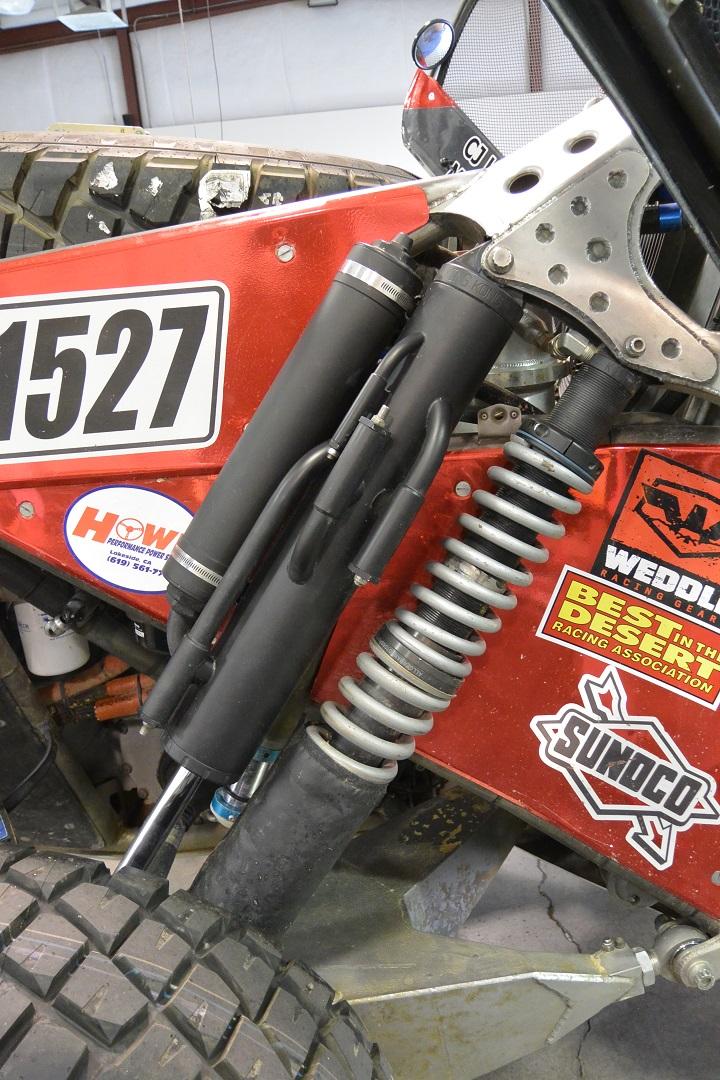 Similar to the front, the rear also uses black coated King 2.5 coilovers and 4.0 five-tube external-bypass shocks.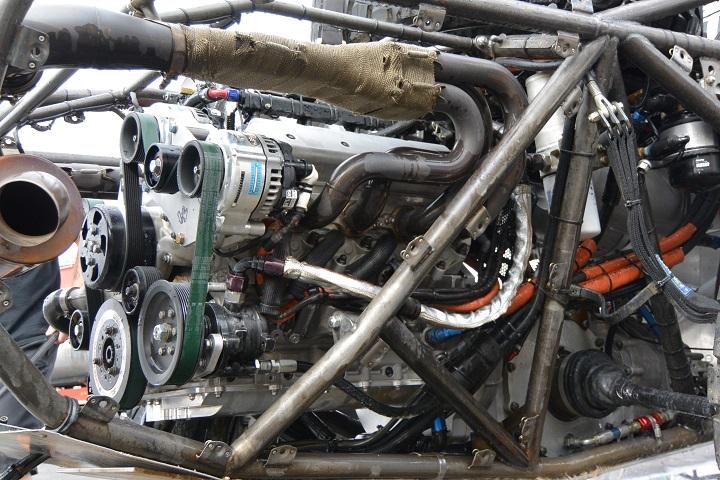 This all-aluminum 477ci engine that All Season Marine assembled is based on the LS blocks, and was built more like a marine motor than a car motor. The rear-mounted engine feeds a Weddle Albins transaxle transmission setup.
Lately, the Hutchins buggy has been suffering some bad alternator issues. After losing their fourth one during last year's Henderson 250, Mike and Pat Miller at All Season Marine came up with this dual alternator setup that uses redundancy to guarantee a working charging system. While they've tested with it, this will be their first race out with the new charging system.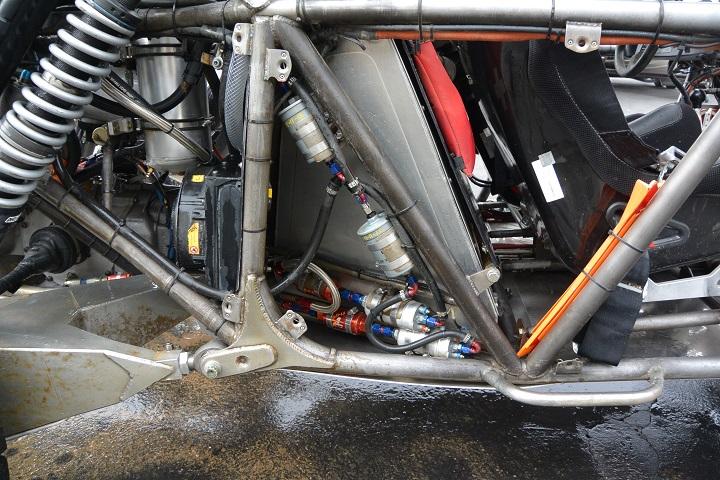 Aeromotive fuel components are easily accessed on the side of the buggy after removing an exterior panel. This allows for easy change-out should there be a problem.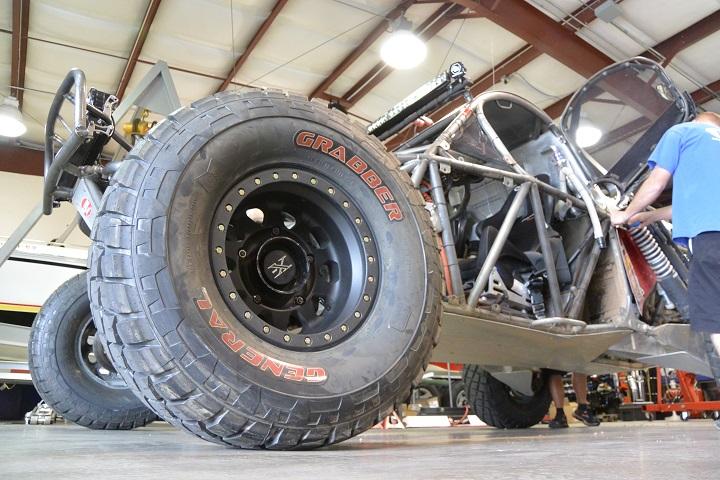 Method race wheels hold 37-inch General Grabbers over Jamar brakes and hubs.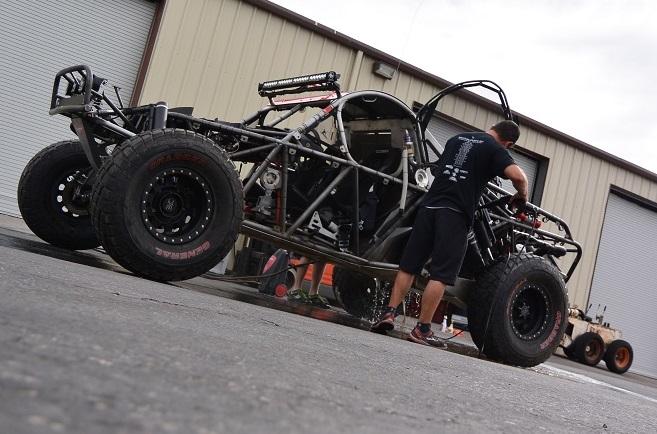 Brian Lopez does a lot of the prep work on the buggy before and between races. He's probably working on it right now as you read this!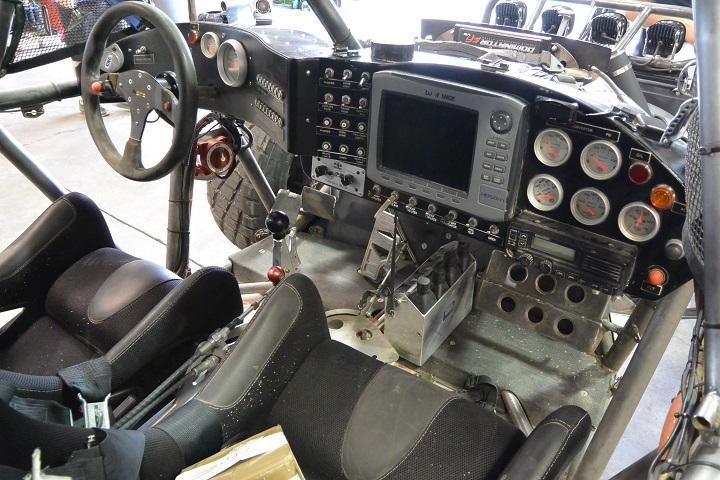 The cockpit that holds Hutchins and a rider in the Cobra racing seats.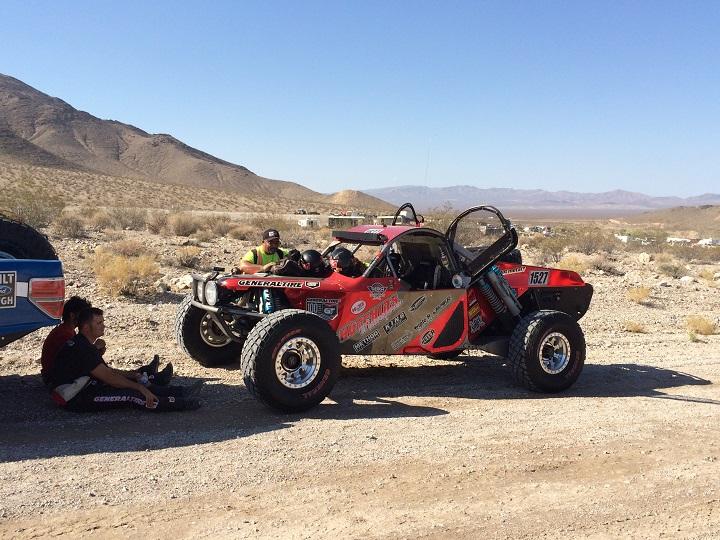 Waiting in line for the race to start.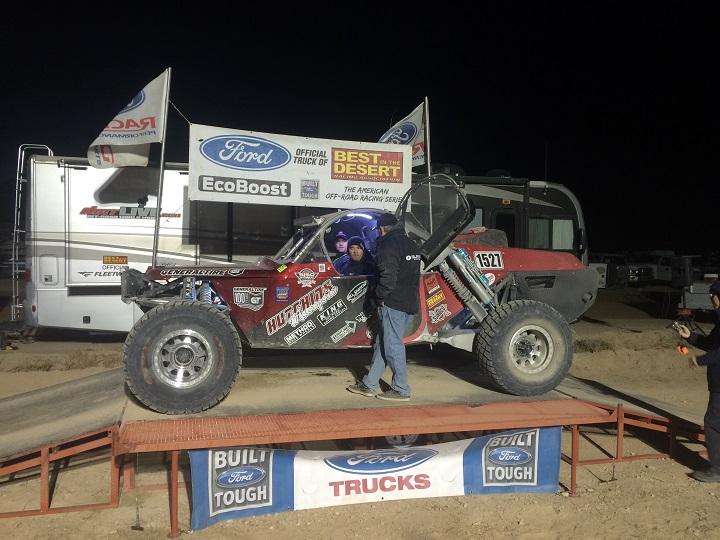 Podium finish after podium finish. Hutchins Motorsports has grabbed a 3rd place overall points finish three years in a row for Best in the Desert.