We all need the right supplies and equipment to get our jobs done. For some of us, that equipment may look a little more fun than the standard TPS report. Brian Binkert of Bink Designs, a professional off-road photographer by trade, requires not only a plethora of camera equipment, he also needs a mobile studio to get his gear to the correct obscure locations to capture his work. While a stock vehicle can carry his equipment, it won't be long before the rigors of off-road use begin to take their toll and rip a vehicle apart. After years of experience, Brian is all too aware of this. And if the truck is getting the snot pounded out of it, then all his gear inside is getting similar abuse. The best solution: Build a truck that can get Brian almost anywhere he needs to go to get his job done, and survive the trip doing so!
Buying someone else's project can be a real headache, so Brian wanted to start fresh. He decided to splurge and grabbed a brand new aluminum-bodied 2015 Ecoboost F-150 off the lot of Team Ford in Las Vegas, Nevada.
While he thought the build was going to move a bit more quickly, it took five months of downtime for this truck to be constructed due to all the brand new parts that had to be designed for the new truck (fiberglass, bumpers, etc). But when it was finally done, Brian had the exact equipment transport he'd dreamed of.
When asked what his favorite part of the build is, Brian was quick to answer: "The rear cantilever shock system that Baja Kits designed is probably the most exciting part. By keeping the shocks laying under the bed, we are able to utilize the entire bed without losing any space for long-travel shocks."
Year/make/model:
2015 Ford F-150 SuperCrew FX4 Sport
Owner:
Brian Binkert/Bink Designs
Engine & Power mods:
3.5L twin-turbo EcoBoost V-6 engine with 400 horsepower, K&N air intake system, Magnaflow exhaust system, Superchips Programmer
Transmission:
Six-speed auto transmission
Rear axle:
Ford Raptor F9 4.0 housing with a Full-floating kit & 35-spline axleshafts, 5.00:1 gear ratio and ARB locking differential, disc brakes
Front suspension:
Baja Kits long-travel kit, Fox 3.0 10-inch-stroke coilovers, Fox 3.0 10-inch-stroke triple-bypass shocks, Fox 2.5 bumpstops, (15 inches of travel)
Rear suspension:
Baja Kits rear cantilever shock kit, Fox 3.0 12-inch-stroke triple-bypass shocks, Atlas multi-leaf spring packs (15 inches of travel)
Interior:
Kicker amp and subwoofer system, sPOD LED lighting controller
Exterior & exterior accessories:
FiberwerX 7-inch-flare fenders, FiberwerX 7-inch-flare bedsides, ADD Race Series "R" front bumper, ADD Venom rear bumper, ADD bed cage with two full-size spare wheel & tires, Power Tank CO2 tank in bed, Rigid Industries 54-inch RDS LED light bar, rock lights, and D2 bumper lights
Wheels & tires:
37x12.50R17
General Grabbers
on Method Standard beadlocks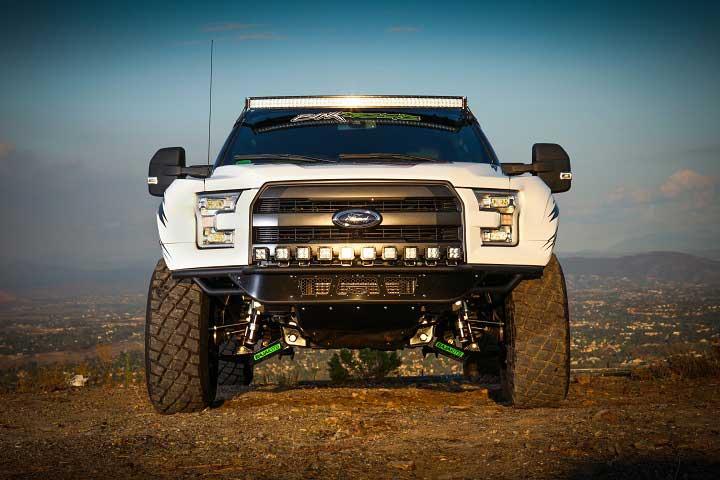 A Baja Kits long-travel A-arm & spindle kit allow 15 inches of wheel travel in the front end. Fox 3.0 coilovers and triple-bypass shocks damp the ride, with Fox 2.5 hydraulic bumpstops prevent the suspension from bottoming out on hard landings.
An Addictive Desert Designs (ADD) Race Series R bumpers holds a plethora of Rigid D2 bumper lights.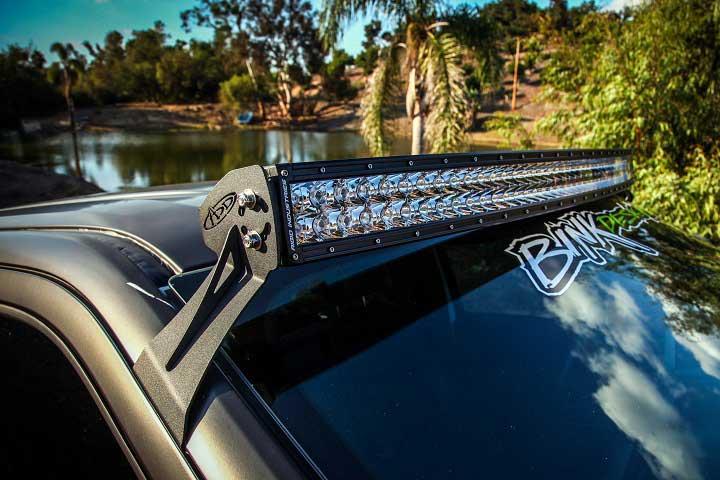 ADD overhead light bar tabs hold a 54-inch Rigid RDS LED bar, for the ultimate in night time suntanning.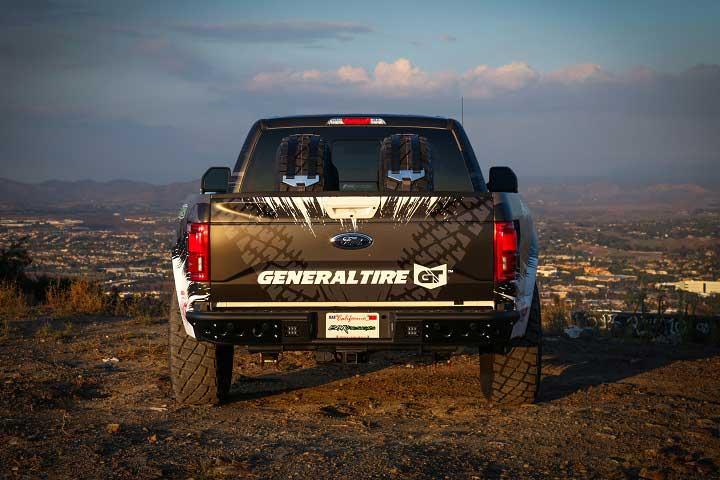 A Rear F9 4.0 axlehousing carries 35-spline axles turned by an ARB locker and 5.00:1 gears. The axle is held on by a pair of long-travel Atlas leaf springs.
Not visible in this picture is a Baja Kits cantilever shock system that uses Fox 3.0 triple-bypass shocks laid sideways under the bed, allowing for a full 15 inches of travel without necessitating long shocks that go through the bed.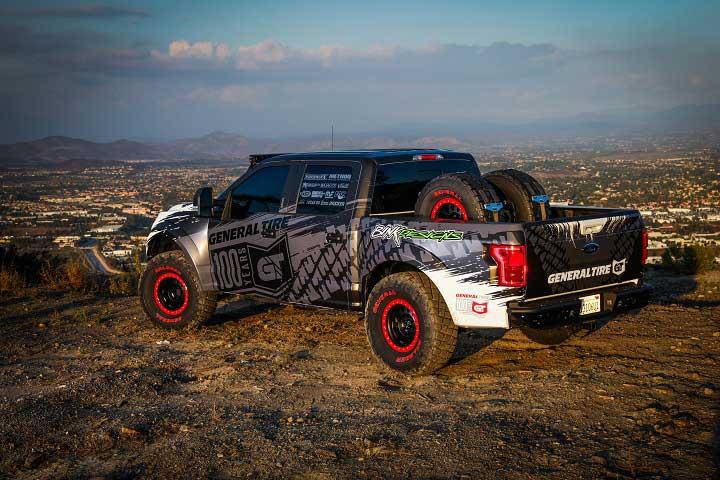 An ADD bed cage holds two full-size spare General Grabbers—not that he'll likely ever need one.
A rear ADD Venom bumper brings up the rear and matches the front end.