Now that the Bassmaster Classic is a couple weeks behind them, the Bassmaster Elite anglers hit the waters today to officially start the 'regular' tournaments season. The first event located in Palatka, Fla on the St. John's River. Last night, we asked a couple of our sponsored anglers, 2016 Bassmaster Classic Champion Edwin Evers and Skeet Reese, their thoughts about this week's event.
Now that the Classic is behind you, how do you prepare for the first "regular" tournament of the year? Is it any different than preparing for the Classic?
Evers:
"I'm preparing for it like I would any other tournament, I want to win Angler of the Year so I'm going to do everything and anything I can to put myself in position to win the Angler of the Year."
Reese:
"The only thing that's different about fishing the Elite Series versus the Classic is that there are points on the line here so you're trying to qualify for the next Classic so you're trying to make a little bit more conservative approaches. On this one where if I feel like I'm not on winning fish I'm trying to figure out how to survive this one. Whereas you go into the Classic you go to the Classic to try and win it and that's all there is. There is no second place there. Second place here is still good cuz it's a lot of points toward making the next Classic and also Angler of the Year. So you can have a little different approach coming into a regular Elite Series event."
How does the St. John's River differ from Grand Lake?
Evers:
"Completely different! St. John's is a tidal fishery, shallow water. Probably the deepest water is 10-15 feet, full of grass, Florida bass, warm weather, fish are done spawning, everything is different about it."
Reese:
"St. John's River varies dramatically from Grand Lake. You've got a cold, muddy water, impounded lake there where St. John's River is a tidal, natural fishery that's got manatees, alligators and tilapia. It's been 85 degrees every day. The fish are spawning and you're fishing in a foot of water. Much different than Grand Lake.
Where does St. John's River rate on your list of favorite lakes or rivers?
Evers:
"Pretty high, you know, I've won here so it's one of my more favorite places to go. I really like this place a lot."
Reese:
"I have good and bad finishes here, but I love coming to St. Johns. It's one of the more beautiful rivers and fisheries that we fish anywhere in the country. It's not houses everywhere. There's so much open water here that's just full of trees and just beautiful. It's just some of the most beautiful scenery I've seen anywhere in the country so I love coming here from that standpoint.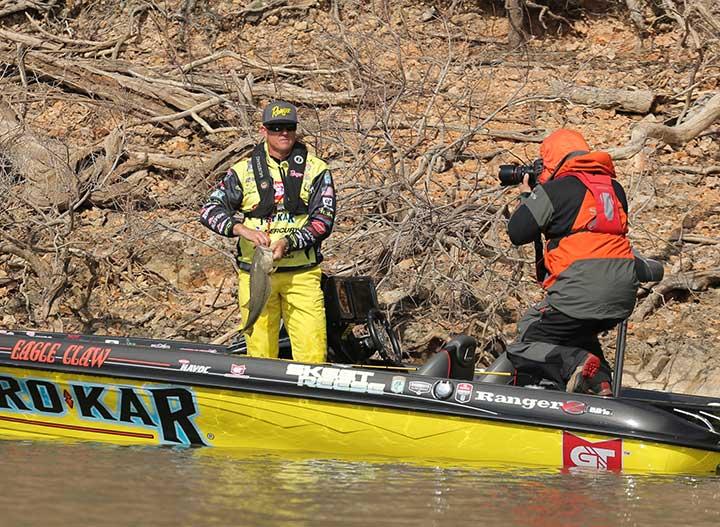 What kind of activity and bag weights do you expect to see this weekend?
Evers:
"I think we'll see some giant bags, I mean this place has got 'em. We're going to see some mid-20's to upper 20 type bags. I don't know that we'll see them every day, but it's going to be a fun week."
Reese:
"Oooh, the St. John's River, it's got a lot of big ones here, it really does. Somebodies going to find something and going to jack 30+ pounds at least one day. It could take 90-100 pounds to win. But I also look at it if you can go catch 15-17 pounds a day, every day, you're going to be way up there in this tournament.
As the newest Bassmaster Classic Champion, what type of confidence does the Classic win provide you going into the first "regular" tournament of the year? Is there any less pressure?
Evers:
"Yeah, you know, I've got the Classic made next year, so you know there's definitely less pressure, but in the same sense, I want to win Angler of the Year so I'll fish it just as hard as anytime. I think I was the first at the boat ramp this morning and the last to take out. I want to fish to win."