You'd have to call the NORRA Mexican 1000 a race if you gave it a definition. But it is so much more than that: It's an adventure for the entire team, a place to test off-road equipment, a tour through Baja California, a bonding experience, and a learning experience. There really is no other race like it on earth. Five days of fun in five great towns of friendly locals, with incredible wilderness stretches in between, that take participants along beach roads and up treacherous rocky mountain passes. It's a race where it's not uncommon to see competitors help each other, and one that everyone truly gets to be a part of. Not only is this attitude and adventure something that General Tire wants to embrace, but participation in this event also allows us to do a lot of testing and research as to how our tires perform in some of the harshest off-road terrain known to mankind.
For the 2015 Mexican 1000 race, not only did we have a number of Red Label General Grabber's on the course, we also had one set of our brand new General Grabber™ MT tires, run on Boyd Jaynes' classic Fox Bronco—dubbed the Caballo Del Diablo—in a 33x12.50R15 size. We told Jaynes "This is the only set you're getting, so make 'em last!" Admittedly, most tire companies would never dream of sending a brand new tire into harsh race conditions without at least one other set being available for replacement. But we had faith in our newest tire, and faith that Boyd would and his co-driver, Brian Godfrey, would be able to successfully navigate their Bronco across the finish line.
With a new set of Grabber™ MT's under the Bronco and a single (unused) spare on the back, Jaynes and Godfrey would leave Ensenada and successfully race all the way to San Jose del Cabo on the same set of Grabber™ MT's. Not only did they finish the race, but they managed to do it in record time earning themselves a first place finish in the #26 Fox Bronco! We're grateful to be part of Boyd Jaynes' and Brian Godfrey's win on General Grabber™ MT's in the 2015 NORRA Mexican 1000, and we're looking forward to seeing more wins from Boyd and lots of other drivers on our new Grabber™ MT's.
Contingency, Ensenada, Baja California 4/25/15
Contingency is always a fun time in Baja. Things are a little more lax on the streets of Ensenada and the race inspection day turns into one big sidewalk party. With everything looking good on the Bronco, it was a day for letting loose and having a little fun before strapping into the seats for a long first race day.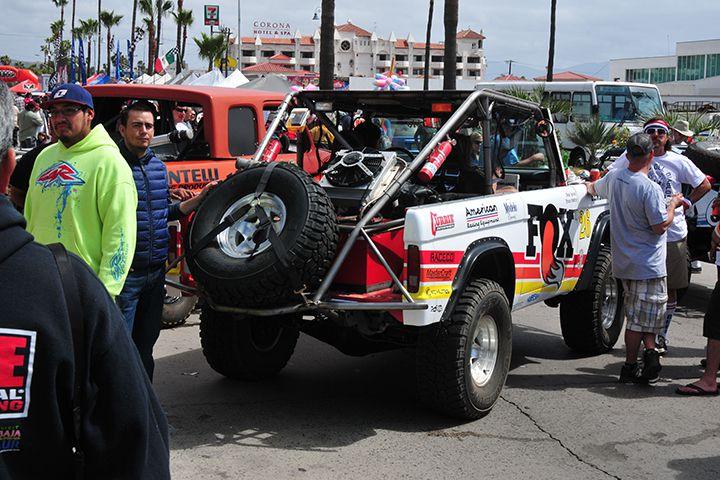 For the #26 Fox Bronco team, a pre-celebration — with attire matching the era of their vehicle — was in order.
Ensenada to Bahia de Los Angeles, Race Day 1, 4/26/15
Day one proved to be the last day that the original main shaft in the C4 transmission would stay in one piece. The Bronco was lucky to finish the first stage in Bajia de Los Angeles before hopping on a trailer in search of repair. That night they headed for San Quintin in search of a miracle…and found it. The needed parts to repair the transmission were found, and with some Baja ingenuity and a whole lot of luck, the Bronco was up and ready for Day 2.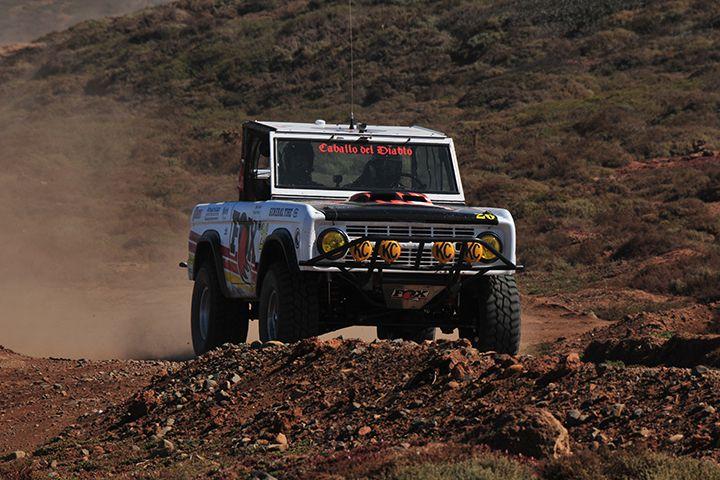 Boyd Jaynes and Brian Godfrey piloting the Caballo del Diablo on a beachfront road.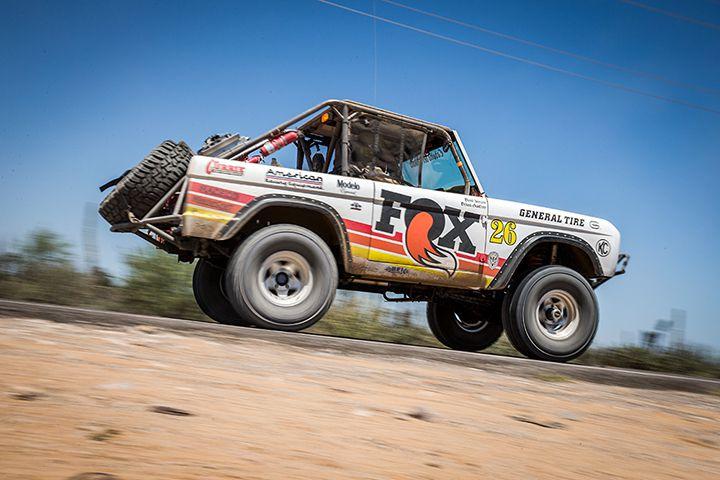 A successful first day was almost set awry by a busted main shaft in the transmission. They'd have it fixed that night and would be back on the road for the next morning race start.
Bahia de Los Angeles to Loreto, Race Day 2, 4/27/15
With a fresh transmission fix, the #26 Fox Bronco was able to continue on with the rest of the racers out of Bajia de Los Angeles. There were a few handling issues that kept the team from really opening up the throttle, but they continued on at a good pace—enough to take another stage win for the day.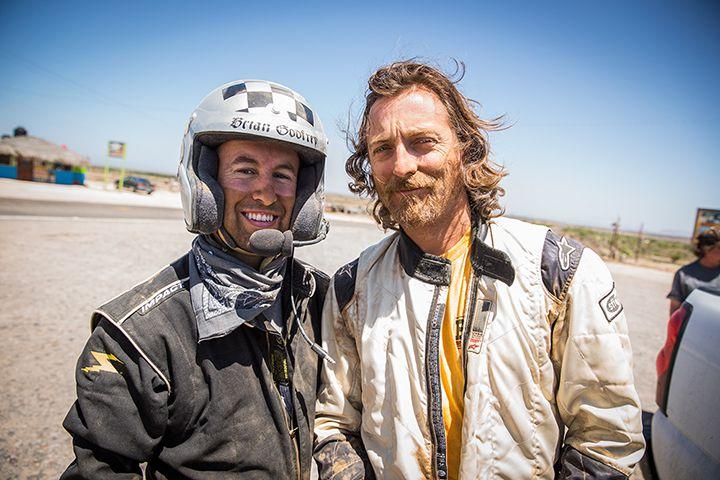 If you've ever heard the term "eating dirt," it's a literal one. Jaynes and Godfrey will be spitting out dirt for a few days, but they'll never be able to get rid of the memories of racing the Mexican 1000.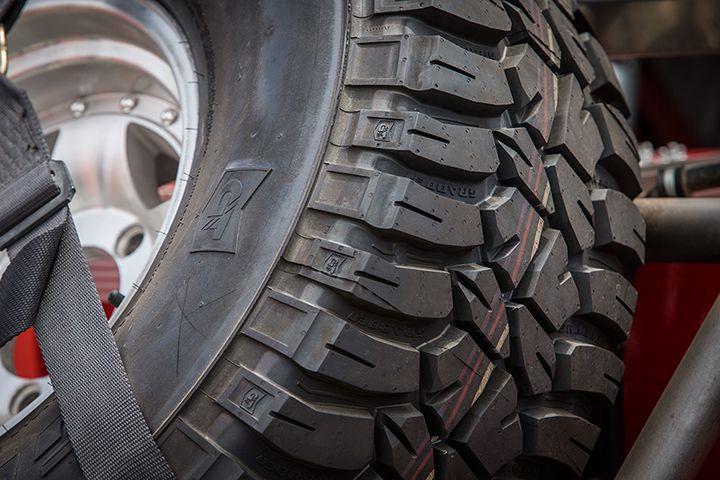 Close-up of the Grabber™ MT racing tire that the #26 Fox Bronco ran on.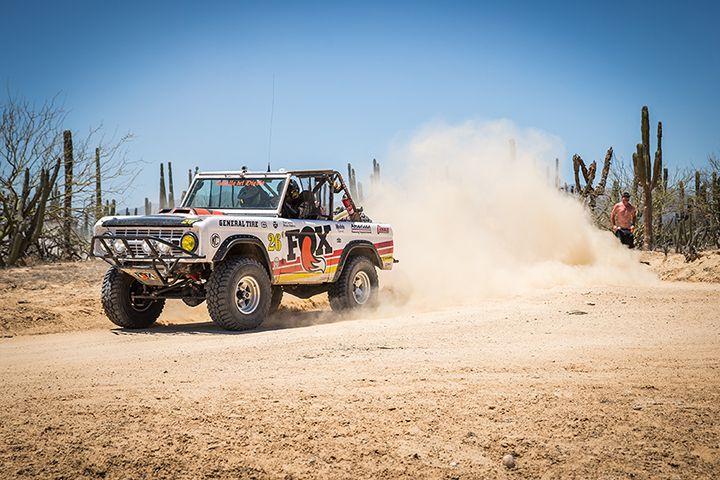 The Bronco was able to take a second stage win on its 33x12.50R15 MTs.
Loreto to La Paz, Race Day 3, 4/28/15
After leaving Loreto, the Bronco and its competitors entered some rough off-road sections, and after a highway crossing entered some silt beds that had trapped a number of vehicles, making for one large traffic jam. It ate up a lot of time for the Bronco team, but it didn't make much of a difference since everyone else was stuck in the silt, too.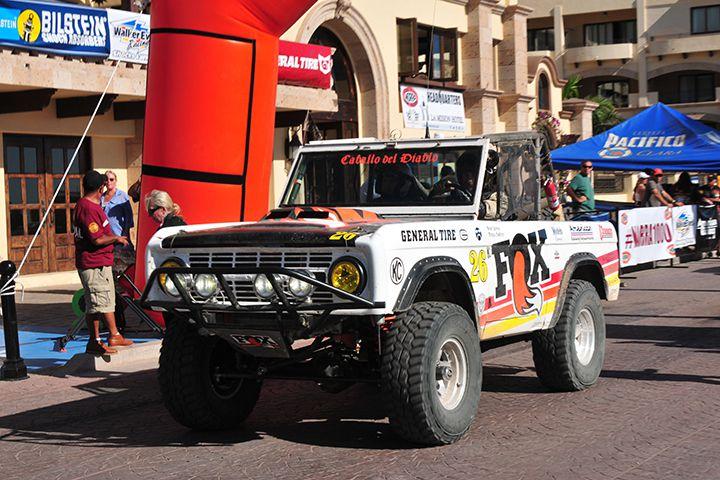 Leaving Loreto, the Bronco was running strong and had its minor handling issues and the transmission issue cleared up.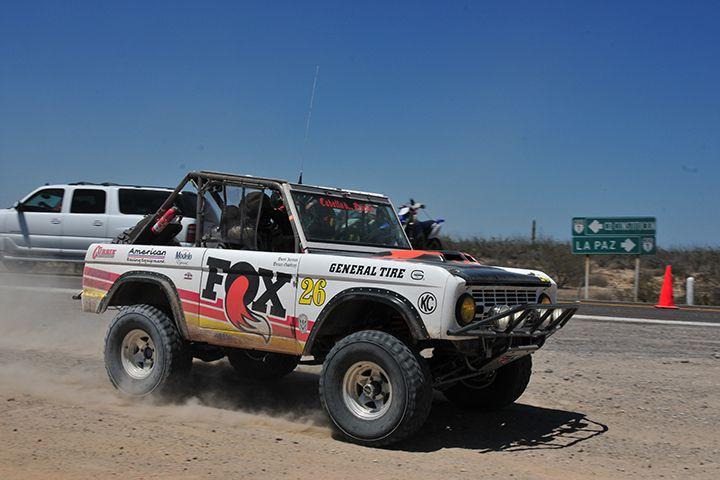 Jaynes and Godfrey raced towards La Paz only to be slowed up by a by silt bed traffic jam that cost multiple competitors lots of time.
La Paz to the finish in San Jose del Cabo, Race Day 4, 4/29/15
Day 4 would bring a little more trouble for the Bronco. A leaf spring center pin broke and allowed the rear end to walk around a little bit, forcing the Bronco to crabwalk the rest of the leg. Unfortunately this wasn't during a nice straightaway section but instead while traversing the cliffs that overhang the sea. The Caballo Del Diablo crew would be able to fix the leaf spring during a scheduled fuel stop in time to start the final stage and finish the race in San Jose del Cabo. After times were accrued, the #26 Fox Bronco, perhaps better known as the Caballo del Diablo, would come in with a first place finish and win for their class.
Boyd and Brian would like to thanks Fox, American Racing, General Tire, KC HiLites, Currie Enterprises, Raceco, Mastercraft Safety, and Model Beer for their support in help making their 2015 race effort possible. They'd also like to give a big thanks to their crew and team who put in huge efforts throughout the entire week.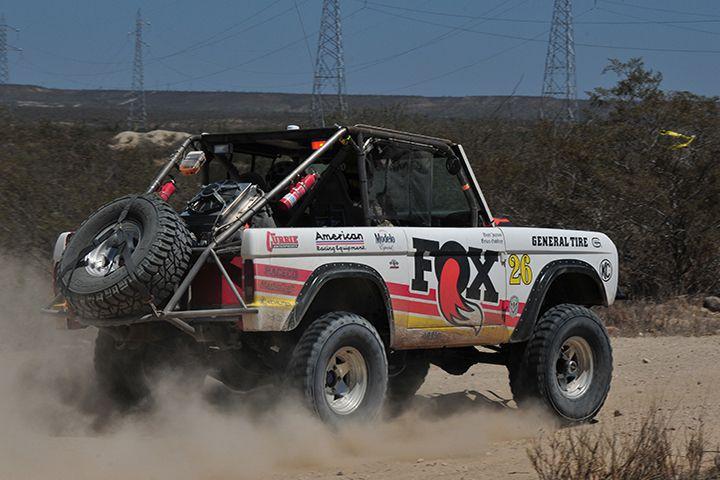 Racing towards the finish line, the #26 Fox Bronco was in the lead. As long as nothing happened in the last few miles, they'd take a first place win.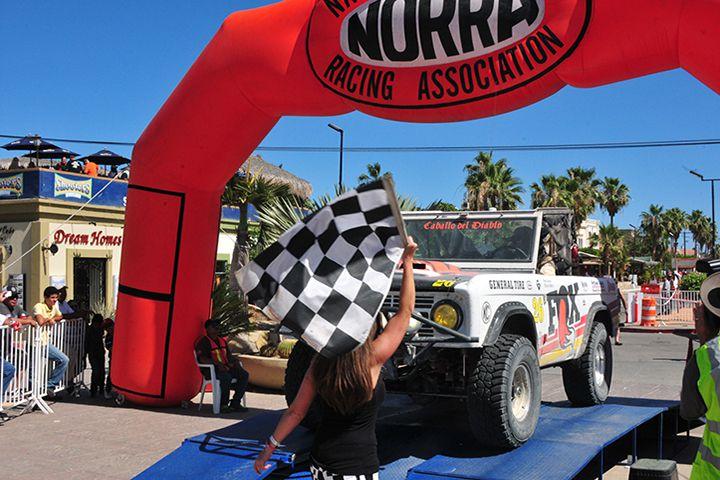 Boyd Jaynes and Brian Godfrey come in first place, 15 minutes ahead of the second place Bronco finisher.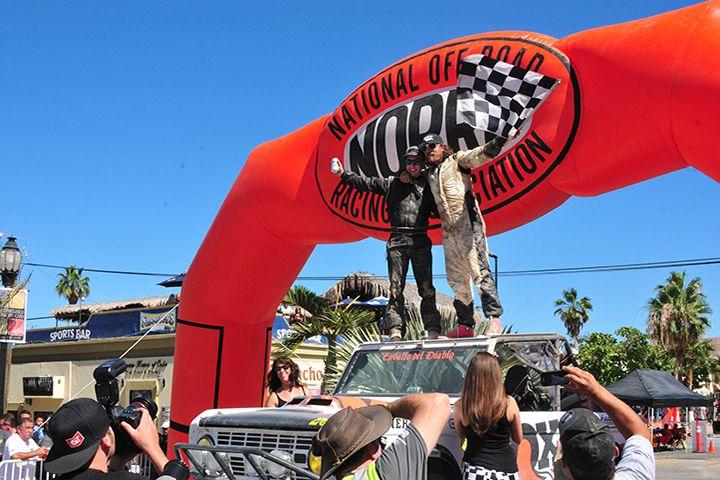 Whether they knew it at the time or not, Jaynes and Godfrey, in the Caballo del Diablo, were the very first competitors to win on the new General Grabber™ MT tires.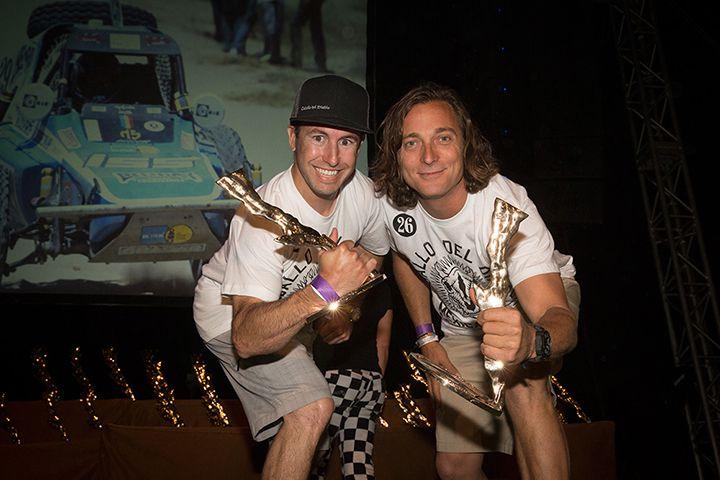 Boyd Jaynes and Brian Godfrey, presenting their trophies at the 2015 General Tire Mexican 1000 awards banquet.
Want to get in on the action and try the Grabber™ MT's for yourself? Find a General Tire Dealer near you.
About General Tire
For 100 years General Tire has offered a complete quality line of ultra-high performance, passenger, light truck, off-road and commercial tires to meet all your needs. General Tire is a proud supporter of Lucas Oil Off-Road Racing Series, Best in the Desert Racing Series, Major League Fishing, Chili Bowl, Pro-Pulling, Late-Model Dirt Series, Drag Boat Series, World Cup of Softball, American Sprint Car Series, FreestyleMx.com Tour, Zero One Odyssey, and is the Spec Tire of Trophylite and JeepSpeed. Team GT supports off-road and short course teams including C.J. Hutchins, Camburg Racing, Carl Renezeder, Chase Motorsports, Doug Fortin, Harley Letner, Jarett Brooks, Jim Beaver, Jimmy Fishback, Jim Riley, Macrae Glass, Randy Merritt, Ray Griffith and Ryan Beat.
About Continental AG
Continental develops intelligent technologies for transporting people and their goods. As a reliable partner, the international automotive supplier, tire manufacturer, and industrial partner provides sustainable, safe, comfortable, individual, and affordable solutions. In 2014, the corporation generated preliminary sales of approximately €34.5 billion with its five divisions, Chassis & Safety, Interior, Powertrain, Tire, and ContiTech. Continental employs more than 190,000 people in 49 countries.