There's a group of guys that get together once a year in Moab and go a bit against the grain of the week's annual activities. The Easter Jeep Safari event has become an off-road industry favorite, and while it attracts primarily Jeep enthusiasts, 4x4s of all kinds have always been welcomed. With the advent of current ultra-capable JK Wrangler, the newest open-top Jeep has dominated the trails in Moab in recent years. This got a few guys to thinking that they wanted to promote an "other 4x4" trail run during the Easter Jeep Safari. Naturally, fullsize trucks and SUVs fit the bill perfectly. Going on its fifth year now—as the Easter Jeep Safari celebrates its 50th—the Fullsize Invasion crew welcomes 4x4 vehicles of all kinds, and even has a few Wranglers running with their group every year, too. Over the past years, the run has become a media favorite because…well, let's face it: How many pictures of Wranglers can you show before they start to look similar?
We knew some fullsize guys were heading out to join the Fullsize Invasion on our red letter GRABBERS, so we tagged along to see the action and witness our tires grab the rocks of Moab and help these big rigs climb over the red rock trails of Moab. You can bet we'll be there next year, too, joining them to watch the biggest of the 4x4s cruise over the rocks. Moab is one big beautiful terrain park for 4x4s, and we plan to be there joining in the annual Easter Jeep Safari's festivities from now on!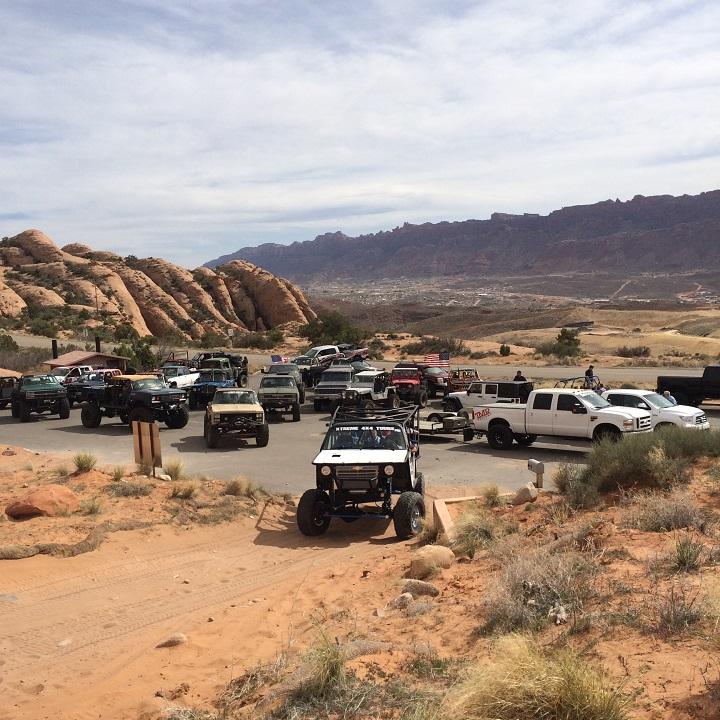 We found the fullsizes, first-generations Broncos, and even a few open-top Jeeps waiting in a parking lot in downtown Moab for the Fullsize Invasion to start. From there the group ran through town to the trailhead, where everyone got their vehicles ready for rockcrawling by deflating their tires.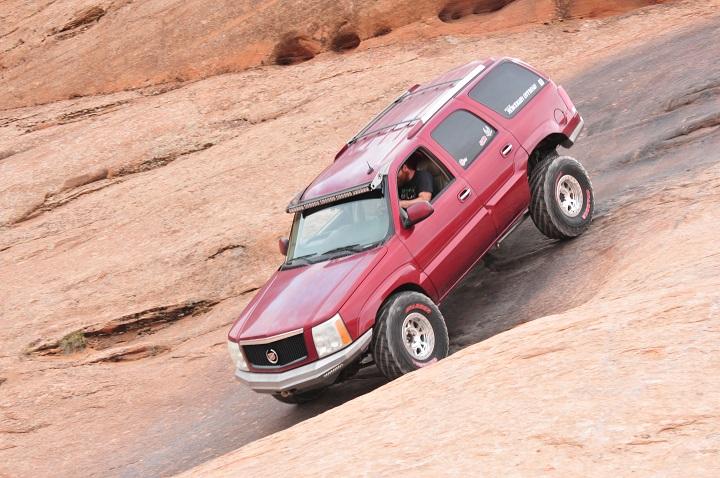 Ever seen a Cadillac in the rocks before? Neither had we. But it sure did look good on 37-inch Grabbers!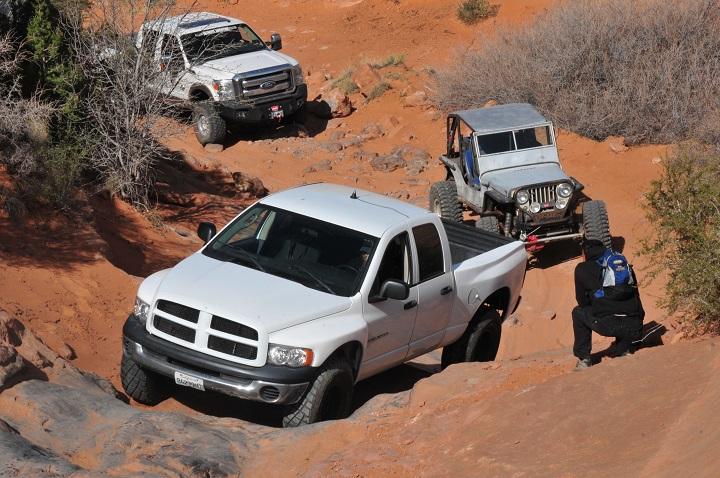 Steven Scott's '04 Dodge was kept low using fiberglass bedsides and fenders over its 37-inch Grabbers, but it still cleared most of the obstacles with two solid axles flexing over the rocks.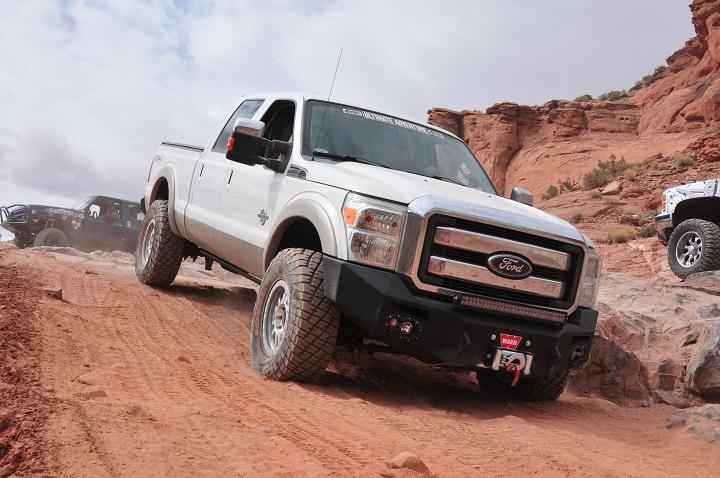 This F-250 Super Duty has had quite a history for only being five years old, but it's still looking good with its 4-inch Pure Performance kit suspending it over 37-inch Grabbers.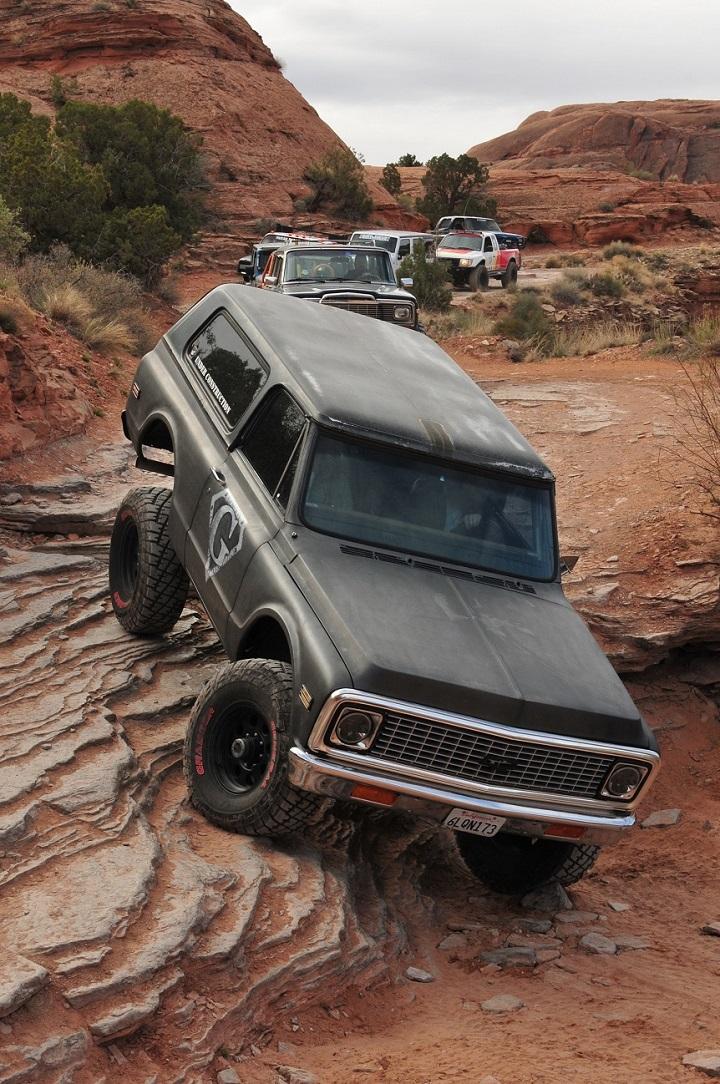 Joshua Gordon and Jazzmine Waldon came out from Ventura, California, in this classic 1972 K5 Blazer on 37-inch Grabbers to join the Fullsize Invasion guys for both days they did trail rides.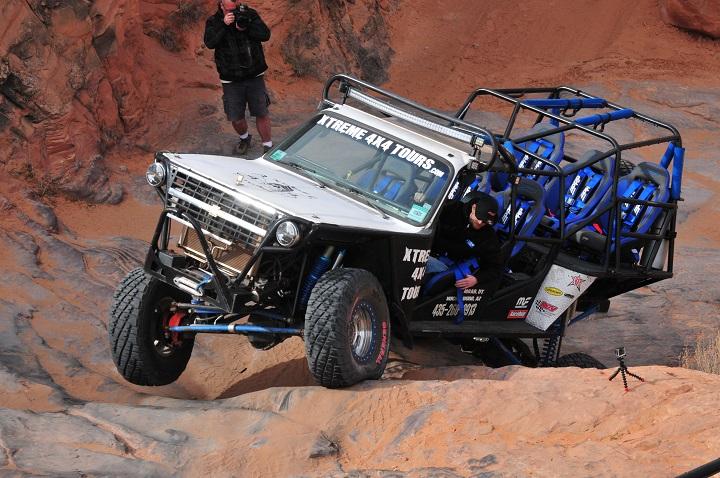 Xtreme 4x4 Tours has a couple buggies that normally run tours throughout Moab, Utah, on 42-inch tires. They've been using sets of 37-inch Grabbers on bother their buggies over the last couple months, and tell us they're more than impressed with what they can do on Grabbers, even though they're smaller than the tire they normally run.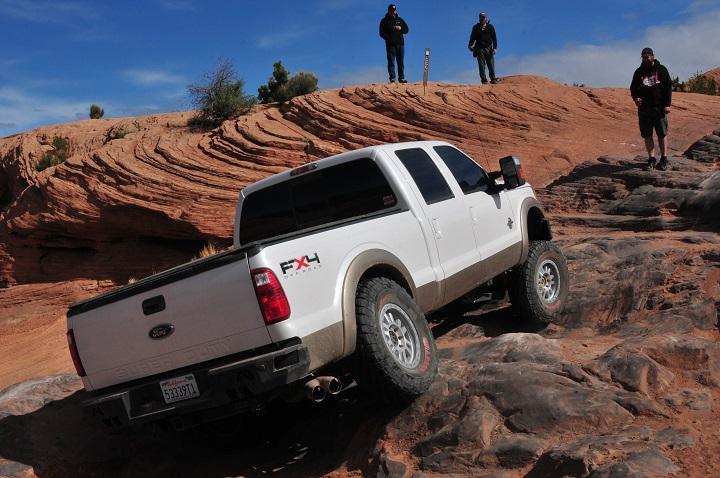 Corey Simone has taken ownership of this 2011 Super Duty that originally came from the Four Wheeler Network. Corey still works there and came out to join the Fullsize Invasion crew with a big stock-bodied truck. Thankfully the Fab Fours bumpers are made to take a rock ding or two!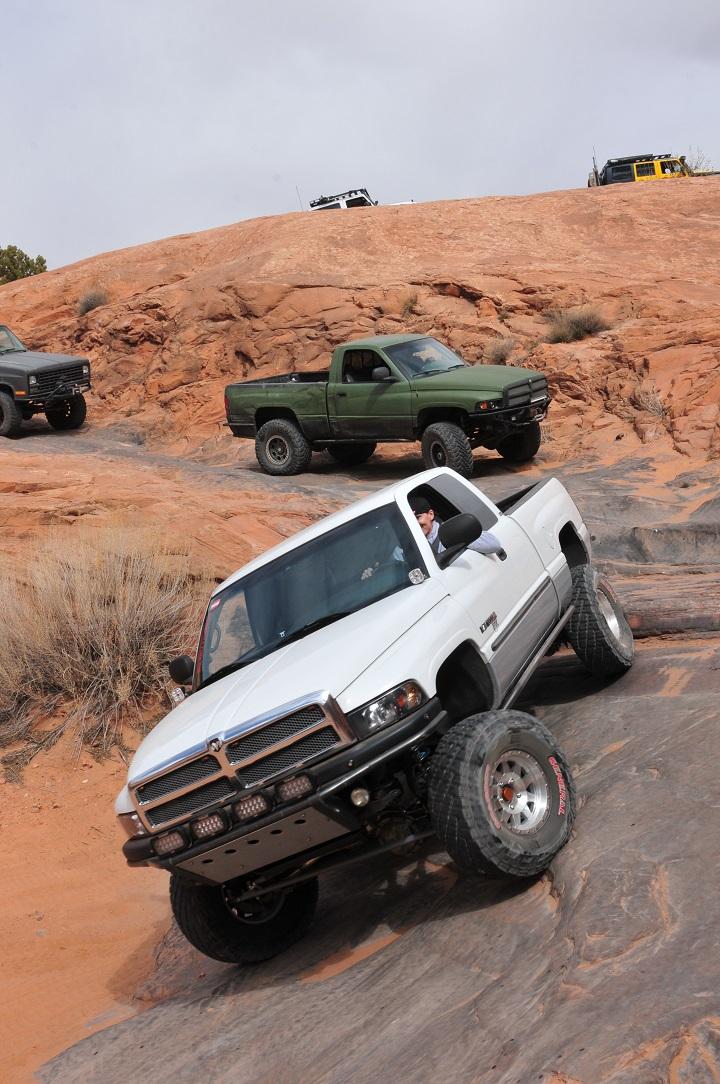 Jim Lake built this cool Ram to tackle daily driving and trail rocking. He made the Poison Spyder trail look easy.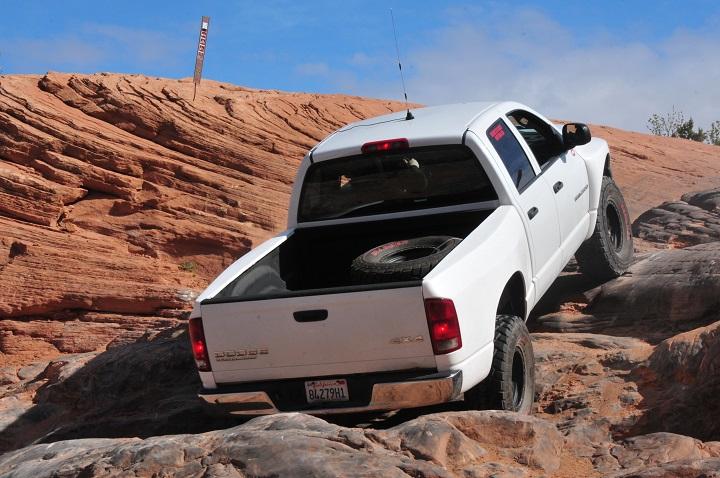 Watching fullsize trucks in the rocks is fun!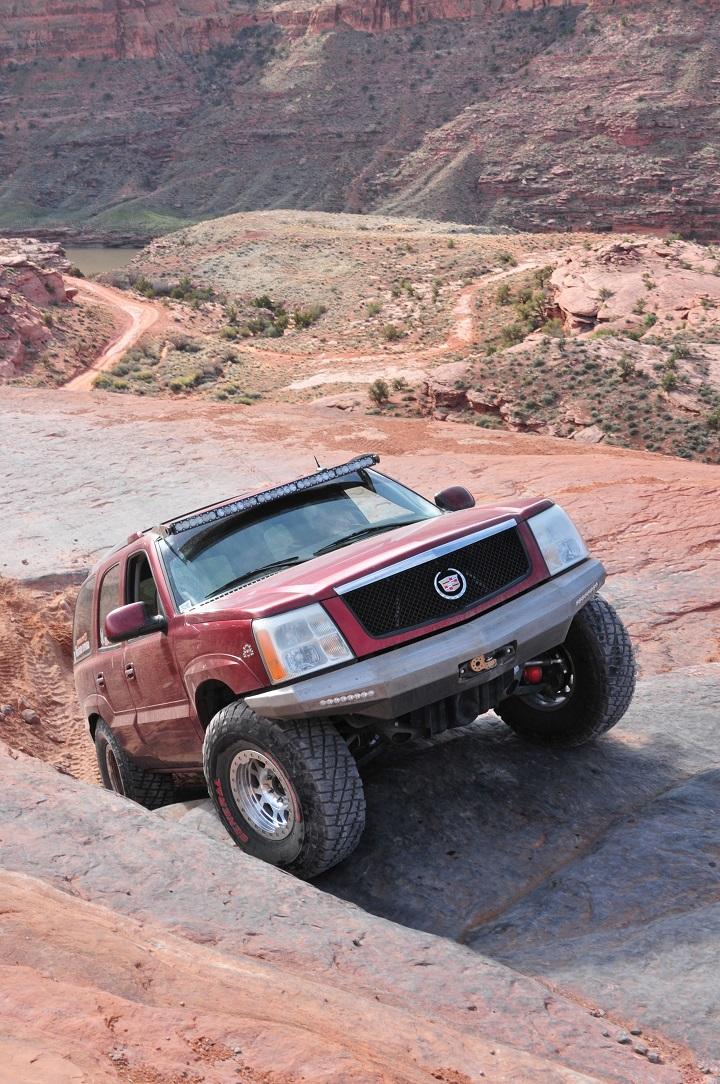 Todd Farrand of Mercenary Offroad built this cool Escalade to promote his line of custom off-road bumpers.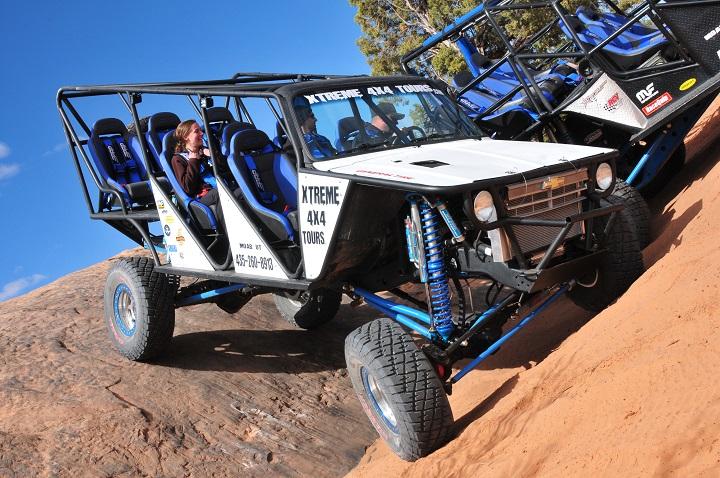 Dave Hellman of Xtreme 4x4 Tours didn't mind putting his buggy at extreme angles. Driving a tour buggy based on a Suburban every day gives excellent experience in the rocks.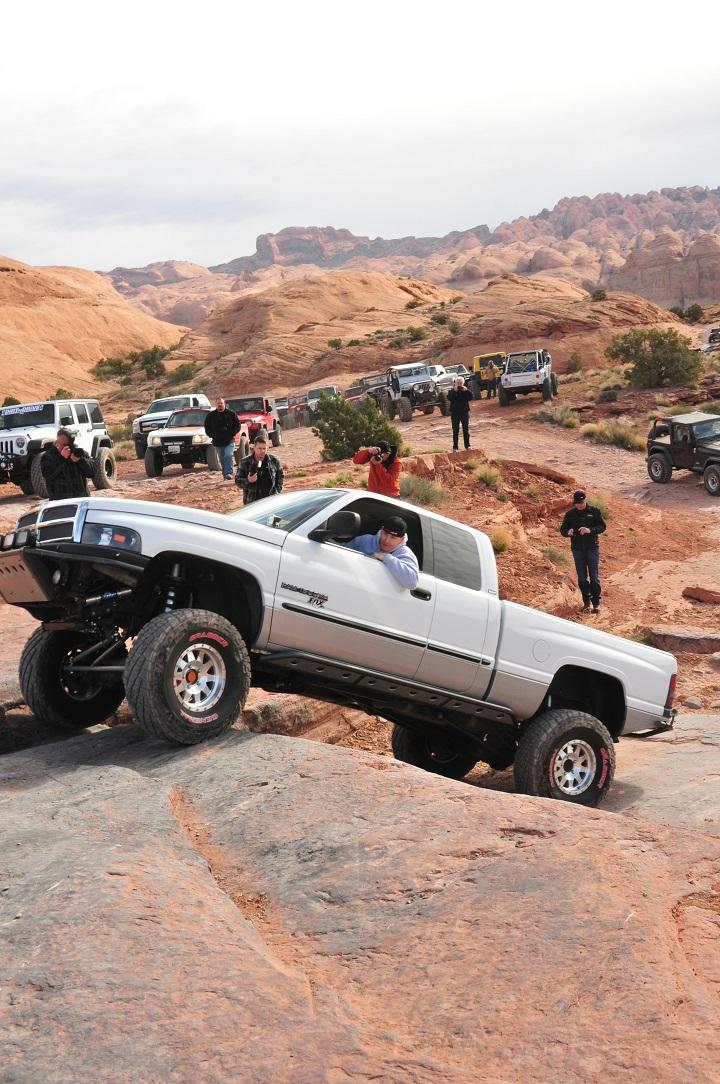 Jim Lake's Dodge Ram making short work of an obstacle that can give some shorter wheelbase vehicles an issue.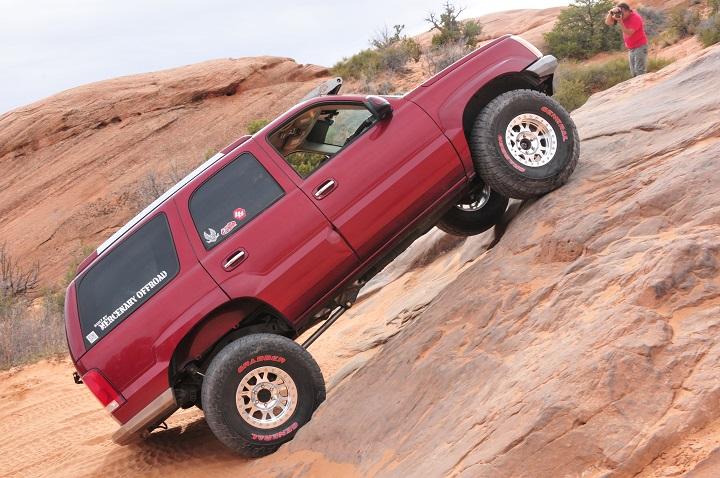 Mercenary Offroad's Escalade has a modified link rear suspension holding a 14-Bolt axle with 6-lug Gear Tech hubs. That's more than enough axle to hold up in between the 37-inch Grabbers during even the most brutal of off-road excursions. But the front needed work, too, so a GM 2500 IFS differential was outfitted into the Escalade with RCV axles.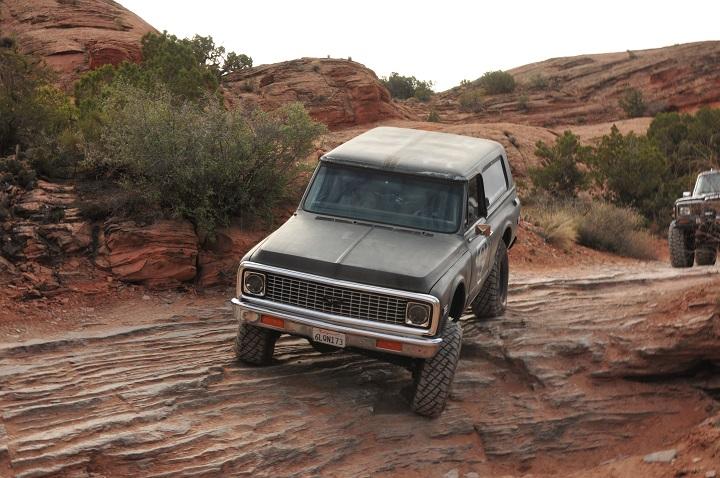 This classic K5 was probably the oldest vehicle we saw on General Tire tires during this year's Easter Jeep Safari.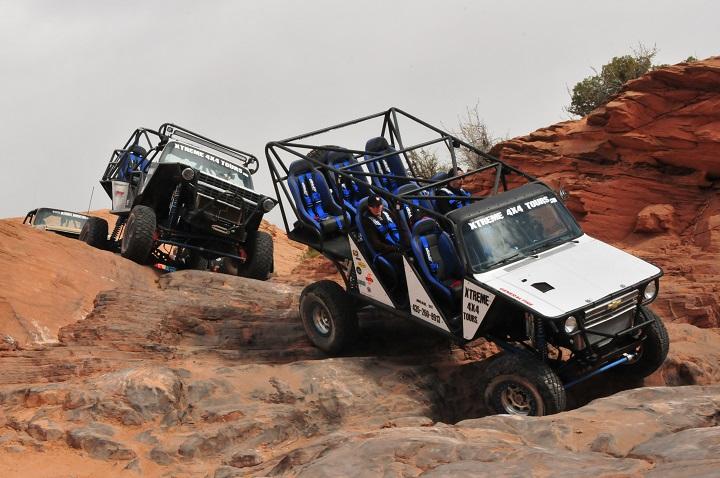 We got the chance to catch a ride in the Xtreme 4x4 Tours buggy, and the back seats are definitely the scariest! Going up and over obstacles in the tail of the vehicle is exciting!
You'd think someone would be a little more delicate with their own first-generation K5, but Joshua Gordon ran his Blazer hard all week long, breaking driveshafts and other drivetrain components, only to get it fixed each day for the next day's adventures.