It was the final morning of our Mostly Dirt Every Day tour—a trip that had taken us across from Eastern Washington into Montana, following as many dirt roads and mountain trails as we could, only heading back into civilization for fuel. After six days of this, it was starting to feel normal. Work would seem strange when we went back the next week. And hopefully we could scrub the smell of 20 unshowered people off us by then…. Every single vehicle and person that had started the trip was still with us, partly thanks to everyone working together to help each other out when problems arose. Today would take us into Garnet, Montana; one of the best preserved ghost towns in the entire country. We headed northeast from Flint Creek Campground near Anaconda, Idaho, staying on the highway until we hit the dirt road up the mountain to Garnet. After six days, our "daily drivers" seemed to have the bugs worked out, and we were making good time even on the dusty dirt roads. We spent a couple hours in Garnet, but you could tell that everyone was a little anxious to get home, so John called it. It wasn't that we wanted the trip to end, but there was a lot of catch-up to play at home to make up for the last week.
Upon leaving Garnet, it truly looked like every single vehicle that started the trip was going to end it…until we hit Missoula. We spread out along the highway as we headed toward John Mears' shop in Spokane Washington. Picking up the tail was one of our own representing vehicles (the Cherokee Chief) that decided to wait six days to start having vapor lock issues. Not giving up, Jones would drive 2 or 3 miles, pull over & wait, and then get back on the road. Most of the group had been back for hours when he decided to call it quits and have a tow truck rescue him out of the darkness. It was disappointing to go all this way and have 15 out of 16 vehicles make the trip, but we guess that just means we'll have to try again next year and see if we can complete the entire trip AND make it home!
Thank you again to John Mears for dreaming up and leading this Mostly Dirt Every Day tour that took 16 trucks and Jeeps and led them through hundreds of miles of beautiful country and wilderness.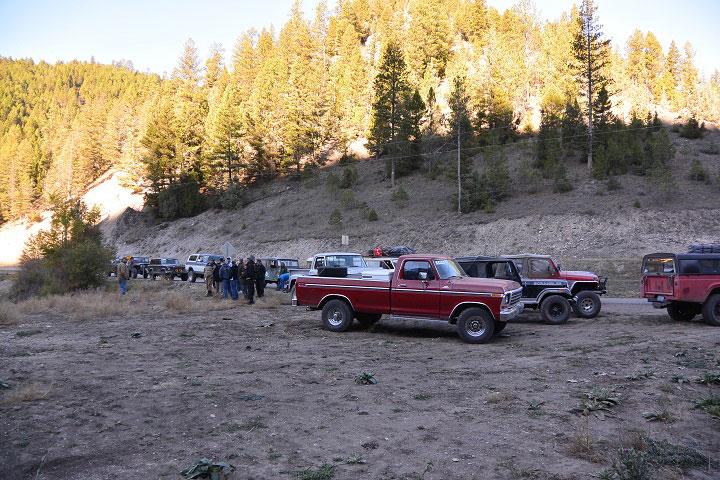 We left our campgrounds at Flint Creek and headed the 50 or so highway miles toward that last stop on our trip; the ghost town of Garnet. Mears stopped the group at the bottom to show the difference between today's responsible mining practices and the old "dump anywhere" strategies employed by our ancestors decades ago.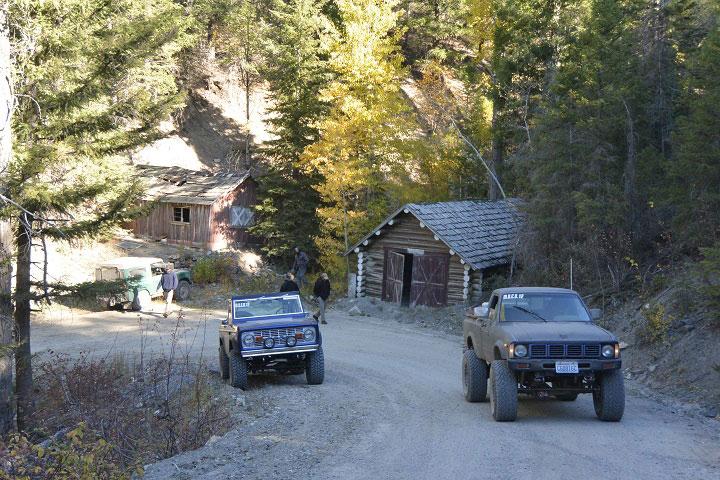 It's about 11 miles off the highway up to the main ghost town of Garnet. But you start reaching old abandoned dwellings just a few miles up. Be careful if you're retracing our steps though; some of the cabins only look abandoned.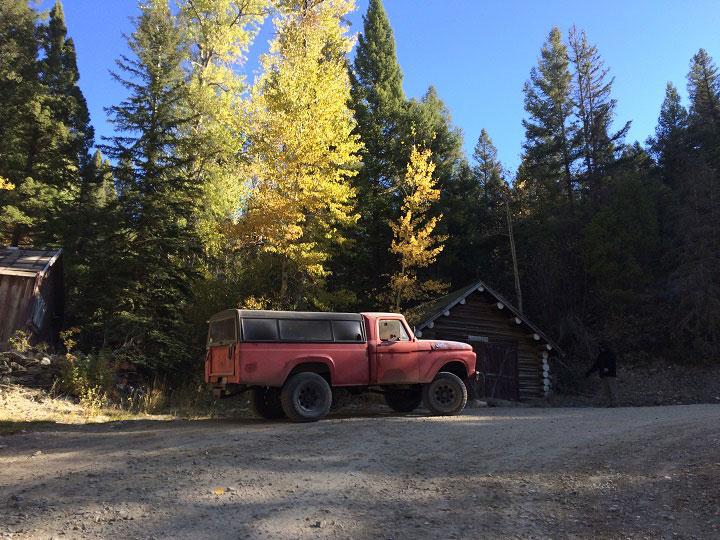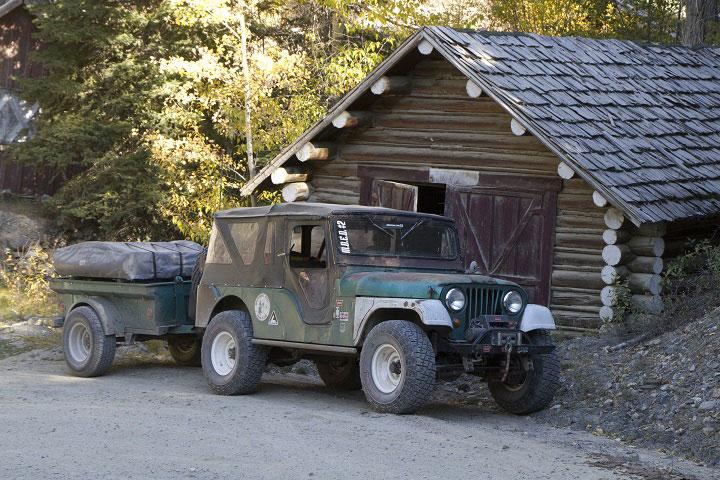 Six days of off-roading in this '66 CJ-6 and no problems so far.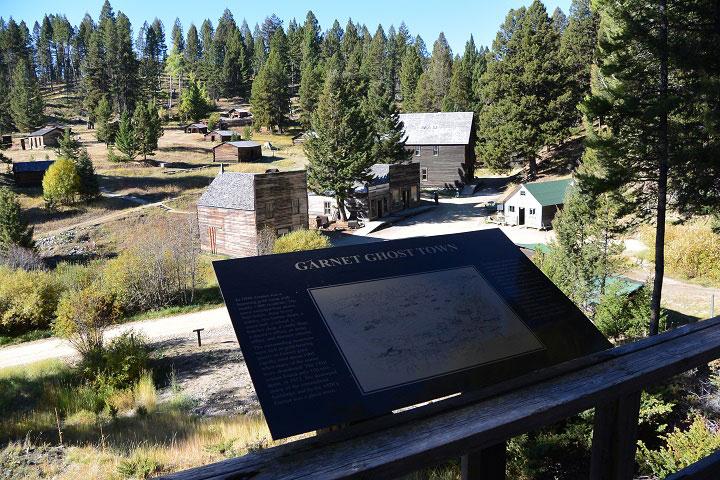 In the late 1890s, Garnet was a bustling gold camp housing nearly 1,000 people. As the mines closed, residents moved away and by 1910 there were only 150 people left in the town. A fire destroyed many structures in 1912 and by the 1920s, Garnet had turned into a ghost town. These days, The BLM and the Garnet Preservation Association care for and manage the area in a cooperative effort to preserve the town and keep it open for the public's enjoyment.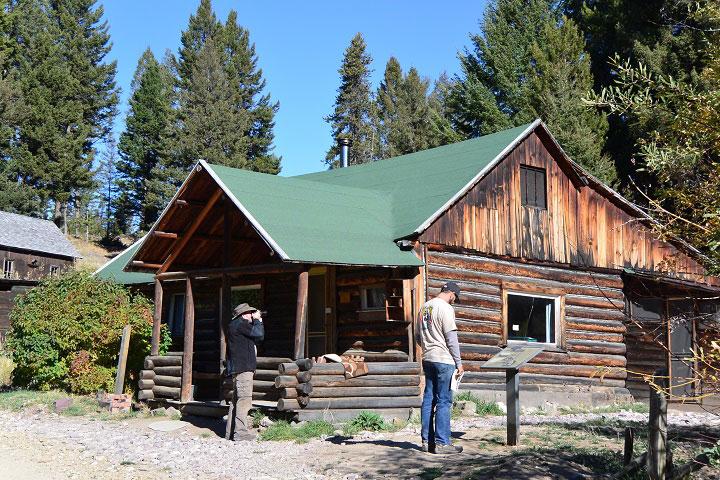 While a number of the structures have fallen, there is still a very complete ghost town here. And one of the best parts is that you can still access the town and its buildings; You are not kept quarantined 100 feet away, behind a fence, and instead you're able to touch the original buildings, tools, chairs, etc, that remain in the town.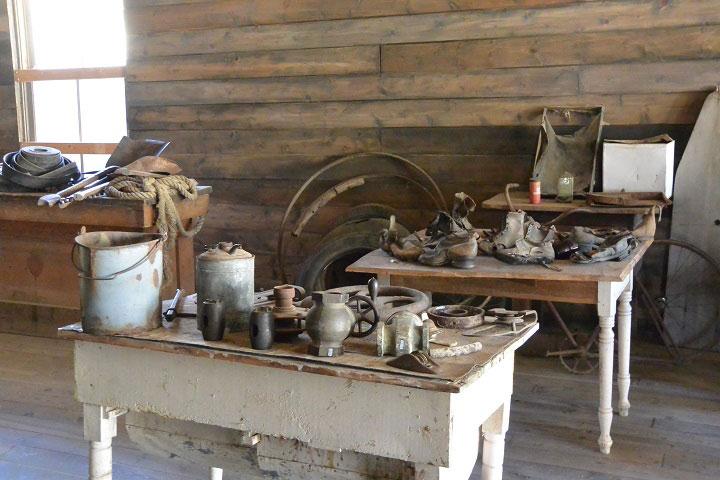 There are still a fair amount of original artifacts left in the town, so visitors can experience a glimpse into late 19th century life in Garnet, Montana.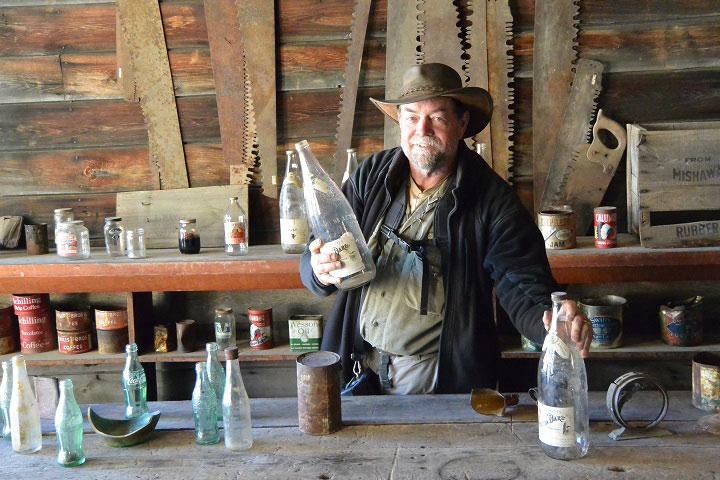 Our photographer Chris Collard looked the part to be behind the counter in the old saloon!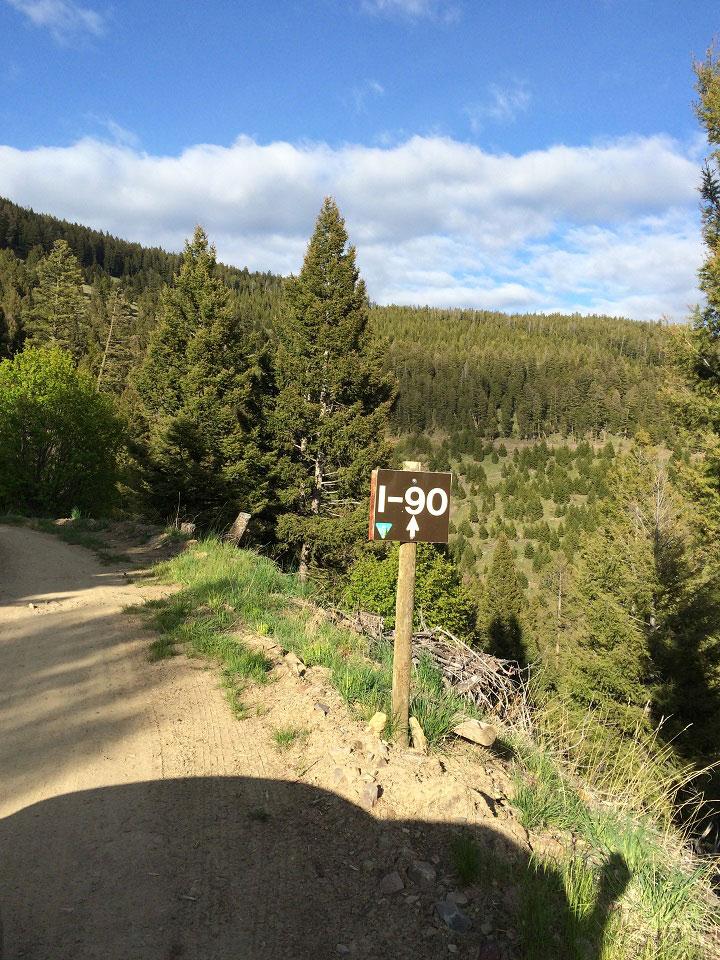 With our last stop on the MDED tour behind us, all we had to do now was make it home…after finding the interstate. Good thing there was a sign.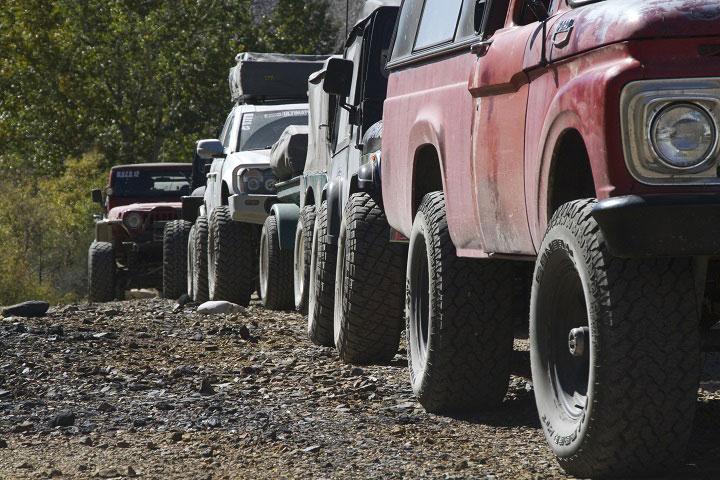 With six days of dirt and adventure under our belts, we headed home.
John Mears has made it very clear that this is only the second Mostly Dirt Every Day tour, and there will be more to come. We cannot wait.
The Participants and Vehicles of the Mostly Dirt Every Day Tour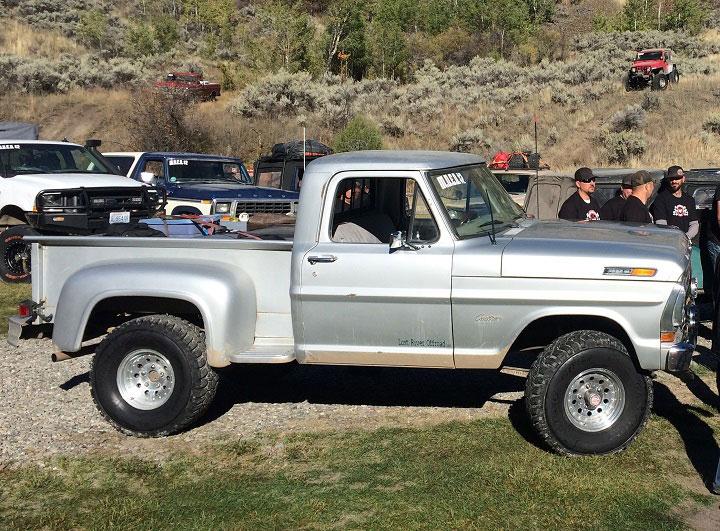 Silver F-100 Stepside
Aaron Powell owns this spiffy F-100 that he's slowing rebuilding little by little. He one of the proprietors of Lost River Offroad (along with John Mears) and is CEO of Lone Peak mining company. If that wasn't enough, Powell is also a lawyer practicing mineral law, and he worked at an investment firm before that! Not only did he come to enjoy himself on this MDED tour; he also came to help John and support the guys on the trip by carrying a lot of food and gear. We're pretty sure we wouldn't have had bacon in the morning if it wasn't for this guy, so that made him one of the most important people on this adventure. The stepside he brought on the tour is pretty stock, and looks great from only a few feet away. But Aaron showed us where he needs to go back through the body to fix some "band-aids" that previous owners applied. When he's finished, this is going to be almost too nice to take in the dirt!

Vehicle: 1970 Ford F-100
Driver: Aaron Powell
Engine: new 351 Windsor engine
Axles: Stock axles with front disc brake conversion, locking hubs
Suspension: 3" front lift springs
Tires/wheels: 33x12.50R15 Grabber MTs on American Racing 15" wheels
Other mods: Front auxiliary lights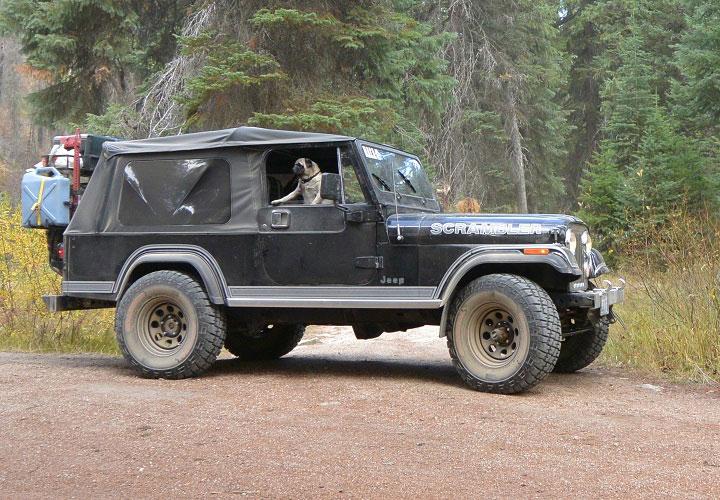 The Scrambler
Doubling as pug transport, Jeffrey Bordner's CJ-8 ran well all week. As a self-employed tech, Jeffrey has worked in the auto industry for 30 years and judging by the way his Scrambler ran all week, we'd take our vehicles to him! Jeff attended the trip with his wife, Susie, who took time out of her work in Social Services to join us for six days of adventure.
When we got close to their Jeep on the first day, we were surprised to hear grunting & snorting and see a pug hanging out of the passenger door window! The Bordners had brought both their pugs, who were on their best behavior all week when not playing watchdogs for the Scrambler that Jeff and Susie have owned for the last 10 years.

Vehicle: 1982 Jeep CJ-8 Scrambler
Driver/co-Driver: Jeffrey Bordner, Susie Bordner
Engine: 258ci inline 6-cylinder engine
Drivetrain: T-5 manual five-speed transmission, Dana 300 transfer case
Axles: AMC 20 rear with Nitro Gear one-piece axleshafts, Dana 30 front
Suspension: Stock
Tires/wheels: 285/75R16 General Grabbers on 16x8 steel wheels
Other mods: Homebuilt rear bumper w/ swing-out tire carrier, onboard GPS, shovel, ax, spare fuel can, hardtop & softtop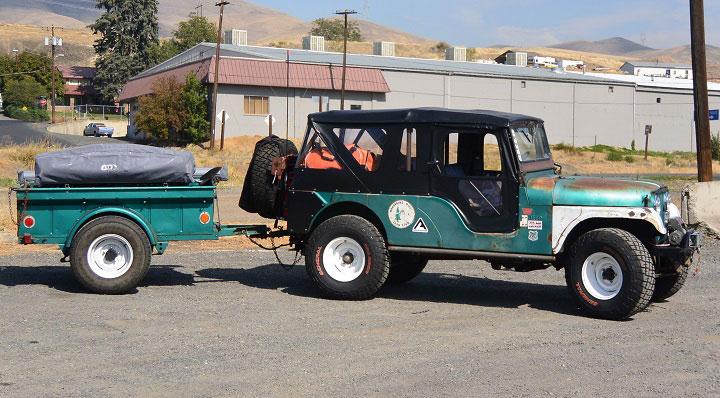 Diesel CJ-6
Mitchell Carter is an enthusiast-turned-insider who now works at ARB USA and helps other guys figure out their dilemmas at the tech & warranty department. This ultra-rare diesel 1966 CJ-6 is just one of a few in Mitch's niche collection of rare Jeeps—some others being two '57 FC-150s, a CJ-3A, and his dad's old M-38. Mitch and his co-pilot, Scott McLean, towed a very cool open trailer with (of course) an ARB tent mounted to the top of it. Six days' worth of gear for two guys wouldn't have left much room for lounging around in the little CJ if it hadn't been for their trusty trailer!

Vehicle: 1966 Jeep CJ-6
Driver/co-Driver: Mitchell Carter, Scott McLean
Engine: Perkins 4.2L diesel (naturally aspirated—no turbo)
Drivetrain: T-90 manual transmission, Dana 18 transfer case with Dualmatic overdrive
Axles: Dana 44 rear w/ 19-spline ARB locker & 4.27:1 gears, Dana 30 front with 27-spline ARB locker & 4.27:1 gears, 11" drum brakes all the way around
Suspension: Old Man Emu shocks with stock leaf springs
Tires/wheels: 33x10.50R15 Grabbers on 15x8 Kelsey Hayes steel wheels
Other mods: Warn XD9000i winch, ORFab swing-out tire carrier for a TJ, Bestop Tiger top, 82-quart ARB fridge/freezer
Trailer: 52 M100 w/ ARB Simpson III Roof Top tent, ARB lockable storage drawer, ARB 6.5-foot awning, packed with gear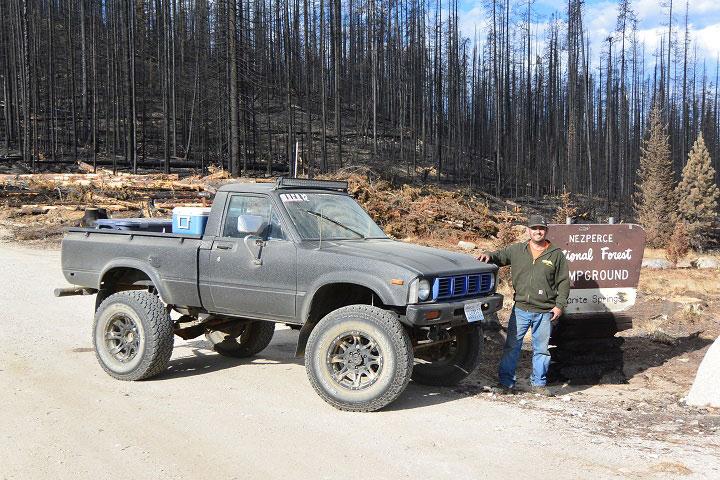 1980 Toyota
In everyone else's bios that John Mears made for the trip, each bio had one picture of the attending member. Rocky Dorame's bio had four. He also listed himself as "really awesome driver" in the "vehicle specifications" section. It's too bad he won't ever pose with his 1980 Toyota pickup. When not hamming it up on camera, Rocky works for John Mears at Rocknocker Resources doing geological studies in the field. He's also pretty good with a wrench, too, and helps maintain Mears' fleet of vehicles. Rocky played tail gunner most of the week and was a great one at that. His Toyota kept on chugging along all week, without issue, too. Although it did not like starting up on steep hillsides.

Vehicle: 1980 Toyota Pickup
Driver: Rocky Dorame
Engine: 20R four-cylinder engine
Drivetrain: 5-speed manual transmission, Toyota T-case
Axles: Tacoma rear axle w/ TJM locker & Nitro Gear axleshafts, front Toyota with Lock-Right locker & Nitro Gear axleshafts
Suspension: All Pro long-travel rear leaf springs
Tires/wheels: 35x12.50R17 Grabber AT2s on 17" Raceline Raptor wheels
Other mods: Complete Line-X paint job, ARB compressor kit, custom Ammo can storage boxes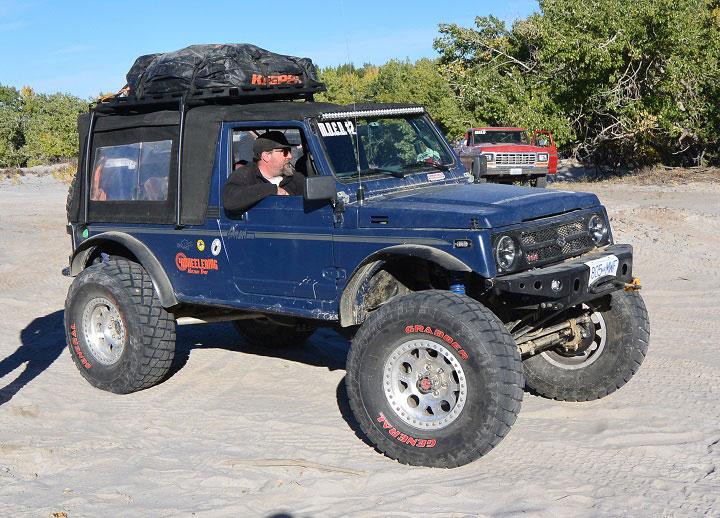 Long Wheelbase Samurai
Nick Pook is a longtime off-roader with experience on trails all over the western part of the country. He got his start in shops helping out more experienced guys until he learned the skills himself. All the while, he thought about the ultimate vehicle he wanted to build, and ended up finding himself a rare long-wheelbase Samurai. After wheeling it for a while and causing some extensive body damage, Nick tore the 'Zuki down and made himself an even longer ultra-long wheelbase Samurai, linked front and rear and sitting on 37" Grabbers. If the extra wheelbase wasn't the coolest thing about this build, then it would definitely have to be the VW 1.9L TDI engine under the hood. The little Sammy carried all the gear plus Nick and his co-pilot Daryl Goldsby—an electrical master currently working in electric drive system design for commercial vehicles. Both guys came all the way down from British Columbia to join us on this MDED tour.

Vehicle: 1985 Suzuki Samurai long wheelbase
Driver/co-Driver: Nick Pook, Daryl Goldsby
Engine: VW 1.9L TDI engine
Drivetrain: Toyota W56 transmission using Epic Polymer bellhousing adapter, Marlin Crawler transfer cases with a 4.7:1 low range
Axles: Diamond axlehousings w/ electric lockers & 5.29:1 gears front & rear, Trail Gear 6-Shooter knuckles and Longfield axleshafts in the front
Suspension: Radflo 14" coilovers with hydraulic bumpstops front & rear, 3-link front with a track bar, 4-link rear
Tires/wheels: 37x12.50R17 Grabbers on KMC beadlock wheels
Other mods: PRP seats w/ 5-point harneses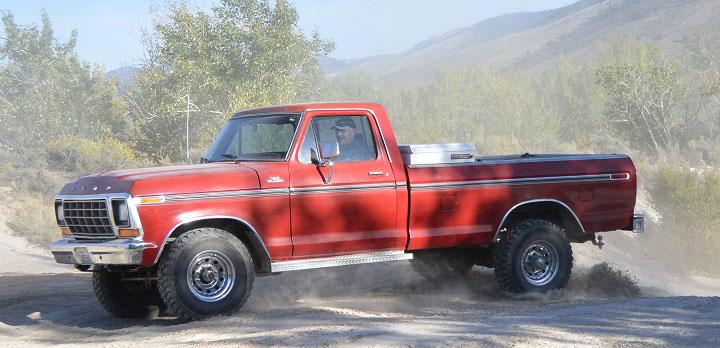 1979 Ford F-250
Denise and Jerry Johnson own this classic F-250 that joined us on the MDED tour. Denise works with John Mears and has helped him with his crazy schedule and life for the last six years. Jerry is the guy that we wanted with us if we got separated from the group; He spent 30 years working for the Washington State Parks and is still a ranger up at Mt. Spokane. While they're no newbies to off-roading (they owned an old Land Cruiser years ago), their F-250 is a "newer" project that Jerry is slowing doing all the work on. It has a new carburetor that was recently installed that was being a little quirky the first day, but they the Johnsons seemed to have had their truck sorted out by the end of the week

Vehicle: 1979 Ford F-250
Driver/co-Driver: Jerry Johnson, Denise Johnson
Engine: New 400M engine with a new carburetor
Drivetrain: C6 transmission
Axles: Dana 60s front and rear
Suspension: Stock
Tires/wheels: 265/75R16 Grabber MTs on chrome 16" wheels
Other mods: Running boards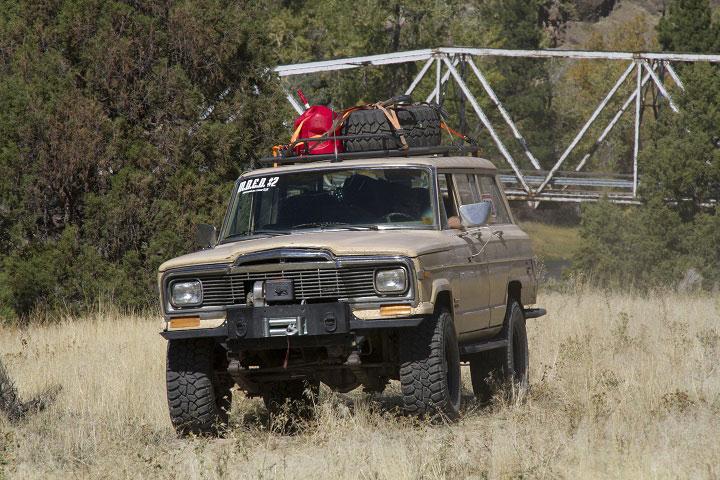 Flesh Rocket Wagoneer
At the beginning of the week, John Mears owned this flesh-colored '81 Wagoneer. But by the end, some horse trading had been done and now Mears owns a stepside Chevy 4x4 and Cliff Olney, one of the pilots of this '81 Wagoneer, is the proud owner. Representing the fullsize Jeep guys well, DelRey Romero and Cliff Olney rocked a great attitude and a sweet ride all week as they bounced the inline six-cylinder's engine off the rev limiter more than once giving the borrowed Waggy all it had through the dirt. Cliff, a veteran of a variety of off-road activity, owns Insanity Fab and tells us this Wagoneer is getting linked suspension as soon as it gets to its new home. His friend Delrey owns and runs North Idaho Mud and Crawl. Together, you could tell these guys were…well, the type of guys that would name their new Wagoneer "The Flesh Rocket."

Vehicle: 1981 Wagoneer
Driver/co-Driver: DelRay Romero, Cliff Olney
Engine: New inline 6-cylinder engine
Drivetrain: T-18 4-speed manual transmission
Axles: Dana 44 front & rear, "Lincoln locked" (welded diff together)
Suspension: Stock
Tires/wheels: 33x12.50R15 Grabber MTs on black steel wheels
Other mods: Rollcage incorporated into roof rack, cut fenders, Hazzard Fab bumpers and rocker guards, Warn 8274 winch, misc. off-road gear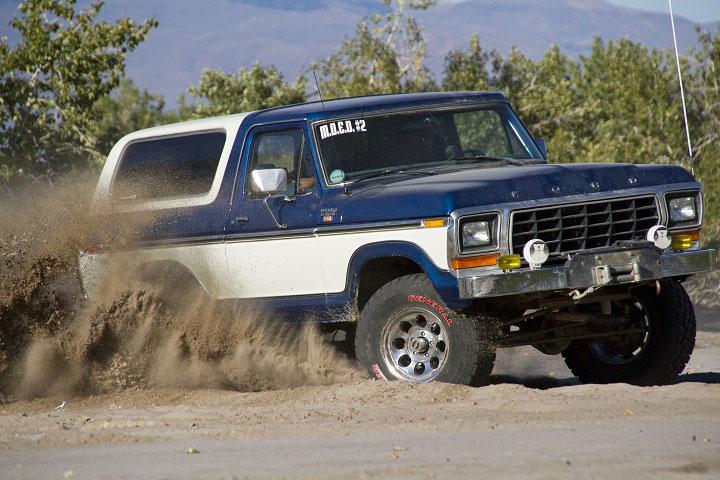 Fullsize Bronco
When Todd Vick decided he couldn't attend the trip at last minute, John Mears said, "No problem. But your Bronco is going." And that's how our supposed-to-be photographer on this trip, Agustin "Gusto" Jimenez, ended up driving one of his dream trucks. Gusto is a '79 Bronco owner himself, so it fit him only too perfectly to be behind the wheel of a much cleaner version of what he had at home (sorry, Gusto). He was truly in Bronco Heaven all week. We were maybe half a day into our trip before Gusto decided that this Bronco was clearly the superior vehicle on this tour. Bronco owners…sheesh!

Vehicle: 1979 Ford Bronco
Driver: Agustin Jimenez
Engine: 460ci V-8
Drivetrain: C6 automatic transmission
Axles: Dana 44 front, Ford 9-Inch rear, 4.10 gears
Suspension: Skyjacker 6" lift
Tires/wheels: 35x12.50R15 Grabber on 15" Mickey Thompson
Other mods: Warn 9000i winch in Warn bumper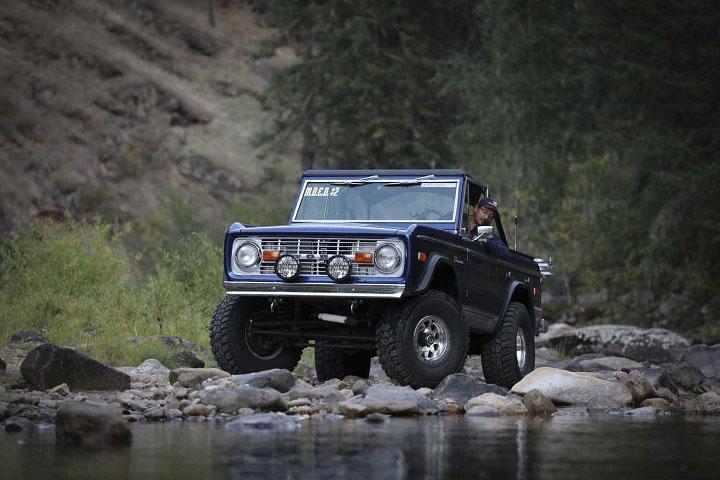 First Gen Bronco
Tony Talbert brought out his '76 Bronco as one of two representing vehicles from General Tire. Tony, a tire engineer that has worked with General Tire since 1983, loves to see how his tires work in the conditions they were designed for, so he jumped at the chance to spend six days in the sticks with a bunch of trucks and 4x4s running the tires that he helped create. The trip also gave him the opportunity to really stretch his Bronco's legs. Tony has owned the Bronco for a while, but work and everyday life have prevented him from making a multi-day off-road trip in his first-generation Bronco…until now. But we think we have him hooked! We're not sure Tony or his passenger (and our trusty photographer) Chris Collard, stopped smiling the entire week, which made for some dirty teeth in the topless Bronco! Aside from a few transmission line issues, Tony's Bronco stayed together the entire week and made for a great addition to our Mostly Dirt Every Day trip.

Vehicle: 1976 Ford Bronco Ranger
Driver/co-Driver: Tony Talbert, Chris Collard
Engine: 302ci V-8 with Edelbrock Performer camshaft, 4-barrel carb, Edelbrock intake, tubular exhaust manifolds
Drivetrain: C4 automatic transmission, Dana 20 transfer case
Axles: Dana 44 front, Ford 9-Inch rear
Suspension: 3" lift with Deaver springs, Eibach shocks
Tires/wheels: 33x12.50R15 Grabber MTs on Method beadlock wheels
Other mods: Protofab rear bumper w/ swing-out tire carrier, hydroboost brake system, KC HiLites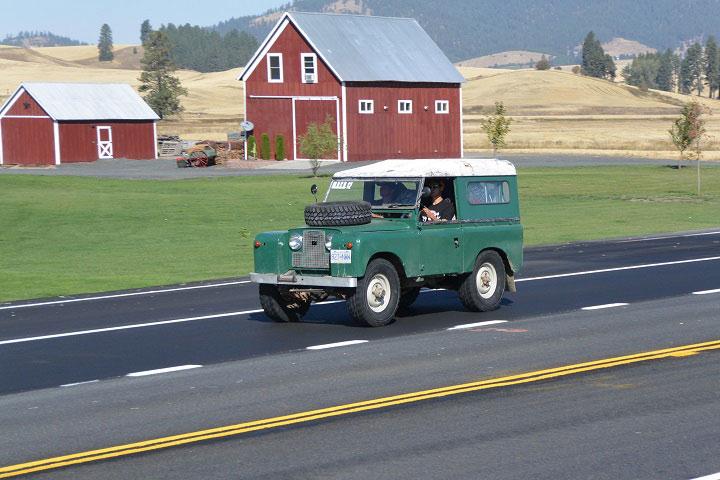 Series 2A
Honestly, it's pretty tough to tell a 1960s Land Rover from a 1980s Land Rover unless you're an aficionado. Those classic body lines on Tony Ross' 1968 Land Rover Series 2A are still used to this day on current Defender models, but they're cooler when represented in old aluminum. While most people would have trailered it into the 'States, Tony and Robert Ross piloted this mostly stock little Land Rover all the way down from Vancouver Island, British Columbia, to join us on our MDED tour. This is not all that surprising though: We first met Tony when he drove 20-something hours on a whim, by himself, to Moab, Utah, after hearing about a cool trail run that was going down that week!

Vehicle: 1968 Land Rover Series 2A
Driver/co-Driver: Tony Ross, Robert Ross
Engine: Stock 2.25L engine converted from diesel to petrol
Drivetrain: Stock 4-speed manual transmission
Axles: Land Rover closed knuckle front axle, rear Land Rover axle
Suspension: Stock leaf springs
Tires/wheels: 265/75R16 Grabber MTs on white steel wheels
Other mods: propane grill front bumper add-on, Americanized electrical system, mismatched Rover body panels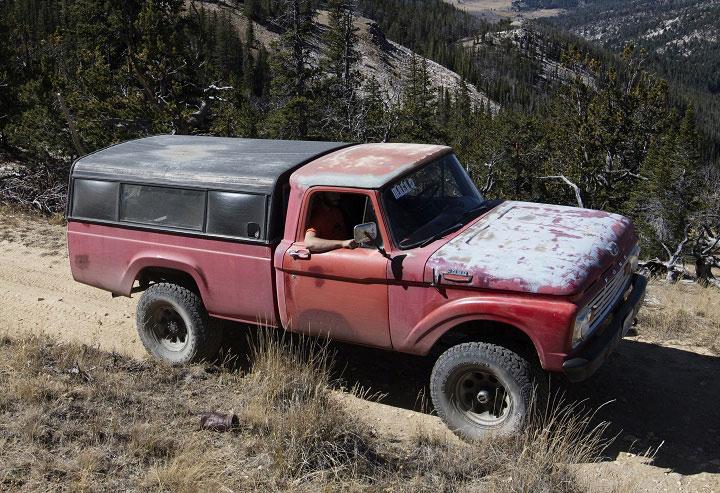 '63 3/4-Ton Ford
Kurt Meachum is a desert racing transplant from the Southwest, living up in Mazama, Washington, and enjoying the outdoors any time he can. Kurt and his co-pilot Adam Taylor, came over in Kurt's 1963 Ford pickup to join us for the Mostly Dirt Every Day tour. While it was a pleasure to have them, next year we need Adam to drive himself: Apparently he has a collection of K-series Chevy trucks at home, and we didn't have a single Chevy or Dodge on the MDED tour! But the Blue Oval served the pair well this week, as it stomped through six days of adventure and dirt roads, and all with the black shell camper on the back, effectively protecting their gear from hundreds of dusty and dirty miles.

Vehicle: 1963 Ford pickup
Driver/co-Driver: Kurt Meachum, Adam Taylor
Engine: 460ci engine from a Lincoln Continental
Drivetrain: C6 transmission
Axles: Dana 60 rear axle, closed-knuckle Dana 44 front, 4.56:1 gears
Suspension: Stock
Tires/wheels: 35x12.50R17 Grabber AT2s on black MT wheels
Other mods: Camper shell, 60-gallon fuel capacity, power steering conversion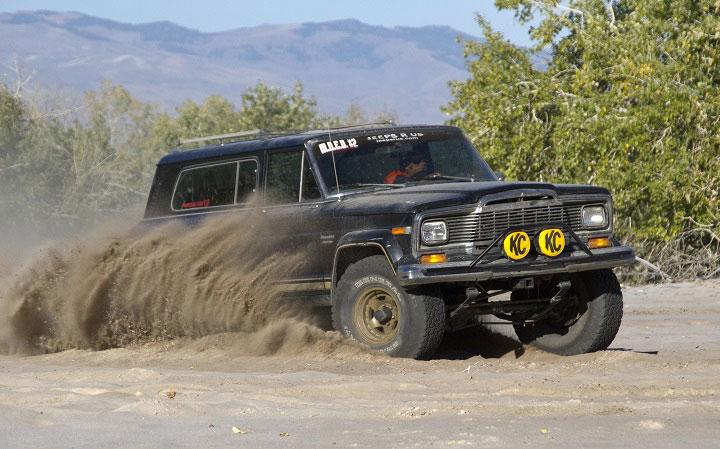 Cherokee Chief
As one of the two representing vehicles from General Tire, Jerrod Jones was a bit disappointed when his '79 Cherokee Chief wouldn't quite make it home on the final day of our trip. Some simple fuel issues made it easier to just tow the Jeep home instead of starving the "newish" AMC 401 that only had about 1.5 hours of runtime prior to this tour. But this was a little frustrating after successfully fighting cooling issues all week (thanks to no radiator shroud) and even overcoming a small dash fire on the second day that required jumping the solenoid under the hood to start the Jeep. Needless to say, he has a little work to do on the Jeep before the next trip.

Vehicle: 1979 Jeep Cherokee Chief
Driver: Jerrod Jones
Engine: AMC 401ci V-8 w/ Howell EFI kit
Drivetrain: TH400 transmission, Qaudratrac transfer case
Axles: Dana 44 rear w/ offset diff loaded with TJM locker, Dana 44 front, 4.10 gears
Suspension: BDS 4" spring-under leaf springs. Bilstein 5100 shocks
Tires/wheels: 35x12.50R15 Grabber AT2s on powdercoated gold American Racing AR23 wheels
Other mods: KC lights on a front light bar, front tow hitch, Hitchgate spare tire carrier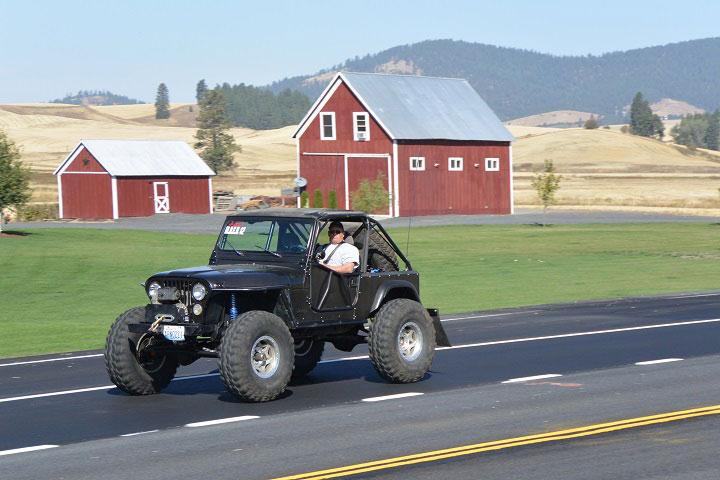 2001 Ford F-350
Rod Bourn's CJ-7 ran well all week—almost too well. It seems that the classic CJ-with-a-350 package is a timeless and well-copied package for a reason: It just works. Rod seemed like he was just waiting for the rest of the group more often than not when we were on the trail. His Jeep put him everywhere he wanted to go, and did so with minimal effort, allowing it to run smoothly for the duration of the Mostly Dirt Every Day tour. Since Rod just retired recently from Delmonte Foods after 42 years, we're going to expect to see him on more of these long off-roading trips with us.

Vehicle: 1982 Jeep CJ-7
Driver: Rod Bourn
Engine: Chevy 350ci V-8
Drivetrain: 700R4 transmission
Axles: Ford 9-Inch rear w/ Tru-Hi-Nine centersection & Detroit locker, Dana 44 front w/ RCV axleshafts & ARB locker, 5.13:1 gears & disc brakes all around
Suspension: 3-link front, 4-link rear suspension, both ends using 16-inch coilover shocks
Tires/wheels: 39.5" Iroks on 17" Walker Evans beadlocks
Other mods: 19-gallon fuel cell, 6-point rollcage, heated seats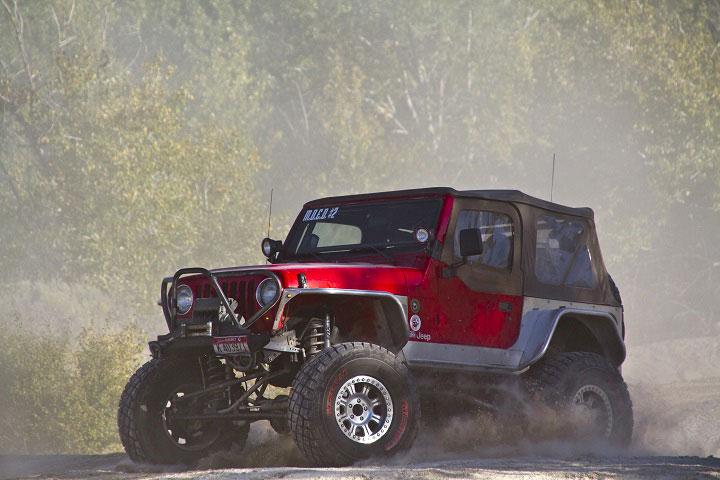 Red Wrangler
What the heck is a red TJ doing in with a bunch of old 4x4s?! At least, that's what we kept asking Adrian Dorame who brought his '98 TJ on our Mostly Dirt Every Day tour. But we're not sure we would've wanted him to bring something else, b/c then we couldn't have given him a hard time all week. Those in new vehicles were subjected to the harder lines that came with more paint scratches—it was only fitting! And Adrian is such a good sport about it, we almost felt guilty. We said almost. Whatever he brought, Mr. Dorame was a pleasure to have on the trip, and only added to a great & fun group of guys who made up our MDED tour.

Vehicle: 1998 Jeep Wrangler TJ
Driver: Adrian Dorame
Engine: 4.0L inline six-cylinder
Drivetrain: auto transmission, NP231 transfer case
Axles: JK Rubicon front & rear axles w/ 4.88 Nitro gears, front RCV axleshafts, rear G2 chromoly axleshafts
Suspension: Rubicon Express long-arm front kit w/ Fox shocks, rear triangulated 4-link with Bilstein shocks
Tires/wheels: 37x12.50R17 Grabbers on 17" Raceline Monster beadlock wheels
Other mods: Gen Right fenders and rear corner guards, Gen Right rollcage, Gen Right rocker guards, M.O.R.E. transmission & motor mounts, Mastercraft seats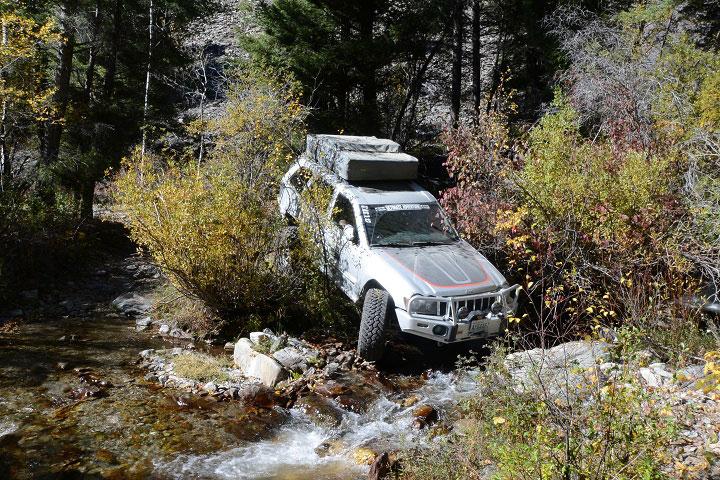 Diesel Grand Cherokee
And then there was the almost new solid axle diesel Grand Cherokee. We gave Adrian Dorame and John Mears a hard time for their 15- and 18-year-old vehicles, but the boys from Nitro Gear in their 2007 Grand Cherokee were the biggest offenders by far! In their defense, Jeremy Ayers and Chad Vesey didn't even know they were coming on the trip until a couple weeks before we left, so they didn't really have time to get something ready. The '07 Grand that Chad built at his shop, Build-It Offroad, was more than ready and sitting in the driveway, so we understand why they chose it. But while the rest of us sweated, froze, ate dirt, and breathed various burning fluid fumes, Chad and Jeremy were breathing recirculated air in a vehicle with some excellent dust seals. We'll give them a pass this time, but next year they better show up in an era-correct ride or there will be no end to the hazing we give out!

Vehicle: 2007 Jeep Grand Cherokee
Driver/co-Driver: Jeremy Ayers, Chad Vesey
Engine: 3.0L CRD with TST box & Swirl Servo motor bypass
Drivetrain: 5-speed automatic transmission, NV245 Quadradrive II transfer case
Axles: Chrysler 8.25 rear w/ ARB locker & Nitro Extreme diff cover, JK Dana 44 front w/ Reid knuckles & TJM Pro locker & Nitro Extreme diff cover
Suspension: Solid axle conversion in front using a 4-link & King coilovers, rear Zone adjustable control arms & sway bar links along with 6" Jeepin-by-Al coil springs
Tires/wheels: 37" Trail Grapplers on Hutchinson beadlocks
Other mods: ARB bull bar, custom rock sliders, Build-It Offroad bumpers, warn Zeon 10-S, Rock Krawler HD tie rod & draglink steering kit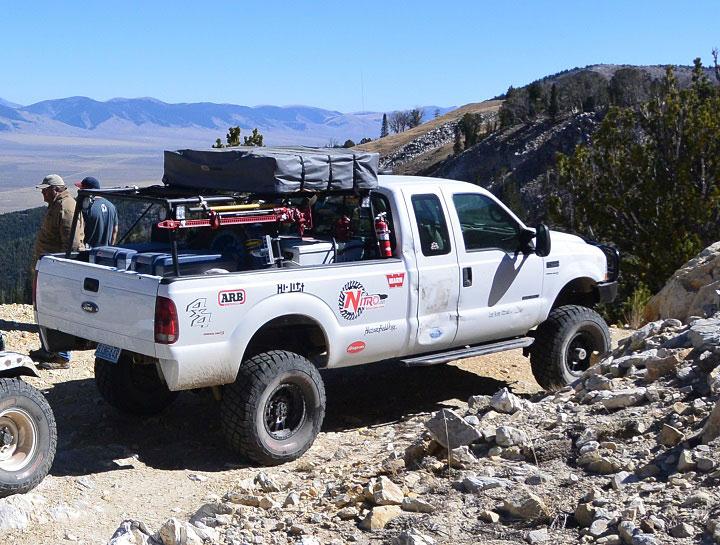 Betsy's Regret Super Duty
Our fearless leader, John Mears—who we have to give a huge thanks to for heading up such a great trip—had the best intentions of sticking to his own unwritten rule that he made up: We'd all take classic 4x4s and trucks with carburetors on them. But just days before the trip, his own 1960 GMC K-20 entry had some mechanical failures that kept it from going. Faced with the dilemma of what to take, he let better judgement get the best of him and he grabbed his '01 Super Duty, known as Betsy's Regret (no doubt its moniker is in relation to some of the body damage), as it made the perfect support truck for this trip. We're glad he did because not only was John carrying food, stoves, extra fuel, chainsaws, jacks, and a ton of other stuff, but he also had a Warn 16.5 winch on the front so we knew he'd be able to get us out of any situation that one of us might get ourselves into.

Vehicle: 2001 Ford F-350
Driver: John Mears
Engine: 7.3L Power Stroke diesel
Drivetrain: auto transmission
Axles: Dana 60 front w/ ARB locker and freespin kit, Visteon 10.5 rear w/ ARB locker, 4.30:1 gears
Suspension: Pro Comp 6.5" all leaf spring lift, Pro Comp remote reservoir shocks on custom hoops
Tires/wheels: 37x12.50R17 Grabbers on Method Double Standard wheels
Other mods: ARB fridge/freezer middle console, dual ARB fridge/freezers in the bed, Transfer tank in bed, headache rack packed with gear, Warn 16.5 winch, ARB roof top tent, ARB snorkel, Hazzard Fab rocker guards, PSC hydraulic-assist steering, Rugged Radios setup, Power Tank in bed, Mac's Versa-Tie system