With ice and frost covering the tents, it seemed a little harder to get out of the sleeping bag on the fifth morning of our Mostly Dirt Every Day tour. Today, September 29, 2015 was the 100th anniversary of General Tire. With that in mind, we gathered together to take a group shot and send it back to General Tire. This was sort-of a big deal for a couple reasons: First, it took almost two hours to wait for the sunlight and get everyone in the correct position. Secondly, we had barely seen any cell reception for days, so trying to send even a single picture was going to be a chore. Ironically, after our MDED tour ended, we found out that the picture was lost in the digital airwaves and never actually made it back to the General Tire headquarters. But in an effort to send the picture back, and to report in where the group was, Agustin Jimenez and Jerrod Jones decided to break off from the group and head in reverse direction toward the town of Tendoy, Idaho, to see if they could find a spot with reception. They would eventually find a signal but would spend the rest of the day by themselves chasing the group over the Lemhi Pass and toward Anaconda, Montana, through a mountain range they'd never ventured into prior.
The rest of the MDEDers cranked over the variety of four-, six-, and eight-cylinder engines and left camp, heading up Agency Creek Road eager to try and make some time back. John Mears' planner was jam packed, and we'd probably missed a third of what he had intended for us to see on this six-day trip. But he was doing an excellent job of coming up with contingency plans and making adjustments on the fly, and no one minded missing a sightseeing detour or two. We were having a great time, and we were almost never sitting around except at a campfire in the evenings.
The group traveled about 60 miles of dirt roads on Day 5, before turning north toward Jackson, Montana in search of fuel. It had been a while since we'd seen anywhere populated enough to have a gas pump, and some trucks were getting thirsty. And refueling the group would continue north, changing their intended direction towards Missoula and detouring over near Anaconda, Montana, to the Flint Creek Campgrounds for the night. It was the last night of camping on our trip, and Mears wanted to make sure we got to camp in the daylight and had time to relax and do a little more bonding before our trip ended the next day. We would toast to a great trip and 100 years of business for General Tire that night.
This may be the first time we've ever seen someone use tire cleaner in the dirt before. In their defense, they were actually just being really nice guys and trying to get those Grabbers shiny for our 100th anniversary group shot.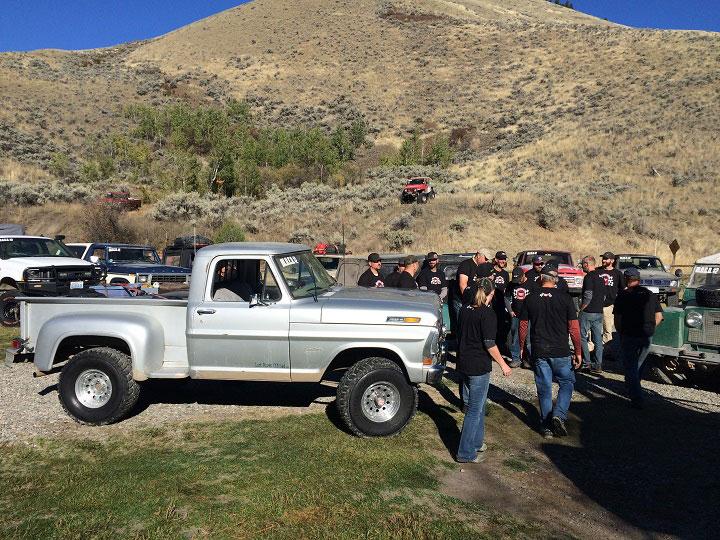 We started day 5 of our MDED tour at a campsite off Agency Creek Road, right on the water. Frost-covered gear took a little longer to pack up that morning, but we were waiting for the right sunlight for a good group picture anyway….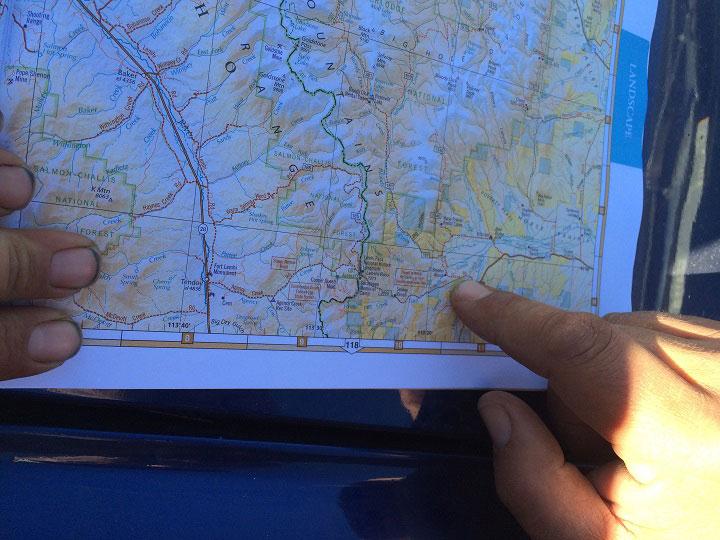 With the intention of sending a "Happy Anniversary" picture back to General Tire, Jimenez and Jones got some directions from John Mears before splitting from the group in search of cell reception in the nearest town. There isn't much in the way of street signs on the trail, and there is no cell reception over the pass, so the two listened to Mears carefully since they'd be by themselves up there.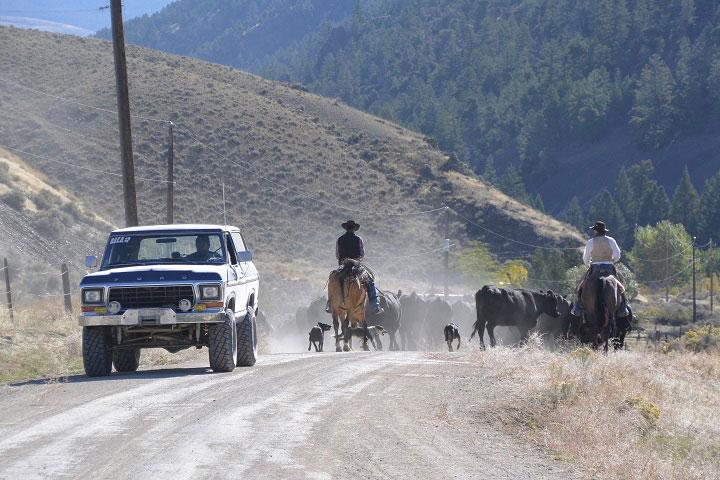 Always share the road. It took a couple extra minutes, but eventually these cowboys and working dogs were able to drive these cattle past us as we sat and waited. This may be no big deal for a country boy, but this is kind of neat for a kid from East L.A. like Jimenez.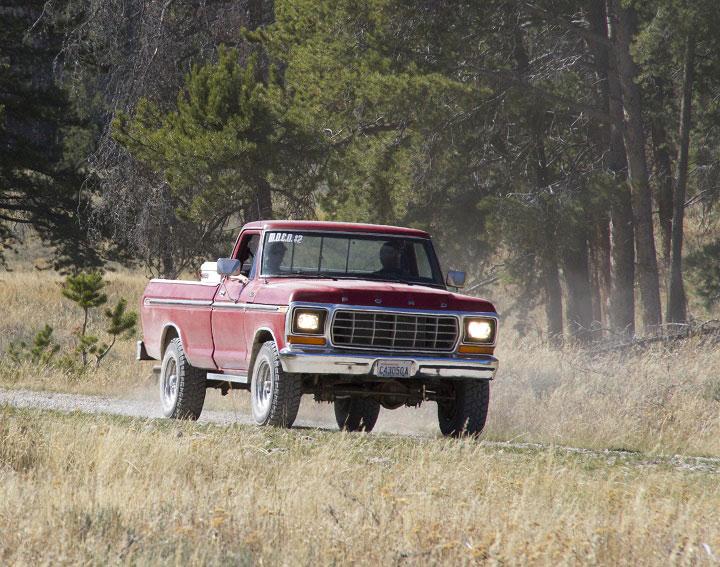 This very clean 1979 Ford F-250 belongs to Denise and Jerry Johnson. Denise has worked with John Mears for years and couldn't resist coming on one of his amazing trips when the opportunity arose. The Johnsons have been slowly restoring this F-250 and this was perfect excuse to throw some new 265/75R16 Grabber MTs under a mostly stock suspension.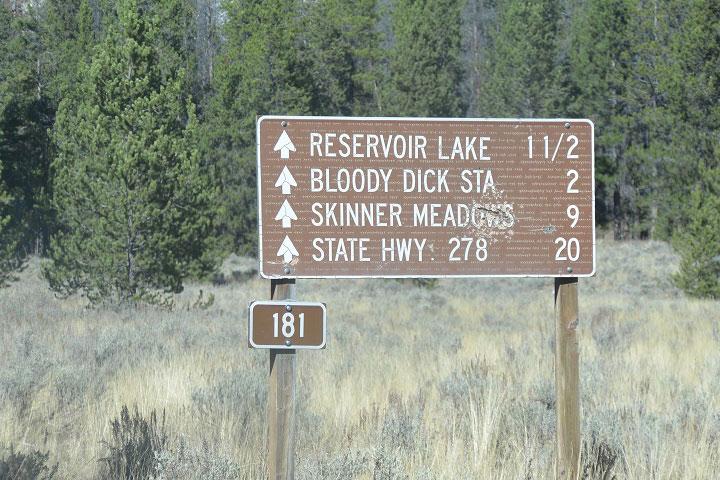 We were on Forest Rd 181, and were going to speed right on by Bloody Dick Station, not wanting to stop and find out why it's called that.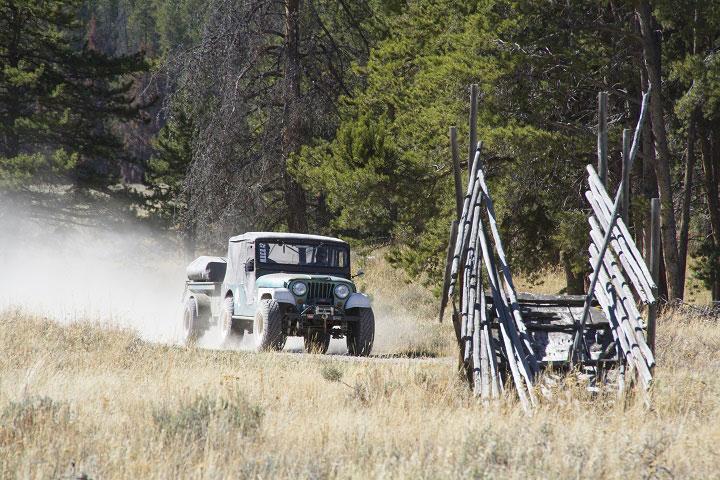 Mitchell Carter and Scott McLean in the custom patina CJ-6 had successfully towed that trailer behind them all week. It was a great addition to their tiny wheeler that would've otherwise been overloaded trying to carry enough gear for two guys for six days.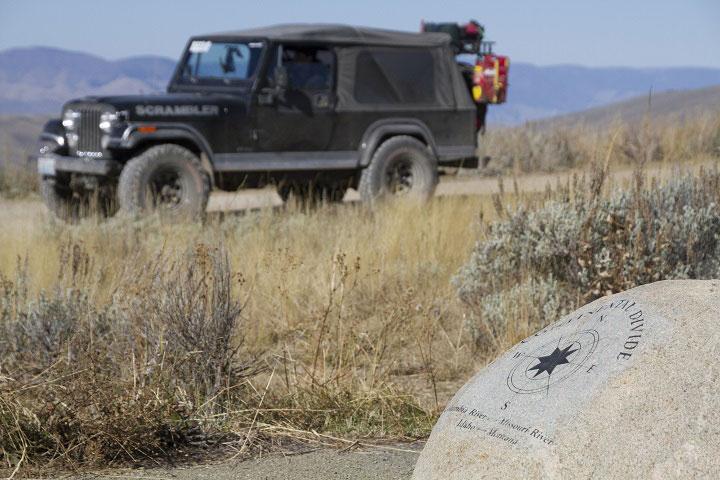 We'd reach the Continental Divide on the Lemhi Pass, straddling the Idaho/Montana border.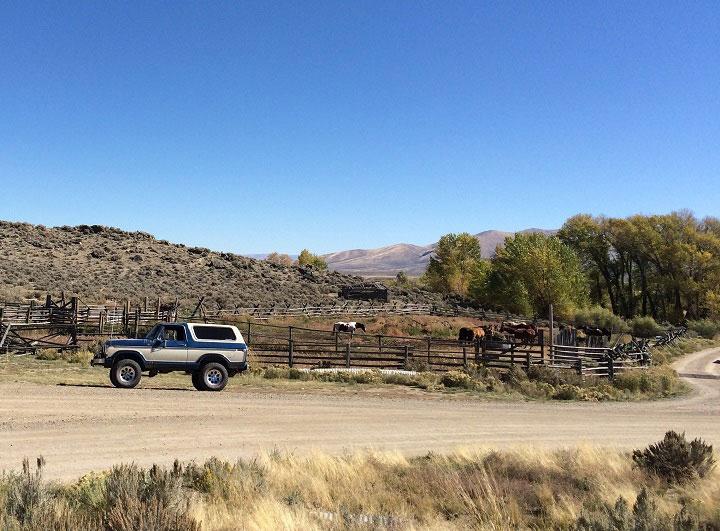 Something about parking a Bronco next to horses….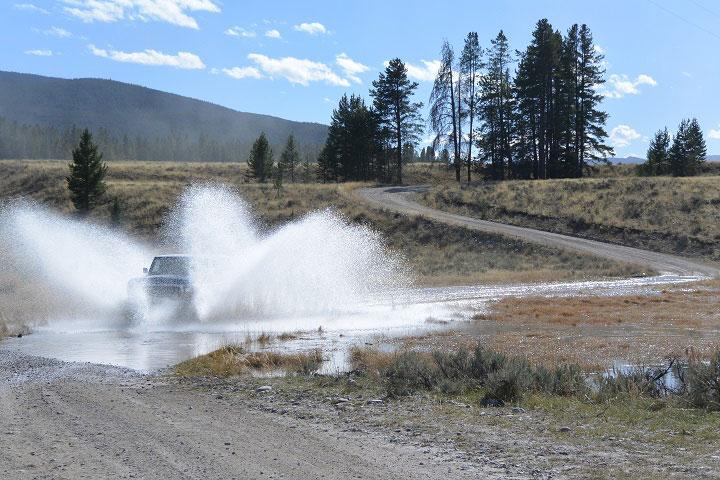 It had rained the week before and there was still evidence on some of the roads. While rain was recent, the entire region has gotten nowhere near the rainfall it traditionally does.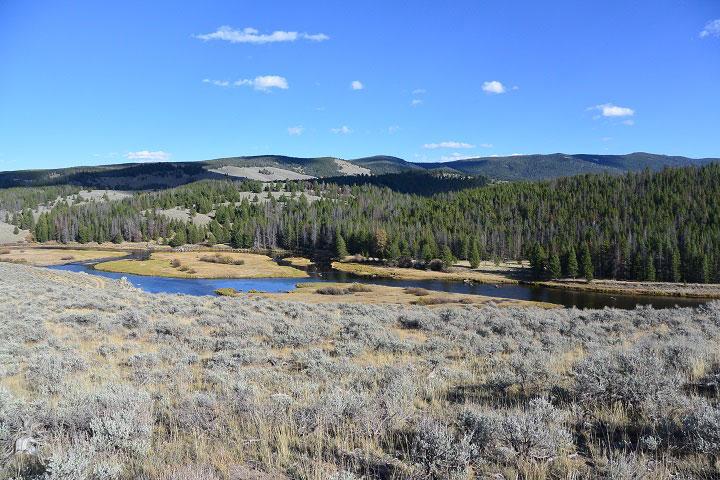 Spectacular views were at no shortage all week.
After doing about 60 miles of dirt roads from Tendoy over toward Jackson, Montana, we hit Hwy 278 only to run into a ton of roadwork and another 10 or so miles of dirt highway that we certainly didn't mind (we can't say the same about all the cars trying to drive the highway, though).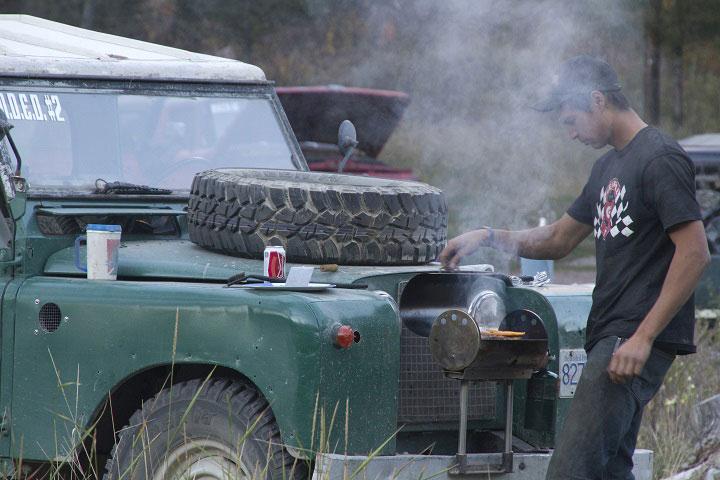 The entire group caught up at Flint Creek Campground, just above Georgetown Lake outside of Anaconda, Montana. This would be our last night of camping together, and we were going to make the most of it, breaking out all the fancy fixins' and maybe a drink or two to boot.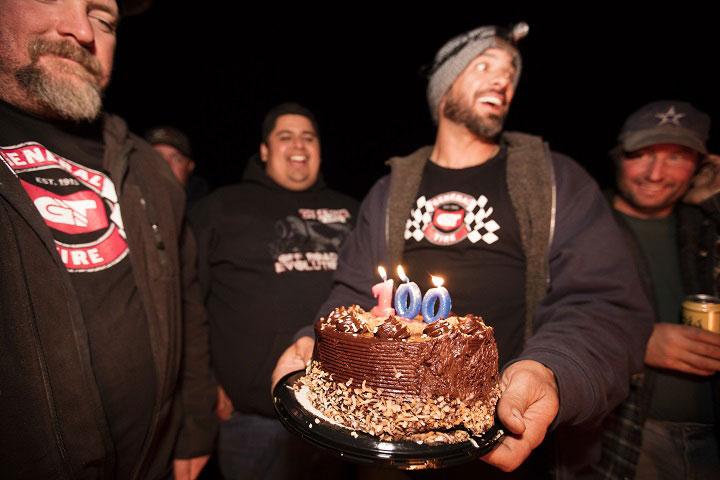 Happy 100 years of business to General Tire!