It's not just any tour; it's the MDED tour! And that haze in the air is just dust kicked up due to 16 self-reliant classic 4-wheel-drives vehicles crossing hundreds of miles of dirt roads through the Palouse and into the Bitterroot Range. We were on Day 2 of our Mostly Dirt Every Day Tour, led by John Mears, and we'd spent the night towards the west end of the Magruder Corridor in the Central Bitterroot Range after entering around Lewiston, Idaho.
Due to more mechanical issues than planned for, we were behind schedule a bit, but luckily this was a pleasure cruise, and we had no one to answer to for being a little late. We'd skipped a couple stops on our first day, but we'd made it within 50 off-road miles of our intended camp spot in the Nez Perce National Forest before setting up camp.
The next morning, after everyone had thought we'd worked the kinks out of the vehicles, one our General Tire's own representing vehicles, the 1979 Jeep Cherokee Chief decided to pour a heavy plume of smoke out of the dash upon triggering the starter. Fortunately, we had wiring master Daryl Goldsby on the trip riding along with Nic Pook in the diesel stretched Samurai. He made some quick bypasses, and it was simply a matter of popping the hood and jumping the solenoid every time we wanted to start the old Chief. After the hold-up was taken care of, we were back on our way up and over the roughly 100 miles of Magruder Corridor. This is a rough dirt road you could drive slowly in a stock 4-wheel-drive vehicle, but it's a lot easier and smoother in something with a larger General Tire.
We ended up spending most of the day in the Magruder Corridor enjoying ourselves. Just a few weeks before, fire had ripped through much of this area, leaving a good portion of our trip through the corridor in some deadly still burned-out forestland. The fire was so recent in fact, that there were still hotspots smoldering near the roadside when we came through. We climbed to an elevation of around 6,500 feet—not once, but a few times, mind you, as we ascended and descended from mountain to valley and back up again. This was no fun for slow-going poorly-cooled old engines that weren't really getting enough airflow at only 5 to 10 mph. A number of stops were made simply to allow vehicles to cool back down.
Eventually, we would cross the Idaho Panhandle from Lewiston to come out near Darby, Montana on the evening of Day 2. While most of the group went to camp for the night, a few vehicles broke off and headed to Hamilton, Montana, to wait for the auto parts store to open up the next morning. We were all still moving, but there was a parts list sent to town with the crew who broke off.
After a good night's sleep, we'd be ready to get on some early morning fixes and start Day 3!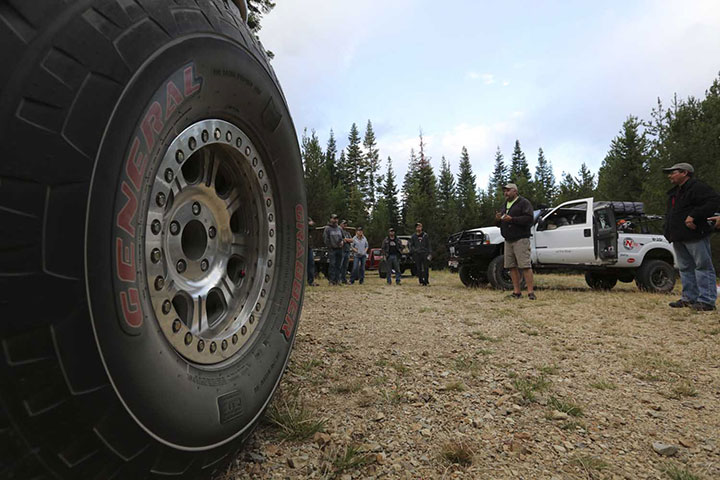 The morning of Day 2, we thought we were all ready to go until one of the representing General Tire vehicles decided to have a small ignition fire.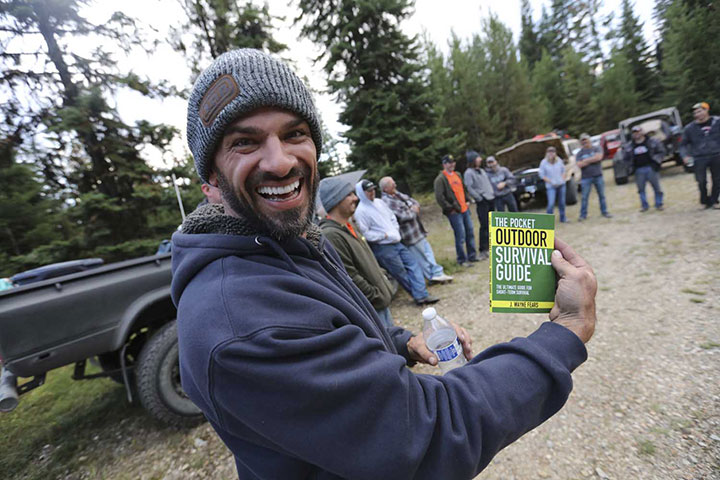 We were all going to be okay. Adrian Dorame brought his outdoor survival guidebook. Bring on the disasters.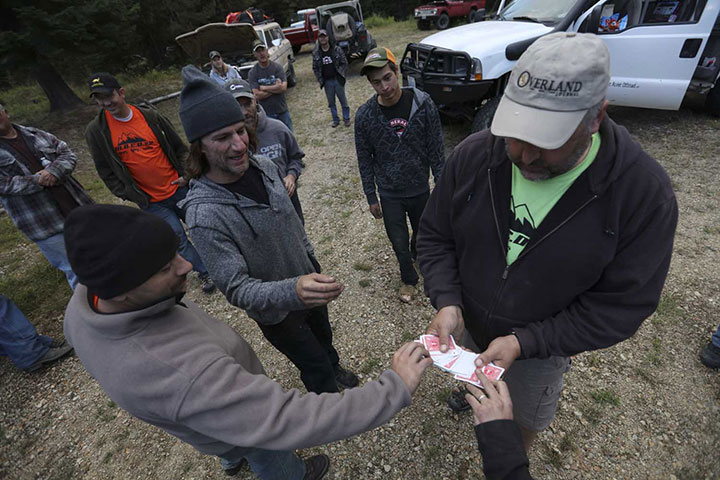 We were so tired when we pulled into camp on Day 1 that John didn't even bother explaining that this was also a bit of a Poker Run (which goes much better if you know what a good Poker hand is). We'd be playing for some really cool prizes like ARB fridges, Snap-On gift packs, and General Tires.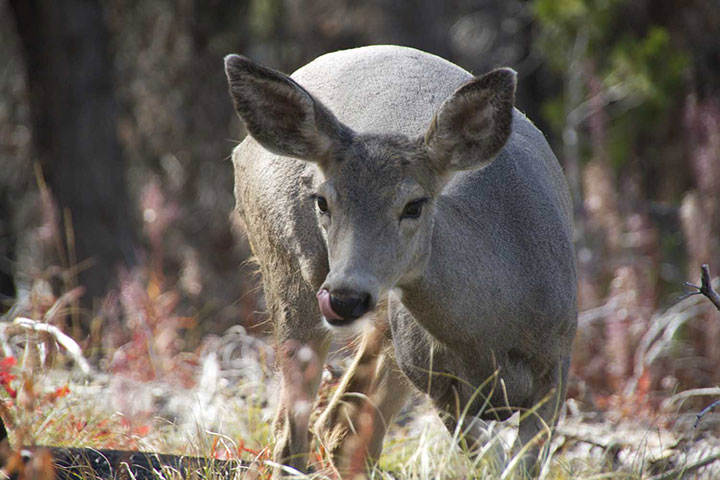 After a quick bite of some great camp food—John Mears practically brought a full kitchen to cook meals all week—it was time to take off. This deer was also out to get a morning bite to eat as we passed.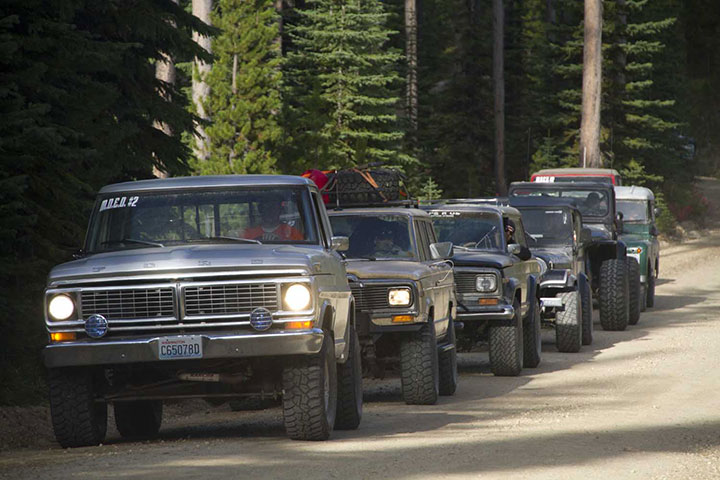 The Magruder Corridor is about 100 miles, but fuel economy is heavily diminished in a slow-going group with big elevation changes. It can get a bit sketchy with a 15-gallon tank in a small Jeep.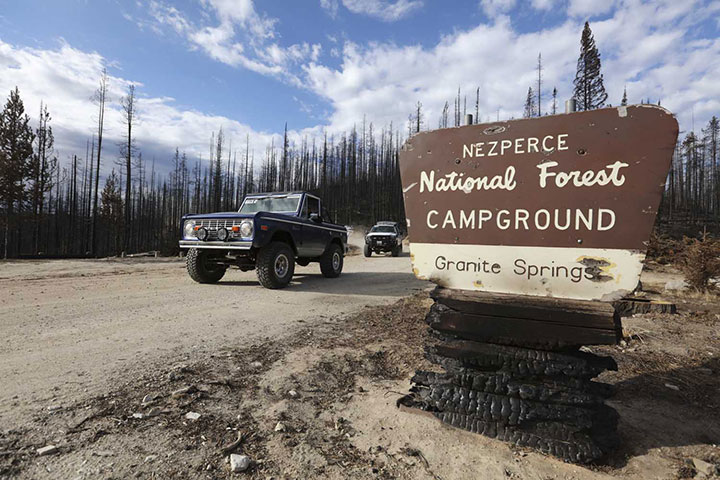 Fire had ripped through the Nez Perce National Forest and much of the Magruder Corridor just days before our trip.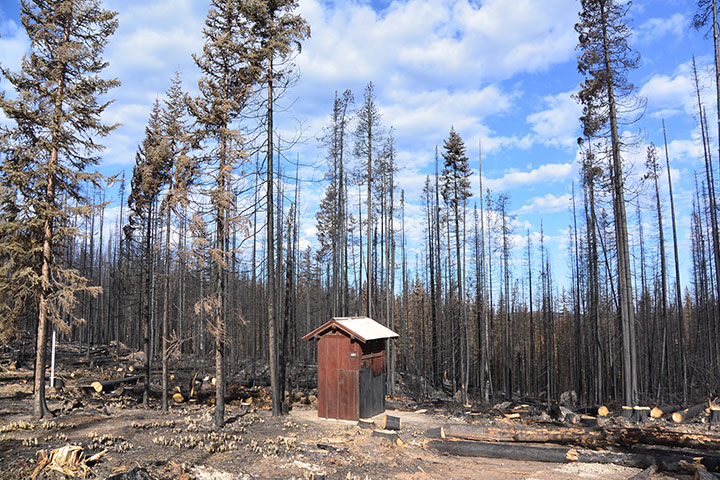 Luckily this outhouse survived. But only the Men's outhouse. Sorry girls.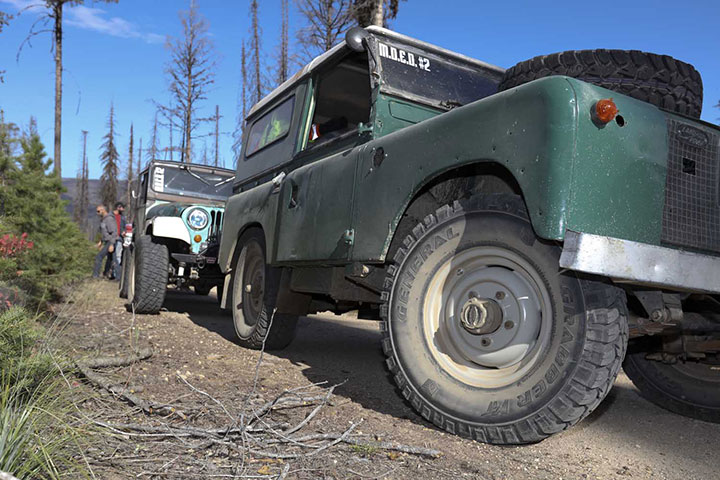 Tony Ross and Robert Ross drove down all the way from Vancouver, British Columbia, in their '68 Land Rover Series 2A to join us on this MDED trip. We had originally met Tony on a fullsize 4x4 run in Moab, Utah, back in April—something he'd read about on the internet a couple days before and decided to make the half-a-country drive for by himself, on a whim. We knew the Rosses would make it to the end of this trip.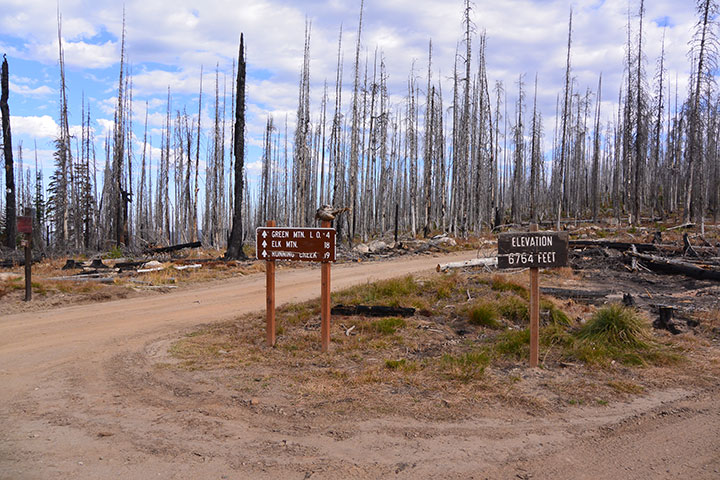 Probably the highest point we reached on Day 2, at an elevation of 6.764 feet.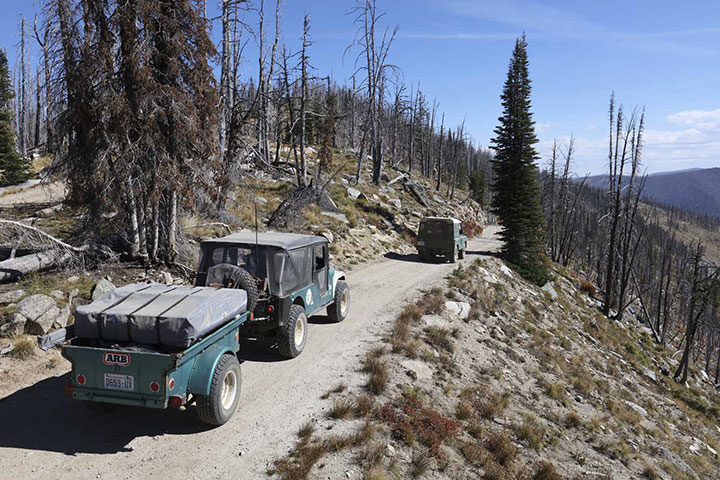 Mitchell Carter's 1966 CJ-6 sports the rare 4.2L diesel factory-equipped engines. Almost fifty years later, it's still lugging this little Jeep and a very cool trailer along just fine.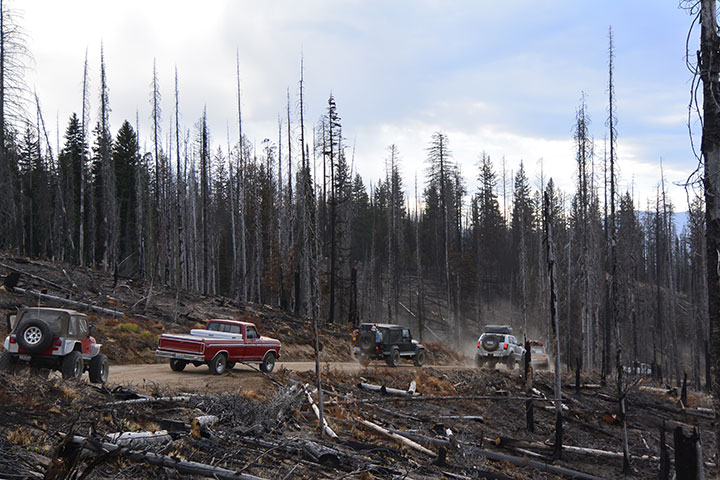 The macabre look of the forest is a reminder of the destruction that ripped through just days before. Most of the wildlife had gone, but there were traces of life already returning to these mountains.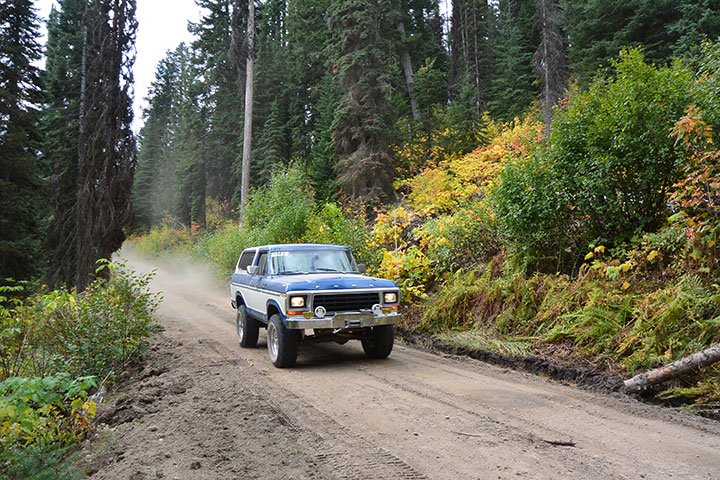 When John Mears' friend couldn't make it on the trip at last minute, he didn't want his '79 Bronco to miss out. We almost couldn't believe it when John handed the keys over to over would've-been co-pilot and Bronco superfan, Agustin "Gusto" Jimenez, who gladly accepted driving duties for the week. Gusto has a '79 at home himself, and loves the first fullsize Bronco that had only two-year run.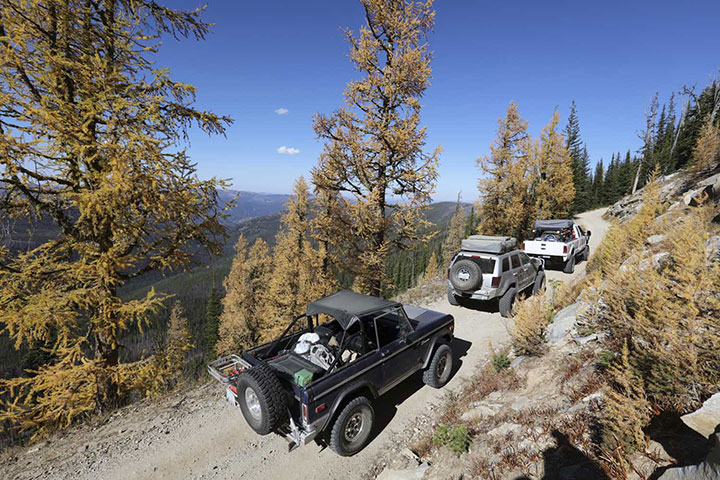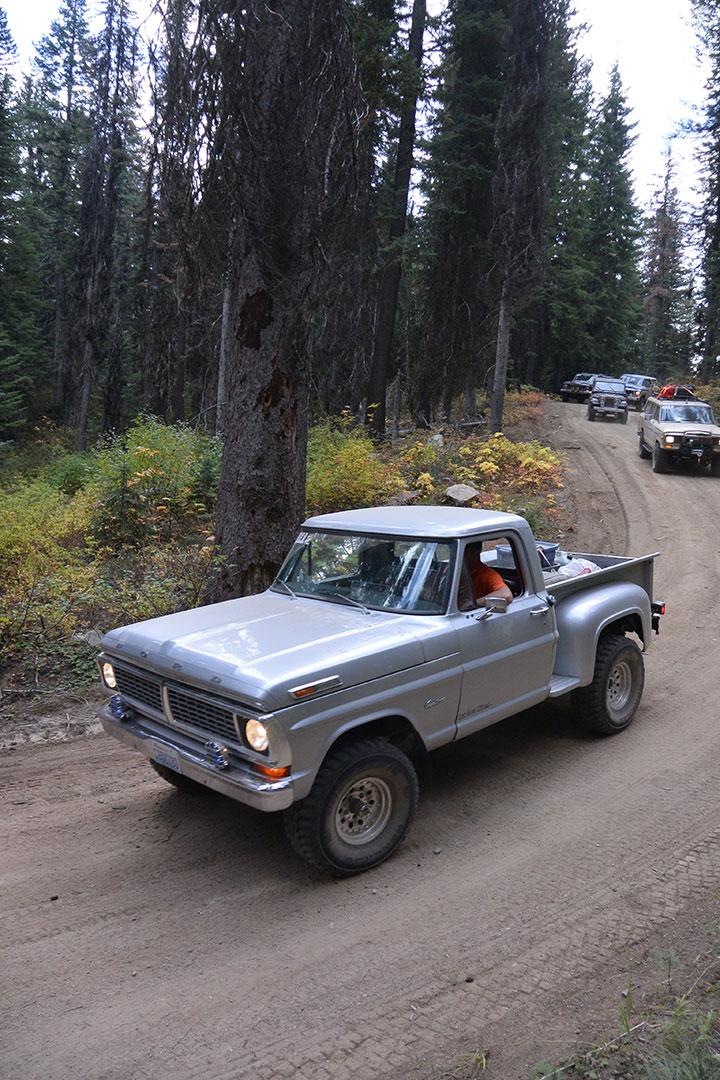 Aaron Powell owns this sweet silver 1970 Ford F-100 and also co-owns Lost River Off Road that he runs out of Spokane with John Mears. He's worked with John for some time and helped organize and carry a lot of the gear for the trip.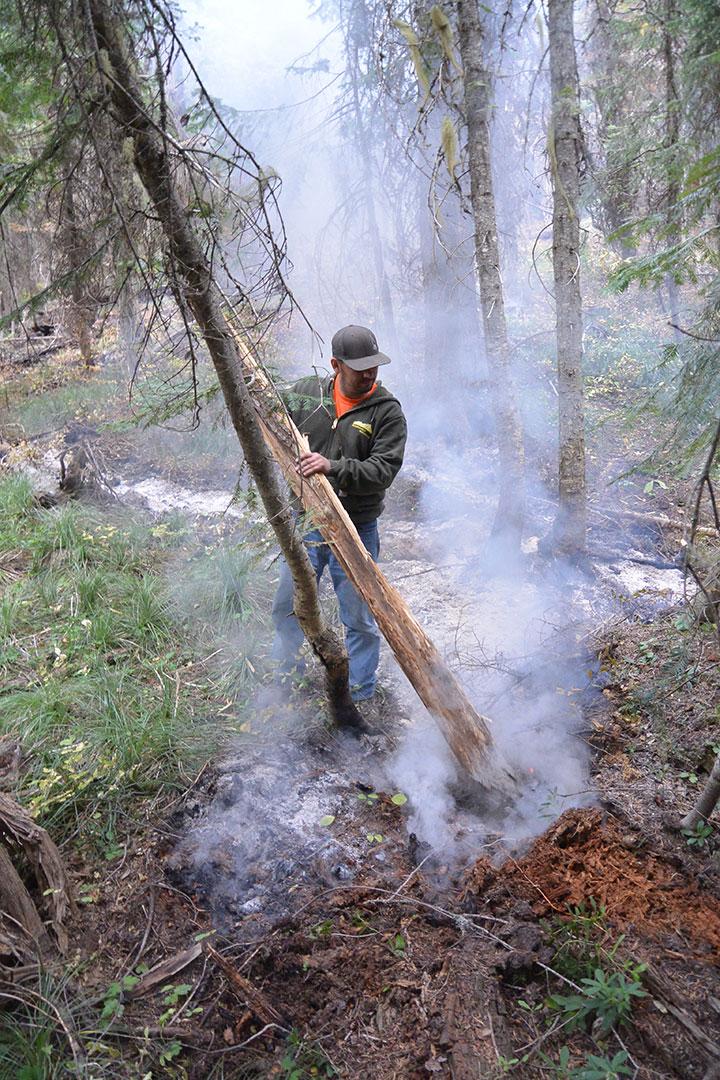 Fire was fresh in the area. While the road was open, we came across a few clean-up crews putting out whatever last smoldering hot spots they could find. On a section of the road where there were no crews around, we found a couple smoldering spots that we tried to stamp out. And FYI, it is definitely harder than it looks when there is a buried log. Plus we had to be careful not to stand on top of buried smoldering debris—it can be unstable where fire has burned out a hollow portion underground.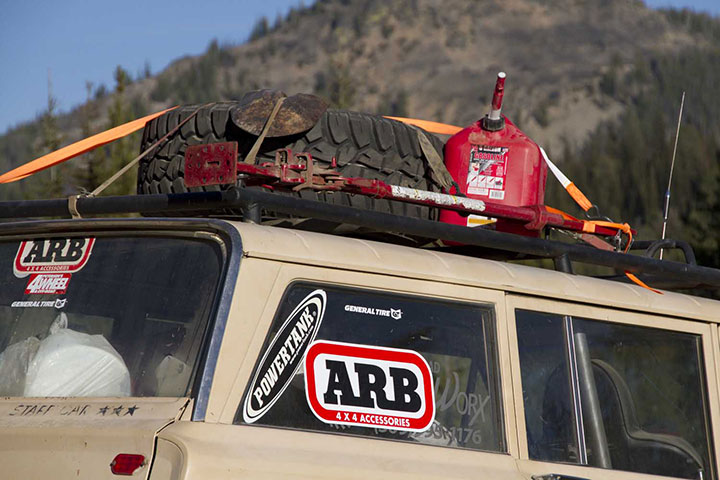 The basics that every vehicle heading out into the wilderness should have: spare tire, extra fuel, shovel, jack.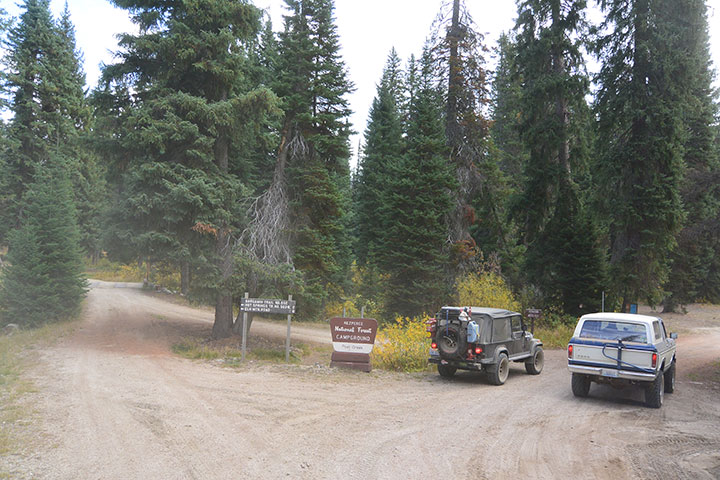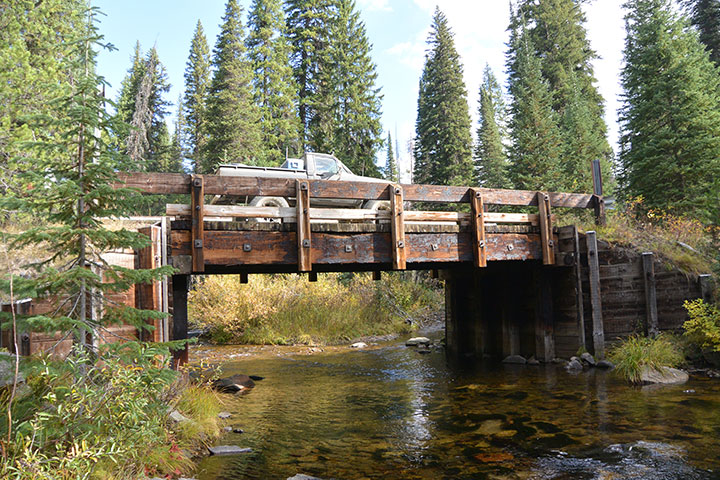 Some water crossings we just drove through, and others had old wooden bridges constructed like this one across Bargamin Creek.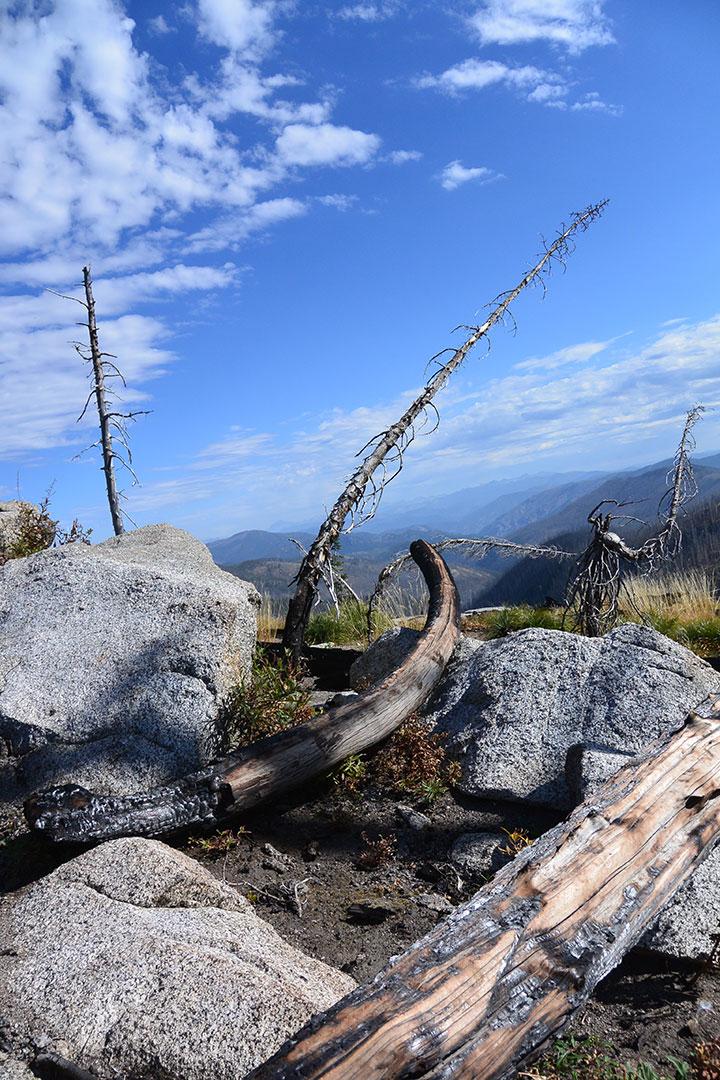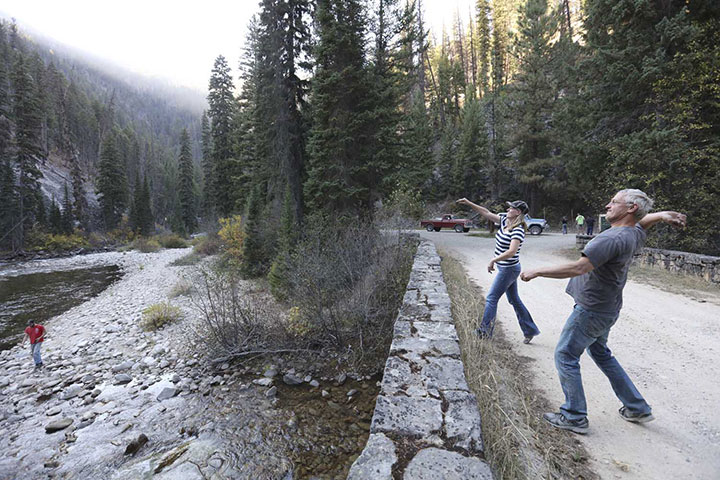 All these creek and river crossings…how can you resist not getting out and dropping in a few rocks? Denise and Jerry Johnson certainly couldn't….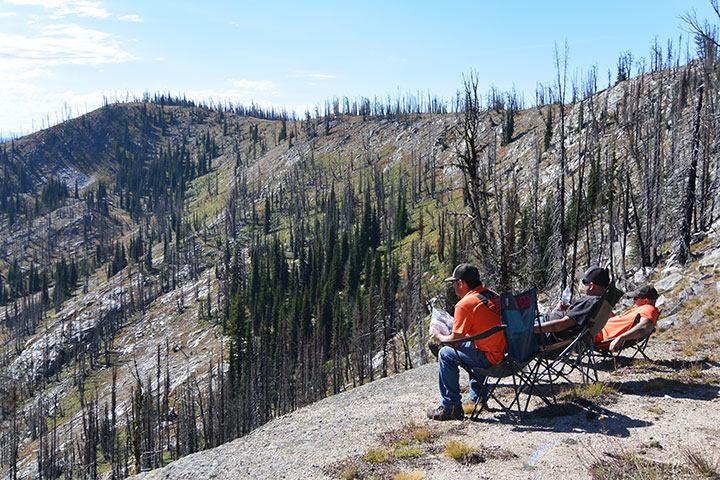 Taking in the lay of the land. The view's not so bad from up here.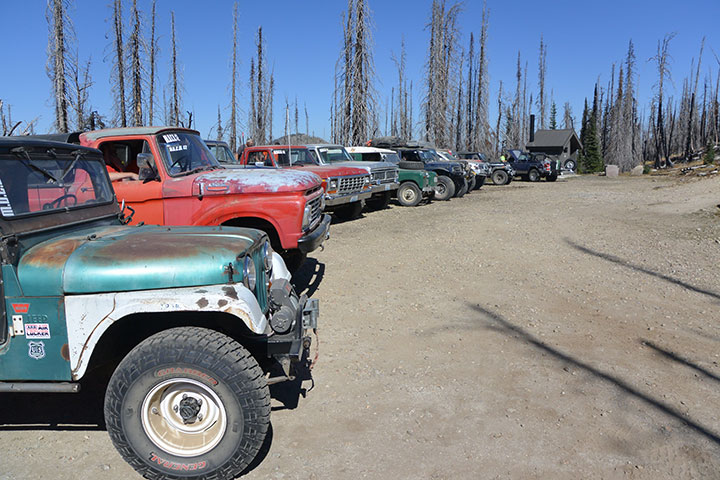 A little over halfway through, we made a stop for lunch and a much-needed cooling break.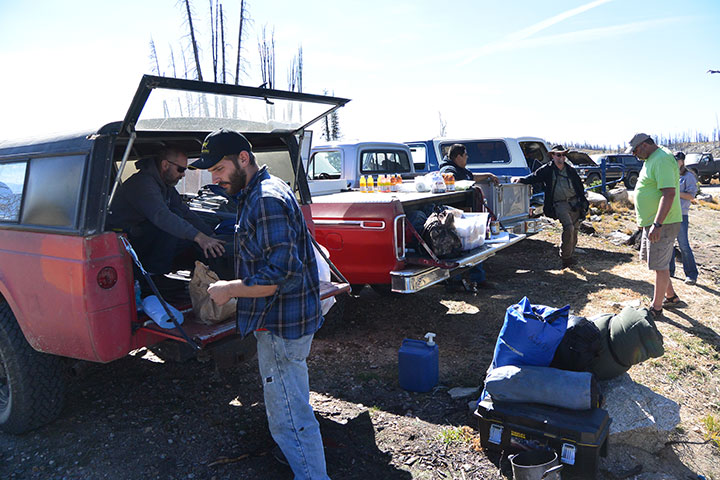 Often, you pack about 50% more gear and supplies than you'll actually use on your trip. That's okay; its way better than the alternative of running out halfway through. This way Day 2, and we were still eating like kings.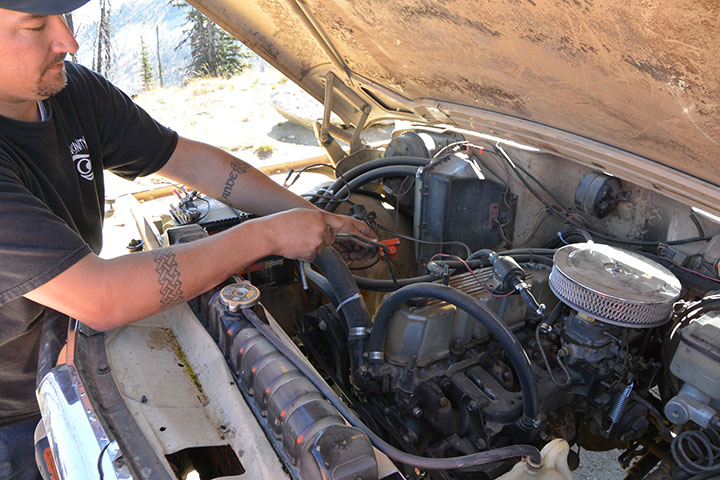 When our other representing General Tire vehicle, a 1976 Bronco also decided to become a problem with a leaky transmission line, DelRay Romero and Cliff Olney came to the rescue. There was an excess of hard fuel line under the hood of the Wagoneer, so DelRay and Cliff simply shortened it with a pipe cutter and gave us the extra piece!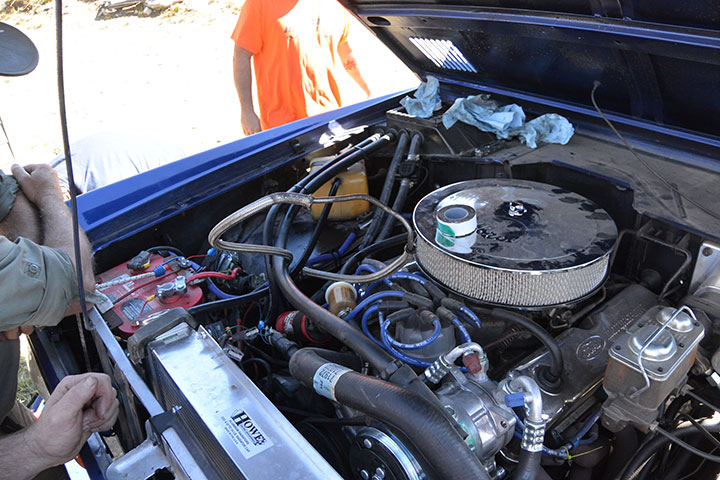 The piece of cut-off fuel line was the perfect fix to get Tony Talbert's Bronco moving down the trail again without leaking transmission fluid.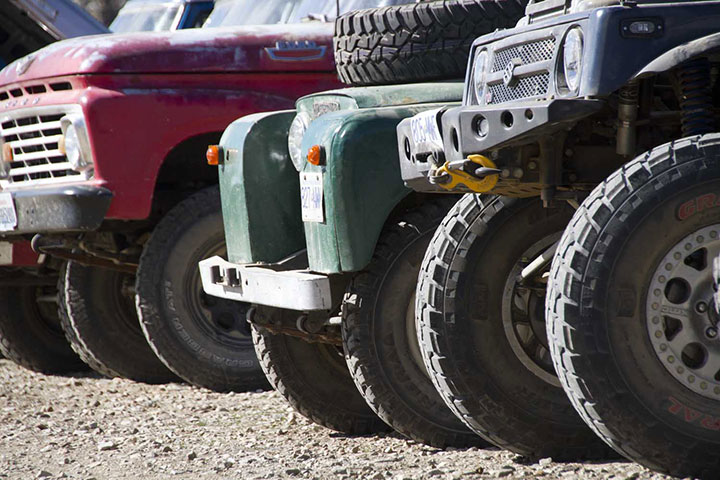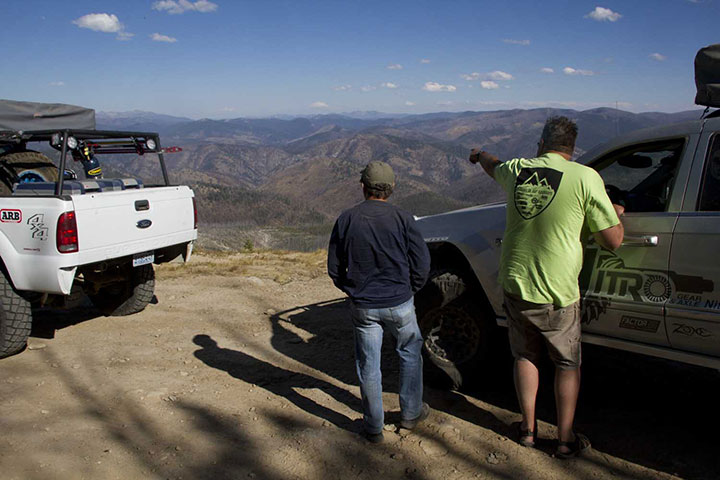 John Mears points the way to where we're headed.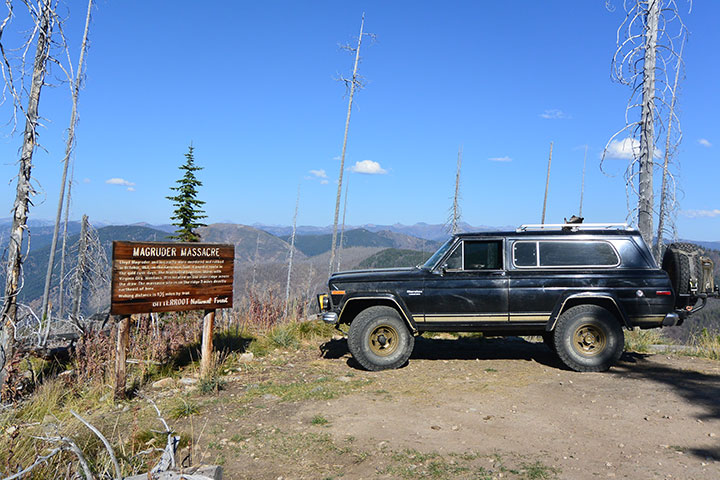 We stopped for another brief sign-learned history lesson. The Magruder Corridor was named for Lloyd Magruder and his party, who were robbed and murdered on this pass back in October, 1863. The killers were tracked, caught, and brought back to Lewiston where they became the first to be legally hanged in the new Idaho territory.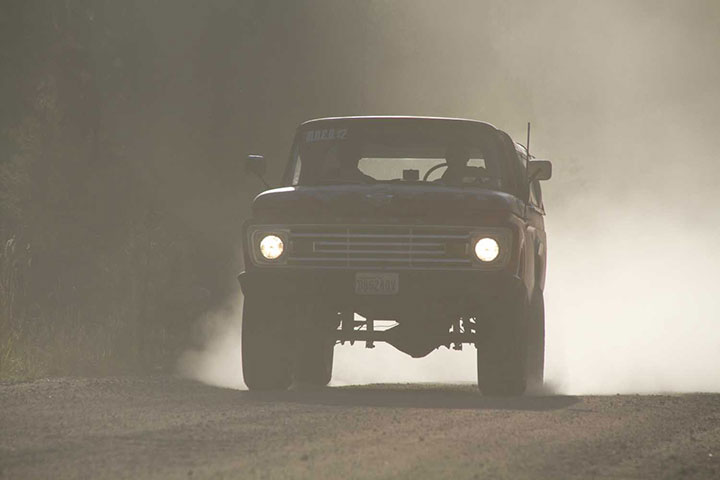 As the sun started to set, we traversed on through the dust. Kurt Meachum and Adam Taylor smartly added a camper to this 1963 Ford before leaving on the trip. Their food and gear would've had a inch of dirt & dust piled onto top of it otherwise.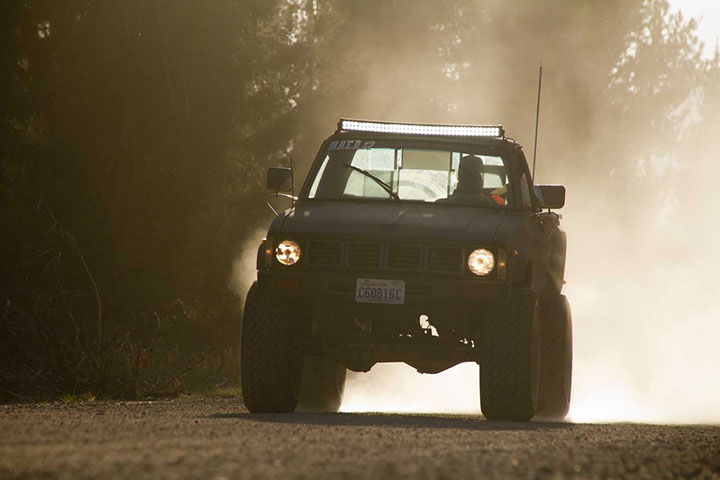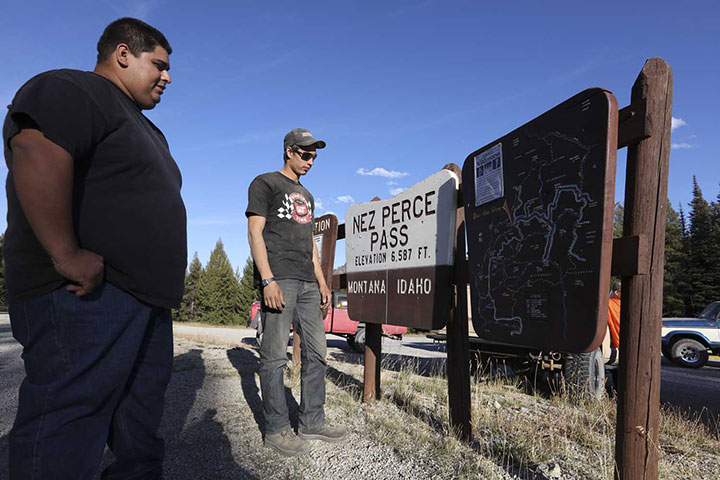 Standing at the Idaho/Montana divide on the Nez Perce Pass.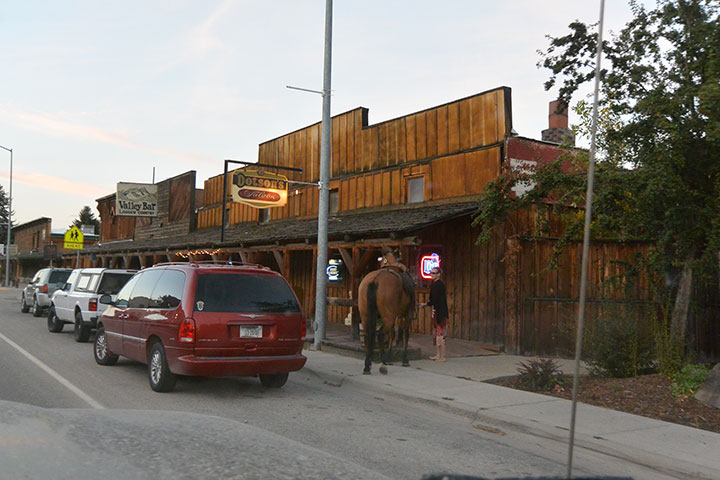 You know you're in a good old town when there's a horse pulled up in front of the bar. After hitting pavement again near Darby, Montana, part of the group split off and headed toward Hamilton, Montana, for parts while the rest of the group headed for our next campsite.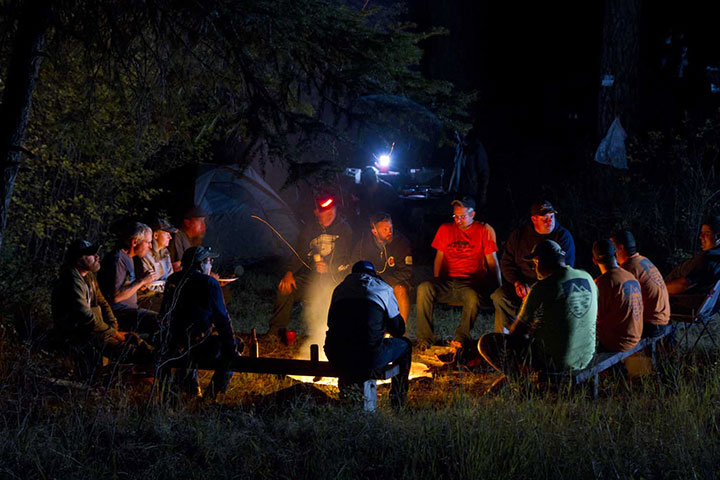 The MDED travelers set up camp for the night and gathered around a campfire—something we would do for six nights straight. Coming home and not hanging out with friends before bedtime felt a little weird for a couple days after the trip.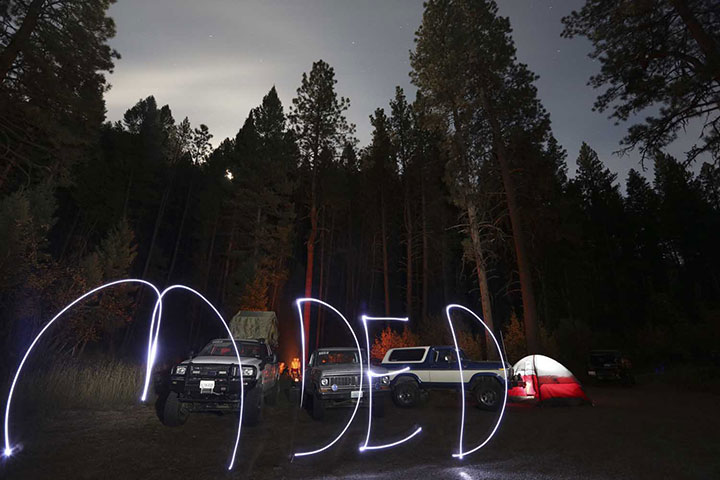 A slow shutter speed, some flashlights, and a few guys can be combined to make some pretty cool pictures.