What's better than a bunch of old 4-wheel-drives being used in their element—away from the creature comforts and electronic connectivity that the last few decades has brought us? Disappearing into the wilderness in a bunch of classic 4x4s took us back in time, and it was a nice getaway from all the electronic leashes that the 21st century has tethered us with. It was Day 3 of our Mostly Dirt Every Day tour and, surprisingly enough, all of us were still running and continuing on the trip. It's not that we wanted someone to drop out, but we were doing some demanding driving for vehicles that were older than most of us on this joyride.
We headed south from the Darby & Hamilton area in Montana down to Salmon, Idaho, to let the two groups rejoin after a few guys split off for parts the night before. We were in Lemhi County—an area known for being rich in mineral deposits of gold, copper, lead, tungsten, and silver—and we'd actually stay in the county as we headed to Patterson, Idaho, in the Pahsimeroi Valley to see the old Ima Mine, situated on a trail that parallels the Pahsimeroi River. After a stop and a good history lesson from our knowledgeable leader, we headed up the trail to one of the highest points on the Double Springs Pass later that day. Not only was the area filled with old cabins and remnants of our past, it was also situated in some of the most beautiful and scenic mountains our country has to offer. In fact it was a treat to backtrack down the same trail we'd just spent hours climbing as we were given a second chance to see what we might've missed the first time.
Not far from the bottom of the trail and the old town of Patterson sat a 75-acre ranch actually owned by John Mears. It was the perfect place to set up camp for the night and watch the coming lunar event known as the blood moon.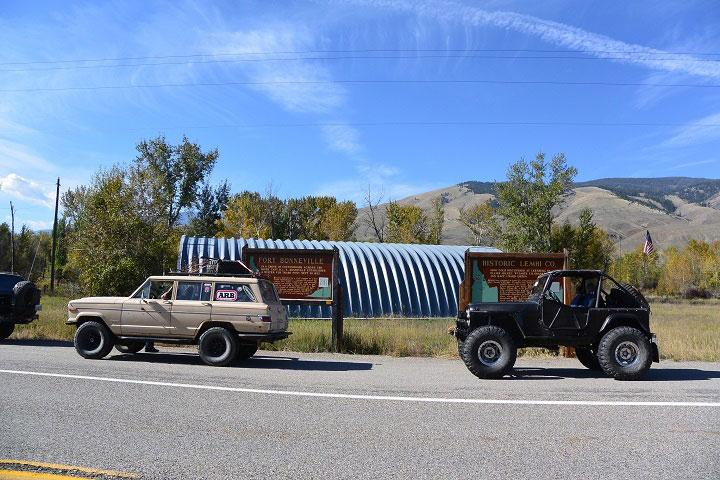 The group that went off to Hamilton, Montana, for the night joined back up with the group near Salmon, Idaho.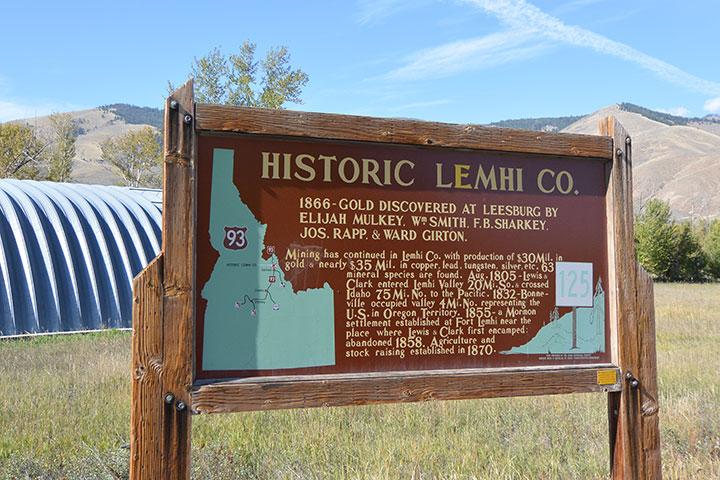 Lemhi County is known for being rich in mineral deposits and its mining operations of gold, copper, lead, tungsten, and silver.
We headed towards Patterson, Idaho, crossing back and forth across what is traditionally one of the wettest and most mountainous areas in the country. A lack of rain for the last couple years has kept this area a bit drier, but we still got our tires wet.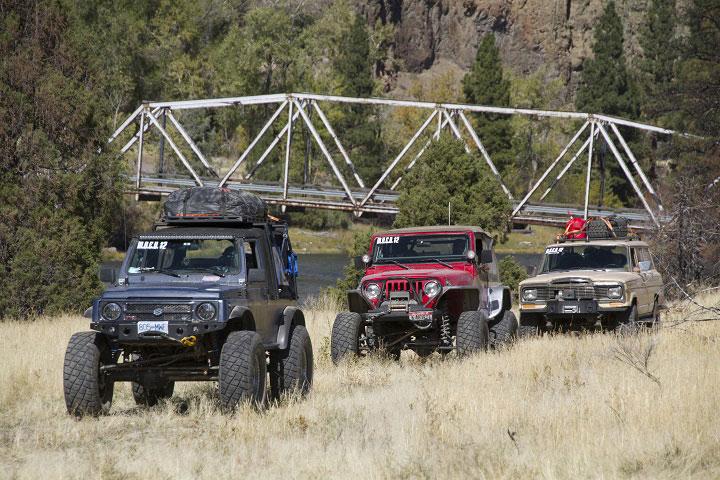 Nic Pook's cool super-long wheelbase '85 Samurai is just about as custom as they come. A VW 1.9L TDI engine powers the crawler on 37-inch Grabbers under a stretched tub of what was already a rare long wheelbase Samurai.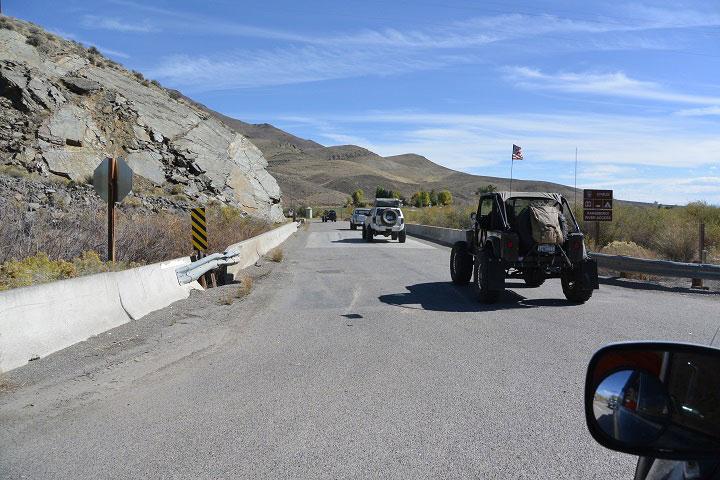 We entered the Double Springs Road trail that paralleled some of the Pahsimeroi River, heading towards the Ima Mine.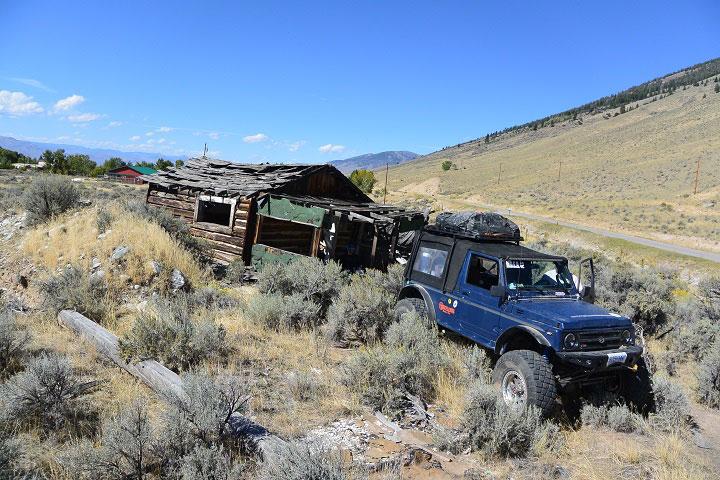 We found some new digs along the way! Believe it or not, there were a few of us that actually ended up buying property on this trip.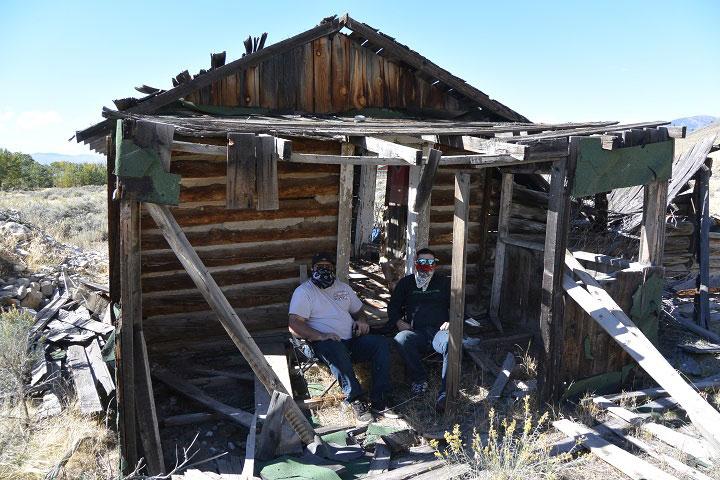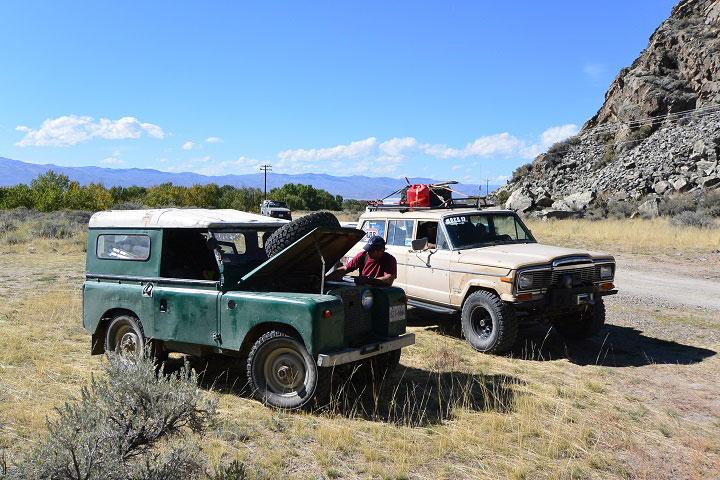 Like we had hoped, most of the mechanical issues on the trip were worked out on the first day (or second). But cooling issues were still plaguing some vehicles in the group, and new problems were always developing. Most of these vehicles were 30, 40, and 50 years old. What do you expect?
When Tony Ross's Land Rover started sputtering at the start of the trail, Cliff Olney and DelRay Romero in the Wagoneer stayed behind to help.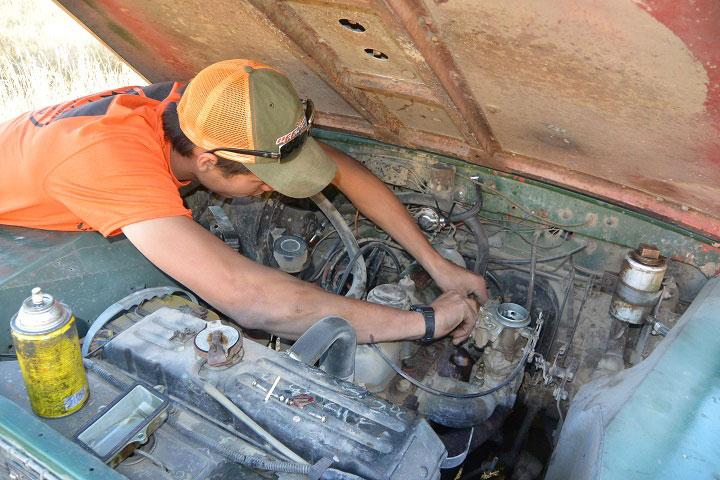 Some simple enough carb problems were starting to plague Tony Ross' little Land Rover Series 2A that was not 100% stock under the hood. The a fueling problem would keep him from making the trip up the trail that day, but we'd be returning on the same trail so we'd catch up with him later.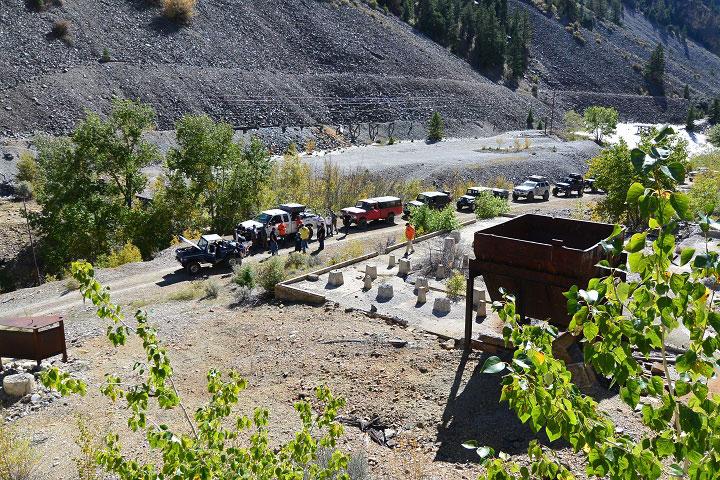 John Mears, our leader and creator of the MDED trip, is a geologist by trade and overall rock fan. While we saw more than a couple old & historic mining sites over the six-day trip, this Ima Mine is one he once was contracted to do some work at, so he knows the area well.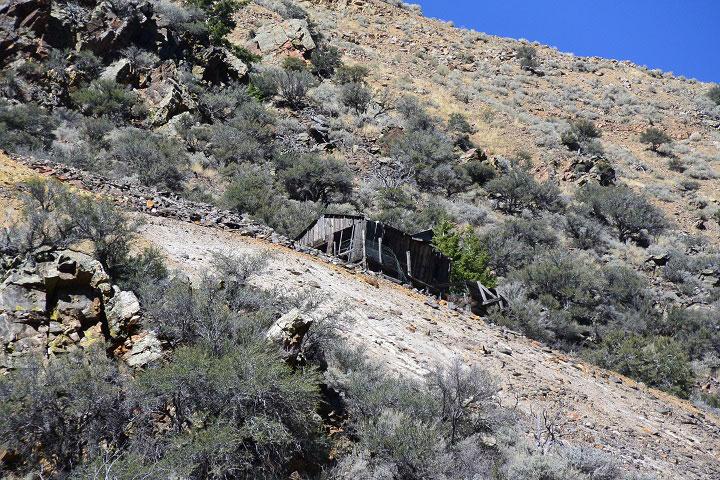 This is one of the buildings near the top of the mountainside that the Ima Mine sits on. Originally dug for silver, this mine site was later utilized for tungsten in World War II and most recently maligdanum.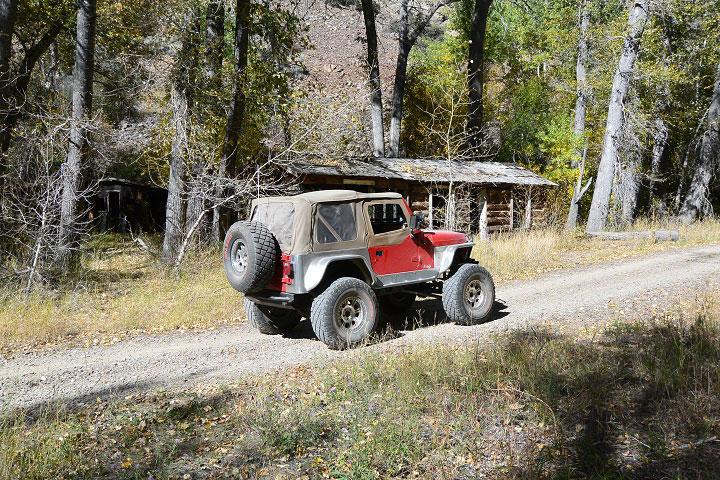 One of the slightly-less-than-habitable cabins we passed.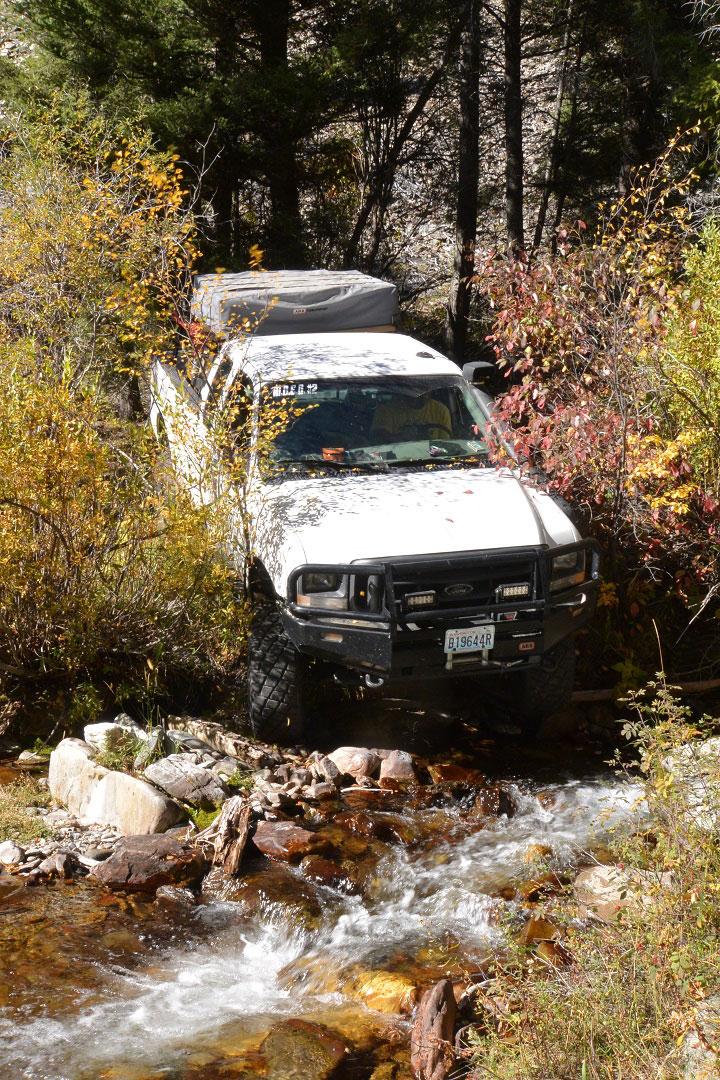 You may be wondering what a Super Duty is doing on a classic truck trip. Well, John had a great classic '60s GMC that he had ready to go, but when a clutch and axle gave out just days before the trip, he decided that bringing his Super Duty, packed with parts, tools, and all sorts of other gear for everyone was a good idea. Good idea for the group, but bad idea for him. As punishment for driving a new truck on the trip, he had to take all the harder lines, including this way-too-tight creek crossing.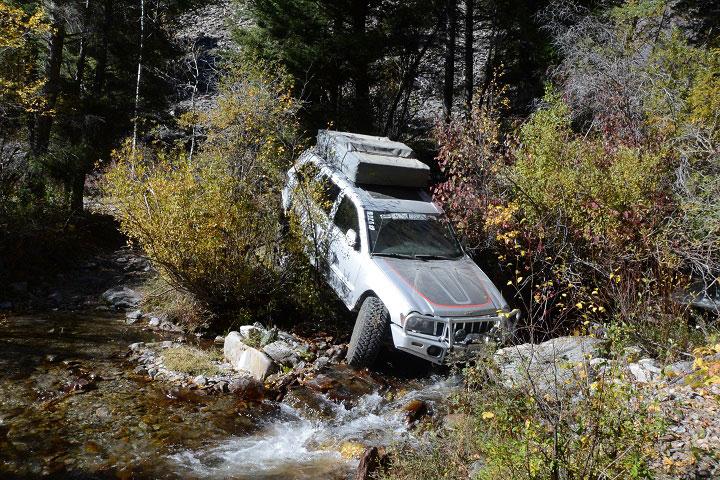 Jeremy Ayers and Chad Vesey also broke the rules, bringing out Nitro Gear's fancy new solid axle Grand Cherokee. In their defense, they only signed up to go with us about a week before the trip started and didn't have time to get an old klunker running. But they had to take all the harder paint-scratching lines, too.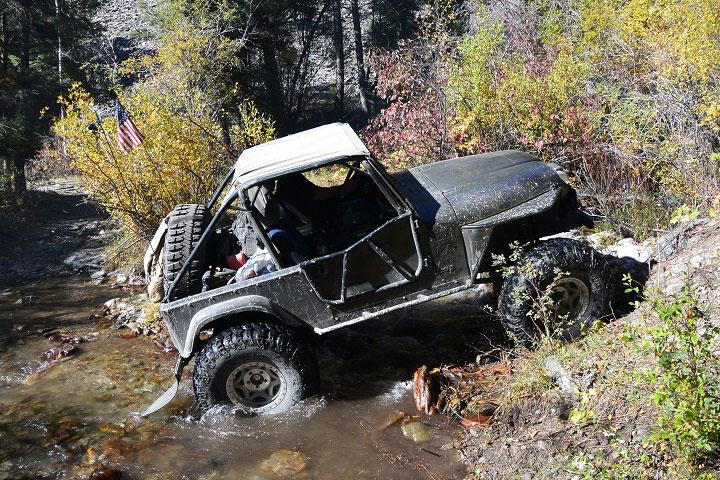 We barely saw an issue from Rod Bourn's CJ-7 all week…if you call needing fuel (which he had in a spare can) an issue. The small-block Chevy V-8 Jeep didn't have much room for passengers, but it was definitely self-sufficient with everything it needed packed in behind the seats.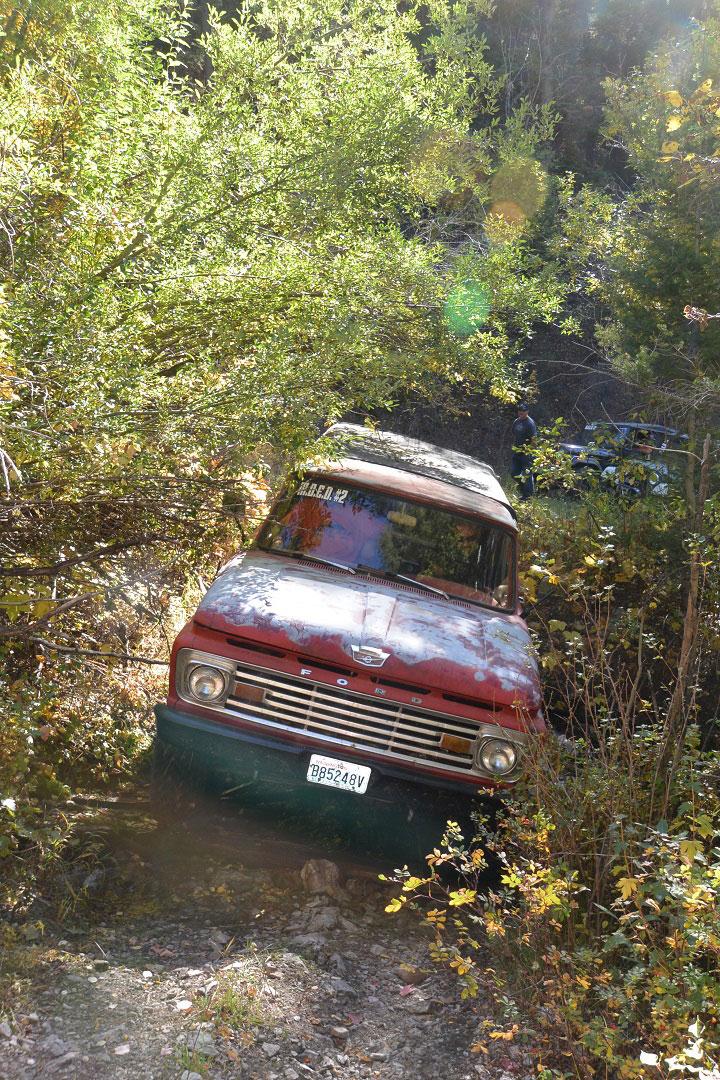 Kurt Meachum and Adam Taylor showed up in a '63 Ford F-100 that had one of the coolest patinas of anything on the trip. We're hoping Adam Taylor drives himself next year and brings one of his trucks, since he's a Chevy K-series fan and we didn't have a single Chevy (or Dodge) on this trip of 16 vehicles!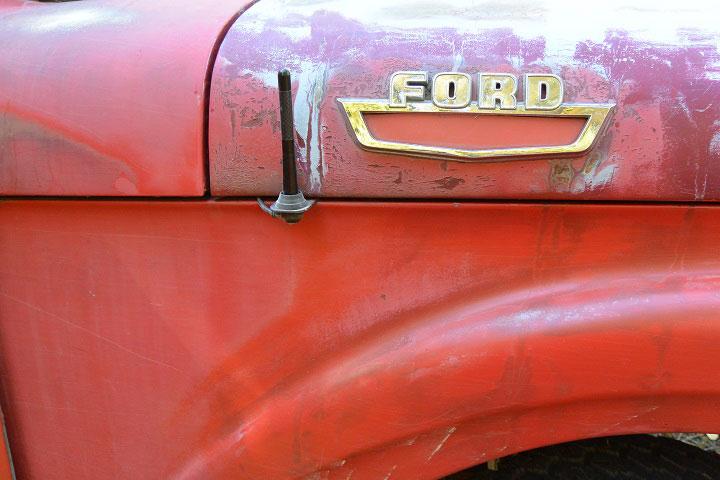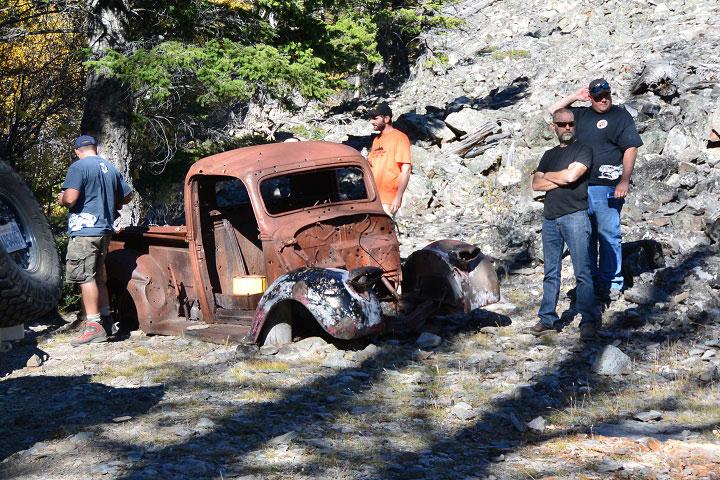 The trail got a little harder up toward the end. This guy actually started the day with us but suffered some pretty bad trail damage….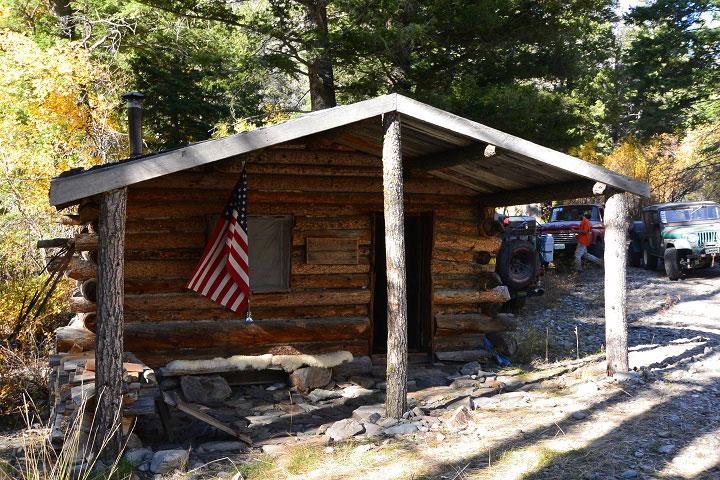 Our turnaround point on the trail today was "Grandpa's cabin" that is actually maintained by a local organization and still almost looks lived in, with a bed, desk, and stocked shelves.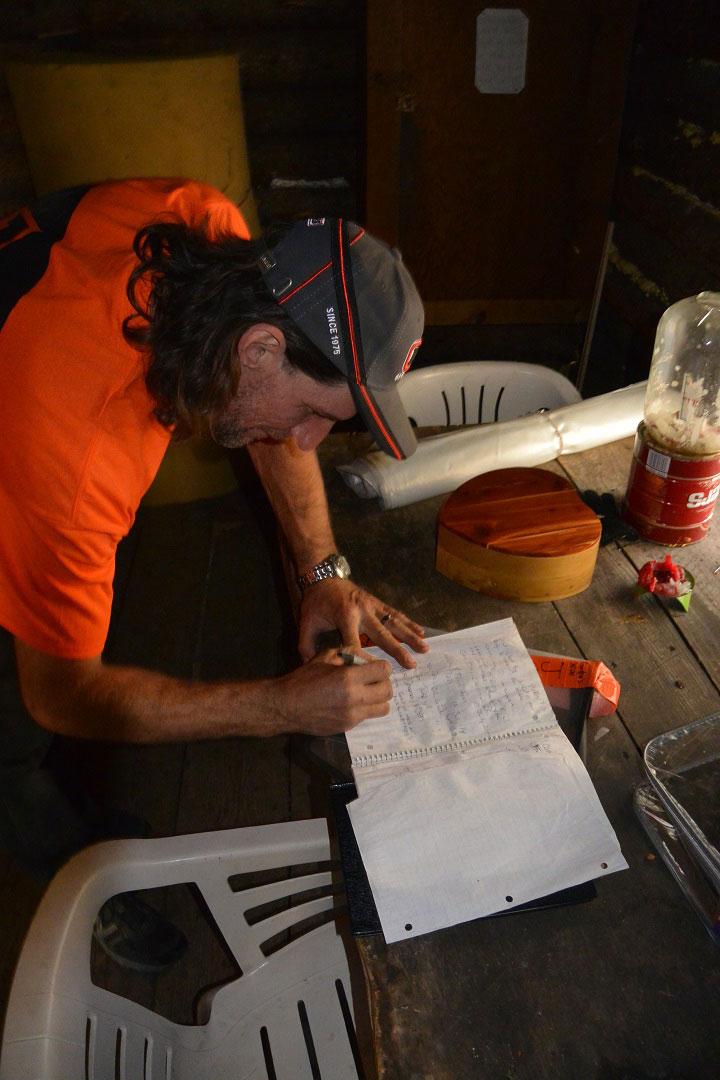 Jeffrey Bordner signs in. Grandpa's cabin has a guest book that you are supposed to sign and perhaps leave a little message in.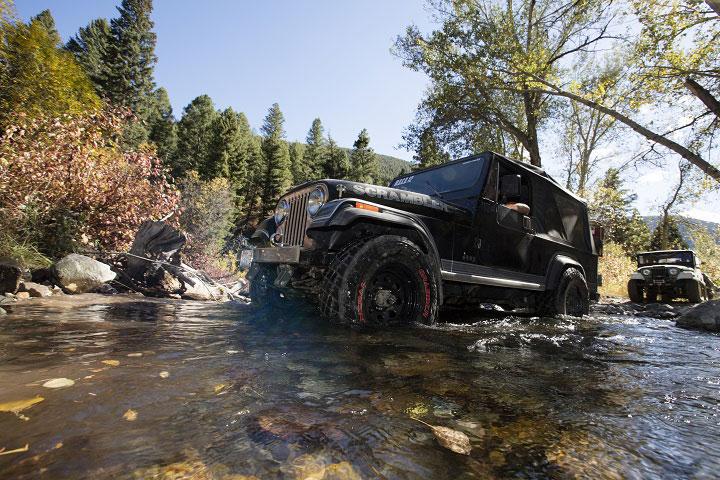 Even with as dry as it has been the last few years, there are still countless streams, creeks, and rivers littering the northwest region. We got a few chances to get our tires wet.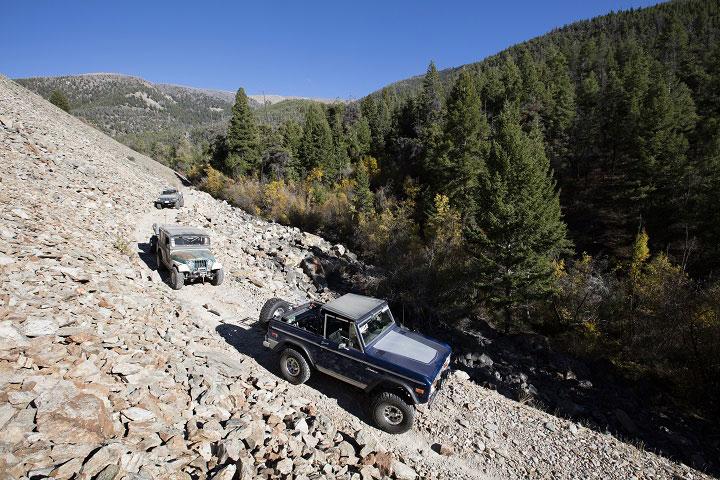 We returned down the same trail we came in on.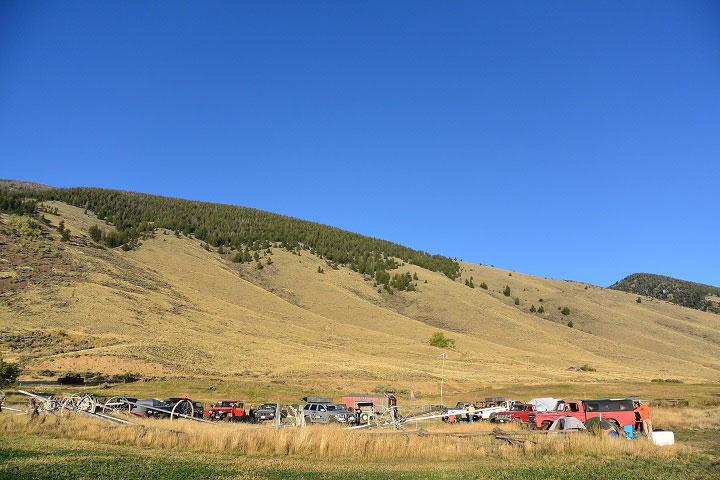 Not too far from the Ima Mine, John Mears just happened to own a 75-acre ranch in the Pahsimeroi Valley. It's a long story, but John owned the ranch due to his dealings with the Ima Mine. It made a great camping spot for the night. John made sure to get us to our campsite early this night so we could be ready to see the blood moon that was coming later that night.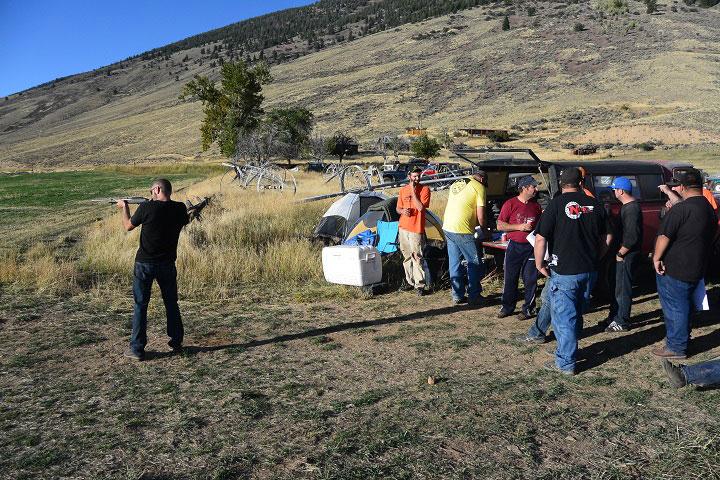 We even had a little shooting competition, with the winner actually getting the gun we all used to compete, and the loser getting a box of ammunition…for more practice.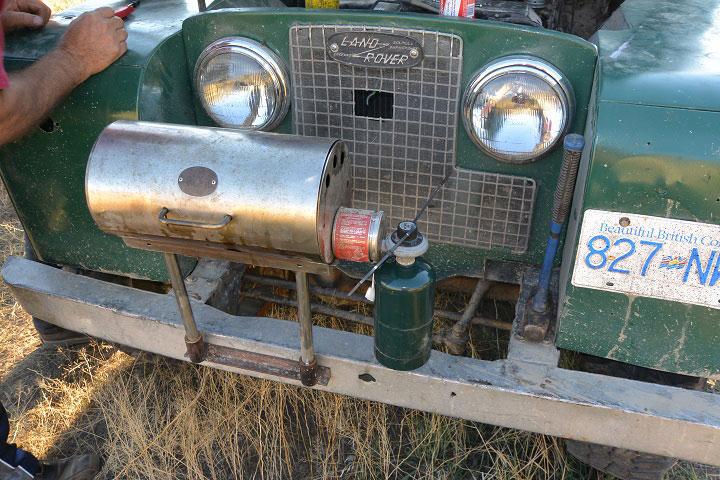 How cool is that front bumper option? Although, we're not sure how safe it'd be in an accident. Good thing this Land Rover only goes about 55mph.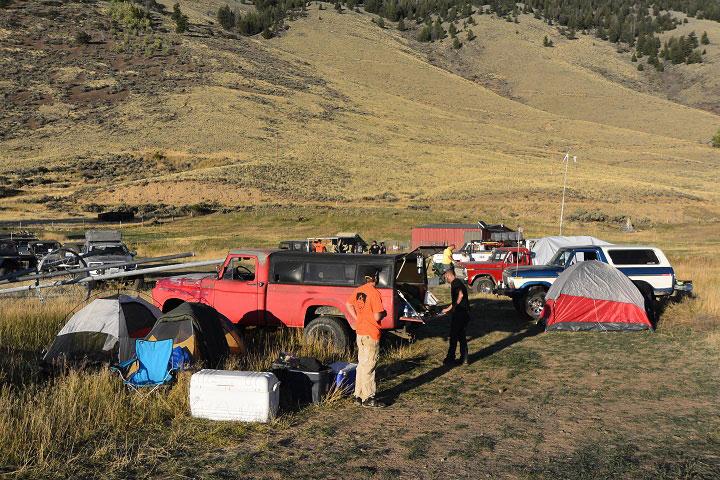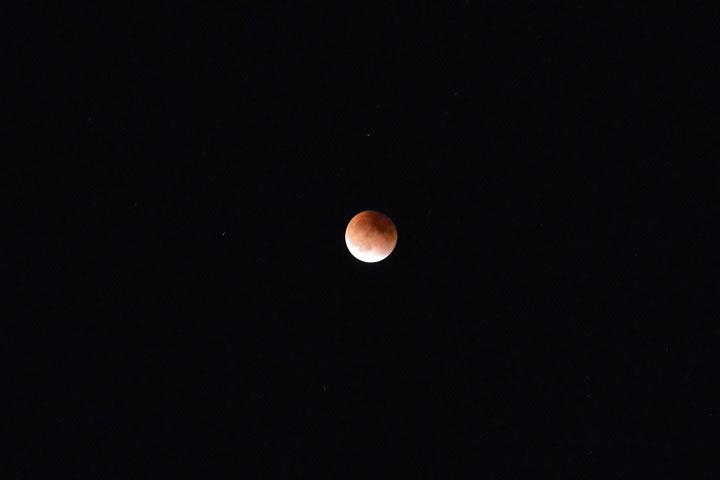 The blood moon certainly was mysterious and a little bit spooky. No wonder so many cheesy horror movies refer to the blood moon.