At only 18 years old, Jerett Brooks is quickly becoming one of the top drivers in short-course racing. Last year, he picked up the title of 2014 TORC Pro Lite champion. And he's currently number 2 in points standing for LOORRS Pro Lite in 2015. Brooks won his last race of Round 14 at the Wild West Motorsports Park and has got an excellent chance at moving into first place for Pro Lite by the end of this season.
While this first-generation racer may seem young to already be such a contender, Jerett Brooks is no newbie to the driver seat. Before he was even 10, Brooks was building his own radio-controlled cars & trucks, learning the simple physics of a moving vehicle. That led to go-karts (Brooks is still a fan of K1), which led to Trophy Karts, giving him his first taste of off-road competition on a track. He was years away from a license but he was already on a professional short-course track. How could the addiction possibly stop there? After five years of Trophy Karts (Junior 1, Junior 2, and then Modified), Brooks stepped into a used Pro Lite that gave him a taste of something bigger and faster. He'd spend a season with that truck before joining up with Doug Mittag's team and building a new truck, specifically designed for him. Now, three seasons later with the same truck and Jesse Heise as his crew chief, Brooks has a great chance at becoming the 2015 Pro Lite champion in Lucas Oil Off-Road Racing. He may be young, but this driver already has a lot of experience to back up skills. We're looking forward to seeing what more Jerett Brooks can do with General Tire in the future.
We asked Jerett Brooks if we could come down and snap a few shots of his Pro Lite #77 Synergy Electric truck in his shop in El Cajon, California. Nice guy that he is, Jerett welcomed us down to spend a few minutes getting a better look at the #77 Pro Lite truck that Jerett has piloted to so many podium finishes.
You can follow Jerett Brooks on
Facebook
,
Instragram
& Twitter.
@jerettbrooks77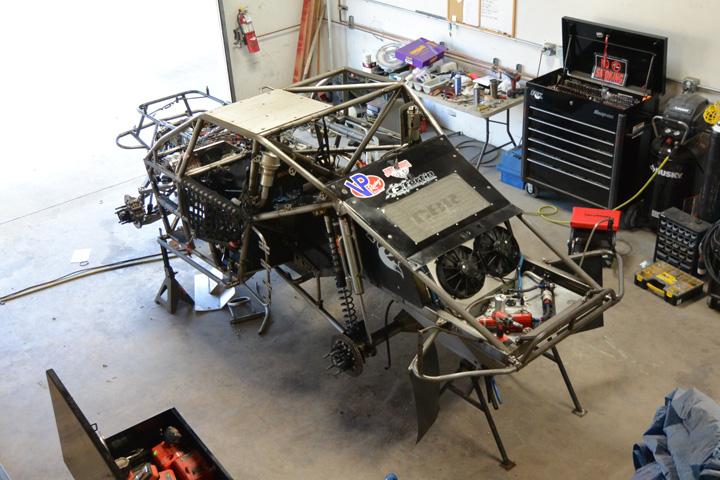 Jerett Brooks' shop is located in El Cajon, California. It's nothing fancy—just enough to pack in and prep a winning race truck between the Lucas Oil Off Road short-course races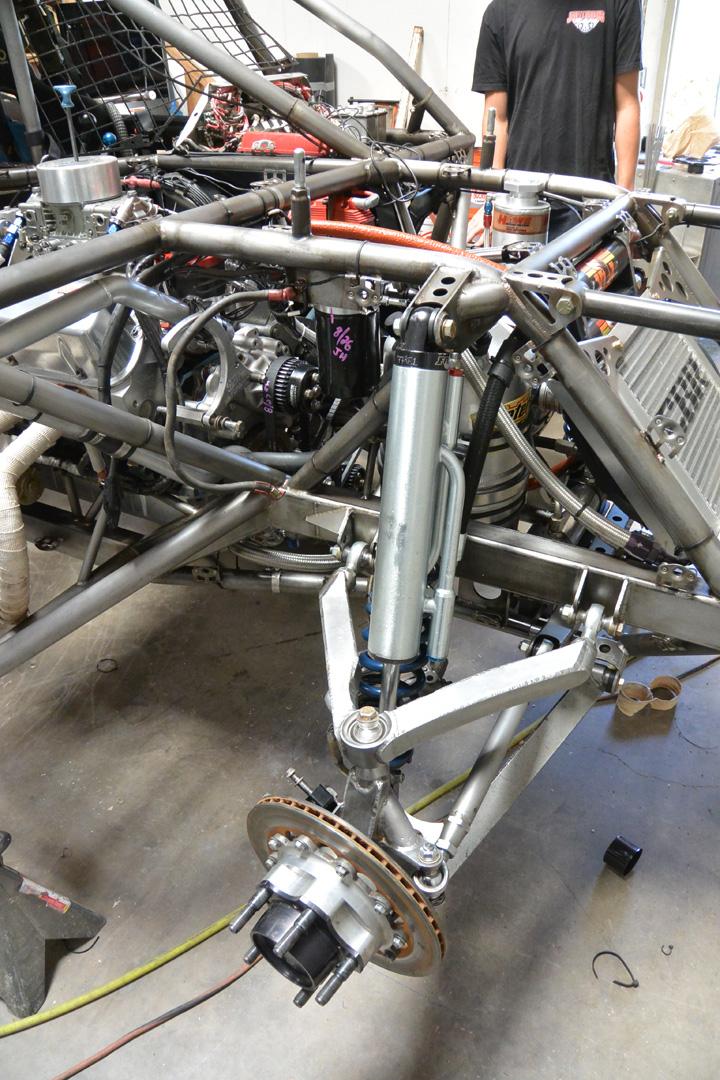 Pivoting on steel spherical bearing rod ends, the fabricated A-arm suspension on Brooks' #77 Pro Lite truck yields 12 inches of front travel, as per rules of LOORRS. Each side uses a Fox 2.5 coilover shock and a Fox 2.5 triple-bypass shock to control the suspension movement. The Brembo brakes with 12-inch rotors on the ends of the fabricated knuckles get a crazy workout each race, so they are constantly checked and replaced.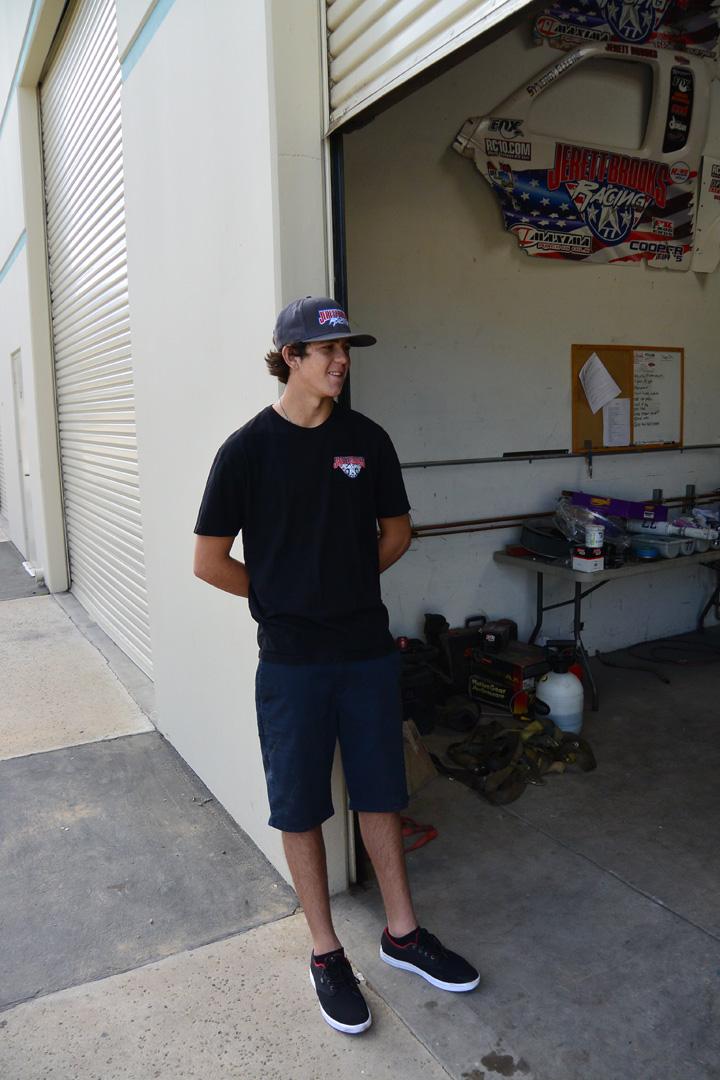 Brooks, himself, is a very easy-going guy. At only 18 years old, the racer celebrity status could have easily gone to his head. But just the opposite, actually: The way Brooks acts, holds himself, speaks… its clear he's a humble kid with a good sense of morals and respect. We'll credit his parents with that one.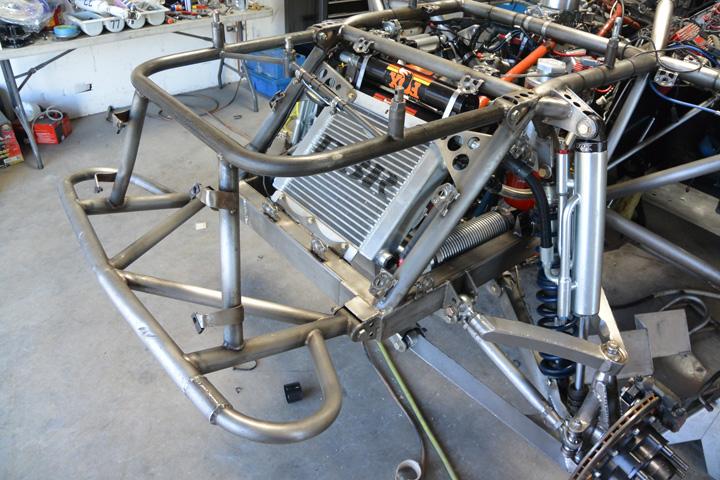 On the front and rear of the chromoly chassis, the bumper sections are made to be unbolted. In short-course racing, there is probably more contact that in almost any other form of motorsport. Subsequently, bumper get bent and replaced all the time. You don't want to have to cut the bumper section off each time, so you make it removable with bolts.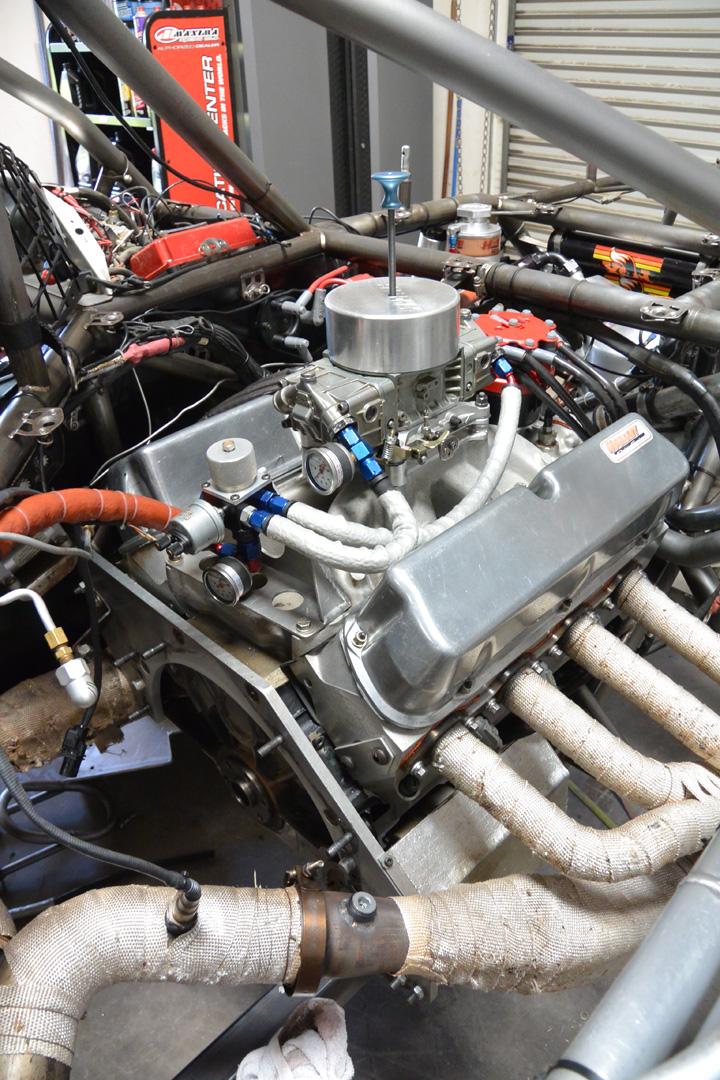 Inside the chassis and to the right of Jerett Brooks' driver's seat, a 400 horsepower side-mounted Ford small-block V8 provides power to the Pro Lite. Every engine in short-course racing is required to be a spec engine that makes it a fair racing fight across the field. Bruce Nogrady put this Ford small-block together.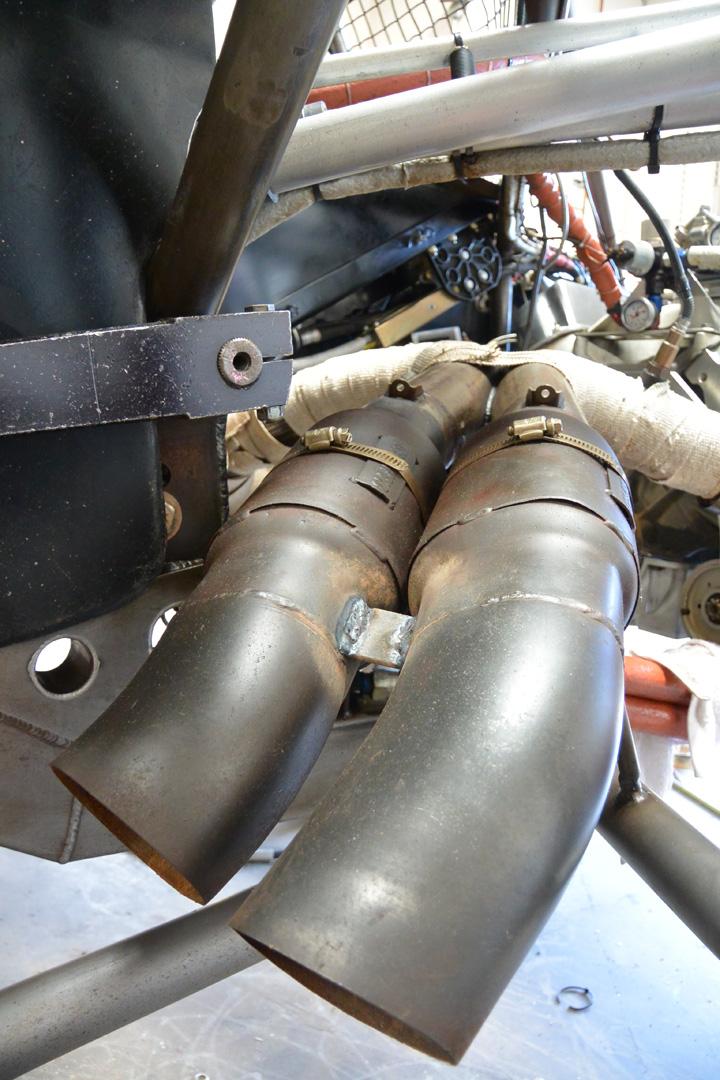 Dual exhaust comes out the passenger side of the Pro Lite race truck, with four-into-one headers feeding each exhaust pipe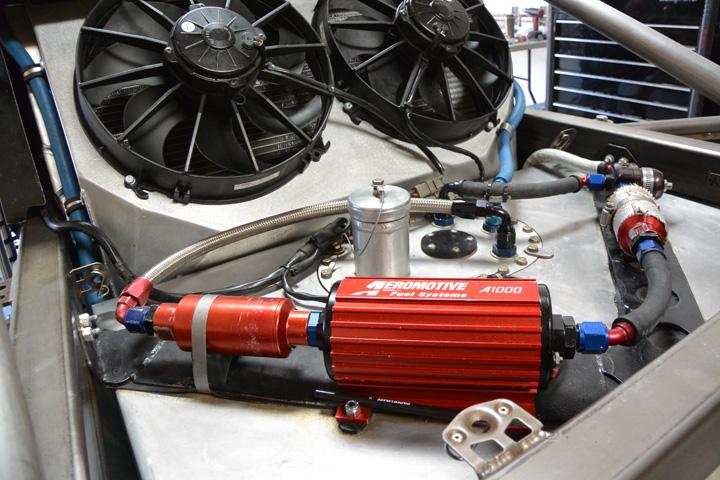 An Aeromotive fuel system provides a steady flow of fuel to the Ford V-8 come race time. The fuel system is mounted high and in an easily accessible position on top of the fuel cell, should something need to be changed out quickly.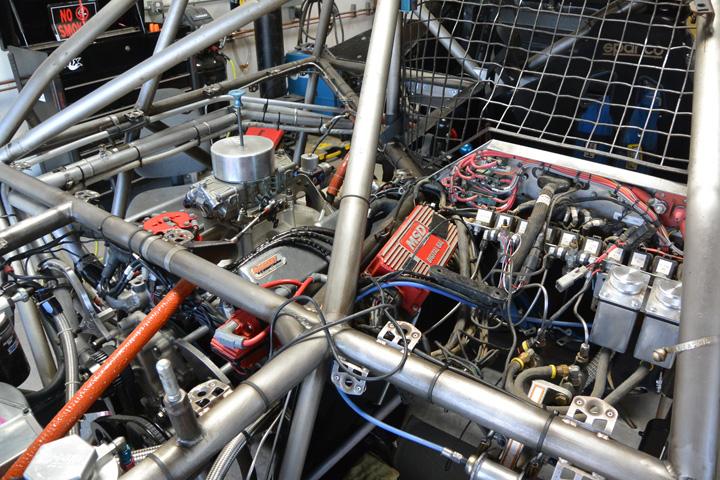 Much like the fuel system the electrical and MSD ignition systems are also mounted high to keep safe and in easily-accessible positions.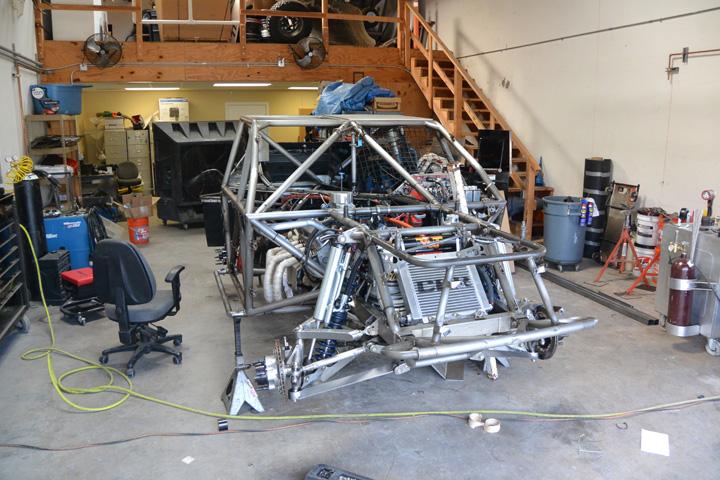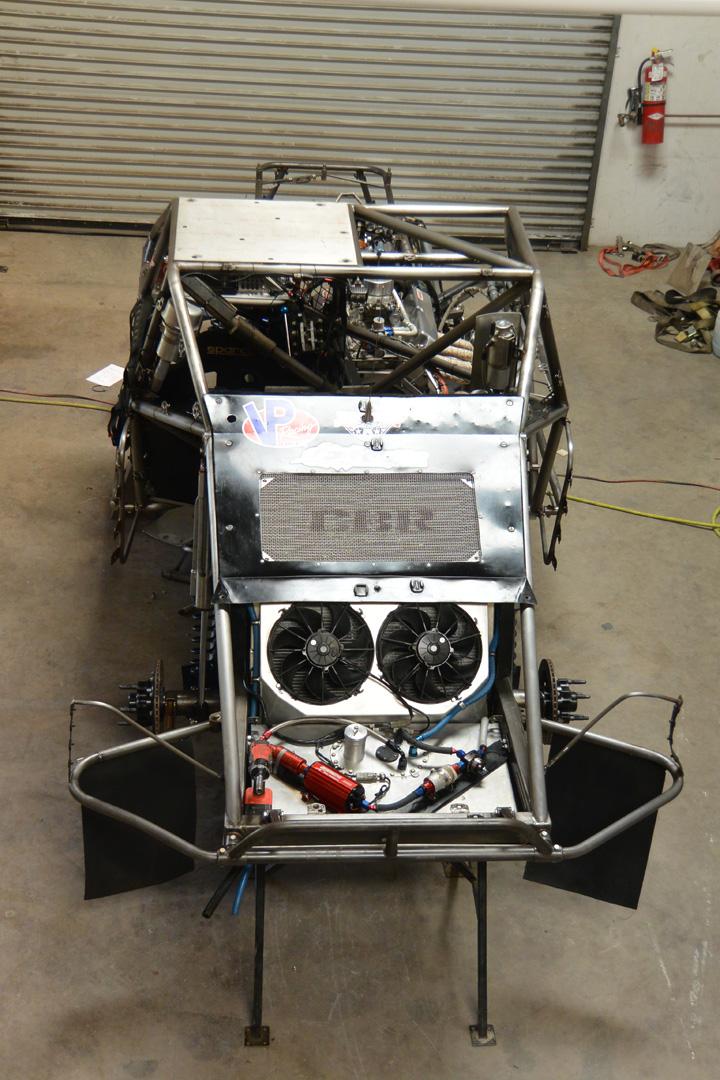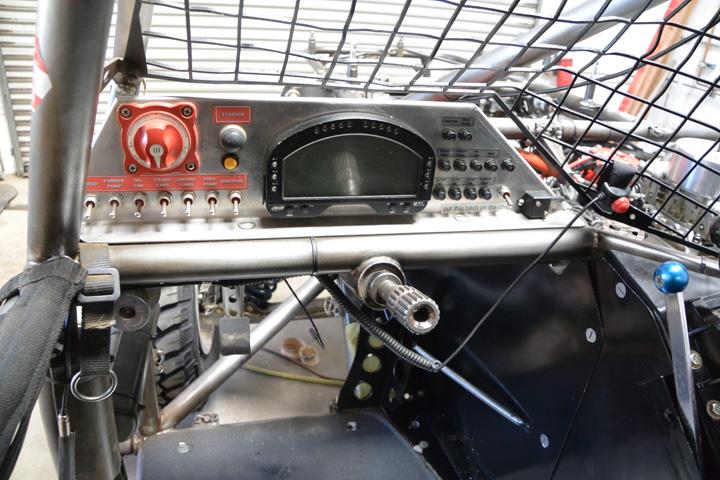 Pro Lite race trucks are single-seat vehicle with a driver's cockpit made as small as it can be (sometimes according to the size of the driver). The quick-release steering wheel allows for easier ingress and egress of the vehicle. There is no climate control in this cabin, so temperatures off the right adjacent engine can get mighty toasty.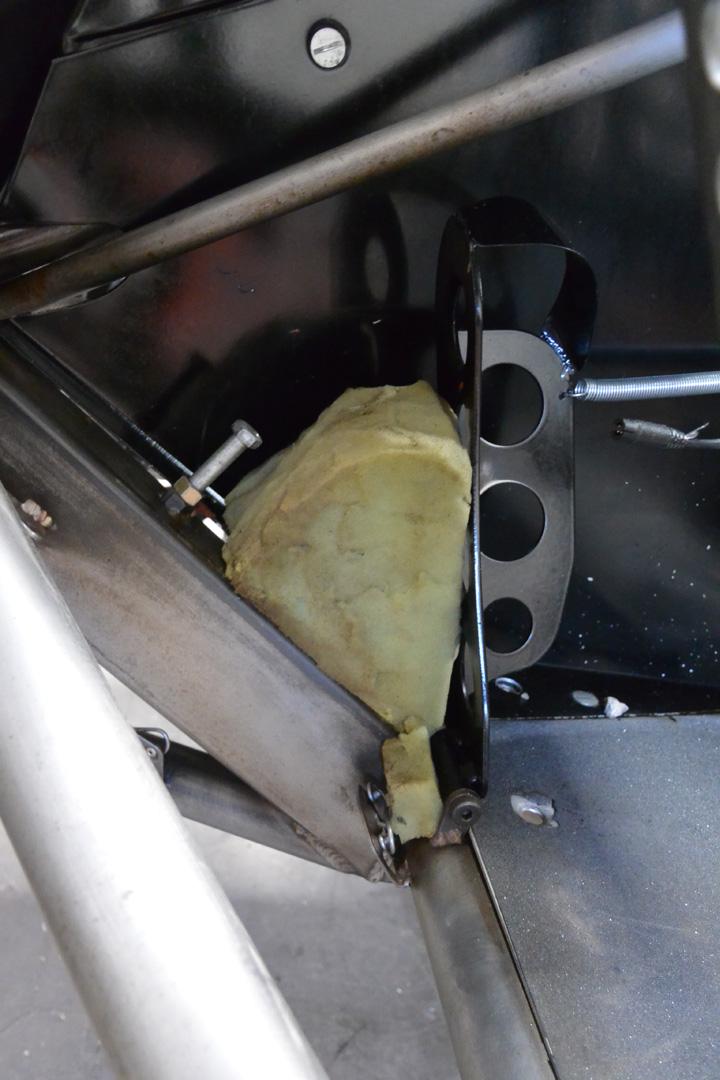 Sometimes the simplest problems can ruin a race effort. After getting some dirt clods lodged under the throttle pedal (preventing Brooks from accelerating), they decided the simplest solution was to put some easily-collapsible foam under the pedal to prevent any foreign matter from entering and getting stuck under the pedal.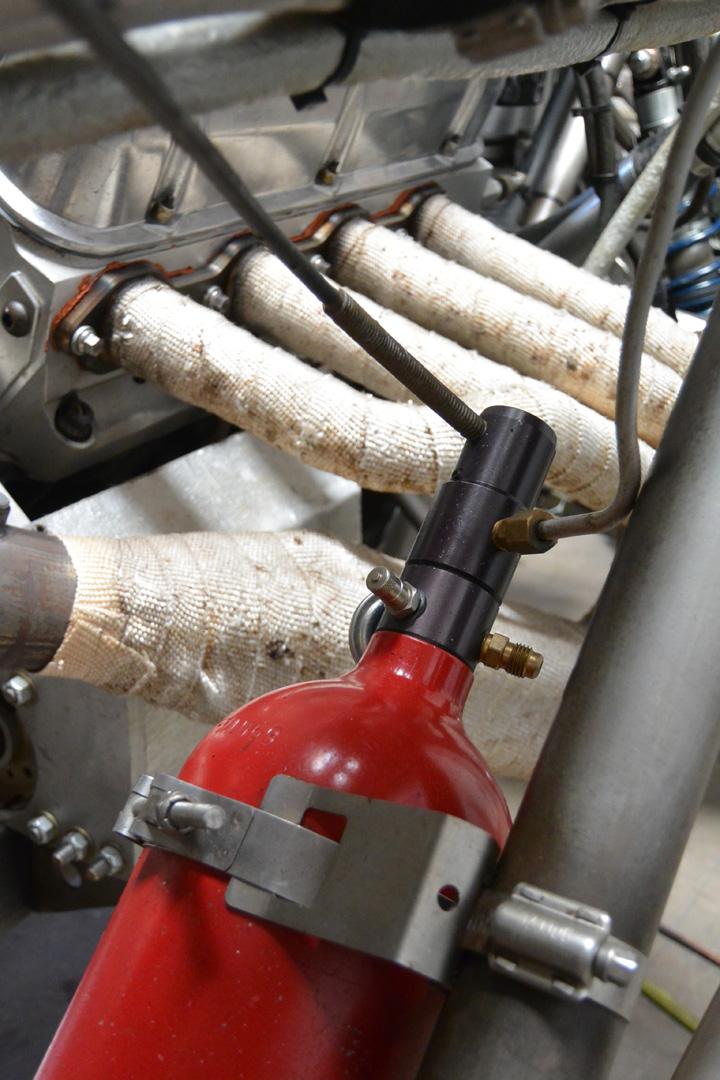 An onboard fire-extinguishing system routes suppressant to multiple points on the vehicle where fire might occur. It's one of the many preventative safety features mandated for many of today's racing bodies.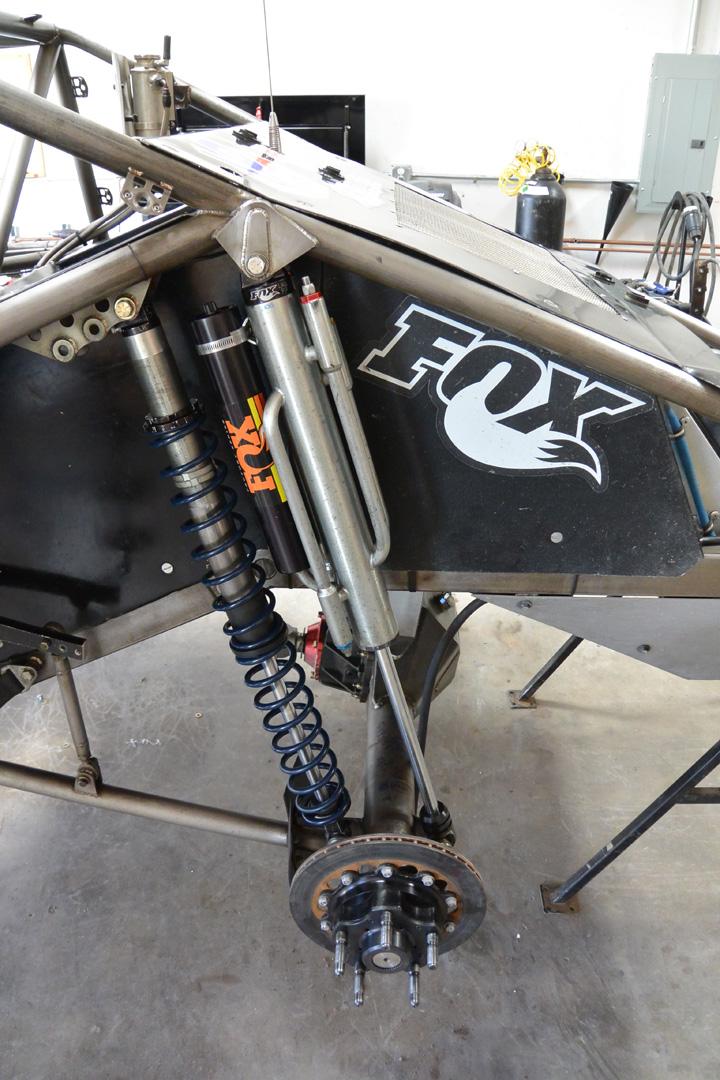 A rear four-link suspension allows 14 inches of rear travel (as per LOORRS rules) using one Fox 2.5 coilover and one Fox 2.5 triple bypass shock on each side. Notice the short sway bar link mounted about half-way up the lower axle link.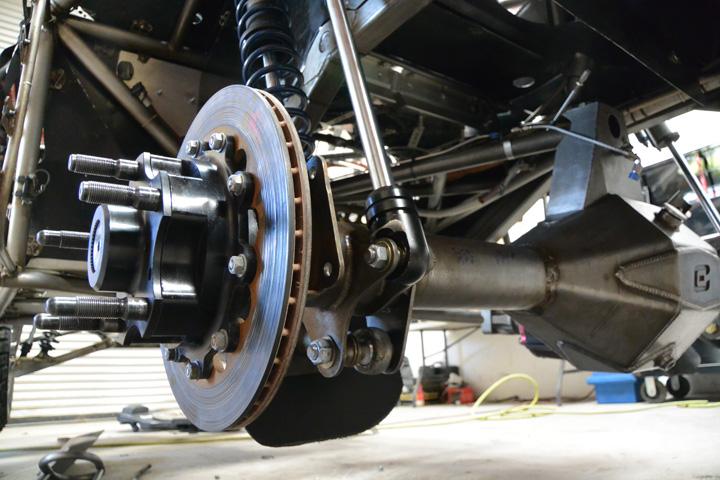 A full-floating hub on the end of a Currie 9-Inch axle provides maximum strength for racing. The guard in front of the lower shock ends protects them from anything that gets spit up off the course.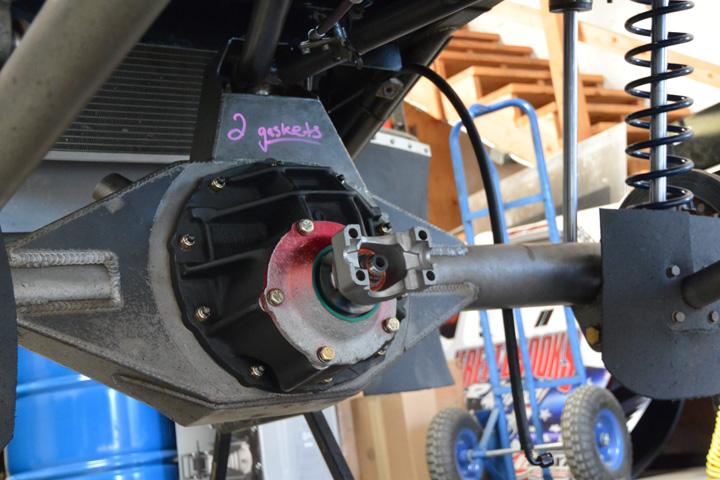 Gear ratios in the rear Currie axle vary from race to race, but they stay around 6.0:1. Dropout third members and full-floating axles make changing gear ratios much easier than it sounds.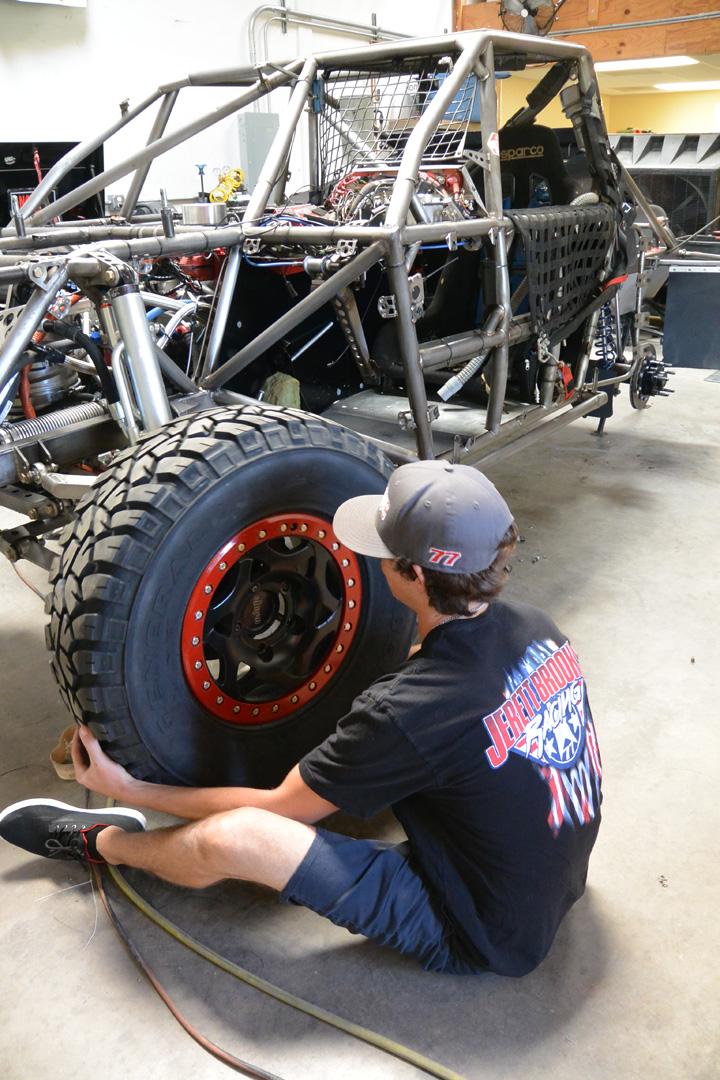 Jerett Brooks runs the new General Grabber MT racing tire. Its design has helped Brooks get maximum traction to throttle him into podium positions for many of the 205 Pro Lite races.